The Algarve for children; a guide for your family holiday in 2023
The Algarve is a fantastic holiday destination for you and your family.
It is a safe and family-friendly holiday destination, that boasts modern tourism facilities, beautiful sandy beaches and a glorious climate.
Along with the stunning beaches, there is a huge variety of activities for children of all ages. There are waterparks, theme parks, boat tours, family golf centres, go-karting, and forest assault courses. No matter the age of your children, there will be something to entertain them!
Within the 220km of picturesque coastline are many varied beach towns and fishing villages. There are the relaxing and traditional towns of Carvoeiro, Alvor or Praia da Luz, ideal for a holiday with younger children. While for an exciting, thrill-packed holiday, there are the lively and bustling resort towns of Albufeira, Praia da Rocha and Vilamoura.
The Algarve is one of Europe's best family holiday destinations, and this guide will show why you should make it your next holiday destination.
This article has three sections; the first explains why the Algarve is so good for your family holiday, the second section suggests which town to be based in, and the third section highlights some of the best activities of the region.
Related articles: Top 10 of the Algarve - The Algarve's best beaches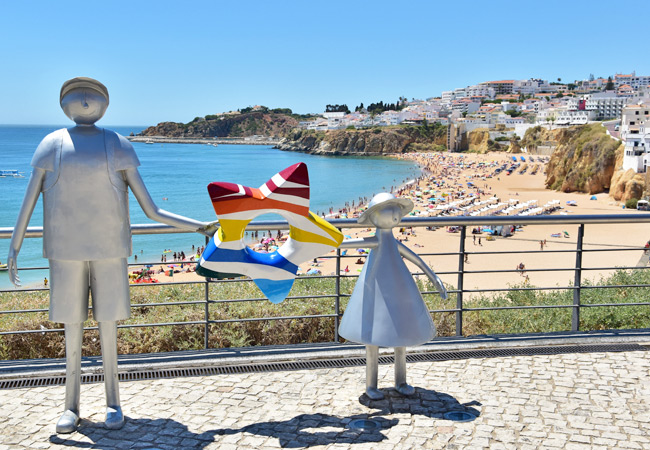 The beautiful sandy beach of Albufeira
Why is the Algarve such a good family holiday destination?
The Algarve is a safe and established holiday destination that has been welcoming families for over 50 years. This is a very safe region, crime is almost non-existent, the infrastructure is modern, and hotels are world-class.
During the summer, the Algarve is blessed with over twelve hours of glorious sunshine per day. Fortunately, the cool sea moderates the temperatures, and the Algarve does not have the extreme temperatures, as with Egypt or Turkey, and is never unbearably hot for children.
The Algarve boasts a beautiful coastline of vast sandy beaches and distinctive golden cliffs. Each of the main resort towns has its own large sandy beach, and the size of them means that there will be ample space in the summer.
The Portuguese are a welcoming and hospitable people, who value the importance of the family; children will be welcomed everywhere throughout the region. After the events of 2020/2021, the Algarve appreciates how important tourism is to the region, and there is genuine enthusiasm with all staff and everyone who works in tourism.
While on holiday in the Algarve, language will never be an issue as everyone who works within tourism speaks a range of Europe languages, including English, French and German.
As an added bonus, Portugal is the cheapest country in western Europe, and you will spend significantly less here than on a comparable holiday to Greece, Spain or France.
Where to stay in the Algarve for a family holiday?
With 220km of coastline and over 25 towns, there are lots of options of where to stay within the Algarve.
Generally, most families take their holidays within the central and western Algarve region. This region extends from Lagos in the west to Vilamoura to the east, and is where all of the mega-family hotels and waterparks are located.
Insight: If you book a package holiday to the Algarve, you will be within this area.
The eastern Algarve (to the east of Faro) tends to be calmer and more authentically Portuguese, but it can feel distant from the excitement (waterparks, theme-parks) of the Algarve. The far western Algarve (west of Lagos and western Atlantic coastline) is more wild and rugged, ideal for surfers, nature lovers and outdoor types.
If you have older children, you will probably want to be based near or in one of the larger resort towns of Albufeira (Old Town), Praia da Rocha, Lagos or Vilamoura. These towns have lots of activities, a wide selection of restaurants, numerous boat trips, and outstanding beaches.
Albufeira is the largest resort town of the Algarve and always has a buzzing atmosphere. Vilamoura is more sophisticated, renowned for its golf courses and exclusive marina. Lagos is a historic city with a vibrant artisan scene, while Praia da Rocha is all about the magnificent beach.
Warning: The New Town of Albufeira and the area around "The Strip" tends to attract groups who want to drink and party; this may not be a great place for younger children.
If you have younger children, we would suggest one of the smaller towns such as Alvor, Carvoeiro, Olhos de Água, Armação de Pêra or Praia da Luz. These all have beautiful beaches, a decent selection of restaurants and shops, but have a calmer atmosphere.
For a more authentic Portuguese holiday, based in a delightful town, we would recommend Tavira, in the eastern Algarve.
The interactive map below shows the location of the best family holiday destinations in the Algarve. The larger resort towns are shown in yellow, the calmer towns in green, and the location of the water parks are marked in blue.
The large resorts: 1) Lagos 2) Praia da Rocha 3) Albufeira 4) Vilamoura
Medium sized beach towns: 5) Praia da Luz 6) Alvor 7) Carvoeiro 8) Armação de Pêra 9) Olhos de Água 10) Quarteira 11) Tavira
Water parks and theme parks: 12) Slide & Splash 13) Zoomarine 14) Aquashow Park 15) Aqualand
For a family holiday, we wouldn't recommend Sagres, Portimão, Olhão and Faro.
Sagres is a centre for surfing but feels very remote from the rest of the Algarve. Portimão is a nondescript city filled with apartment blocks, and its beach is at Praia da Rocha, which is much better for a holiday. Faro is a historic city, and Olhão is a busy fishing port; both are great for a cultural holiday but not for a family holiday, as a ferry is needed to travel to their beaches.
Insight: Portugal's family holiday destinations are not just limited to the Algarve. If you would prefer a more Portuguese holiday experience, consider Cascais or Sesimbra near Lisbon or Nazaré and São Martinho do Porto on the Silver Coast.
Popular activities for children in Algarve
The following is a list of the best or unique activities for children in the Algarve:
• Zoomarine – The best theme park in the Algarve; www.zoomarine.pt.
• Slide and Splash – Thrill filled water park ideal for older children ; www.slidesplash .com
• Aquashow – A fantastic water park near Vilamoura; aquashowpark.com
• Dolphin watching boat tours - two-hour dolphin tour for €35
• Off-road jeep tour (older children) – Half day tour for €30
• Go-karting (fast track but older children) ; www. algarvekarting.com
• Jetboat (older children) – €30 for 30 min thrill ride
• Parque Aventura, high rope adventure courses, with circuits suitable for all ages ; www.parqueaventura.net
• Horse riding - 1-hour trek €30, please see albufeiraridingcentre.com
• Crazyworld; zoo, mini golf and splash pools ; www.krazyworld. com
• Bowling (family activity for an infrequent wet day); www.algarve bowling.com