Faro Airport to Albufeira; an airport transfer guide for 2023
Albufeira is the Algarve's most popular beach resort, boasting beautiful beaches and a vibrant nightlife scene. The main airport of the Algarve is Faro Airport, situated 36km to the east of Albufeira.
Unfortunately, public transport options connecting the airport to Albufeira are limited, so the majority of visitors take some type of taxi/car/coach transfer. These options include expensive taxis, ride-hailing apps (such as Uber/Bolt), shared minibus transfers or - if you're organised - a pre-booked transfer.
2023 update: There is now a direct bus route connecting the airport to Albufeira. The service, which began operating in May this year, has just six daily departures and only runs from May to October, however this provides a feasible option for public transport within the high season (full details later in this guide).
This guide will detail all of the options for travelling from Faro Airport to Albufeira, and help you to choose the best one.
Related articles: Albufeira introduction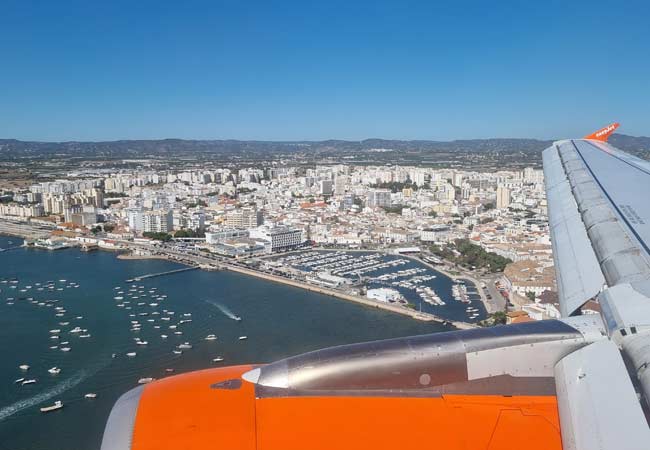 The flight path into Faro Airport flies over the city of Faro
Quick overview of travel from Faro Airport to Albufeira
If you're reading this guide before your holiday to Albufeira, it is strongly recommended that you book a private transfer. This provides a hassle-free way to start your holiday and is particularly useful if you're travelling with children, as well as being cost-effective if travelling as a group of three or more. If the private transfer is booked far enough in advance, it can cost as little as €34.70 (2023 prices). Details of the best transfer company can be found later in this article.
If you're reading this guide just before or after landing at Faro Airport, the best options are a shared transfer (€12-15 - ticket offices can be found in the arrivals hall) or hailing an Uber/Bolt once you've collected your luggage. There can be very high demand for Uber/Bolt services during the peak season. If nothing is available (or it is an increased surge time) then there are taxis that will cost €50-60. When taking a taxi, make sure the meter is used - and refuse a 7-seater taxi as this can cost 20% more.
Insight: Before booking a shared transfer at the airport, consider the direct bus service. The 56 Aerobus route has limited departure times (see timetable later on), but it is much cheaper at just €8.00.
If you've just landed and it's night-time, then your options are limited and more expensive. There is no public transport at night, shared transfers may have finished for the day, and ride-hailing apps (Uber/Bolt) are always in high demand at these times as people go for evening meals or nights out. Taxis at night (9pm-6am) cost 20% more than daytime rates.
If you've just landed and it's the low season (October to Easter) there are no sensible public transport options, however it will be easy to book an Uber/Bolt - or you may even be able to strike a deal with a taxi driver.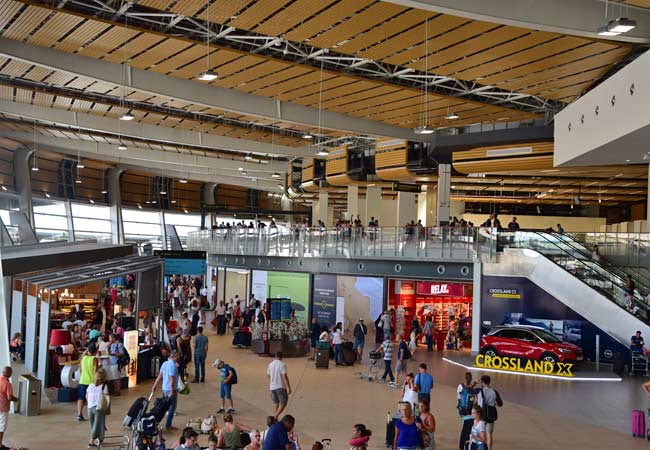 Faro Airport is modern, but will be busy in the peak season
Private transfer from the airport
A private transfer is the best and fastest method of travel from Faro Airport to Albufeira. This also has the added convenience of having a driver waiting for you at the airport.
The best transfer company regarded by people who live and work in the Algarve is Yellow Fish. They are the largest transfer company in the Algarve, with a fleet of modern cars and professional drivers.
A private transfer from Faro Airport to Albufeira in 2023 can cost as little as €34.70 if booked far enough in advance (but in peak season expect it up to €44). Further details and booking can be found on the Yellow Fish website: www.yellowfishtransfers.com
Insight: There are many third-party booking websites offering private transfers, these are always more expensive to cover their costs. Hotels and travel agencies typically add 10-15% on the basic price of an airport transfer. Always book directly with a transfer company for the best price.
Insight 2: Many of the transfer companies provide prices based on demand. Booking the transfer two months in advance will ensure the lowest prices, while leaving it to the last minute will always result in higher prices. If there are higher prices compare the three transfer companies listed above.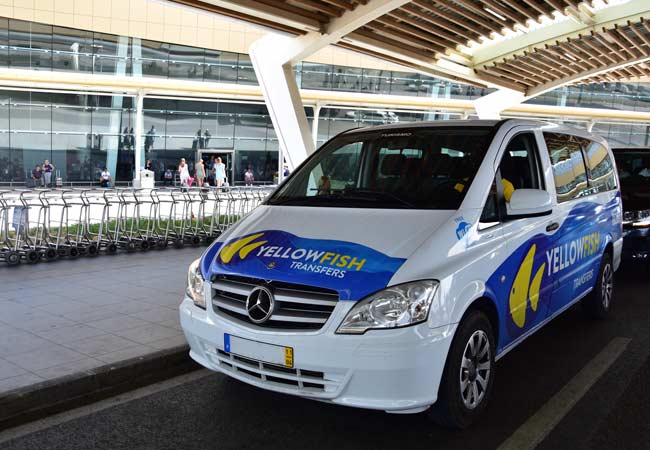 A Yellow Fish mini-bus at the airport drop off point
The bus from Faro Airport to Albufeira
The number 56 bus route (the Aerobus) connects Faro Airport to Albufeira and continues onto Lagoa, Portimão and Lagos.
This bus service has six departures per day (Monday to Friday) with the last departure being at 19:30. At the weekend and on public holidays there are only five departures per day, with the last bus leaving at 18:00. The Aerobus service is operated by Vamus the new public transport company of the Algarve, and the latest timetable can be seen on their website: vamusalgarve.pt/#/pt/vamus%20algarve/schedules
(Note: The bus route is 56)
A bus ticket costs €8.00 and tickets are purchased from the driver. The journey takes 40 minutes and departs from the bus stop to the left of the main entrance to the airport (GPS: 37.021344, -7.968876)
In Albufeira, the bus stops at the Terminal Rodoviário bus station (GPS: 37.099010, -8.245029), which is 1.5km north of Albufeira Old Town and 1.7km to the north-west of the Strip in Albufeira. From the bus station, it is a downhill walk to the tourist areas of Albufeira, but a taxi is advisable (€5-7).
Insight: This bus service is the only connection from the airport to the entire central and western Algarve, so it can get very busy.
A taxi from Faro airport
A taxi from the airport is the most convenient method of onward travel to Albufeira if you haven't booked a transfer, but it will be the most expensive (around €55).
A taxi from the airport uses tariff 3 (the 'outside city limits' tariff), and the rate for a 4-seater taxi in 2023 is €0.94 per kilometre. There are additional fees for luggage (€1.60) and any toll roads used (such as the A22). These prices are 20% higher at night (9pm to 6am), as well as at weekends or on public holidays.
A 7-seater taxi has a base rate of €1.21 per kilometre, and this rate will be used even if you are in a group of less than four. If you are a group of four or less, refuse a 7-seater taxi if it is at the head of the taxi queue at the airport.
The majority of taxis accept card payments, but check with the driver before starting the journey.
Insight: Portugal does not have a significant tipping culture, but a small tip (10%) is usually expected for a taxi ride.
Shared transfers
Shared transfers can be a bit hit or miss. They can be cheaper than a private transfer, but are a similar price to a private transfer if you are a group of three.
The downside to shared transfers is that there can be multiple stops along the route, so the journey can be surprisingly long.
Warning: The number of spaces on the shared transfer coaches do sell out during the peak season. Do not assume you can just book a seat at Faro Airport.
Our most popular articles for Albufeira and the Algarve