Albufeira or Faro? Where to go for my holiday in 2023
Albufeira and Faro are two of the largest towns of the Algarve. However, while both are fantastic holiday destinations, they cater for very different styles of tourists.
Albufeira is a young, thrill-seeking and action-packed holiday destination, which is situated on a series of beautiful sandy beaches. When compared to Faro, it has the most activities, the wildest nightlife and is most tolerant of excess. The New Town (and the Strip) of Albufeira is Portugal's go-to destination for group holidays (such as stag and hen parties) or those wanting to party all day long. The Old Town area of Albufeira is much more family-focused, but still boasts a buzzing nightlife, vibrant atmosphere and a huge variety of restaurants and bars. It should be noted that the excess culture of Albufeira may be too much for some people during the summer.
Faro is a calm and historic city with a distinctly Portuguese atmosphere, and a holiday here focuses on day trips, history and culture. The main issue with Faro for a conventional holiday is that there are no beaches close to the city centre, and an expensive ferry or long bus ride is needed to travel to them. This lack of beaches close by has kept Faro free from mass tourism, but means it is not really designed for families or excitement-focused holidays. Where Faro excels is as a base from which to explore the central Algarve, or a place to visit as part of a touring holiday.
Faro and Albufeira are at the two extremes of the holiday spectrum. If you are new to the Algarve and planning a single-location holiday, you may prefer something in between these extremes. Great alternatives include Lagos, Tavira, Carvoeiro and Alvor.
This article will compare Albufeira and Faro, helping you to decide the best destination for your holiday and trip to the Algarve.
Related articles: Introduction to Albufeira - Faro guide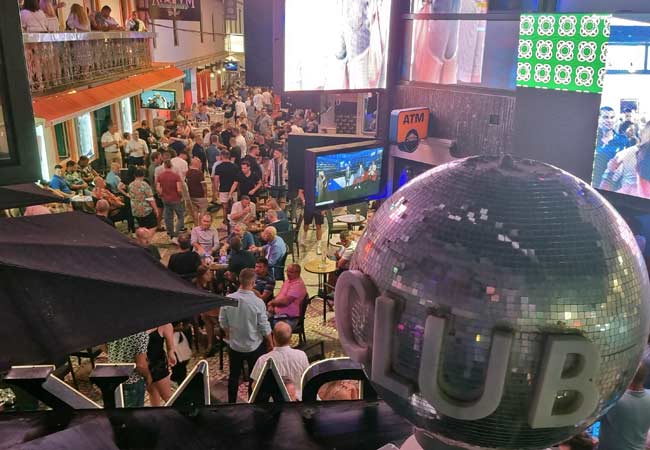 Albufeira is renowned for its nightlife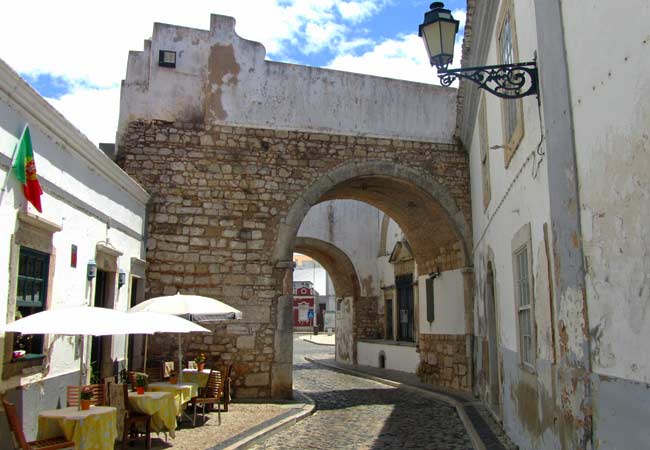 Whereas Faro is a much calmer historic city
An overview of Albufeira and Faro
Albufeira lies at the heart of the buzzing tourist region of the Algarve, while Faro (33km to the east) is the largest city of the central Algarve.
Both towns are situated on very different coastlines. Albufeira boasts stunning sandy beaches and picturesque cliffs, while Faro opens out onto the lagoons and calm waterways of the Ria Formosa nature park. There are beaches near Faro, but they are found on the southern side of the Ria Formosa and a ferry or bus is needed to travel to them.
Albufeira and Faro also have very different atmospheres. Faro has a city vibe with an authentic Portuguese feel, whereas Albufeira is heavily tourist-focused, with barely a word of Portuguese being heard here. A high percentage of Albufeira's permanent population are ex-pat Europeans, while residents of Faro are almost entirely Portuguese.
In summary, Albufeira provides a conventional holiday destination, whereas Faro offers a more authentic Portuguese experience and is better suited as part of a touring holiday.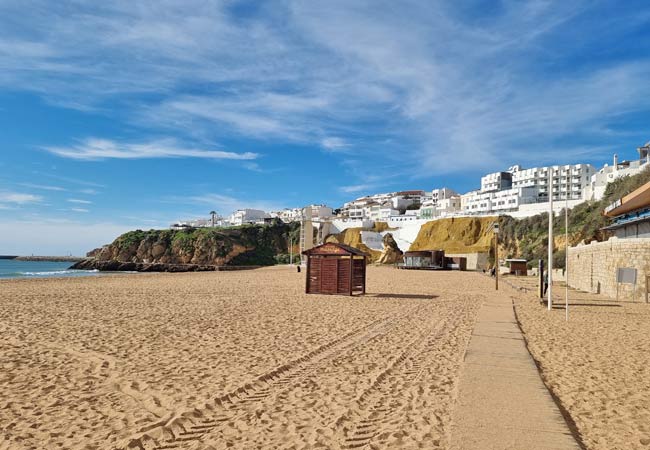 The magnificent beaches of Albufeira – this is the Praia dos Pescadores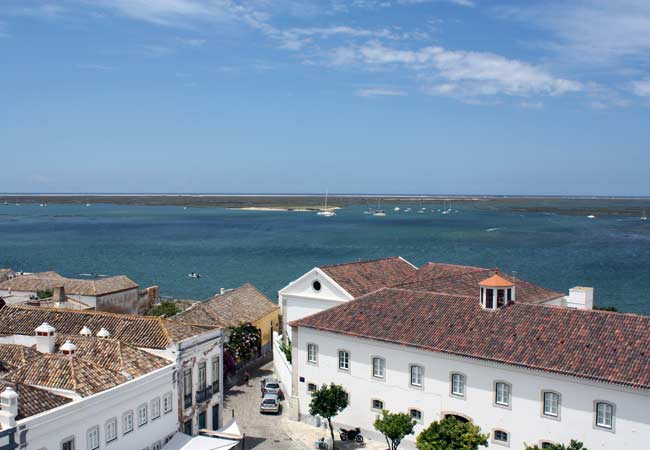 The view from the top of the Se cathedral in Faro over the Ria Formosa nature park
Albufeira has two very different areas
Albufeira has two very distinct areas, the Old Town and The Strip (sometimes referred to as the New Town and officially known as Areias de São João).
The Old Town is the historic centre of Albufeira, filled with pretty cobbled streets and white-washed houses that lead down to the beautiful Praia dos Pescadores beach. Albufeira's Old Town tends to cater for families with teenagers, couples over 30, and those on golfing breaks.
The Strip is the Algarve's most popular party destination, making it the perfect choice if you are 18 to 25 or in a group (such as a stag or hen trip) and want to party all night long, before lounging all day on a beautiful beach. The Strip is too hectic for families and too tacky for anyone looking to experience a bit of Portuguese culture.
When comparing Albufeira and Faro, it is always best to consider Albufeira as two completely separate areas, offering very different types of holiday.
Insight: The whole of Albufeira has unfairly gained a reputation for excessive partying and general craziness. This is true of the relatively small area surrounding The Strip, however the Old Town, the Marina area and the far eastern side (Santa Eulália to Olhos de Água) are perfectly suited for families or couples seeking a relaxing beach holiday.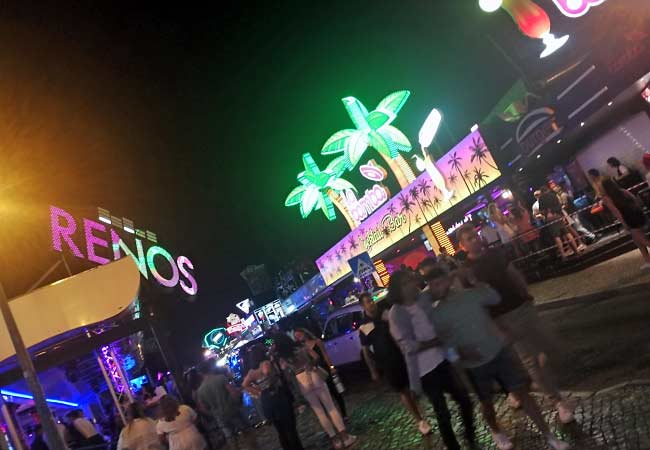 The Strip is designed to cater for vibrant nightlife and drinking culture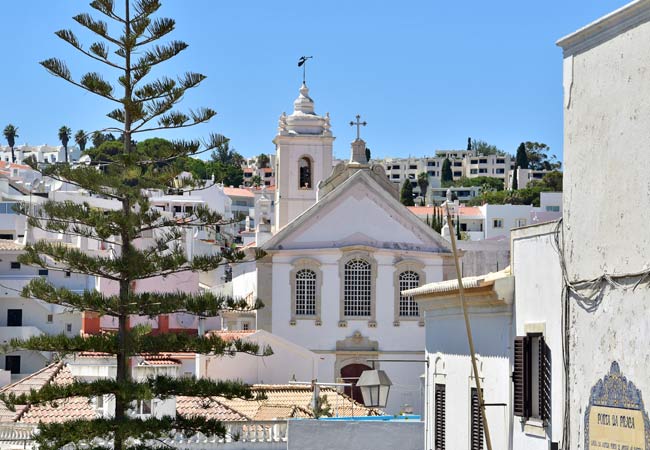 The Old Town is characterised by its distinctive charm
Albufeira or Faro for a family holiday during the peak season
If you're planning a family holiday with young children (3 to 11) during the peak season (Jul to Aug), then the Santa Eulália and Olhos de Água areas of Albufeira are your best option.
Faro is not really suited for a conventional family holiday, as it is a long journey to the beaches and has the atmosphere of a large city.
The New Town of Albufeira would be totally unsuitable for families, with excessive drinking, partying and noise continuing late into the night. Albufeira Old Town is suitable for families, but it is often still too hectic for families with young children.
The far eastern side of Albufeira (from Santa Eulália to the town of Olhos de Água) is where many of the Algarve's mega-hotel complexes are situated, with their swimming pools, children's clubs and family activities. This area is far from the chaotic Strip and is ideal if you are after a hassle-free, family package holiday.
If you are planning a family holiday with teenagers, Albufeira Old Town makes a better choice than Faro, as it is closer to all of the excitement of the central Algarve, with its waterparks, theme parks and general buzzing atmosphere.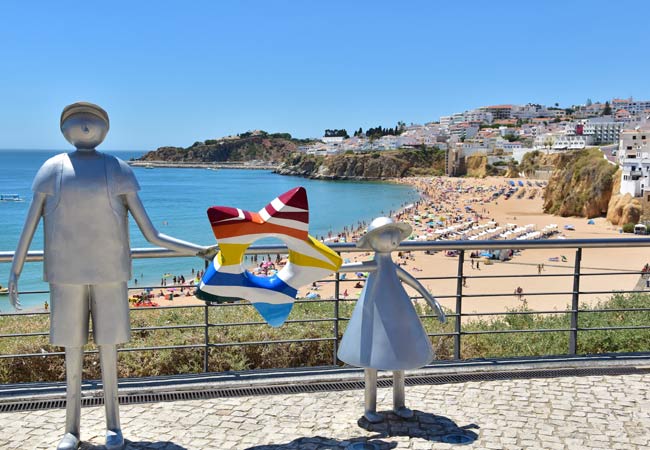 Albufeira wants to be a family holiday destination
Faro or Albufeira for 18 to 25-year-olds - in the peak season
The simple decision is whether you want to party or prefer somewhere a little more cultural and Portuguese feeling.
For a lively holiday that verges on the excess, then The Strip and its surrounding area is where to be based. The Strip is packed with themed bars, inexpensive food venues and buzzing nightclubs, all crammed with thrill-seeking British, Dutch and German tourists.
Add to this excitement the pretty Praia da Oura beach - and numerous activities - and you have the makings of a fantastic holiday. This will be a trip where not a single word of Portuguese is heard, and could be easily described as tacky by some. The Strip is the Portuguese version of Benidorm, Magaluf or Sunny Beach (Bulgaria).
On the other hand, Albufeira Old Town retains its traditional Portuguese character and has a much older vibe. There are many decent bars and a lively nightlife here, but average visitors will be in their mid-thirties.
Faro tends to attract slightly older visitors and has a much calmer atmosphere. There is decent nightlife in the city, but it caters for a mix of Portuguese and foreign patrons.
Insight: A good alternative if you want somewhere less hectic than Albufeira is Lagos.
Benagil Cave is always a popular trip from Albufeira
Albufeira or Faro in the shoulder season
The shoulder season (May to June or September to October) is a fantastic time of year to discover the Algarve. The weather is cooler than the extremes of summer, and everything is slightly less busy.
At this time of year, Albufeira (Old Town) and Faro excel in their own unique ways and make fantastic holiday destinations.
Albufeira (Old Town) is much calmer than in the summer, but still offers its wide selection of restaurants and activities, along with its beautiful beaches. This is a great season to relax on the golden sands, eat well and socialise with similar people.
At this time of year, Faro makes a wonderful base for taking day trips to discover the central Algarve region. From here you can easily visit Olhão, Loulé, Quarteira and Tavira by using public transport.
Insight: Albufeira is fully open from Easter until the end of October, and this is generally when the weather is warm enough for spending time on the beach. The Strip calms down outside of the peak season and can actually be a fun night out for all ages during September and June. If you go expecting buzzing nightlife in May or October, you may be disappointed.
Highlights of Faro
Faro's Old Town (Cidade Velha): Take a stroll back in time in Faro's captivating old town. Cobblestone streets wind between pastel-coloured buildings and lead to quaint plazas where locals play cards under the shade of orange trees. The town walls whisper tales of ancient Romans and Moors, adding an extra layer of charm to your afternoon saunter.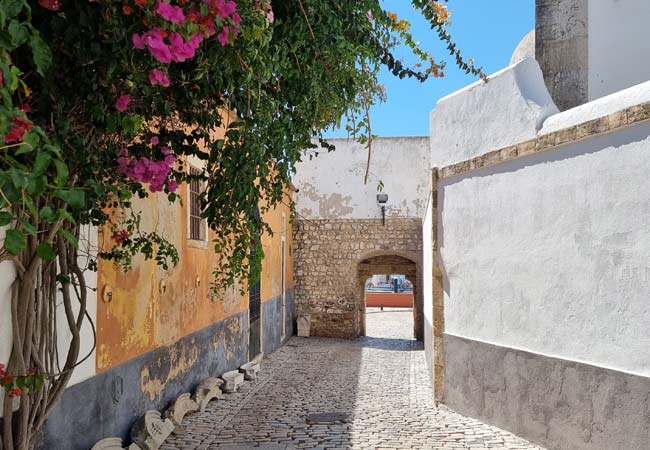 The Cathedral of Faro (Sé de Faro): Cathedral of Faro spans Gothic, Renaissance and Baroque periods, while the roof provides a panorama of the city and the Ria Formosa nature Park's radiant blue lagoons.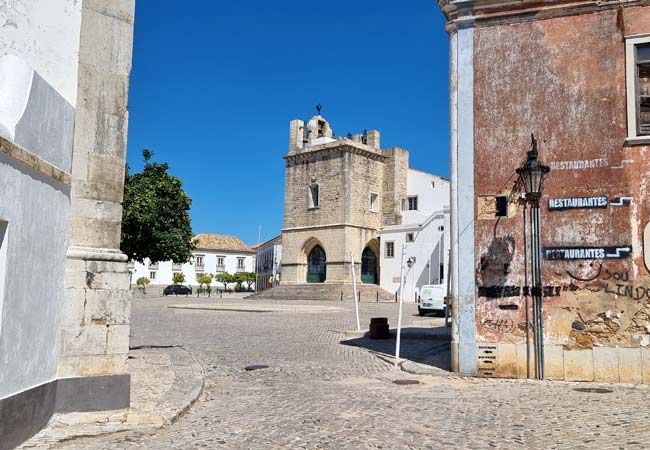 Ria Formosa Natural Park: A magnificent sanctuary for nature lovers. Wander through the labyrinth of lagoons, sand dunes and islands, or hop on a boat tour to spy on flamingos and rare purple swamphens. The salty air, the gentle whisper of waves and the rustle of marsh grass paint a canvas of tranquillity that stays in your memory long after you leave.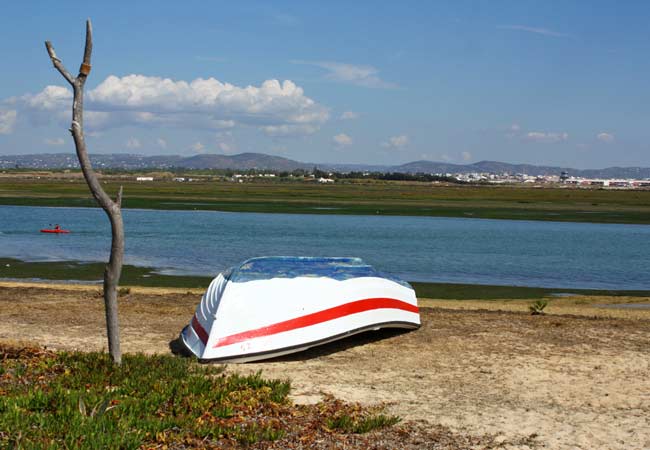 Highlights of Albufeira
The Praia dos Pescadores beach - his stunning sandy beach extends along the front of Albufeira. Once a bustling fishing hub, it now welcomes holidaymakers who relish its inviting waters and bask on its golden sands.
The Strip – If you're in search of vibrant nightlife, look no further than The Strip. This buzzing artery of Albufeira pulses with energy from sundown till sunrise. Themed bars cater to every mood, from tropical escapades to retro discos, while packed nightclubs spill entrancing rhythms into the warm night air.
The Old Town - Step into Albufeira's Old Town and take a trip back in time. Amid the narrow, winding streets and white-washed buildings, you can feel the city's rich history echo in every cobblestone. The Old Town is also a culinary haven, with over a hundred restaurants tucked into its charming corners, where you can indulge in the diverse palate of Portuguese cuisine.
Our most popular articles for Albufeira and the Algarve