Praia da Rocha; the best sights, attractions and things to see and do in 2023
Praia da Rocha is a modern and lively resort town, which is located on one of the finest beaches of the western Algarve.
The town is famed for being a popular beach focused holiday destination, but there is a surprising amount to see and do within the surrounding region.
These activities include relaxing boat tours, sea-kayaking, coastal hiking, golf on wold-class courses, wine tasting and all the way through to skydiving. These activities are in addition to discovering the many traditional towns that line the pretty Algarve coastline.
This variety of sights and activities makes Praia da Rocha a wonderful destination if you want more than just a beautiful beach and buzzing highlife for your holiday.
This guide will detail the most popular sights, activities and day trips for a holiday to Praia da Rocha, and help you get the most from the region.
Top things to do in Praia da Rocha
Praia da Rocha welcomes so many varied visitors during the year, and a simple list of the top sights and activities would never satisfy everyone. Therefore we have created four lists; one for families, one for couples wanting a romantic holiday, one for an exciting holiday (often a group) and a final one for visitors wanting to discover the culture of the central Algarve.
For a family holiday….
• Praia da Rocha beach, golden sands and clean sea waters
• A dolphin-watching boat trip
• The Santa Bernarda Pirate ship tour (from Portimão)
• Zoomarine; marine life centre
• Slide and Splash Waterpark
For an activity based holiday…..
• Slide and Splash water park
• Benagril cave boat tour
• A big night out to the many bars of Praia da Rocha
• Skydiving (from Portimao Airfield)
• Surfing or SUP around the harbour
• Round of golf at the Pestana Alto Golf course
For a couple's holiday….
• A romantic boat cruise to Benagil caves
• A day lounging at the stylish Blanco Beach or No Solo Água beach clubs
• The coastal walk to Vau
• Wine tasting at Quinta Do Frances Winery
• Day trip to the pretty resort town of Alvor
For a cultural holiday…..
• Boat trip and tour of historic Silves
• A visit to Ferragudo, a traditional fishing town
• Eating delicious local food
• The city of Portimão and the Portimão De Museum
• Day trip to Lagos
Useful links for sights and activities of Praia da Rocha
A detailed description of many of these activities are found later in this article but here are a series of useful links to relevant information websites:
Note: all links are to external websites and will open a new tab
• Santa Bernarda pirate ship (from Portimao) http://www.santa-bernarda.com/
• Slide and Splash (water park): http://www.slidesplash.com/en/
• Zoomarine (marine park): https://www.zoomarine.pt/en/
• Pestana Alto golf course: https://www.pestanagolf.com/en/
• NoSoloÁgua (lounge and nightclub) (beach parties in July and August ) https://nosoloagua.com
• Blanco Beach (stylish lounge and nightclub) http://www.blancobeach.com
• Boat tours and dolphin watching tours: https://www.getyourguide.com
• Skydiving: https://www.skydivealgarve.com/or https://www.airemotions.com
• Surfboard or SUP rental: http://www.future-surf.com/en
• Gym – (Ginásio Amarilis) http://ginasioamarilis.com/
• Kayak tours (from the Praia Grande, Ferragudo) http://algarvefreedomkayaks.pt/
• Quinta Do Frances Winery: https://www.quintadofrances.com/
• The Portimão De Museum: https://www.museudeportimao.pt/
We have worked with Getyourguide.com over the last seven years, and a selection of their best tours from Portimao and Praia da Rocha include:
Praia da Rocha Sights, activities and things to do
The Beaches – Sight of Praia da Rocha
Praia da Rocha has one of the best beaches of the Algarve, with a vast stretch of golden sands, crystal-clear seawaters and surrounded by distinctive sandstone cliffs. To the rear of the beach are numerous beach bars and cafes.
During the summer the beaches are supervised by lifeguards and are safe for children, with giant inflatables to swim and clamber over. To the west are the picturesque beaches of Três Castelos and Careanos, which are nestled between the sandstone cliffs and tend to be slightly quieter.
Related articles: Praia da Rocha beach guide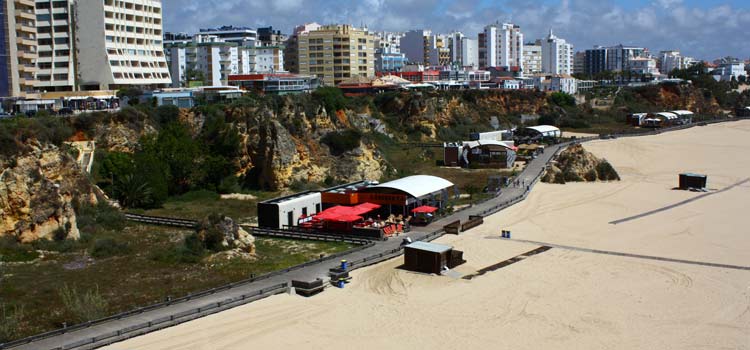 The massive beach of Praia da Rocha
Day Trip to Silves - Place to See
If all the sun, sand and long nights of Praia da Rocha get to much take a day trip to pretty Silves, for a dose of history and culture. Silves was the North African Moors capital of the Algarve during their occupation of the southern Portugal and a mighty fort was constructed to defend the fertile lands.
Today, Silves is an incredibly scenic town, being on the banks of the Arade River, with cobbled streets, traditional painted Portuguese houses leading up to the imposing red brick castle. Silves is the easiest destination to travel to experience the quintessential Portuguese town. One of the most enjoyable methods to travel to Silves is via a boat tour that depart from Portimão harbour.
Related articles: Silves introduction
Day Trip to Portimão - Things to See
Portimão is the largest city close to Rocha and is a historic port that has a surprisingly relaxed ambience and traditional character. The centre of the city contains pedestrianised shopping streets and plazas that are characteristically Portuguese.
The harbour has been transformed into a pleasant urban park with open air cafes, views along the Arade River estuary and an unhurried atmosphere. From Rocha there are regular buses to Portimão or it is just 15-minute walk, but there is a much more pleasant route follows the estuary.
Related articles: Portimão introduction
Slide and Splash - Things to do
A European summer holiday destination wouldn't be a decent one without a crazy waterpark and the Algarve exceeds with many fantastic choices. The western Algarve's premiere waterpark is Slide and Splash, which contains gravity defying flumes, near vertical slides and colossal rubber ring rides. The variety of rides will delight children, teenagers and adults alike but the tourist focused entrance fee of € 27/€19 (adult/child) may dampen the bill payer's spirits. Slide and Splash is 10km from Praia da Rocha and there are transfers which can be pre-booked.
There are great water parks in the Algarve
Trip to Alvor - Sightseeing
Alvor is as different from Praia da Rocha as is physical possible; Alvor is a charming and historic fishing town where the boats are still pulled on to the beaches that line the river front. Alvor caters for the more mature tourist and the town has a peaceful unhurried ambience, with a traditional selection of restaurants, cafes and bars.
The beach of Alvor is a beautiful with almost no development apart from the wooden walkways that cross the sand dunes. Alvor is connect to Praia da Rocha by the Portimao local bus network but Alvor makes for a good destination for a bike ride (see later). For a guide to Alvor please click here.
Zoomarine – Activity
Zoomarine is wonderful marine park that specialises in dolphins, topical birds and marine life. These animal are well cared for, with excellent modern facilities and the park is the only centre in Portugal that rehabilitates injured marine life.
In the marine park there is a diverse selection of activities including aquariums, dolphin shows and a good water park with slides, wave pools and rapids. The variety of attractions means Zoomarine is ideal for both families and young couples but again comes with a hefty entrance fee (€29/ €19).
Hire bikes and cycle - Things to do
There are many interesting places to cycle to around the Praia da Rocha region, including Portimão, Vau and Alvor. The roads close to Praia da Rocha tend to be empty and there a couple of good coastal paths.
If you are planning a longer cycle ride try to avoid the N125 as this is the main artery road of the Algarve. Bikes can be hired for around €15-20 per day. Scooters can also be a great way to explore the local region and can be hired for around €35 but require a large deposit (€500).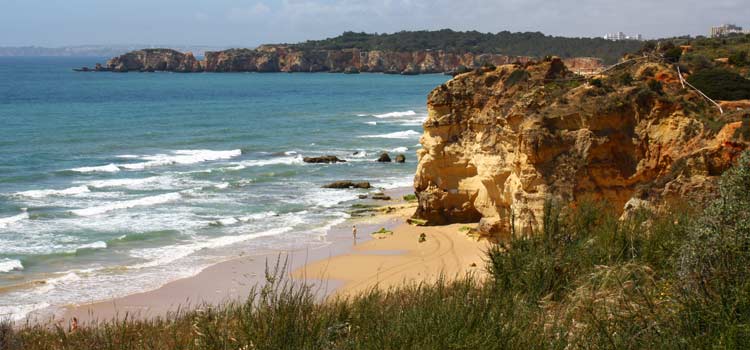 The cycle paths follow the beautiful coastline
Eat and drink – Things to do Praia da Rocha
If you plan for your holiday is to eat and drink "slightly" more than you would normally back at home Praia da Rocha is the destination for you. There are over 100 different restaurants, beach cafes and bars covering every taste, cuisine style and preference.
The nightlife of Praia da Rocha is equally as varied, with and ecliptic mix of bars ranging from uber-chic to tacky and themed. When choosing a hotel, it is advisable not to go all-inclusive as this severely limits the options of where and when to eat. faster.
Shots for everyone! Drinks are much cheaper than back at home
Do Try Portuguese Food
Praia da Rocha is an ideal location to try local and traditional Portuguese cuisines. Portuguese foods tends to be heart and filling (often served with rice, chips and bread to start) and in the Algarve local dishes are based around freshly caught fish or shellfish. One of the best dishes is Cataplana a seafood rice stew that is both cooked and served in a large copper dish that resembles the key ingredient, clams. Cataplana is also unique as it is designed to be shared, with the copper dish placed in the centre of the table.
A prawn Cataplana - yummy!
Best Museum of Praia da Rocha
The Municipal Museum do Portimão has exhibits which detail the history of fishing within the Portimão region and contains a restored traditional fishing boat. The museum is housed in a former sardine canning factory and is close to the harbour in Portimão.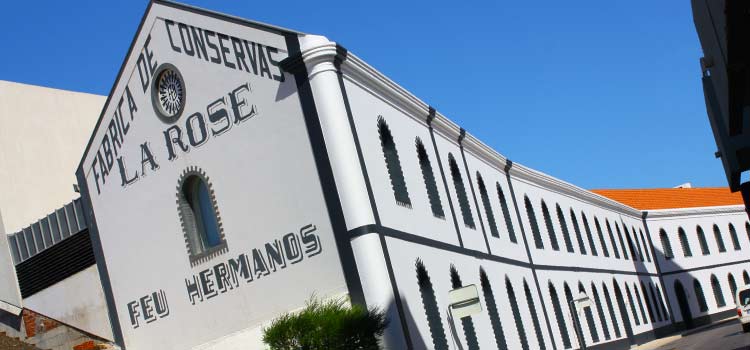 The Municipal Museum do Portimão
Our most popular articles for Praia da Rocha and the Algarve