Quarteira, Portugal; a tourism guide for 2023
Quarteira was one of the first resort towns to be developed along the beautiful Algarve coastline. Today it may be outshined by other more famous Portuguese holiday destinations, but it has a loyal following of visitors, especially with Portuguese tourists.
The beach of Quarteira is one of the finest of the central Algarve region, but as the town was "discovered" by tourism in the 1970s, it means the beach is lined with huge characterless apartment blocks. Fortunately, over the last few years, Quarteira has been improved and beautified, and now boasts a pleasant beach-side promenade, freshly painted buildings, and a new sense of pride.
Quarteira may not be the most famous holiday destination, but it lies at the heart of "Tourist Algarve", located between exclusive Vale do Lobo and Vilamoura, with its magnificent marina and numerous golf courses. This central Algarve region offers a vast selection of tourist activities and fascinating day trips, while the largest water park of the Algarve (Aquashow Park) is on the edge of Quarteira.
As Quarteira caters for a large number of Portuguese tourists and locals, it provides some of the best value restaurants and bars found within the central Algarve. Quarteira is also renowned for its excellent seafood restaurants, with fresh fish being caught by the town's fishing fleet and being sold in the fish market every morning.
During the summer, Quarteira has a lively and social atmosphere, and is an enjoyable holiday destination. If you want a beautiful beach, sensible prices, and great weather for your holiday, then Quarteira could be the ideal location for you.
Related articles: Introduction to the Algarve – Top 10 Algarve
Highlights of Quarteira
The Praia de Quarteira – The gorgeous sandy beach that extends along the entire front of Quarteira.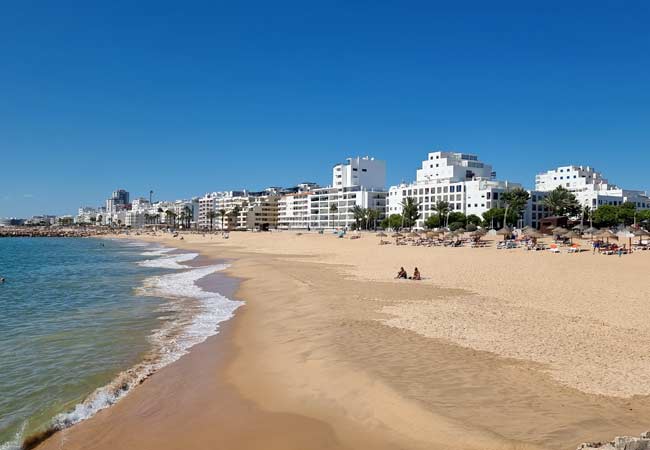 The fishing heritage of Quarteira – With the colourful fishing harbour, lively fish market and excellent seafood restaurants around the Largo das Cortes Reais plaza.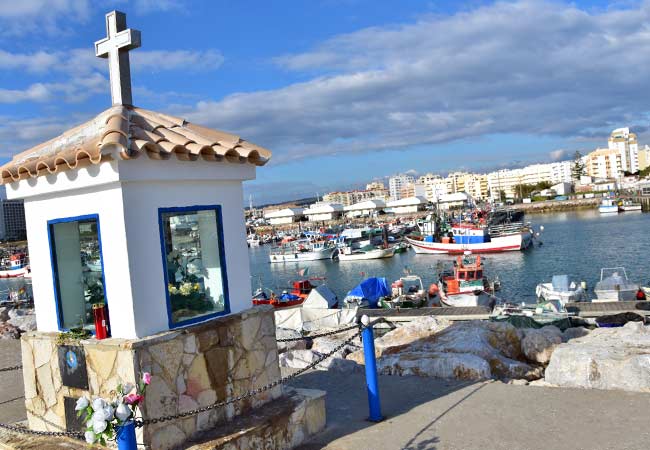 The Avenida Infante de Sagres – The pleasant beach side promenade, where all of Quarteira's restaurants, bars and shops are found.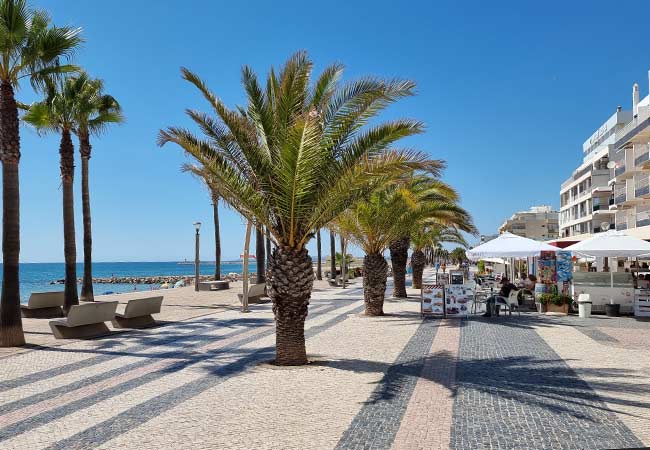 Quarteira holiday rating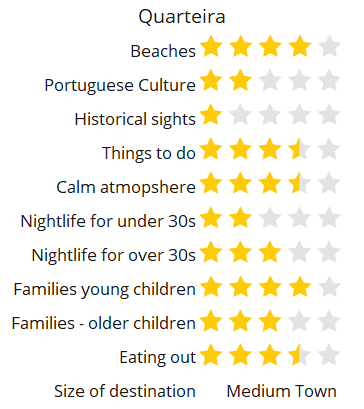 Why a holiday to Quarteira?
Quarteira is rarely the first choice as a holiday destination, but this would be unfair to a town that offers a fantastic beach and excellent tourist facilities.
The calm atmosphere and safe beaches make Quarteira a popular family destination. For teenagers, there is the excellent Aquashow water park, with its numerous flumes and water slides.
From Quarteira, it is only a 15minute walk to Vilamoura, and departing from the marina in Vilamoura are boat tours, dolphin watching trips and speed boat rides.
If you wish to discover the history and culture of the Algarve, there are day trips to Loule, Faro and Olhão, all of which can be reached by bus.
Quarteira's nightlife is laid back and social, but it is easy to travel to Vilamoura for a more sophisticated offering or to Albufeira and "The Strip" for a drink-fuelled party night.
Outside of the peak season, Quarteira is an excellent alternative to Vilamoura for a golfing holiday, due to its sensible prices and close proximity to outstanding golf courses.
Ultimately Quarteira and the central Algarve has a lot to offer you for your holiday.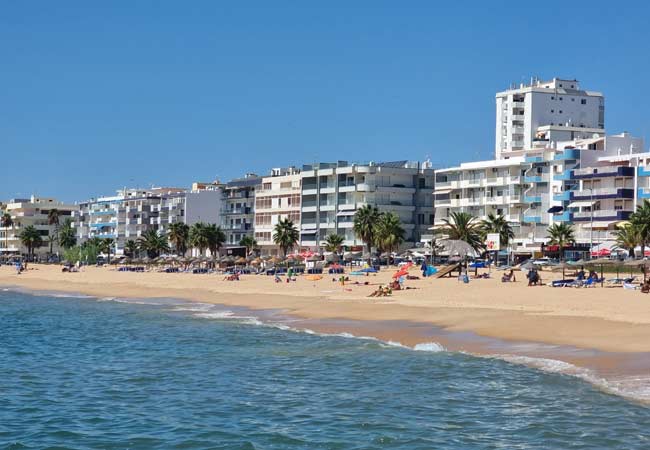 Quarteira has a beautiful beach, but the town is dominated by bland high-rise apartment buildings.
Below is an interactive map of Quarteira and the highlights of the surrounding region. The dark green area is the main tourist area of Quarteira, the lighter green is the residential area of Quarteira. The blue shaded area is the sprawling village of Vale do Lobo and the yellow area is the resort town of Vilamoura. The green line is a suggested tour of both Quarteira and Vilamoura. (Note: Zoom out to see all of the markers)
Sights: 1) Fishing Harbour 2) Mercado do Peixe (fish market) 3) Aquashow Park (Water Park) 4) Lagoa da Ribeira do Almargem (Lagoon nature reserve) 5) Largo das Cortes Reais (fish restaurants) 6) Vilamoura Marina 7) Cerro da Vila (Roman Vila)
Beaches: 8) Praia de Quarteira 9) Praia de Vilamoura 10) Praia do Almargem 11) Praia da Falésia
Golf courses: 12) Vila Sol 13) The Old Course 14) Millennium Golf 15) Victoria Golf 16) Pinhal Golf
Shaded areas: Dark green: Tourist area of Quarteira, Light green: Residential area of Quarteira, Blue: Vale do Lobo, Yellow: Vilamoura
Who should visit Quarteira?
Quarteira is a fantastic location for a holiday if you are seeking a relaxing, low-key holiday destination; where the majority of the day is spent lounging on the beach and evenings spent socialising in restaurants and beach bars. This type of holiday would perfectly suit young families, slightly more mature couples or retirees.
The nightlife of Quarteira is calm and bar focused; this will be too tame for you, if you are part of a party focused group or on a stag/hen do. For these types of holidays, head to the Strip in Albufeira.
Quarteira has few historical monuments or sights, and is not the destination if you want a Portuguese cultural experience. To discover the historic and authentic side of the Algarve, plan a holiday to Tavira or Lagos.
In the low seasons, Quarteira makes for a great base for a golfing holiday, as it is very close to the golf courses of Vilamoura, but without the exclusive costs.
Related articles: Tavira guide – Lagos guide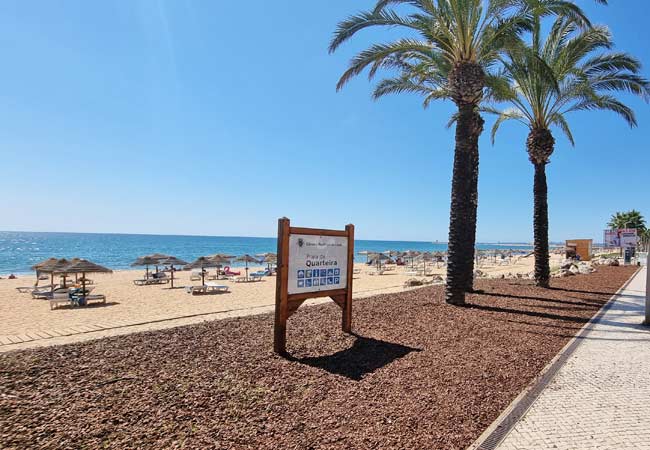 The beach is always the main selling point of Quarteira
When to visit Quarteira?
Quarteira has long hot summers, and warm, pleasant springs and autumns. The weather is suitable for spending time on the beach from May until the end of September. The height of the tourist season is from June through to August, and in this peak season, accommodation needs to be booked well in advance.
The winter months are mild, but the weather can be unpredictable, with an equal number of grey days as sunny days. The Algarve should never be considered as a winter sun destination. During the winter, Quarteira will feel very quiet, but there is a large enough permanent population that the majority of restaurants and bars remain open.
Quarteira for 2023
Quarteira is expecting a sell-out summer season for 2023, as visitors seek holidays to safe and established destinations within Europe.
As Quarteira and the central Algarve are expecting a sell-out 2023, we strongly advise you to get your flights and accommodation as soon as possible, before prices increase and sell out.
The map below shows the best hotels and rental rooms within Quarteira. If you adjust the dates to your holiday, it will display current prices and availability.
Quarteira as a budget destination
Quarteira could be classed as a budget destination, as the prices for eating out and socialising are significantly lower than many of the other resort towns of the Algarve. These lower prices are in part due to the popularity of Quarteira with Portuguese tourists, who demand similar prices to their hometowns.
Quarteira is often overlooked by tour operators, who favour Vilamoura or Albufeira, and most guidebooks do not even mention it. This semi-anonymity can work to the advantage of savvy tourists, especially when trying to secure accommodation close to the summer season.
Quarteira will often be one of the last towns to sell out, and the large number of residential apartments means there are a lot of holiday rentals. Outside of the summer season, Quarteira provides excellent value for accommodation, as hotels try to compete with the more well-known beach resorts.
Activities in Quarteira
There are many activities and boat tours in Quarteira, and many of the boat trips depart from the marina in Vilamoura. We have worked with Getyourguide for the previous seven years and some of their best activities in the Quarteira region include:
Quarteira for a Golfing Holiday
Quarteira is a great destination for a golfing holiday, and it is only a short journey to some of Portugal's finest golf courses. Transport to the golf courses can be organised from Quarteira, and golf clubs can be hired from golf agencies.
Quarteira is close to the five excellent golf courses in Vilamoura, which include the Victoria (18-holes used for the Portugal Masters), Pinhal (18-holes Par 72), the Old Course (18-holes Par 73), Millennium (18 holes Par 72) and Laguna (18holes Par 72).
All of the golf courses in Vilamoura are operated by the Dom Pedro Golf company, and they have a reputation for excellent facilities and the highest standards. Green fees vary depending on the course and the season. Generally, green fees are at their most expensive during October and November, when the weather is most suitable for golf.
For more details, see the Dom Pedro website: www.dompedrogolf.com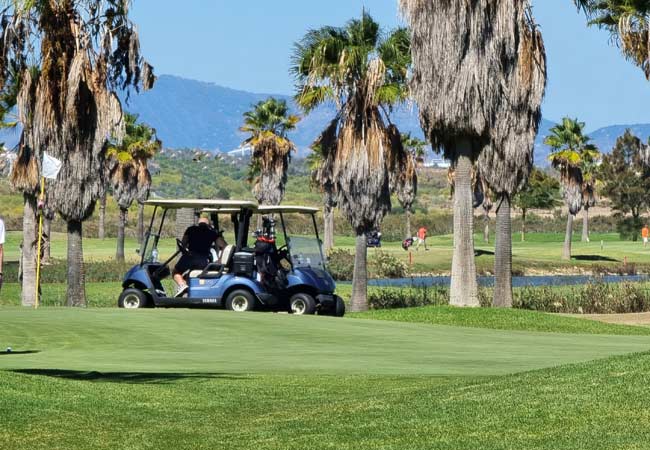 Quarteira airport and transfers
The main airport of southern Portugal is Faro Airport, and this is located 20km to the east of Quarteira.
There is very limited public transport from Faro Airport to Quarteira, and the journey requires two buses (Faro airport to Faro city, and then Faro city to Quarteira). The entire journey takes between 1.5-2 hours, and there are no night-time services.
Taxi journeys from the airport are very expensive (€70+), and there can be very high demand for Uber at peak times. Generally, most visitors to Quarteira either pre-book a transfer (€30-35) or get a sharded transfer from the airport (€15).
Related article: Faro airport to Quarteira
Day trips from Quarteira
From Quarteira there are many interesting day trips to the surrounding region and these are all easily accessible by the inexpensive and regular bus network. Popular day trips from Quarteira include Faro, Loule and Albufeira.
Faro is the pretty and historic regional capital, which boasts a delightful old town and a pleasant pedestrianised city centre. Faro is the gateway to Ria Formosa natural park, a series of salt lagoons and waterways that are a haven for migratory birds and small marine life.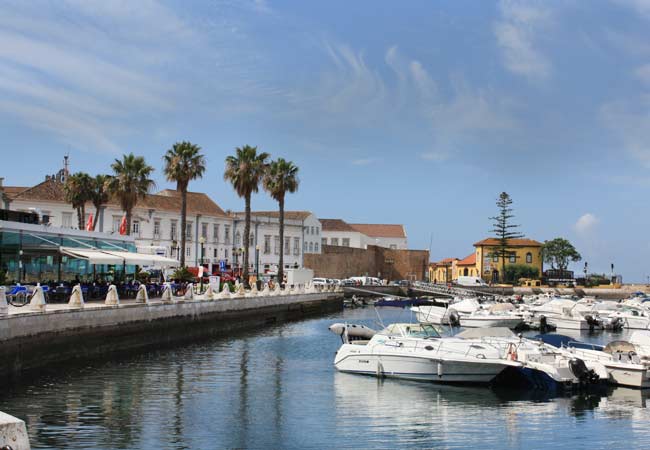 Faro fishing harbour and the historic centre
Loule is a bustling market town that provides an opportunity to experience typical daily Portuguese life. The town is centred around the North African inspired covered market, sell local produce, fresh fish and regional handicrafts. Loule comes alive on Saturdays when there is a large gipsy market hosted on the edge of the town.
Albufeira is the largest resort town of the Algarve, boasting a beautiful beach and an old town crammed full with countless restaurants, bars and shops. Albufeira is a buzzing and hectic town during the summer and has a very different atmosphere to the much calmer Quarteira.
Related articles: Loule guide – Faro guide – Albufeira guide
Loule is a traditional Portuguese city and is an enjoyable day trip
Does Quarteira have good beaches?
The main draw of Quarteira, and the original reason the town developed as a tourist destination, was due to the wonderful sandy beach. The golden sands extend along the entire length of the town and then blends into the pristine beaches of Vale de Lobo.
Along the Quarteira section of the beach, there is a pleasant beach-front promenade, and this makes the entire beach easily accessible by all. To the west of the fishing harbour as another sandy beach (the Praia de Vilamoura), which leads to the marina of Vilamoura.
The sea waters of Quarteira are clean and calm, and suitable for children to swim in. During the summer, the beach is supervised by lifeguards. Quarteira beach can get busy during the summer, but there is usually space to be found within the Vale de Lobo sections of the beach.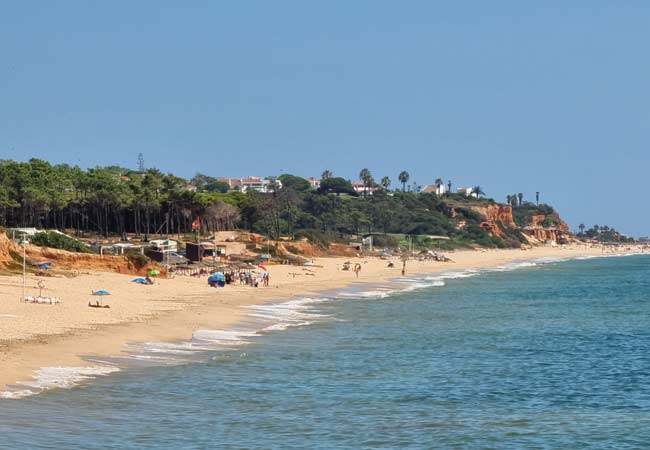 The Praia do Almargem at the eastern end of Quarteira
Our most popular articles for Quarteira and the Algarve