The Algarve for Christmas and the Winter Season
The Algarve is an enjoyable and inexpensive location for a Christmas holiday. The region should never be considered as a bikini wearing, winter sun destination, but it will have significantly better weather than back at home.
The winter was traditionally the low tourist season, but the Algarve has experienced an unprecedented increase in visitor numbers, as tourists shun the volatile and unsafe North African countries.
This increase of tourism has greatly benefitted the Algarve. Now, more hotels and restaurants remain permanently open, and there is a lively atmosphere in the larger resort towns, especially around Christmas.
This guide will provide an introduction to an Algarve Christmas or winter holiday, and will include details of the weather, where to stay, Portuguese Christmas customs and general winter holiday tips.
Related articles: Top 10 Algarve – Which town for my holiday?
What's the weather going in the Algarve to be like at Christmas?
The weather in the Algarve at Christmas is best described as unpredictable but mild. There is an equal chance of a bright sunny day as an overcast cloudy day, and there is always the risk of some rain.
The maximum day time temperature is 16-18C, which is just warm enough for t-shirts but certainly not for sun bathing on the beach. The evenings chill down to 5-10C, so a jumper or jacket is needed for the evenings, and the accommodation heating will be switched on.
The Algarve should not be considered as a winter sun destination, as beach weather for southern Portugal is between May and September. If you want guaranteed sun and warmth try visiting a more southerly holiday destination but these holidays will cost much more at Christmas!

Day time maximum temperature and night time minimum in centigrade and fahrenheit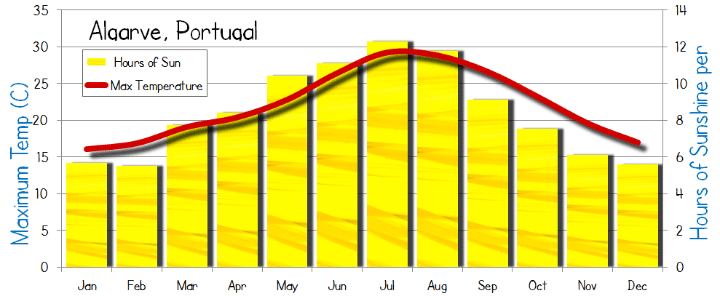 Hours of sun per day (yellow) and max temperature (red line)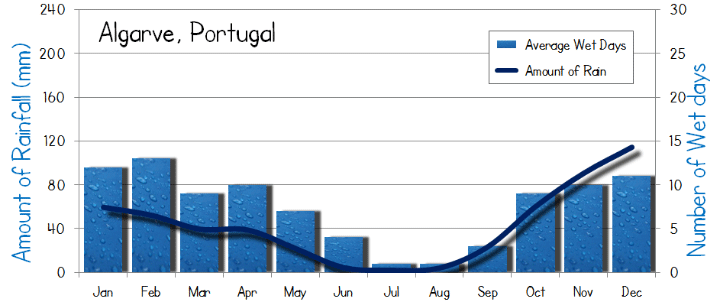 Number of wet days per month (blue bar) and amount of rain (blue line)
Why visit the Algarve for Christmas?
You may ask the question; if the weather is not going to be hot and it's the low season, why bother visiting the Algarve for Christmas?
The reasons to visit are; the Algarve offers great value for money, it is a family friendly destination, and there is enough going on to make an enjoyable Christmas holiday.
The Algarve is an ideal destination for families who wish to take the extended family away with them for Christmas, especially older generations or very young children.
The Algarve is an easy holiday destination, as English is spoken by everyone who works within tourism, all common branded goods are found in the supermarkets and there is excellent health care.
Bolo Rei (King Cake) is the traditional Portuguese Christmas cake - and is very sweet!
A winter holiday to southern Portugal will offer exceptional value for money, and will be significantly less expensive than the more popular Christmas destinations.
The Algarve is served by Faro Airport and flying here are all of the low-cost airlines, which means there can be very cheap tickets if purchased far enough in advance. As it is the low season, exceptional offers can be found for accommodation, either for hotels or holiday apartments.
Once in the Algarve, the value for money continues, with food, drinks and public transport much less than the other popular European holiday destinations. Often it is cheaper to eat out at than to cook at home!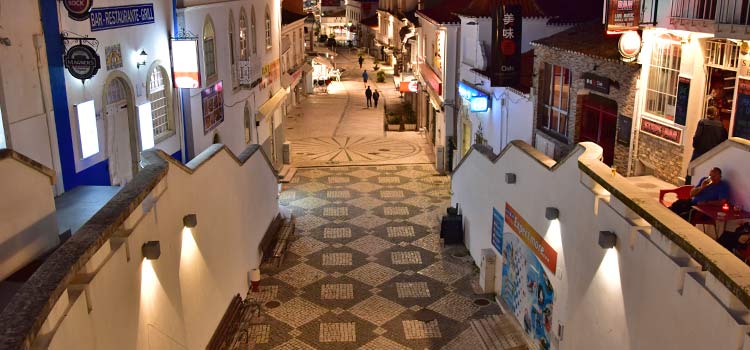 Albufeira is a pretty town on the Algarve
The Algarve is quiet during the winter months but visitor numbers increase over the Christmas holiday and these visitors tend to be concentrated in certain areas (see the following section). This means that within these areas many bars and restaurants are open and there is a good social atmosphere.
Where to go in the Algarve for Christmas?
December and January are the low tourist season for the Algarve, therefore, it is suggested to go to the larger resort towns of Albufeira, Praia da Rocha, Vilamoura or Lagos as the smaller resort may feel very quiet.
It is common for many of the bars and restaurants in the smaller resorts to shut during the winter season. Albufeira, Vilamoura and Praia da Rocha have large expat communities while Lagos is a major town with a large permanent population. In our opinion Albufeira is the best choice as it is the larger of the resort towns and there will be more going on.
For the New Year celebrations Albufeira is again a good choice of destination, as there is a major firework display, an open-air concert and, most importantly, there is a great atmosphere.
What do the Portuguese do for Christmas?
The Portuguese have their main Christmas celebrations on the evening of the 24th of December. All generations of the family gather for a special (late) evening meal of Bacalhau (codfish) and their traditional Christmas cake called the Bolo Rei (King Cake).
The meal tends to finish very late and then is followed by midnight Mass. The Christmas gifts are given to each other after the church service or at midnight (much to the delight of Portuguese children).
Christmas day for the Portuguese is a much more low-key day, similar to our boxing day, and all family members are expected to go to church.
Christmas is a national holiday for the Portuguese therefore many restaurants and bars will be closed. It is always advisable to pre-book a table for a Christmas meal.
When to Go?
The cost of flights will always be more expensive closer to Christmas, so flying out earlier and booking well in advance will certainly save money.
As the Algarve is in the low season the period, prior to Christmas (before 21st December) and after Christmas (after 3rd January) will be very quiet and flight accommodation will be cheaper.
The cooler winter months are great time of year to hire a car and explore the Algarve (Silves, Sagres and Mertola). The Algarve is a great destination for a golfing holiday and outside of the high season green fees massively reduce, the main golfing town is Vilamoura.
Tips and Advice for a Winter Holiday
Always get a hotel room which has heating or an air conditioning unit which can also warm. The winter nights can have a chill and some sort of heating will be required.
This is even more important if you are hiring an apartment or house, which may have no means of heating. The sea will be extremely cold in the winter, and if you plan to go surfing bring a wetsuit.