Praia da Rocha, Portugal; a tourism guide for 2022
Praia da Rocha is a lively holiday destination that is situated on one of the finest beaches of the Algarve.
This is a town that is focused solely on two-holiday aspects: the beach and having fun. Praia da Rocha is a destination to lounge on the beach, eat delicious food and then embrace the night!
Being in the centre of the Algarve and close to a major city (Portimão), Praia da Rocha boasts a wide selection of sights and activities. There are boat tours, waterparks, historic towns to discover, scenic hiking trails, along with the exciting nightlife.
Historically, Praia da Rocha was a minor fishing village, but since the 1980s the town has fully embraced tourism. Praia da Rocha is a modern town, with gleaming apartments and mega-hotels that line the golden cliffs and beautiful beach.
Over the last few years, Praia da Rocha has spruced up both its appearance and clientele, and now caters for an equal mix of fun-seeking tourists and traditional holidaymakers (such as families & older couples). The exclusive marina complex and NoSoloÁgua beach club add a touch of class to Praia da Rocha, while the lively theme bars at the western side of the beach provide the holiday fun.
Praia da Rocha is an outstanding holiday destination, with a magnificent beach, lots going on, and a buzzing holiday atmosphere. Because of this, the town will have a wide-reaching appeal, including families, young couples or more mature tourists.
This article will show you why you should have a holiday to Praia da Rocha and help you get the most from the region.
Highlights of Praia da Rocha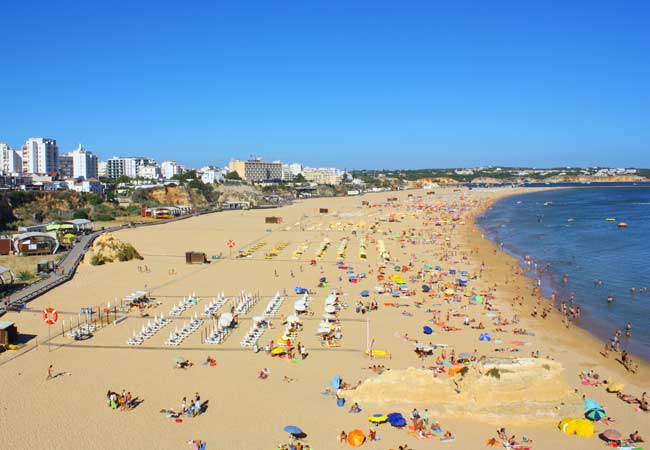 The Praia da Rocha beach – This gorgeous sandy beach is one of the largest beaches of the western Algarve, and is a hive of activity in the summer.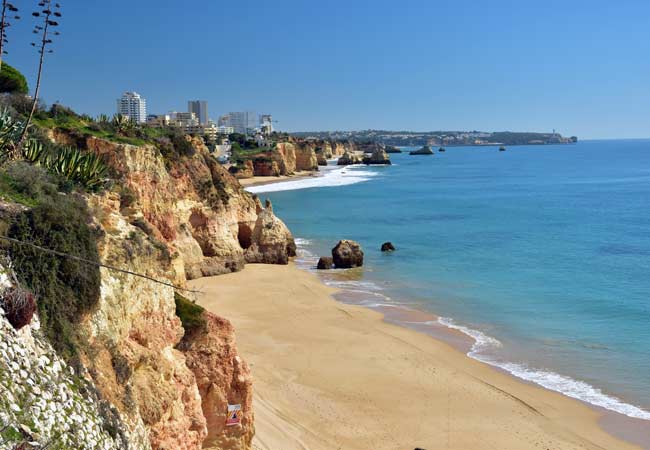 The picturesque coastline – Praia da Rocha lies in a region of outstanding natural beauty. There are secluded cove beaches, scenic footpaths and the pristine coast around the João de Arens headland.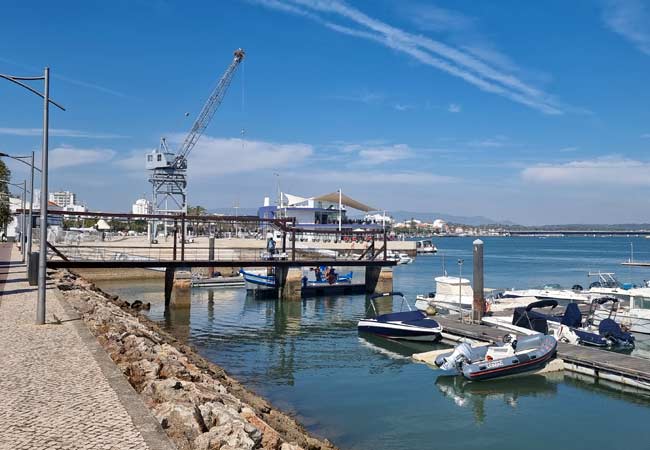 Ribeirinha de Portimão – The former docks of Portimão, which have been converted into a delightful waterfront that overlooks the Arade River. This is a calm and peaceful area of Portimão, and just a short walk from Praia da Rocha.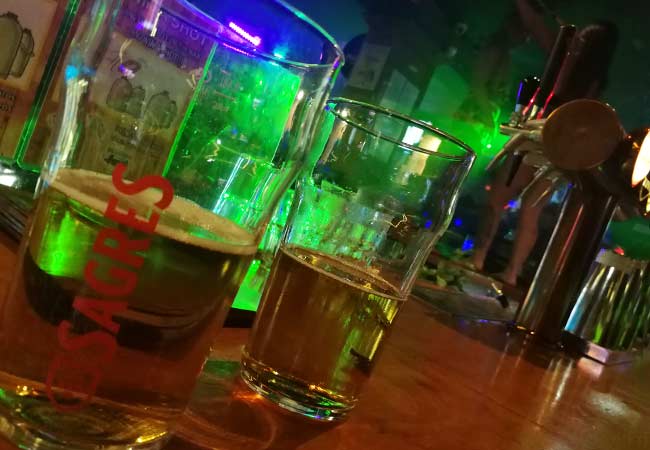 The vibrant holiday atmosphere – Lounge on the beach, socialise in cafes and be merry in the theme bars. Praia da Rocha has everything you need for a fantastic holiday.
Praia da Rocha holiday ratings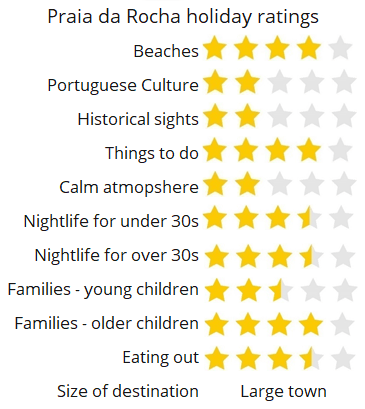 A holiday to Praia da Rocha can be more than just beaches
The majority of tourists to Praia da Rocha come for a relaxing beach-focused holiday, but there is a lot to do within the surrounding region. This makes the town ideal if you're a restless tourist and want more than beaches and sun for your holiday.
Depart from the Portimão Marina are numerous boat trips, including tours to Benagil Cave (€27), dolphin watching trips, fishing trips and thrilling speed boat tours.
The city of Portimão is just a 20-minute walk from Praia da Rocha, and within the city is a pretty harbourfront (the Ribeirinha de Portimão), a historic centre and traditional seafood restaurants.
A popular day trip is to Silves, the ancient Moorish capital of the Algarve, with its red-brick castle and a delightful historic quarter. Other enjoyable day trips are to the historic seafaring city of Lagos or the pretty fishing village of Ferragudo.
If you're planning a family holiday, your children will love the insane waterslides at Slide & Splash (8km from Praia da Rocha), the marine-focused theme-park of Zoomarine, or the pirate ship boat tour that departs from the Ribeirinha de Portimão.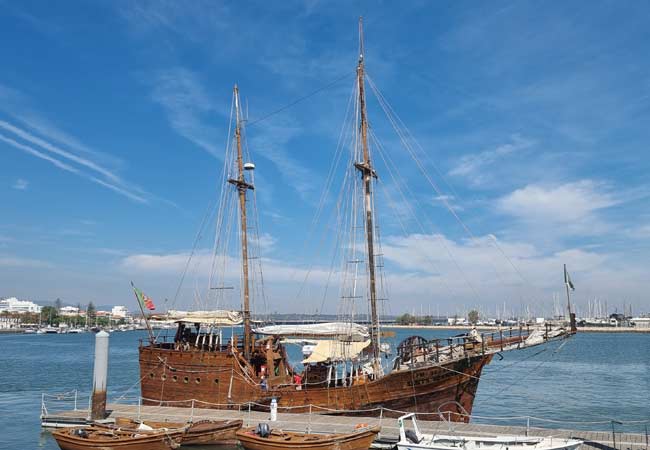 The Santa Bernarda pirate ship departs from Portimão
For adult activities, there are two challenging golf courses (Penina Golf and Alto golf) or even skydiving from the Aeródromo de Portimão (www.airemotions.com).
Praia da Rocha and Portimão may be larger urban areas, but there are lots of beautiful natural scenery close by. There is the pristine coastline of the João de Arens headland, with its forested walks and stunning cliff formations, while further west are the sand dunes of Alvor. To the east of the Arade River is the stunning Praia dos Caneiros beach, and the unique rock formations of Algar Seco.
A holiday to Praia da Rocha can be relaxing, but it can equally be as exciting as you want it to be.
Related articles: The best day trips from Praia da Rocha
Below is an interactive map of the Praia da Rocha region. The centre of Praia da Rocha (where all of the bars and restaurants are) is in the highlighted yellow section and is marker 1, while the city centre of Portimão is marked in green and marker 2. (Note: zoom out to see all of the markers)
Praia da Rocha sights: 1) Praia da Rocha centre 2) Portimão city centre 3) Santa Catarina fort 4) Portimão Marina 5) Ribeirinha de Portimão 6) Jesuitas convent 7) Portimão museum 8) NoSoloÁgua (beach club)
The surrounding region 9) Silves 10) Ferragudo 11) Lagos 12) Slide & Splash (waterpark) 13) Alto Golf 14) Penina Golf 15) Aeródromo de Portimão 16) João de Arens headland
Beaches: 17) Praia do Vau 18) Praia dos Careanos 19) Praia dos Três Castelos 20) Praia da Rocha 21) Praia Grande 22) Praia dos Caneiros
There are many enjoyable water-based activities in Praia da Rocha, some of the best provided by Getyourguide include:
• River cruise up to the historic town of Silves (€30)
• Pirate Ship Cave Cruise (€35)
• Benagil Caves Cruise (€30)
Praia da Rocha and Portimão…
Praia da Rocha and Portimão are often confusing used interchangeably. Praia da Rocha is the resort town situated along the beach, while Portimão is a large residential city 3km inland.
For a beach focused holiday, you will want to be based in Praia da Rocha and not Portimão. Sometimes Praia da Rocha is referred to as Portimao, as it is the much larger city.
Portimão is an interesting city for a day trip, but it does not provide the holiday atmosphere you are probably wanting.
Insight: When booking accommodation, make sure it is close to the beach and the "Avenida Tomás Cabreira".
Related articles: Portimão guide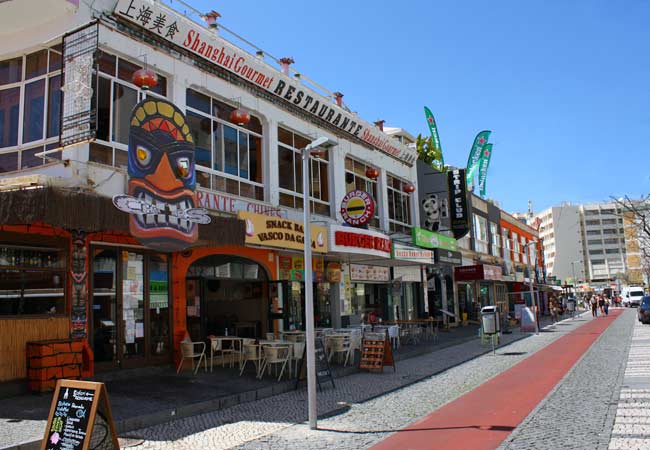 The Avenida Tomás Cabreira is the main street of Praia da Rocha where all of the bars and restaurants are found
When to visit Praia da Rocha?
Praia da Rocha has hot summers and pleasant springs and autumns. Winters are mild, but the weather can be unpredictable.
July through to August is the height of the tourist season, and the town will be at its most hectic, with the majority of hotels fully sold out. During this time of year, Praia da Rocha attracts a younger age of visitor, with groups of fun-seeking twenty years old and families with teenage children. If you are travelling with younger children or want something a bit calmer, you may wish to consider the smaller resort towns such as Carvoeiro, Praia da Luz or Armação de Pêra.
Outside of the summer months, Praia da Rocha is much calmer and has a slightly more mature atmosphere, making it ideal if you wish a relaxing holiday. September is a very popular month for visitors without school-age children, and a highly recommended month to visit. If you wish a touring holiday, May are June are the best months, when the weather is slightly cooler, and the Algarve is not crowded.
Insight: The weather is suitable for spending time on the beach from mid-May until the end of October.
Praia da Rocha closes down for winter in October and reopens for Easter, and during the closed season, the town will feel very quiet, as there is not a large permanent population. The one exception is the Christmas holidays when there will be a significant number of tourists.
Praia da Rocha for 2022
Praia da Rocha is expecting a sell-out summer season for 2022, as visitors seek holidays to safe and established destinations within Europe.
The combination of returning visitors (who know how good the Algarve is), and new tourists, means that Praia da Rocha will sell out. We highly recommend that you book accommodation and flights as soon as possible, before prices increase and sell-out.
The map below shows the best hotels and rental rooms in Praia da Rocha; if you adjust the dates to your holiday, it will display current prices and availability.
Praia da Rocha airport and transfers
Faro airport is the international airport of the Algarve and is 63km to the east of Praia da Rocha.
There is very limited public transport from Faro airport to Praia da Rocha, and the journey is very time consuming, requiring two buses and a train journey (bus from Faro Airport to Faro city, regional train from Faro to Portimão and then a bus (or taxi) from Portimão train station to your hotel)
Most visitors either pre-book an airport transfer (€80-90) or get a shared transfer from the airport. A taxi journey will be very expensive (+€120), and there is huge demand for Uber at peak times.
Related article: Faro airport to Praia da Rocha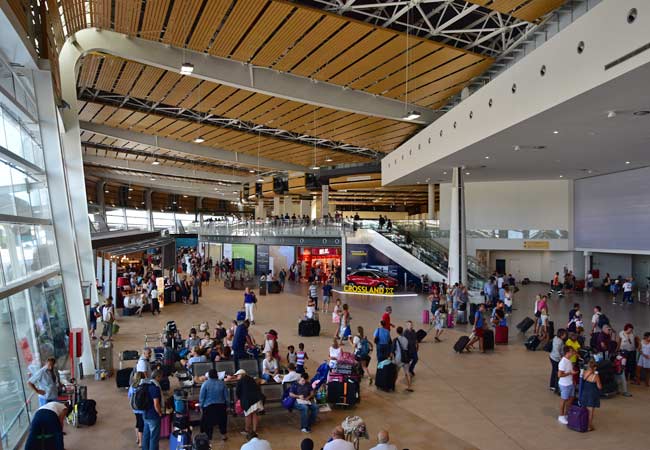 Faro airport is modern and easy to travel through, but expect itto be busy in the summer months
The beaches of Praia da Rocha
Praia da Rocha boasts a massive sandy beach, which can easily accommodate all of the summertime tourists. The golden sands extend along the entire length of the town and is the widest beach of the Algarve (it is 200m from the cliffs to the seafront). Due to the size of the beach there is a beach sports area, including volleyball and football pitches.
Along the beachfront is a pleasant promenade, which is lined with numerous beach restaurants and bars. The beach is safe for children, with clean seawaters, no strong currents and is supervised by lifeguards in the summer. Under the right conditions (and in the autumn and winter), the waves can be suitable for surfing.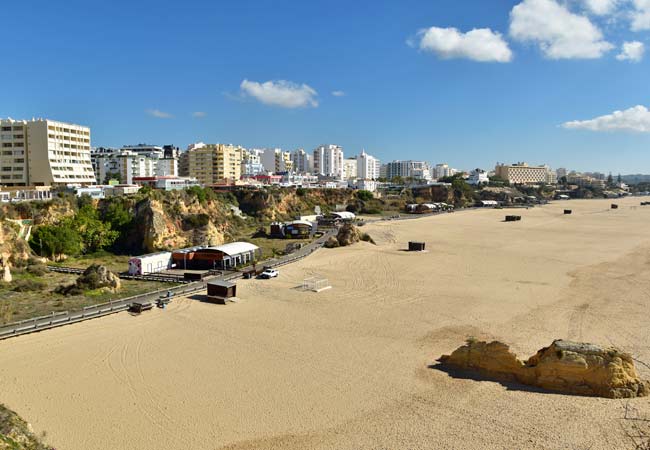 The Praia da Rocha beach is magnificent
To the west of Praia da Rocha, the golden limestone and red clay cliffs extend closer to the sea. Nestled at the base of these cliffs are the picturesque beaches of Praia dos Três Castelos and Praia do Amado. Beyond these beaches is the beautiful sandy bay of Praia do Vau and the relaxing village of Vau.
The beaches on the eastern side of the Arade River are surprisingly difficult to travel to, and are rarely visited by tourists based in Praia da Rocha.
Related articles: Praia da Rocha beach guide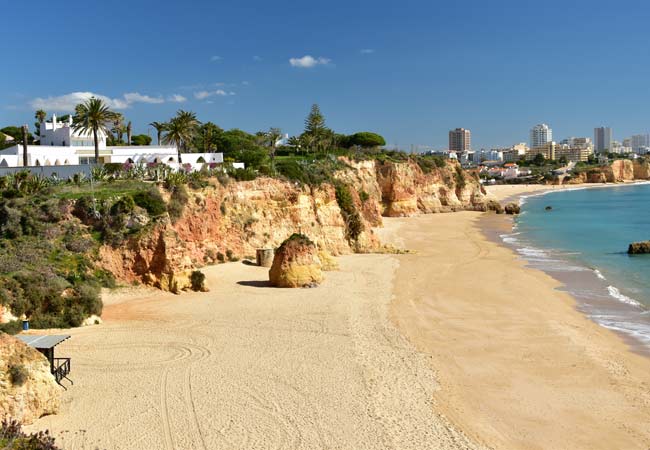 The beautiful Praia do Vau
Praia da Rocha for families and young children
The central Algarve is a great destination for children and Praia da Rocha is popular with families. The reasons why the central Algarve is ideal for families are:
• The beaches are safe, with clean and calm sea waters, and are supervised in the summer.
• The Portuguese are a very family-focused nation and children will be welcomed in all restaurants.
• Supermarkets stock all common items, and pharmacies are widely available for all minor ailments.
• English is widely spoken by all who work within the tourist industry, and language will never be an issue.
During the peak summer, Praia da Rocha will be very hectic with a diverse range of ages and tourists, this mix of visitors may not be suited for all families or parents seeking a purely relaxing holiday.
Day trips from Praia da Rocha
From Praia da Rocha there are many enjoyable day trips to the historic and charming towns of the surrounding region. Popular excursions include Silves, Portimão, Alvor and Ferragudo.
Silves was the ancient capital of the Algarve, and is a peaceful, historic town that is dominated by the massive red-brick castle. Silves can be travelled to by bus, but a more enjoyable method is to join one of the boat tours from Portimão that cruise up the Rio Arade to Silves.
Portimão is a large residential city that has a surprisingly pleasant centre and scenic harbour front. Portimão offers varied and extensive shopping, either in the city centre or the Aqua shopping centre. Ferragudo is an authentic fishing village, which lies on the opposite banks of Arade estuary from Praia da Rocha, and is reached by ferry boat from Portimão harbour.
Ferragudo and Portimão can be easily combined in a single day trip. South of Ferragudo are some of the regions quietest beaches. The final interesting town to visit is Alvor, a popular laid-laid back holiday destination which is situated on a beautiful beach.
Related articles: Day trips from Praia da Rocha - Silves intro – Day trip to Ferragudo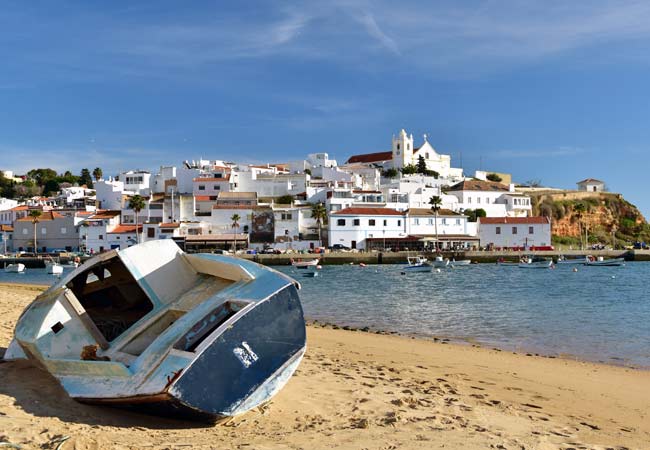 Ferragudo is a traditional Portuguese fishing village
Our most popular articles for Praia da Rocha and the Algarve