Praia da Rocha Portugal – Fully updated for 2021!
Praia da Rocha is an enjoyable, bustling and jovial resort town, which during the summer, is one of the liveliest towns of the Algarve coastline.
Praia da Rocha is a town that is focused solely on two aspects; the beach and having fun. This is not a destination for an immersion into Portuguese culture; it is a place to lounge on the beach, eat great food and then embrace the night!
That said, there is history and culture close by, in the form of interesting day trips (Silves, Portimao and Ferragudo), and Praia da Rocha does boast many great holiday activities, including powerboat rides, water parks, and jeep tours.
Praia da Rocha is a classic beach holiday destination, with an outstanding beach, lots going on, and buzzing holiday atmosphere, while also having a wide-reaching appeal, including families, young couples or the more mature tourist.
This guide will provide an introduction to Praia da Rocha, and is designed for tourists considering a holiday to this buzzing summer town.
Highlights of Praia da Rocha
Best of Praia da Rocha
• The beautiful and vast sandy beach
• The themed bars and social atmosphere of the main street (Avenida Tomás Cabreira)
• The marina complex's restaurants and bars, which add a touch of class to PdR
• A dolphin watch trip and boat tour along the dramatic coastline
Highlights of the Praia da Rocha region
• Zoomarine, the best marine/theme park of the Algarve
• Slide and Splash, a fantastic water park
• Day trip to Silves, a historic and picturesque town
• Day trip to Portimao, with great shopping and a pretty waterfront
• Alvor, a relaxed and personable resort town
Related articles: Day trips from Praia da Rocha
Why Visit Praia da Rocha?
Praia da Rocha is one of the Algarve's most popular resort towns and offers a diverse selection of entertainment, sights and activities, suitable for all ages. The town is set above one of the finest beaches of the Algarve, a vast expanse of soft golden sands, which is lapped by the crystal-clear sea waters.
Praia da Rocha has an extensive selection of restaurants and bars, and the nightlife is varied and colourful. The main street of Tomás Cabreira is filled with themed bars, and is always a hive of activity, while the marina complex has a more exclusive and stylish ambience.
Related articles: Things to do and see in Praia da Rocha
Below is an interactive map of the Praia da Rocha region. The centre of Praia da Rocha (where all of the bars and restaurants are) is in the highlighted yellow section and marker 1, while the city centre of Portimão is marked in green and marker 2. (Note: zoom out to see all of the markers)
Sights: 1) Praia da Rocha centre 2) Portimão city centre 3) Santa Catarina fort 4) Portimão Marina 5) Portimão city waterfront 6) Matriz church 7) Jesuitas convent 8) Portimão museum 9) NoSoloÁgua (beach club) 10) Ferragudo (pretty village) 11) Slide & Splash (waterpark) 12) Alto Golf (golf course)
Beaches: 13) Praia do Vau 14) Praia dos Careanos 15) Praia dos Três Castelos 16) Praia da Rocha 17) Praia Grande 18) Praia dos Caneiros
Praia da Rocha and Portimão…
Before we get too far into this article, we should explain the relationship between Praia da Rocha and Portimão, as confusingly they are used interchangeably.
Praia da Rocha is the resort town along the coastline, while Portimão is a major residential city 3km inland from Praia da Rocha. For the fun holiday resort, which this guide is detailing, you want to be based in Praia da Rocha and close to the beach.
Related articles: Portimão introduction
Who should visit Praia da Rocha?
During the summer season, Praia da Rocha is a busy and hectic town that is perfectly suited for visitors who enjoy a buzzing and vibrant atmosphere.
Praia da Rocha's main draws are the stunning beaches, excellent restaurants and energetic nightlife; do not expect to find culture or heritage from Praia da Rocha.
Though Praia da Rocha welcomes a wide range of visitors, it is still primarily a family holiday destination, with facilities and activities that are perfectly suited for children of all ages.
Young children will be welcomed throughout, while difficult to please teenagers will be entertained by the waterparks, theme parks and the general excitement about the town.
Outside of the summer months Praia da Rocha is calmer and has a slightly more mature atmosphere, making it ideal for visitors who want a relaxing holiday.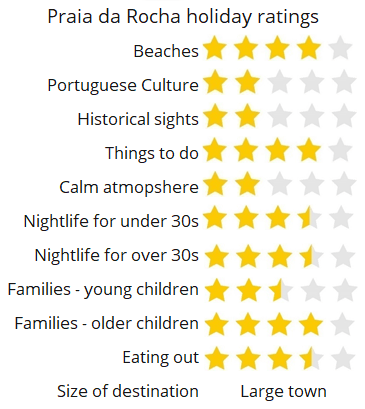 When to Visit Praia da Rocha and Southern Portugal?
Praia da Rocha and the Algarve have long hot summers and pleasant spring and autumns. Winters are mild, but the weather can be unpredictable.
June through to August is the height of the tourist season and the town will be at its most hectic, with the majority of hotels fully sold out. If you are planning a summer holiday to southern Portugal, always book accommodation and flights well in advance.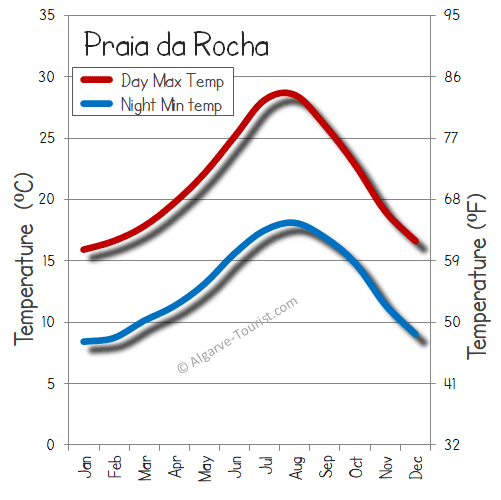 The weather is suitable for spending time on the beach from mid-May until the end of September and the mid-seasons can be a great time for a bargain holiday.
Praia da Rocha closes down for winter in October and reopens for Easter and during the closed season the region will feel very quiet as there is not a large permanent population. The one exception is the Christmas holidays when there will be a significant number of tourists.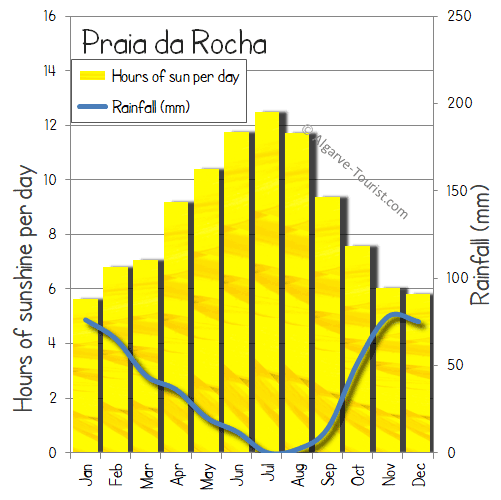 Praia da Rocha for 2021
Praia da Rocha is expecting a sell-out summer season for 2021, as more visitors seek holidays to safe and established destinations within Europe.
As Praia da Rocha is expecting a sell-out 2021, we strongly advise you to get your flights and accommodation as soon possible before they increase and sell out.
Use the map below to discover the best accommodation in Praia da Rocha, if you adjust the dates to your holiday it will display current prices and availability.
Does Praia da Rocha have good beaches?
Praia da Rocha has a large and beautiful beach, which can easily accommodate all of the summertime tourists. The beach stretches along the length of the town and there is a pleasant promenade that makes the entire beach easily accessible. Further along the coast, the sandstone cliffs hide small coves and quieter beaches, ideal for those wishing to escape the crowds.
The sea waters of south Portugal are clean but very cold as they are feed by the Atlantic Ocean, instead of the warmer Mediterranean Sea. The beach of Praia da Rocha is supervised by lifeguards and there are no dangerous currents making them suitable for children and families. There are all manner of water sports and activities including; jet skis, banana boats, kayaks and parasailers.
Related articles: Praia da Rocha beach guide
Theme parks and water Parks in Praia da Rocha?
There are no theme parks or water parks directly in Praia da Rocha but there are shuttle buses to the major parks of the Algarve. The best water park is Slide and Splash (9km from PdR, €27 adult entrance), a huge complex of insane slides, flumes and rubber ring rides.
Zoomarine (30km from PdR, €27 adult entrance), is a combination of waterpark and sea world that specialises in dolphins, and the finest theme park of the Algarve. Both parks are excellently maintained, with great attractions and are enjoyable for visitors of all ages; the only downside are the tourist inflated entrance fees..
Day trips from Praia da Rocha
From Praia da Rocha there are many enjoyable day trips to the historic and charming towns of the surrounding region. Popular excursions include Silves, Portimão, Alvor and Ferragudo.
Silves was the ancient capital of the Algarve, and is a peaceful, historic town that is dominated by the massive red-brick castle. Silves can be travelled to by bus, but a more enjoyable method is to join one of the boat tours from Portimão that cruise up the Rio Arade to Silves.
Portimão is a large residential city that has a surprisingly pleasant centre and scenic harbour front. Portimão offers varied and extensive shopping, either in the city centre or the Aqua shopping centre. Ferragudo is an authentic fishing village, which lies on the opposite banks of Arade estuary from Praia da Rocha, and is reached by ferry boat from Portimão harbour.
Ferragudo and Portimão can be easily combined in a single day trip. South of Ferragudo are some of the regions quietest beaches. The final interesting town to visit is Alvor, a popular laid-laid back holiday destination which is situated on a beautiful beach.
Related articles: Day trips from Praia da Rocha - Silves intro – Day trip to Ferragudo
Praia da Rocha for families and young children
Southern Portugal is a good destination for children and Praia da Rocha is popular with families. Having children also, we would recommend Praia da Rocha and the central Algarve based on the following:
• The beaches are safe, with clean and calm sea waters, and are supervised in the summer.
• The Portuguese are a very family focused nation and children will be welcomed in all restaurants.
• Supermarkets stock all common items, and pharmacies are widely available for all minor ailments.
• English is widely spoken by all who work within the tourist industry, and language will never be an issue.
During the peak summer Praia da Rocha will be very hectic with a diverse range of ages and tourists, this ecliptic mix of visitors may not be suited for all families or parents seeking a purely relaxing holiday.
Praia da Rocha Airport
The main international airport that serves the Algarve is close to the city of Faro, 70km to the east of Praia da Rocha. Faro is a modern airport which has recently undergone a major renovation project and has flights covering the whole of Europe.
There is very limited public transport from Faro airport to Praia da Rocha and the journey is very time consuming, requiring two buses and a train journey.
It is advisable to pre-book airport transfers, and a shared transfer with a minibus or coach starts from €30 while private transfer will be around €60.
Related article: Faro airport to Praia da Rocha
Restaurants, eating out and food in Praia da Rocha
Visitors to southern Portugal will discover that eating out provides great value, as food and drink are significantly cheaper than back at home.
In Praia da Rocha there is a wide selection of restaurants that cover all cuisines and budgets, and include Portuguese, English, Indian, Chinese, Italian and Spanish.
The evening meal is an important part of the Portuguese day, therefore meals tend not to be rushed and last for a good couple of hours.
There have been a number of sham residential letting websites, which have appeared on the internet, with bogus or copied listings (often of real apartments). These websites look professional (with guarantees and refund policies) and the prices are significantly cheaper.
Only ever book an apartment through a trusted website (booking.com, homeaway.co.uk etc) and never pay for accommodation by bank transfer. For more details, please see the TripAdvisor forum post:
www.tripadvisor.com/../Villas_Algarve.html
(link opens new link)
Note: This type of scam is not just limited to the Algarve but is found in all major tourist destinations. The Algarve is just ripe for it, as demand for accommodation outstrips supply.
Our most popular articles for Praia da Rocha and the Algarve