Albufeira, Portugal - A Tourism Guide Updated for 2020
Albufeira is the largest, liveliest and most energetic of all of the resort towns that line southern Portugal's beautiful Algarve coastline.
It provides everything needed for a fun-packed holiday, with glorious beaches, a wonderful climate, varied activities and a buzzing atmosphere. There is so much to love about Albufeira, and this is why this once peaceful fishing village has been transformed into the Algarve's most popular holiday destination.
Being the largest resort town of the Algarve, Albufeira boasts an extensive range of activities, attractions and accommodation. This makes the town ideal whether you are visiting as a family, for a romantic trip or with a party.
This article will provide an introduction to Albufeira, one of the finest resorts in Portugal.
Related articles: 1 week in Albufeira – Sights and activities – Beaches
Why have a holiday to Albufeira?
Though Albufeira welcomes a wide range of visitors, it is still primarily a family holiday destination, with facilities and activities that are perfectly suited for children of all ages. There are safe beaches for young children, family-focused resort hotels, and theme and water parks to entertain difficult to please teenagers.
If you are a restless visitor, there are many fascinating day trips including the fortified town of Silves, the market town of Loule or the historic city of Faro.
The map below displays the main tourist areas and beaches of Albufeira.
The Old Town area is highlighted in yellow and The Strip is marked in orange, the surrounding shaded areas are good for accommodation if you wish to be based near either. The purple shaded area is where many of the package and family resorts are located, while the marina complex is highlighted in blue.
How can Albufeira be suitable for both families and stag/hen/group holidays?
Albufeira is able to cater for the two extremes of tourists (families and party holidays) as there are two very separate areas of the town; the Old Town and The Strip (New Town).
The Old Town is the historic centre of Albufeira and is a series of traditional Portuguese streets and plazas, filled with family-friendly restaurants and shops. This district opens out on the Praia dos Pescadores beach, a calm and sheltered beach suitable for families and children.
The New Town lies 2km to the east of the Old Town and is filled with modern hotels and sprawling apartment complexes. The Strip is lined with themed bars and night clubs, designed for all-day drinking and late-night partying. At the base of "The Strip" is the Praia da Oura beach, the perfect location to recover after a manic night.
This separation of the two areas allows for families and party focused groups to enjoy Albufeira at the same time, and not antagonise each other.
Related articles: Stag & hen Albufeira guide – Albufeira for children and family activities
When to Visit Albufeira
Albufeira has hot and dry summers, with the peak season aligning with the school holidays (July and August). The high season extends from June until the end of September; outside of this period Albufeira is much calmer.
The weather is suitable for spending time on the beaches from May until mid-October but the seas are surprisingly cold, only reaching 20C at the height of the summer.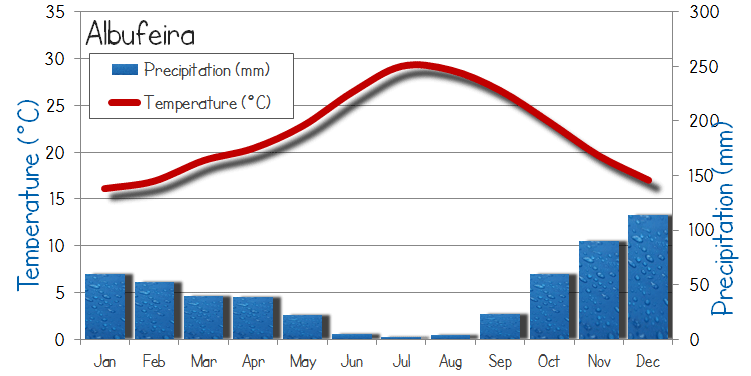 The average weather of Albufeira
Late spring and early autumn are the best times of year to visit southern Portugal, as days are bright and sunny, but without the intense summer heat or tourist masses.
The winter months are mild but are unpredictable, with an equal number of sunny days and grey days. Albufeira should not be considered as a winter sun destination, although the Algarve does offer some of the best winter weather in mainland Europe. Albufeira has a large permanent population, (with a mixture of ex-pats and Portuguese) and the town never fully closes in the winter, with many restaurants, bars and cafes open year-round.
The map below shows the location of the hotels in Albufeira, if you adjust the dates to your holiday it will show availability and current prices:
Water and Theme parks in Albufeira
The Algarve has amazing water parks and theme parks, but there are none directly in Albufeira, so they need to be travelled to, either by car, taxi/ Uber or a shuttle service.
The best water park is Slide n' Splash (30km from Albufeira, €27 adult), a huge complex of insane slides, flumes and rubber ring rides. Alternative and closer water parks include Aqualand (15km, €29 adult) and Aquashow Park (19km ,€29 adult). The best theme park is Zoomarine (9km, €29 adult), which is a combination of waterpark and sea life centre, which specialises in dolphins.
All of the theme parks are modern and well maintained, the only downside is the expensive entrance fees. Official websites are:
Zoomarine - https://www.zoomarine.pt
Aqualand - https://www.aqualand.pt/
Slide n' Splash - http://slidesplash.com
Some of the most popular activities in Albufeira are the boat tours and boat day trips. These range from jet boat rides, dolphin watching tours, coastline tours, deep sea fishing trips and party boats! Albufeira has the largest selection of different sea-based activities in the Algarve.
We have worked with Getyourguide.com for the previous 6 years, and some of their best boat tours from Albufeira include:
Albufeira Alternatives
Albufeira will sell out in the summer, butand popular alternatives to Albufeira in the Algarve include: Lagos, Praia da Rocha and Vilamoura.
Lagos is the most similar resort town to Albufeira, and boasts a charming historic centre, beautiful beaches and excellent tourist facilities. Praia da Rocha is a lively and modern resort town set on a massive beach, while Vilamoura has an exclusive marina, and is popular for golfing holidays. For a more relaxed holiday consider Carvoeiro or Alvor, and these are both ideal for families with younger children.
Our Opinion: Our favourite holiday destination in the Algarve is Tavira, and other highly recommended beach towns around Portugal include; Cascais, Sesimbra and Nazaré.
Related articles: Lagos guide - Praia da Rocha - Tavira - Cascais - Sesimbra - Nazaré
Albufeira Airport
The main international airport of southern Portugal is Faro airport, which is 36km to the east of Albufeira.
There is surprisingly poor public transport from Faro airport to Albufeira, and the majority of visitors either pre-book a private transfer or get a shared transfer from the airport. Private transfers to Albufeira are €32 (1-4 people) or shared minibus transfers are from €15 per person. Never plan just to get a taxi from the arrivals lounge as this will be very expensive. There is Uber in the Algarve, but demand is high during the summer.
To travel from Faro airport to Albufeira using public transport requires two buses; the first from the airport to Faro city and the second from Faro city to Albufeira. The journey by public transport is inexpensive but there are very few departures and long waits for connections. .
Related articles: Faro airport to Albufeira
There have been a number of sham residential letting websites, that which have appeared on the internet, with bogus or copied listings (often of real apartments). These websites look professional (with guarantees and refund policies) and the prices are significantly cheaper.
Only ever book an apartment through a trusted website (booking.com, homeaway.co.uk etc) and never pay for accommodation by bank transfer. For more details please see the TripAdvisor forum post:
https://www.tripadvisor.co.uk/ShowTopic-g189111-i330-k11450362-Beware_Villa_Scam_bogus_company_PT_Villas_Algarve-Algarve.html (link opens new link)
Note: This type of scam is not just limited to the Algarve but is found in all major tourist destinations. The Algarve is just ripe for it, as demand for accommodation outstrips supply.
Restaurants, eating out and Food in Albufeira
Albufeira has the largest selection of restaurants, cafes and bars in the Algarve, with over 500 different establishments. The wide selection covers all styles of cuisine, including Portuguese, English, Indian, Chinese, Italian and Spanish. The evening meal is an important part of the Portuguese day, and meals tend not to be rushed.
Portugal is one of the least expensive countries in Europe, and is significantly cheaper than many of the other established holiday destinations, such as Greece, or the Balearic Islands. Due to tourism Albufeira, is one of the most expensive locations in the Algarve, but still will be much cheaper than back at home.
Albufeira in the Summer
Albufeira is the Algarve's busiest holiday destination and the hundreds of hotels in of the region are crammed with package tourists, especially during the school holidays. If you visit during this period expect beaches to be full, restaurants busy and prices at their most expensive.
Certain visitors may find the town too crowded, busy or hectic to fully enjoy while others may enjoy the buzz of the place. If planning to visit during the summer always book flights and accommodation well in advance as the best hotels sell out and the prices increase.
Our most popular articles for Albufeira and the Algarve