Albufeira, Portugal: a tourism and holiday guide for 2023
Albufeira is the largest, liveliest and most exciting of all of the resort towns that line southern Portugal's beautiful Algarve coastline.
It provides everything needed for a fun-packed holiday, with glorious beaches, a wonderful climate, varied activities and a buzzing holiday atmosphere. There is so much to love about Albufeira, and this is why this once peaceful fishing village has been transformed into the Algarve's most popular holiday destination.
Being the largest resort town of the Algarve, Albufeira boasts an extensive range of activities and accommodation along with its legendary nightlife. With so much variety on offer, Albufeira makes an ideal holiday choice - whether you're visiting as a family, a couple, or for a party holiday with friends.
This article will provide an introduction to Albufeira, one of the best holiday destinations in Portugal.
Related articles: Sights and activities - Albufeira's beaches - 1 week in Albufeira
Highlights of Albufeira
The Praia dos Pescadores beach – The magnificent sandy beach that extends along the front of Albufeira.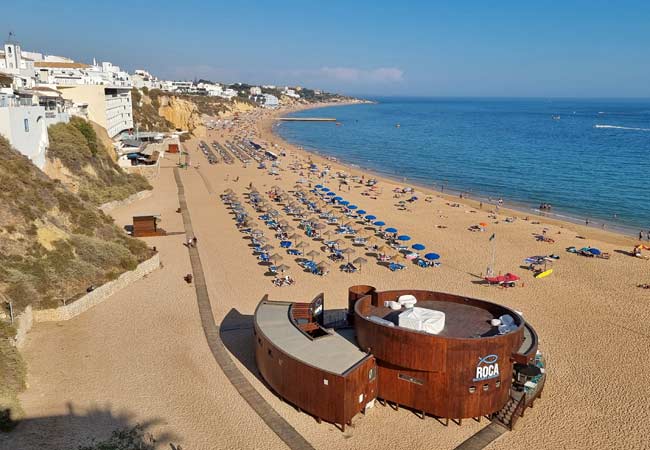 The Strip – Albufeira's party street at the heart of the New Town. Head here for themed bars, nightclubs and riotous nightlife that continues until the sun rises.
Albufeira's holiday fun - There is so much to do in Albufeira, from speed boat tours, dolphin-watching trips, insane waterparks and world-class golf courses.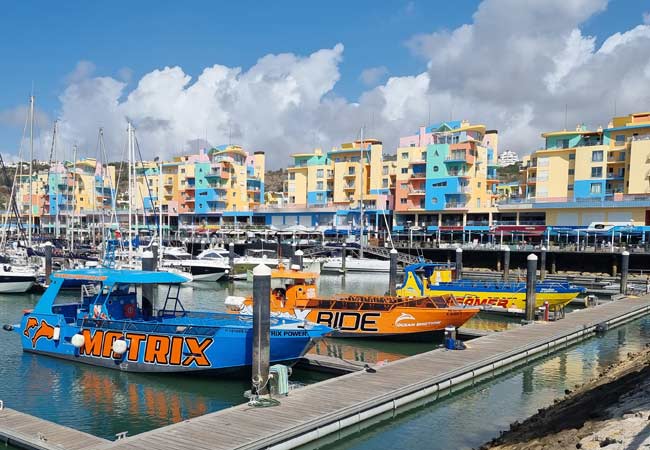 The speed boat tours moored in Albufeira marina
The Old Town - The charming historic district of Albufeira that boasts over one hundred restaurants and bars.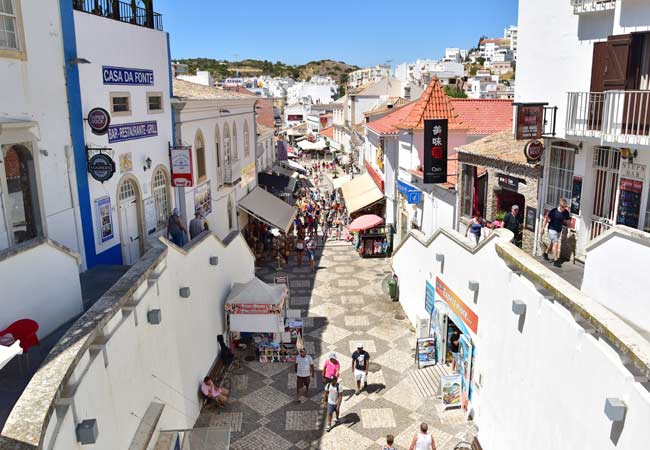 Why have a holiday to Albufeira?
Albufeira is an outstanding holiday destination, offering so much more than just glorious beaches and fantastic weather.
At the heart of Albufeira lies the delightful "Old Town", with its cobbled streets and traditional white-washed houses.
To the east of Albufeira is the New Town, home to 'The Strip' - a street crammed with themed bars and pulsating nightclubs. The area surrounding The Strip is perfect if you are 18-27 and wanting a lively and exciting holiday.
Although Albufeira welcomes a wide range of visitors, it is still primarily a family holiday destination, with facilities and activities that are perfect for children of all ages. There are safe beaches, family-focused resort hotels and exciting waterparks for teenagers.
To the west of Albufeira is the colourful marina complex. Departing from here are numerous boat excursions, including dolphin-watching cruises, boat tours to Benagil cave, speed boat tours, deep-sea fishing trips and party boats.
For a golfing holiday, Albufeira can't be beaten; there are world-class golf courses, along with the vibrant nightlife of the Old Town.
And if you wish to discover more of the Algarve, there are also plenty of enjoyable day trips. These include the fortified town of Silves, the historic city of Faro and the traditional market town of Loule.
Albufeira is an amazing holiday destination, and you will have a fantastic time here!
For more information on the best activities and sights of Albufeira please read this guide.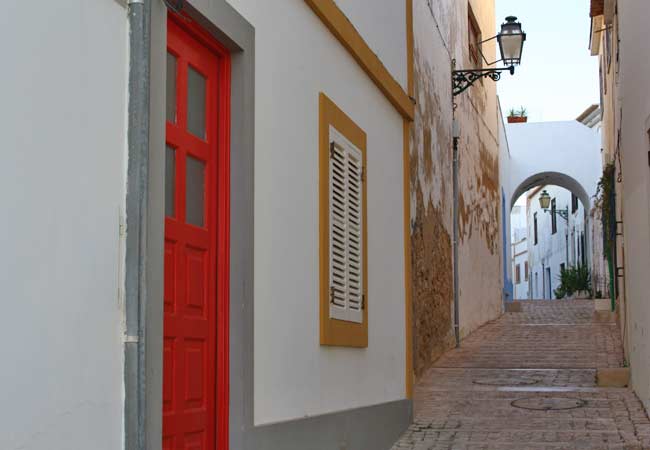 The narrow-cobbled streets of the Old Town
The map below displays the main tourist areas and beaches of Albufeira.
The Old Town area is highlighted in yellow and The Strip in orange. The shaded areas surrounding the Old Town and The Strip are good places to look for accommodation if you wish to be based close to these areas. The purple area is where many of the large, family-focused hotel complexes are located, with these being close to the town Olhos de Água. The marina complex is highlighted in blue. (Note: zoom in or out to see all of the markers)
Areas of Albufeira: 1) Albufeira "Old Town" 2) Albufeira "The Strip" 3) Albufeira "Marina" 4) Olhos de Água
Beaches: 5) Praia de São Rafael 6) Praia dos Três Penecos 7) Praia dos Pescadores 8) Praia do Peneco 9) Praia do Inatel 10) Praia dos Alemães Beach 11) Praia da Oura 12) Praia de Santa Eulália 13) Praia Maria Luísa 14) Praia dos Olhos de Água 15) Praia da Falésia
Nightlife: 16) Kiss Club 17) Matt's Bar 18) Club Vida 19) Club Heaven
Albufeira holiday ratings
How can Albufeira be suitable for both families and stag/hen/group holidays?
With two very separate tourist areas - the Old Town and The Strip (New Town) - Albufeira is able to cater for families and couples seeking a more laid-back getaway, as well as those seeking a lively, party-filled holiday.
At the historic centre of Albufeira, the Old Town consists of a series of traditional Portuguese streets and plazas filled with family-friendly restaurants and shops. This district opens out onto the Praia dos Pescadores beach, a calm and sheltered stretch of coast perfect for families and children.
The New Town lies 2km to the east of the Old Town and is filled with modern hotels and sprawling apartment complexes. The Strip is lined with themed bars and nightclubs, designed for all-day drinking and late-night partying. At the base of The Strip lies Praia da Oura beach, the perfect location for recovering after a wild night out at the clubs.
The separation between these two distinct areas of Albufeira allows both families and party groups to enjoy the resort at the same time without antagonise each other.
Related articles: Stag & hen Albufeira guide – Albufeira for children and family activities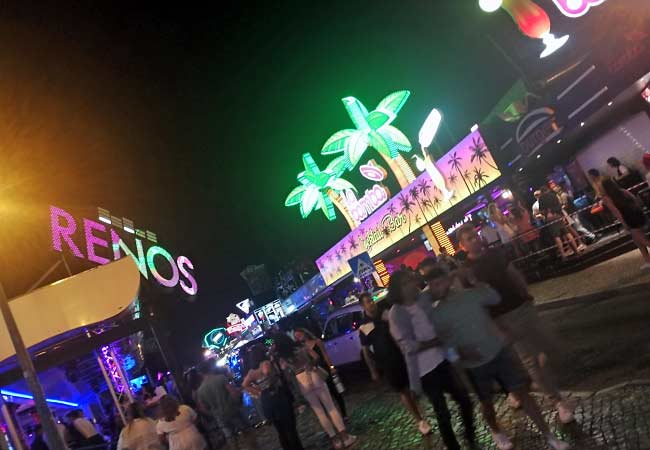 The bars, clubs and chaos of The Strip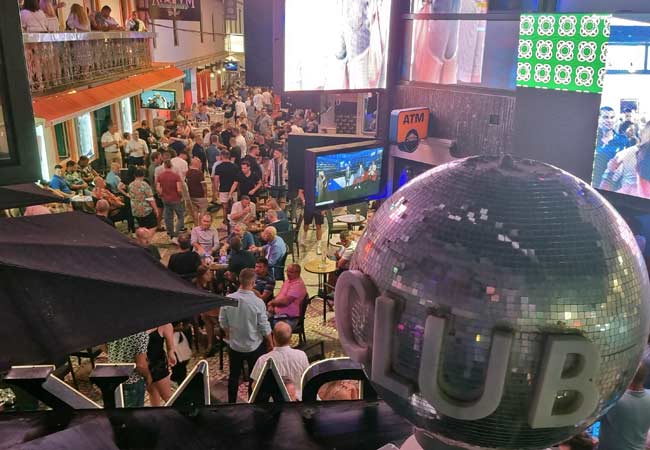 The nightlife in the Old Town is just as good but tends to be slightly older (over 30 year old)
When to Visit Albufeira
Albufeira has hot summers, pleasant springs/autumns, and winters that are mild, but have the chance of poor weather. The peak season aligns with the school holidays (July and August), but September is also surprisingly busy with couples who have no children.
The Strip is most vibrant between late June and the end of August, with many stag/hen holidays at the weekends. Golfing holidays are best from May to June or September to October when the sun is less intense.
The weather is suitable for spending time on the beaches from May until mid-October, but the sea waters are surprisingly cold, only reaching 20C at the height of summer.
In winter, Albufeira has mild but unpredictable weather; there can be an equal number of sunny and grey days. The resort should not be considered a winter sun destination, however it does offer some of the best winter weather in mainland Europe.
With a large permanent population, Albufeira never fully closes in the winter, and many restaurants, bars and cafes remain open year-round.
Related articles: When to visit Albufeira?
Albufeira for 2023
Albufeira is expecting a sell-out summer season for 2023, as visitors seek holidays to safe and established destinations within Europe.
With a combination of returning holiday-makers (who know how good the Algarve is), and first time visitors, means that Albufeira will sell out in 2023. We highly recommend that you book accommodation and flights early before prices increase.
The map below shows the best hotels and rental rooms in Albufeira. If you adjust the dates to your holiday plans, it will display current prices and availability.
Does Albufeira have good beaches?
Albufeira is situated on a stunning, sandy coastline and boasts magnificent beaches.
The main beach of Albufeira is a 1.3km stretch of sand that extends along the front of the Old Town. Its vast size means there is ample space, even in peak summer months, and the beach is sheltered from any strong waves or sea breezes.
Historically, fishing boats were moored on the western side of the beach, and as such it is known as the Praia dos Pescadores (fisherman's beach). The eastern side of the beach is called the Praia dos Alemães - a glorious sandy stretch that is slightly quieter.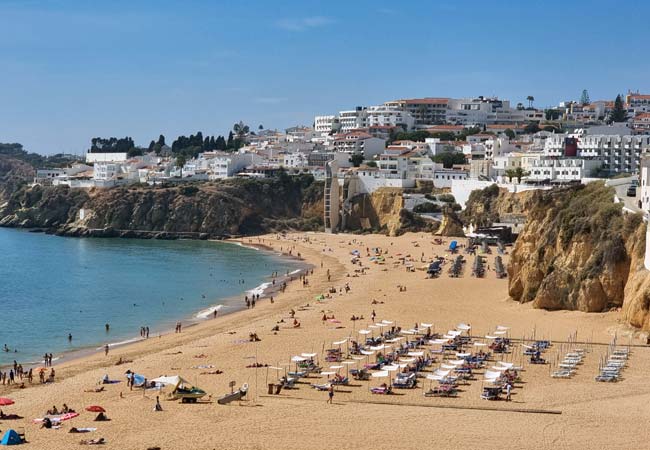 The Praia dos Pescadores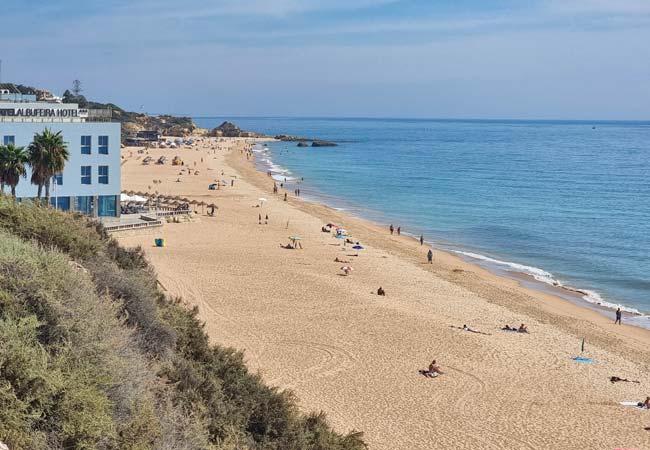 The Praia dos Alemães
The Praia da Oura is the beach that lies at the base of The Strip. This beach provides golden sands and calm turquoise waters, but its smaller size means that it does get extremely busy during the summer months.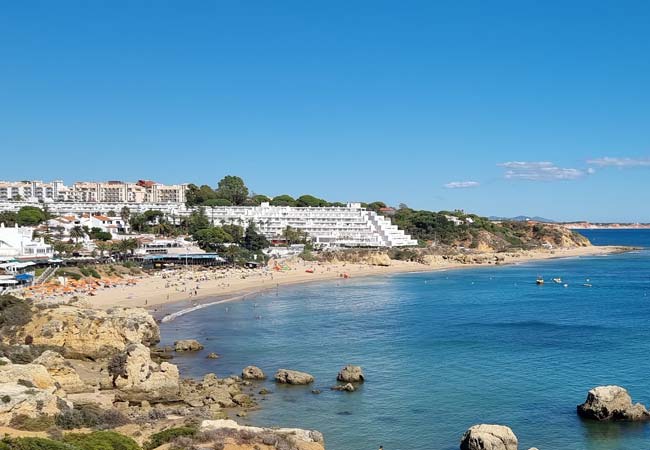 The Praia da Oura
The most picturesque beaches in the Albufeira region can be found to the southwest of the marina, however a car or taxi will be needed to travel to them. These beaches nestle at the base of golden cliffs, with the most beautiful being the Praia de São Rafael.
Related articles: Albufeira beach guide - Praia de São Rafael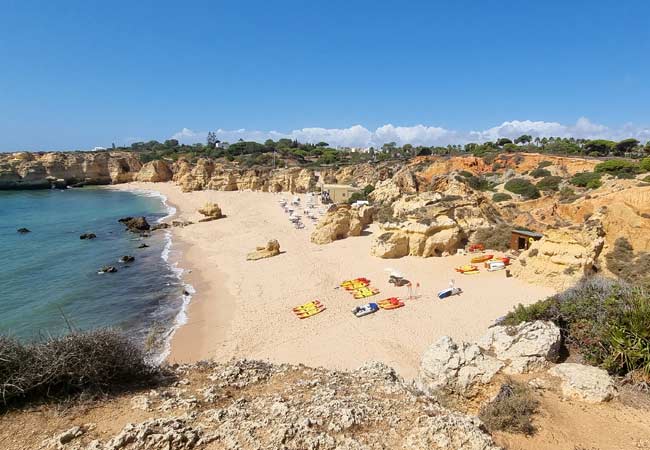 The gorgeous Praia de São Rafael
1 week in Albufeira
Most visitors come to Albufeira to relax on the beaches or to party by night, but there is a lot more to do and see within the surrounding region. A suggested 1-week itinerary to make the most of your holiday could include:
Day 1 – Explore Albufeira Old Town and the marina complex
Day 2 – A day trip to Faro, the historic capital of the Algarve
Day 3 – A boat trip Benagil Cave and a dolphin watching tour
Day 4 – A day trip to Silves, a fortified town with massive castle
Day 5 – Visit "Slide and Splash" waterpark or "Zoomarine" theme park
Day 6 – A day trip to the market town of Loule (Saturday is the best day to visit)
Day 7 – A day trip to Vilamoura, a sophisticated resort town
Note: all of these day trips can be made without the use of a car.
Albufeira Airport
The main international airport of southern Portugal is Faro airport, which is 36km east of Albufeira.
There is surprisingly poor public transport from Faro airport to Albufeira, with most visitors either pre-booking a private transfer or getting a shared transfer from the airport. Private transfers to Albufeira cost €32 (1 to 4 people), with shared minibus transfers costing from €15 per person.
Getting a taxi from the arrivals lounge will be very expensive (over €80). There are also ride-hailing apps (such as Uber and Bolt) in the Algarve, however demand can be very high at peak times.
Travelling from Faro airport to Albufeira using public transport requires catching two buses; the first from the airport to Faro city and the second from Faro city to Albufeira. The journey by public transport is inexpensive, but there are few departures and long waits for connections.
Related articles: Faro airport to Albufeira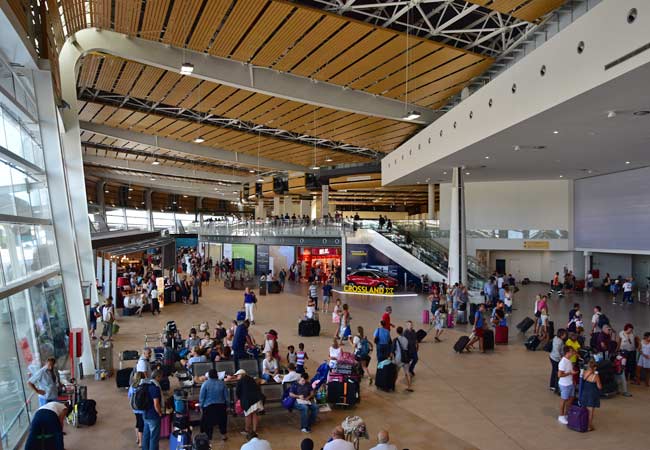 Faro airport
Water and theme parks in Albufeira
The Algarve boasts some amazing water parks and theme parks, however none of these are situated in Albufeira. To reach these, you will need to travel by car, taxi/Uber or use a shuttle service.
The best water park is Slide n' Splash (30km from Albufeira, €27 adult entrance), a huge complex of insane slides, flumes and rubber ring rides. Water parks closer to Albufeira include Aqualand (15km, €29 adult) and Aquashow Park (19km, €29 adult). The best theme park is Zoomarine (9km, €29 adult), which is a combination of waterpark and sea life centre that is well known for its dolphins.
All of these theme parks are modern and well maintained, with the only downside being expensive entrance fees. Official websites are:
Zoomarine - https://www.zoomarine.pt
Aqualand - https://www.aqualand.pt/
Slide n' Splash - http://slidesplash.com
Slide n' Splash
Some of the most popular activities in Albufeira are its boat tours and boat day trips. These range from jet boat rides, dolphin-watching tours, coastline tours, deep sea fishing trips and party boats! The resort has the largest selection of sea-based activities in the Algarve.
We have worked with Getyourguide.com for the previous 6 years, and some of their best boat tours from Albufeira include:
Albufeira Alternatives
Albufeira will undoubtedly sell out this summer, however popular alternatives in the Algarve include Lagos, Praia da Rocha and Vilamoura.
Lagos is the most similar resort town to Albufeira and boasts a charming historic centre, beautiful beaches and excellent tourist facilities. Praia da Rocha is a lively and modern resort town set on a massive beach, while Vilamoura has an exclusive marina and is popular for golfing holidays. For a more relaxed holiday, consider Carvoeiro or Alvor. These are both ideal for families with younger children.
Our Opinion: Our favourite holiday destination in the Algarve is Tavira, with other highly recommended beach towns around Portugal including Cascais, Sesimbra and Nazaré.
Related articles: Lagos guide - Praia da Rocha - Tavira - Cascais - Sesimbra - Nazaré
Our most popular articles for Albufeira and the Algarve