1 Week in Albufeira; A suggested holiday itinerary and tour
Albufeira is the Algarve's premier tourist destination, and is a fantastic location for your weeks holiday.
The majority of tourists come to relax on the beaches and socialise in the evenings, but if you want, there is so much more to discover. There are world-class golf courses, thrilling waterparks, scenic boat cruises and towns steeped in history.
Being such a magnificent holiday destination, the region attracts a diverse range of tourists, from those seeking an authentic Portuguese experience to those wanting to party all week long.
For this, we have designed two very different weeklong itineraries; the first encompasses the highlights of the region, while the second is activity and excitement focused.
Related articles: Albufeira introduction - Activities and sights
Suggested itineraries for 1-week Albufeira holiday
One-week itinerary, discovering the best of the Algarve region:
• Day 1 – The historic centre of Albufeira or beach day
• Day 2 – Day trip to Silves
• Day 3 – Water park or a day trip to Loulé
• Day 4 – Day trip to Faro
• Day 5 – Boat tour (dolphin watching, coastline tour or Benagil cave)
• Day 6 – Zoomarine
• Day 7 – Day trip to Vilamoura and Quarteira
A one-week entertainment and activity focused holiday:
• Day 1 – Boat tour and party night on "The Strip"
• Day 2 – Beach morning and kayak coastline tour
• Day 3 – Day trip to Vilamoura or a jeep safari
• Day 4 – Waterpark (Slide & Splash or Aquashow Park)
• Day 5 – Day trip to Silves or Zoomarine
• Day 6 – Albufeira marina; go-karting, jet boat ride and bungy jumping
• Day 7 – Parque Aventura (high rope adventure pack)
Related articles: Sights and activities in Albufeira - Albufeira boat tours
The remainder of this article will explain in depth the first tour (the best of the Algarve), and provide links to further in-depth information.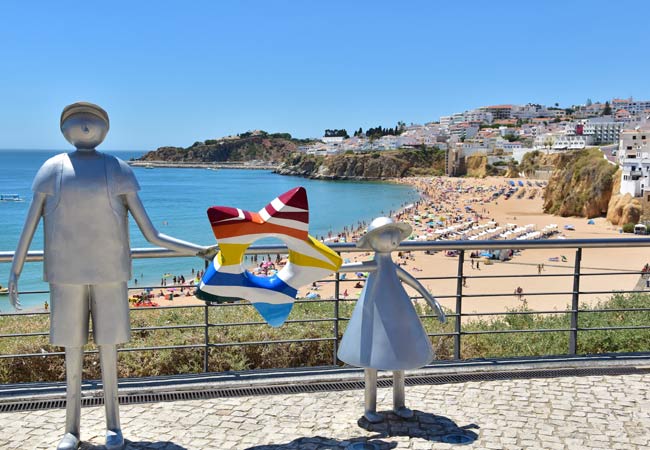 Albufeira is a family holiday destination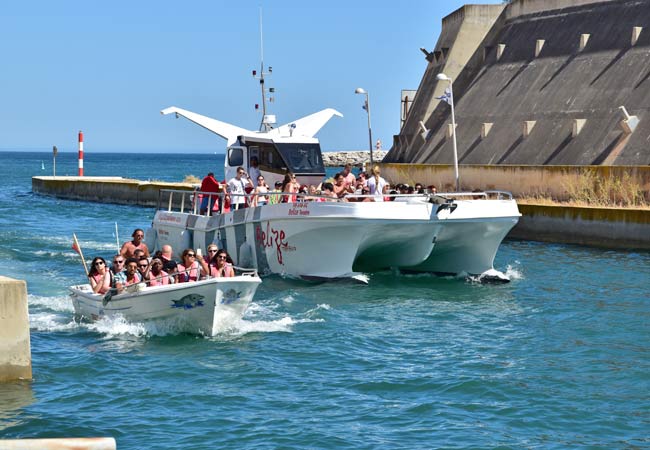 There is such a wide choice of sea-based tours and activities
Day 1 - Historic Albufeira or beach day
Albufeira is a vibrant resort town, but originally it was an important Moorish (9th century) trading centre and major fishing port until the 1960s. Remnants of this varied history are scattered through the town, and include the ruins of the castle, the baroque São Sebastião church, and Monumento dos Pescadores. An enjoyable half day can be easily spent wandering the historic centre, and this could be extended by following the cliffs westwards to the marina.
If, for your first day of your holiday you would prefer relaxing on beautiful beaches, then you are in luck, as Albufeira has some of the finest beaches in the Algarve. These beaches offer soft golden sands and crystal-clear waters, which are calm and safe for children to swim in.
Albufeira's beaches are always a hive of activity, there are sea inflatables, beach sports and banana boats.
Related articles: Albufeira's beaches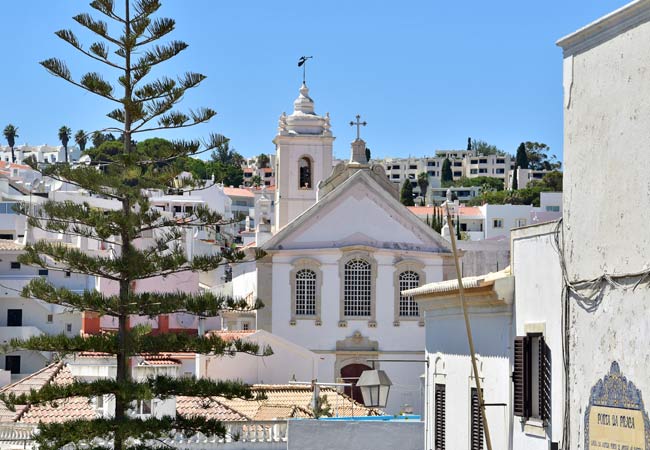 Glimpses of Albufeira's past can be seen throughout the town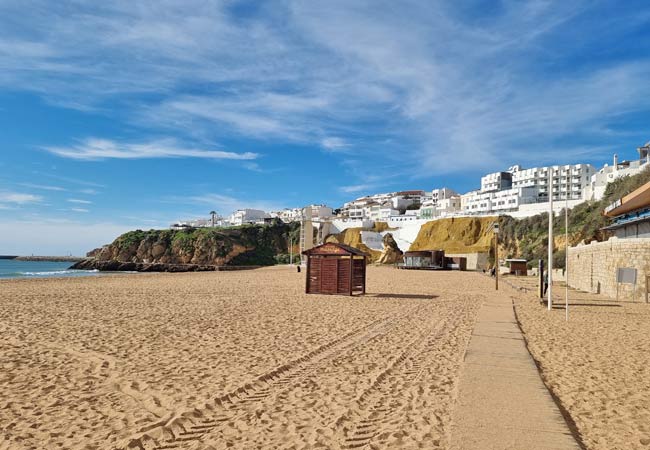 The glorious Praia dos Pescadores beach
Day 2 – Day trip to Silves
The imposing and heavily fortified castle in Silves is a testament to the importance of the town during the Moorish era. From Silves, the Moors governed the entire Algarve region, and a wealth of trade flowed down the Arade River to the Mediterranean and North Africa.
Today, Silves is a fascinating place to visit, with remarkably well-preserved town defences, the magnificent castle and a distinctively Portuguese town centre.
If you make just one day trip from Albufeira, it must be to Silves.
Related articles: Silves introduction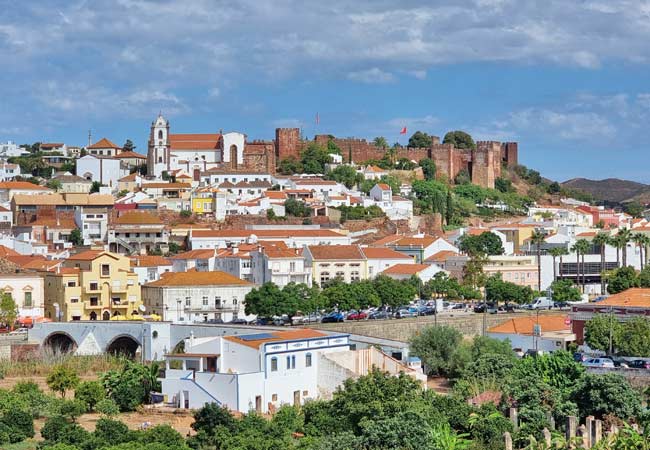 The ancient redbrick castle of Silves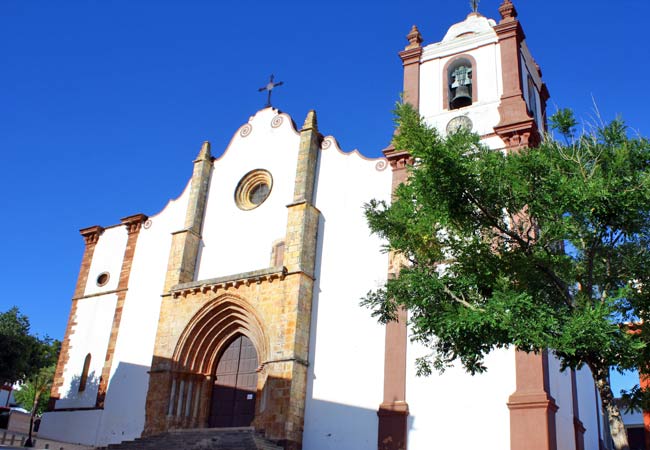 The Sé Catedral de Silves follows a Gothic design
Day 3 – Water park or day trip to Loulé
The Algarve is famed for its insane and thrilling waterparks, with their gravity-defying flumes, near vertical slides and drop towers that can be seen for miles around. Our favourite waterpark is Slide n Splash (€29/€21 adult/child), close to the town of Lagoa. Their official website is: https://www.slidesplash.com
If the waterparks are not for you (or are visiting outside of the high season), consider a day trip to Loule. This is a traditional market town and a great location to experience typical Portuguese daily life. At the centre of Loule is a covered market (closed Sunday) with stalls selling local produce, handicrafts and fresh fish. Surrounding the market are pretty cobbled backstreets, traditional houses and scenic plazas.
Related articles: Loule introduction
Day 4 – Day trip to Faro
Faro is a delightful and historic city, which makes for an enjoyable excursion from Albufeira. There is a charming old quarter, encircled by ancient city walls, a gothic cathedral, traditional cobbled streets and an abundance of Portuguese charm.
A truly unique sight of Faro is the Bone Chapel, where the bones of over 1,100 monks line the walls and skulls even form decorative patterns.
Faro is the gateway to the Parque Natural da Ria Formosa, a series of saltwater lagoons and mud flats, which are a haven for bird and marine life. Departing from Faro harbour are boat tours of the Ria Formosa, or taxi boats to the sandbar islands, which lie the edge of the lagoons.
Related articles: Faro introduction
Day 5 of 1 week in Albufeira – Boat tours
The coastline to the west of Albufeira is formed of dramatic natural scenery, and a boat tour is highly recommended. There are steep sandstone cliffs, vast sandy beaches and unique weathered rock formations, including the much-photographed Benagil Cave.
The Algarve sea waters are the migratory route for dolphins heading from the warm Mediterranean to the food-rich Atlantic Ocean. There are daily sightings of dolphins in their natural environment, at seeing one in is a magical experience.
Note: The Portuguese respect their wild dolphins and will never cause distress to them just to please tourists.
If you're after exhilaration take a ride on the jet boat tours or if luxury is more your thing, charter a stylish yacht for the day. For keen fishers, there are fishing trips which head out for bass, mackerel and grouper, or deep-sea fishing trips for Swordfish, Tuna or Dorado.
There is a wide variety of boating activities departing from the Albufeira marina complex, and the general standard of all of them is very high. We have worked with GetYourGuide.com for the previous 6 years, and a selection of their best tours includes:
Day 6 – Zoomarine
Zoomarine is a tremendous theme/water/wildlife park, which is highly recommended to visit during your holiday to the Algarve. The site has a lot of offer including dolphin shows, an artificial beach, exotic bird displays and decent waterpark. The animals are well cared for and housed in modern facilities, and the entire park is professionally operated, their official website is:
https://www.zoomarine.pt/en/
An alternative activity are the high-rope adventures and assault course of Parque Aventura. Here rope bridges and cargo netting spans the tree tops, along with ziplines whizzing through the forests. Parque Aventura offers three different levels of courses (€12 - €17), and makes it suitable for all ages and abilities, their official website is: http://www.parqueaventura.net/en/albufeira-en/
Day 7 – Day trip to Vilamoura and Quarteira
Vilamoura is a stylish and sophisticated resort town, which is famed for its five golf courses. At the heart of Vilamoura is an exclusive marina where multi-million-dollar yachts moor, and the surrounding restaurants offer refined dining and chic bars.
Quarteira, which is within walking distance of Vilamoura, is as much an opposite as possible. It is a hard-working fishing town with a large Portuguese population, a glorious beach and a scenic promenade.
It is fascinating that two cultural extremes of the Algarve are within walking distance of each other, and combine to create an enjoyable day trip.
Related articles: Quarteira guide – Vilamoura guide
Our most popular articles for Albufeira and the Algarve