Olhos de Agua, Portugal; a tourism guide for 2023
Olhos de Água is a delightful resort town situated at the heart of the beautiful Algarve.
This likeable town is centred around a sandy cove, where fishing boats are pulled onto the golden sands, and old fishermen tend their nets in huts that line the beach.
Historically, Olhos de Agua was a minor fishing village, but since the boom of tourism, it has responsibly developed into a popular holiday destination. There are massive apartment complexes and mega-hotels surrounding the town, but at its centre, it still retains its Portuguese character and pristine coastline.
The relaxed and low-key atmosphere of Olhos de Água makes it a popular holiday destination for families and older couples, who want to be close to a major resort town (Albufeira), but without actually being in it.
Olhos de Água is located on some of Portugal's finest coastline, with the magnificent Praia da Falésia beach to the east and the beautiful cove beaches of Praia de Santa Eulália and Praia Maria Luísa to the west.
For your holiday, Olhos de Agua boasts numerous restaurants and social nightlife, and being in the centre of the Algarve, there is a wide selection of activities and day trips. These activities include scenic boat tours, thrilling waterparks, and historic towns to explore, along with the crazy nightlife of Albufeira.
Olhos de Agua is the ideal destination if you want a relaxing holiday, but still wish to be close to the excitement of a vibrant holiday destination.
Related articles: Albufeira guide - Top 10 Algarve
Highlights of Olhos de Água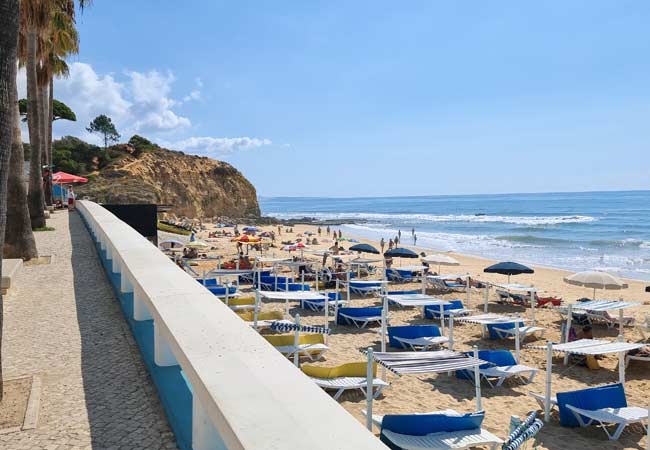 The relaxed and unhurried ambience of the Olhos de Água – The peaceful atmosphere of Olhos de Água is ideal for a calming holiday. Either relaxing on the beautiful Praia dos Olhos de Água beach or socialising in the town's cafes and bars.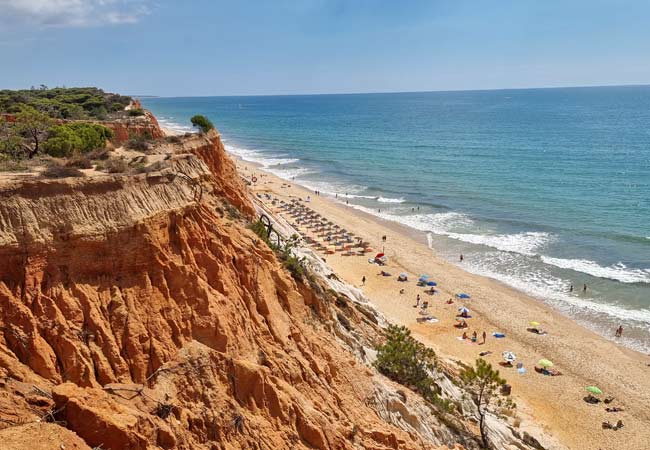 The Praia da Falésia – The largest sandy beach of the central Algarve, backed by orange cliffs and pristine natural scenery. There are decent waves for surfing, scenic cliff-top footpaths and vast expanses of beach to escape the summertime crowds. (Falésia beach guide)
Albufeira – Only 4km away from Olhos de Água is the riotous nightlife and summertime craziness of "The Strip" Albufeira. This is close enough for a night out, but far enough away not to be disturbed by the late-night insanity.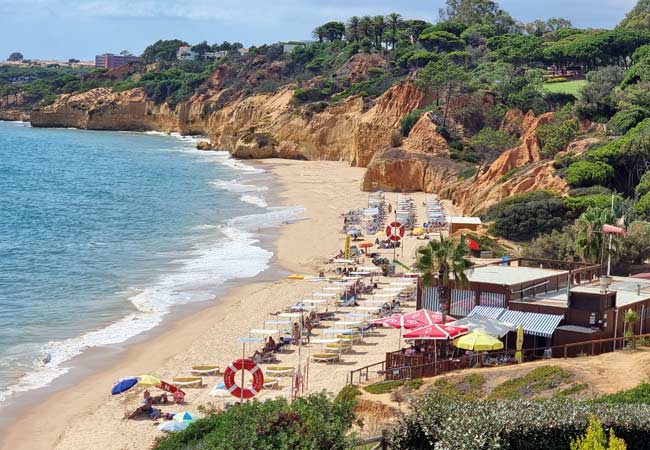 The Praia Maria Luísa – A picturesque beach nestled within the golden cliffs of the central Algarve, and just a 15 minute walk from Olhos de Água
Olhos de Água holiday rating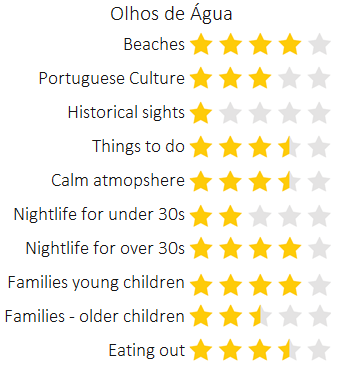 Is a holiday to Olhos de Agua right for you?
Olhos de Agua is ideal if you want a stress-free holiday, with a focus on the beach, long meals and evenings spent socialising with like-minded people. This typically covers families with young children or more mature visitors. If this is the style of holiday you are seeking, stop reading this article and book your holiday now, as you will fall in love with Olhos de Agua.
Olhos de Agua is a great destination for families; the beaches are safe, the town is calm, and there are many excellent family-focused hotel complexes. If you have older children, they will love the waterparks (Aquashow or Slide & Splash), Zoomarine (theme park) and the thrill boat rides that depart from Albufeira marina.
For a golfing holiday, Olhos de Água can make a good alternative to Vilamoura or Albufeira, and is close to the world-class golf courses of Vilamoura, which are managed by Dom Pedro Golf: www.dompedrogolf.com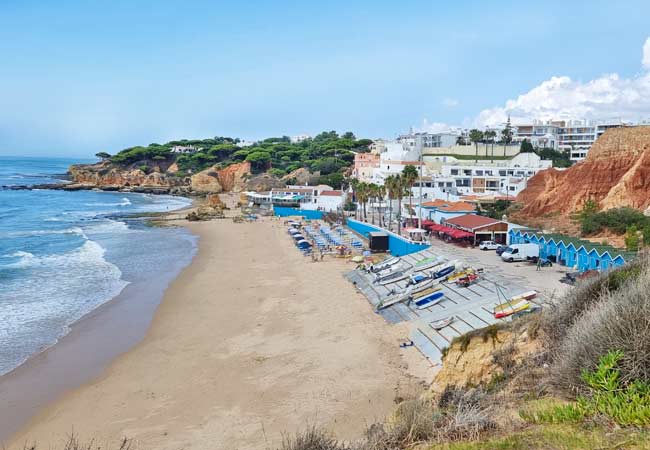 The beach front of Olhos de Agua
Olhos de Agua is not suitable for groups, who want a party focused holiday, such as stag dos or end of school/college summer trips. If you are traveling as part of these groups, you will find the nightlife to dull and the atmosphere to tame; for your best holiday destination, head to the "New Town" and "The Strip" in Albufeira.
Olhos de Água is not a great destination if you want a cultural holiday or to experience the authentic side of Portugal. There are no historic sights in the town, while the growth of mass tourism has replaced Portuguese culture with the demands of modern tourism. To experience the historic and authentic side to the Algarve plan a holiday to Lagos, Tavira or Olhão. If you genuinely want somewhere undiscovered by foreign visitors, consider the Alentejo coastline, such as the delightful resort town of Vila Nova de Milfontes.
Below is an interactive map of the highlights of the Olhos de Água region. The town centre of Olhos de Agua, where all of the bars and restaurants are located, is the highlighted yellow section. (Note: zoom out to see all of the markers)
Sights 1) Centre of Olhos de Água 2) Aquashow waterpark 3) Zoomarine 4) The Strip in Albufeira 5) Albufeira Old Town 6) Vilamoura 7) Faro 8) Pine Cliffs Golf course 9) Balaia Golf Course
Beaches: 10) Praia Olhos de Água 11) Praia da Falésia 12) Praia Maria Luísa 13) Praia de Santa Eulália 14) Praia da Oura
Olhos de Agua is just the right distance from Albufeira
One of the main appeals of Olhos de Agua is having easy access to a major resort town (Albufeira), without actually being in it.
It is difficult to imagine that the peaceful ambience of Olhos de Agua is less than 4km from the riotous and hedonistic bars and clubs of Albufeira's "The Strip", which is a favourite for Stag and Hen dos. Along with great nightlife, Albufeira also offers every conceivable boat tour, extensive shopping and a pretty historic centre.
To the east of Olhos de Água, is Vilamoura, with its exclusive marina, many golf courses and beautiful beaches. Vilamoura is a sophisticated resort town, which tends to cater for the more refined tourist, along with the super-rich who moor their yachts in the marina.
Olhos de Agua may be calm and low-key, but the surrounding region certainly is not. A holiday to Olhos can be as peaceful or exciting as you wish to make it.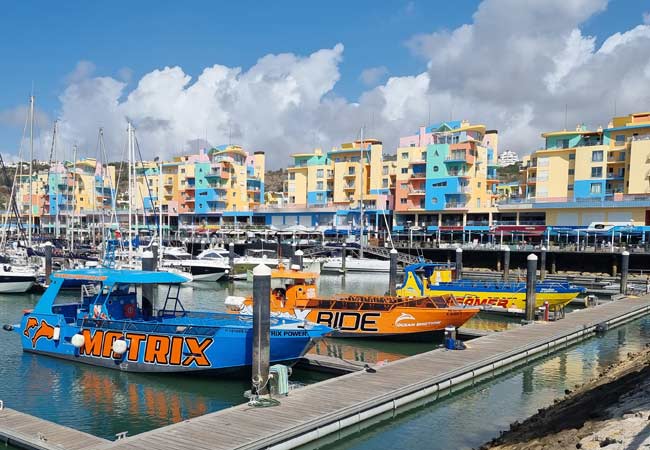 The speed boat tours moored in Albufeira marina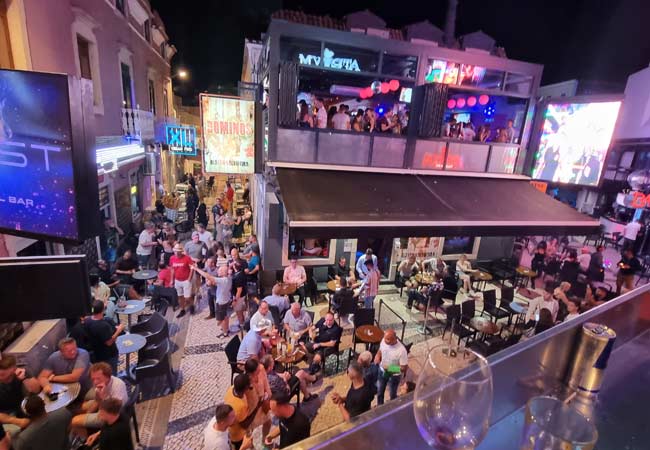 The nightlife in the Albufeira Old Town caters for a slightly older age group than The Strip, but is just as manic during the summer
A suggested itinerary for a 1-week holiday to Olhos de Agua
The majority of visitors to Olhos de Agua come for the beautiful beaches and glorious climate, but there is actually a lot to do within the region. A suggested itinerary for a 1-week holiday to maximise your time could include:
Day 1 – Falésia beach either for a relaxing day or hike along the scenic cliff tops
Day 2 – Boat trip to Benagil; these boat tours usually include a dolphin watching trip
Day 3 – Day trip to Silves, the ancient Moorish city with a magnificent castle
Day 4 – Day trip to Albufeira; wander the old town, relax on the beach and have a drink in one of the 100+ bars
Day 5 – Day trip to Faro, a historic city with a delightful walled quarter and Bone Chapel.
Day 6 – Day trip to Loule, a traditional Algarve town with a lively Saturday market
Day 7 – Day trip to Quarteira and Vilamoura; see Vilamoura's marina and have a delicious fresh fish meal in Quarteira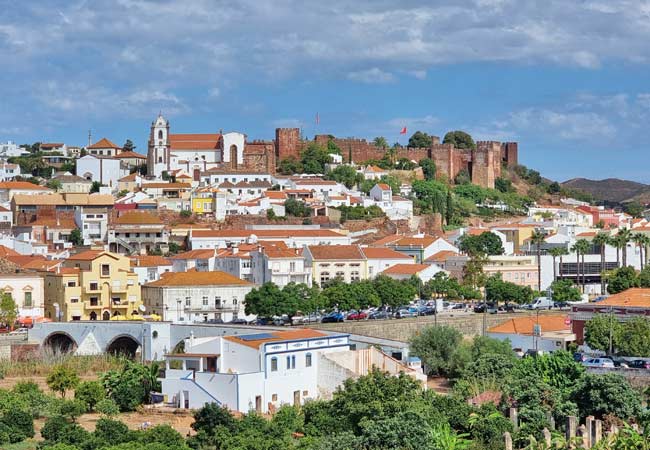 Silves is the best day trip of the central Algarve region
Activities in Olhos de Agua
There are many activities and boat tours, in the Olhos de Agua region, and the majority of the boat tours depart from the Albufeira marina. We have worked with Getyourguide for the previous 6 years and some of their best activities in the Albufeira region include:
The varied styles of accommodation…
Surrounding Olhos are numerous tourist developments, and these offer a wide selection of private rental homes and holiday apartments, that are ideal for self-catering visitors and families.
Olhos de Água is in the centre of "package-tourist-Algarve", and within the vicinity of the town are mega-hotel complex operated by the major holiday companies. These vast hotels offer outstanding tourist facilities (pools, kids clubs, all-inclusive), but we always recommend checking reviews before making reservations.
Olhos de Agua for 2023
Olhos de Agua is expecting a sell-out summer season for 2023, as visitors seek holidays to safe and established destinations within Europe. The combination of returning visitors (who know how good the Algarve is), and new tourists, means that Olhos de Agua will sell out.
We highly recommend that you book accommodation and flights as soon as possible, before prices increase and sell-out. The map below shows the best hotels and rental rooms in Olhos de Água; if you adjust the dates to your holiday, it will display current prices and availability.
When to visit Olhos de Agua
The peak season of Olhos de Agua is from June through to September, and is longer than other towns in the Algarve. This is due to the town being popular with visitors who are not tied to school holidays (retirees and families with young children).
The Algarve is an extremely popular summer destination, and the entire region will be completely sold out during the summer.
Late spring is the best time to visit Olhos de Agua, as the region is less crowded, but the weather is still fantastic. This is also an ideal time of year for a touring holiday or activity-based trip.
Insight: The weather is suitable for spending time on the beach from May until the end of October.
Winters in the Algarve are unpredictable; there is an equal number of bright sunny days as cooler grey or even wet days. The closed season (October- March) will feel very quiet. Olhos de Agua fully opens for the Easter holidays.
Olhos de Agua airport and transfers
The main international airport of the Algarve is Faro airport, which is located 35km to the west of Olhos de Agua.
There is very limited public transport from Faro Airport to Olhos de Agua, and the journey requires two buses (Faro airport to Faro city, and then Faro city to Olhos de Agua). The entire journey takes between 2-2.5 hours, and there are no night-time services.
Taxi journeys from the airport are very expensive (€75+), and there can be very high demand for Uber at peak times. Generally, most visitors to Olhos de Agua either pre-book a transfer (€35-40) or get a sharded transfer from the airport (€17).
Does Olhos de Agua have great beaches?
The Praia dos Olhos de Água beach is as quaint and traditional as is possible in the Algarve. Fishing boats are moored on the soft golden sands and the beach is overlooked by a series of fishing huts still used by the old fishermen. The beach is surrounded by the regions characteristic red sandstone cliffs, while the waters are calm and safe for swimming.
Within walking distance of Olhos de Agua is the Praia da Falésia, one of the finest beaches of the Algarve. This vast beach, backed with pine groves and golf courses, extends for 5km to the stylish resort town of Vilamoura and has surprisingly little tourist development.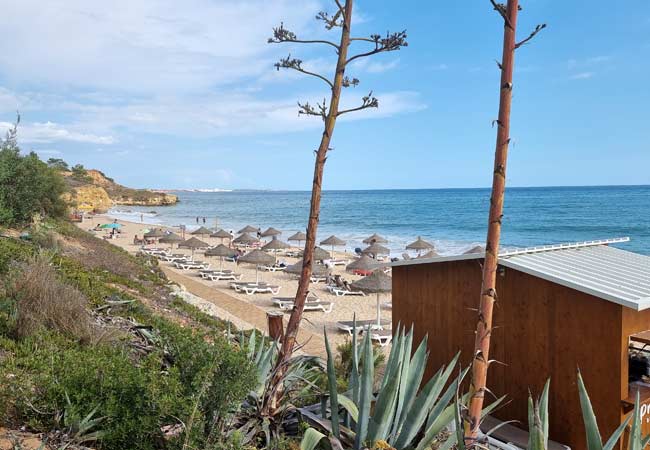 The Praia de Santa Eulália beach
Olhos de Agua for families
Olhos de Agua is an outstanding destination for families with young or school-age children. The town is very calm (unlike Albufeira) and the beach is clean and safe. Children will be welcomed in all cafes and restaurants, as the Portuguese, as a nation, believe in the importance of the family and are very supportive and accommodating.
For older children, Olhos de Agua is close to the major water and theme parks of the Algarve, but they will not be exposed to the drink-fuelled silliness of the larger towns. Teenagers may prefer to be in Albufeira, Praia da Rocha or Lagos, to experience the buzzing holiday atmosphere.
Alternatives to Olhos de Agua
Olhos de Agua is a fantastic holiday destination, but Portugal has many similar towns which you may not have considered (or even heard of!). Here are our suggestions for alternatives to Olhos de Agua (a medium-sized tourist town, which is close to a beautiful beach); our recommendations are:
In the Algarve – Alvor, Carvoeiro, Praia da Luz and Monte Gordo
Around the rest of Portugal – Sesimbra, Cascais, Nazaré, Ericeira, and Espinho
Yet to be fully discovered by foreign tourists - Vila Nova de Milfontes, Costa Nova (Aveiro) and Vila do Conde and São Martinho do Porto.