Albufeira; the best sights, attractions and things to see and do in 2023
Albufeira is the Algarve's premier resort town, which boasts glorious beaches, buzzing nightlife and Portuguese charm.
This is a thrilling and exciting holiday destination, with a varied selection of activities, day trips and unique holiday experiences.
Many visitors come to Albufeira for the sun and beautiful beaches, but there is a surprising amount to see and do. This guide will detail the most popular activities and sights for your holiday to Albufeira.
Related articles: Albufeira introduction – Albufeira day trips – Algarve top 10
Quick summary of the best activities of Albufeira
Part of Albufeira's brilliance as a holiday destination, is that it is able to cater for all. These following top 5 lists provide the best of Albufeira for each of the main tourist types.
Top 5 activities for a family holiday
1) Beach time on the sheltered and safe Praia dos Pescadores beach
2) A dolphin-watching boat tour
3) Day trip to Zoomarine, an outstanding marine and waterpark for all ages - (best priced ticket here)
4) Parque Aventura; a high rope adventure assault course for all ages
5) Krazy World; a petting farm & splash pool for younger children (tickets here)
Top 5 for an exciting group holiday
1) All night drinking and partying on the "The Strip", a street crammed with bars and clubs
2) Jet boat, parasailing or a 3-hour party boat tour!
3) A kayak trip through the caves and grottos of the Albufeira coastline
4) A trip to Slide n' Splash waterpark, the Algarve's most insane water park
5) An off-road quad tour (90min or half day), off-road buggy tour or go-karting at Hot Wheels Raceway
Top 5 for a Portuguese culture, heritage and nature holiday
1) A day trip to Silves, the ancient Moorish capital of the Algarve with an impressive castle (guide to Silves)
2) A day trip to the historic city Faro along with a boat tour of the Ria Formosa lagoons and waterways. (Faro guide)
3) Snorkelling at the Praia da Marinha beach, regarded as one of the world's finest beaches
4) A day trip to Loule, a traditional Portuguese market town, with a lively Saturday gypsy market (Loule guide)
5) A coastal hike along the stunning Percurso dos Sete Vales Suspensos footpath
Related articles: Albufeira day trip guide
Top 5 for a romantic couple's holiday
1) A sunset boat tour, for example
2) A boat tour to the spectacular Benagil sea cave
3) Listening to live music in the bars of the Old Town
4) Relaxing on the Praia da Oura beach
5) Kayak or SUP around the caves of the Albufeira coastline
(Also there is the day trip to Silves, Zoomarine and snorkelling at the Praia da Marinha)
The interactive map below shows the location of the best sights and activities of Albufeira. (Note: zoom in or out to see them all)
Theme and water parks: 1) Zoomarine 2) Slide n' Splash 3) Parque Aventura 4) Krazy World
Day trips: 5) Silves 6) Faro 7) Loule
Sights: 8) Benagil cave 9) Percurso dos Sete Vales Suspensos hiking route 10) Hot Wheels Go karting
Beaches: 11) Praia da Marinha 12) Praia dos Pescadores 13) Praia da Oura 14) Praia de Santa Eulália 15) Olhos de Água
Night clubs: 16) Kiss 17) Club Vida 18) Matt's bar
Those were the highlights, now let us provide you with more details of the best of Albufeira, so you can get the most from your holiday from this amazing region.
Vibrant Nightlife
Albufeira is the place for nightlife!
Within the town is an extensive range of bars from riotous themed bars through to uber-chic and style lead. The are two distinct nightlife areas of the town, with the Old Town being more bars and family-focused, while The Strip is for wild nights, excessive-drinking and complete excess.
The Strip is 2km of neon lights, themed bars, fast food joints, all designed to get you as intoxicated as quickly as possible. There are countless bars, but established favourites are Matts' bar and Wild & Co or Heaven and Kiss for late night clubs. The biggest nightclub of the Algarve is Kadoc, and is halfway between Albufeira and Vilamoura.
The Old Town nightlife is more family-focused, where the entertainment is live music and socialising over a beer or cocktail.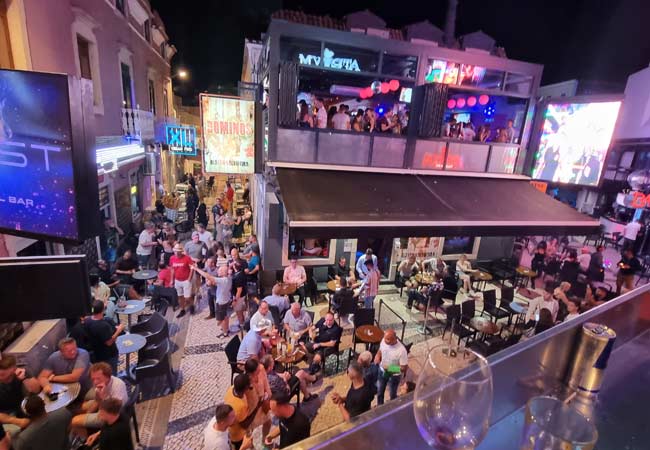 Bars, clubs and great people– Albufeira has banging nightlife
Boat trips, tours and fishing trips – Albufeira things to do
Albufeira boasts so many varied sea-based excursions and day-trips
A highlight are the dolphin watching tours, spotting the pods of dolphins travelling between the warm Mediterranean waters and the food-rich Atlantic Ocean. There are daily sightings of dolphins in their natural environment, and fortunately, they are also not too far from the shoreline.
To the west of Albufeira is a rocky coastline lined with caves, grottos, and sea pillars, and is best explored via a boat tour. The standout natural feature is the Gruta de Benagil, a massive cave with golden strata side, sandy beach (at low tide) and a gaping hole in the top.
For thrill-seekers, there are speedboat tours, jet boats or jet-skis, while for stag or hen do's there are party boats with unlimited drinks.
Other options include deep-sea fishing trips, glass-bottom boats, sailing trips, kayak tours, parasailing, and SUP rental.
Whatever the sea-based activity Albufeira has it.
There are countless boat-tour operates but typical prices are:
• 3-hour coastline and dolphin watching tour €35/€20 (adult/child)
• 30-minute jet boat ride (€30 adult)
• 3-hour deep sea-fishing for snapper, mackerel, grouper €35/€25 (adult/child)
• 3-hour sunset party boat (including drinks) €30
Over the previous 6 years we have worked with GetYourGuide.com, and some of their best tours from Albufeira include:
Water Parks – Albufeira activities
It's hot, you're on holiday, and of course you want to go to a waterpark!
Luckily the Algarve has three outstanding waterparks; Slide and Splash, Aqualand and Aquashow. These waterparks offer gravity-defying flumes, near-vertical slides and rapids, and will provide excitement for all!
The only downside to all of this excitement, are the expensive entrance fees (€27/€19 adult/child).
http://www.aquashowparkhotel.com/en
http://www.aqualand.pt/en/
http://www.slidesplash.com/en/
(links opens a new tabs)
The many fumes at Slide and Splash
Day Trip to Silves – Albufeira things to do
If you take one day trip from Albufeira, it should be to Silves.
During the Moorish era (9-12th century) Silves was a defensive stronghold and important trading town, which commanded over the entire of southern Portugal. This rich history is reflected in the sights of Silves, which include a massive red brick castle, an ancient cathedral, and impregnatable town walls.
Being slightly inland and away from mass tourism, Silves retains its authentic Portuguese atmosphere, there is a daily fish market, cafes bustle with locals and there is an unhurried pace about the town. Silves is charming and traditional and a great place to see the real side of Portugal.
For your day trip, it's easy to travel to Silves as there is a direct bus from Albufeira bus station taking 40 minutes.
Related articles: The best day trips from Albufeira - Silves introduction
The beaches – Sights of Albufeira
You probably already know that Albufeira has a wonderful sandy beach that extends along the entire length of the town, but there are many more glorious beaches within the Albufeira region.
At the base of The Strip is the pretty Praia da Oura which tends to attract a younger crowd and is the ideal place to recover after a big night out!
To the east is the beach of Olhos de Água, where fishing boats are moored, and fishermen tend nets in their fishing huts. Further east is the vast Praia da Falésia, extending all the way to Vilamoura, and is backed by its distractive orange strata cliffs.
Close to Albufeira marina is the protected coastline of the Reserva Natural Caminho da Baleeira, hiding pristine beaches at the base of the cliffs.
If you are willing to drive there is the unspoilt sands at Galé or the picturesque beach of Praia da Marinha, once voted as one of the worlds top ten beaches.
Related articles: Albufeira beach guide
Eat Out – Things to do Albufeira
You will be spoilt for choice when choosing where to eat, as Albufeira boasts over 500 eating establishments, covering every style, cuisine and budget.
Many of the Algarve regional dishes tend to be based around freshly caught fish or shellfish. One regional dish you must try during your holiday is Cataplana, a seafood rice stew, which cooked and served in a large copper pot, and is designed to be shared.
Zoomarine – Albufeira Sights
Zoomarine is the best family-based activity within the Algarve.
It is a wonderful marine park that specialises in dolphins, marine life and tropical birds, and includes decent waterpark with slides, wave pools and rapids.
The animals of Zoomarine are housed in modern facilities, and all are well cared for, while the park activity promotes conservation and rehabilitates rescued animals. Zoomarine is an outstanding day trip, and the variety of attractions means the park is also great for adults and couples.
Zoomarine costs €29/ €21 (adult/child) and transfers from Albufeira can be organised.
https://www.zoomarine.pt/en/
Go-karting
High Ropes and forest adventure
Escape Room
Can you escape from a creepy hostel basement in only an hour, using purely your wits and intelligence?
The Escape Room in Albufeira (Mission Masters) is highly recommended and great fun. The hours' puzzle-solving, and mystery costs €50/75/90 (1-2/3-4/5-6 players), and the two rooms are in English. Further information can be found on their website:
https://mission-masters.com/
Day Trip to Loulé
Loulé is a charming market town, which provides an authentic Portuguese experience. The town has a pretty daily market (except Sunday), which is housed in a North African inspired covered market. Surrounding the market are pretty cobbled backstreets filled with quaint house and small shops.
Loulé has a distinctively Portuguese ambience, with locals socialising in open air cafes, women gossiping in doorways and old men spending all day sat on the same bench; Loulé is wholly different from Albufeira. Loulé is connected to Albufeira by a direct bus service.
Related articles: Loule introduction
Cinema
For those very infrequent wet days a trip to the cinema may be the perfect day time activity. The latest movies are shown with English audio, as Portuguese movies have subtitles (and not dubbed), the only exception are children's movies. Albufeira's cinema is in the Algarve Shopping complex, and the latest listings can be seen of the Nos Cinema website:
http://cinemas.nos.pt/
(link opens new tab, which unfortunately is only in Portuguese, the Algarve cinema is called "Forum Algarve")
Golf – Albufeira things to do
The Algarve is famed for it's wonderful golf courses and though Albufeira is not a common golf based holiday destination, it is very easy to both hire clubs and travel to the courses. The three golf courses close to Albufeira are Salgados (18hole), Pine cliffs (9hole) and Balaia (9hole).
Our most popular articles for Albufeira and the Algarve