Slow Travel in the Algarve – authentic tourism in 2023
Portugal's Algarve is a sumptuous mix of turquoise water decorated with jagged rock formations, golden beaches flanked by limestone cliffs, and cobbled villages with castle ruins. Boasting abundant sunshine and some of the best weather in Europe, the Algarve is the perfect spot for an extended holiday.
For retiree's with time to spare or digital nomads who can work from most anywhere, let's have a look at how to slow travel through the Algarve.
But first, what is slow travel? Slow travel is all about doing less to experience more and to really embrace the unexpected things that come along. It's about shopping at the local supermarkets to see what types of products they have in stock. Getting an insider tip from a local about a not-to-be-missed restaurant that no tourist has set foot in. The art of slow travel is to mingle with the local people, get lost in a language that you may not understand, or even to meet up with foreigners who have chosen that destination as their newly, adopted country.
Related articles: Where to go in the Algarve? – Algarve top 10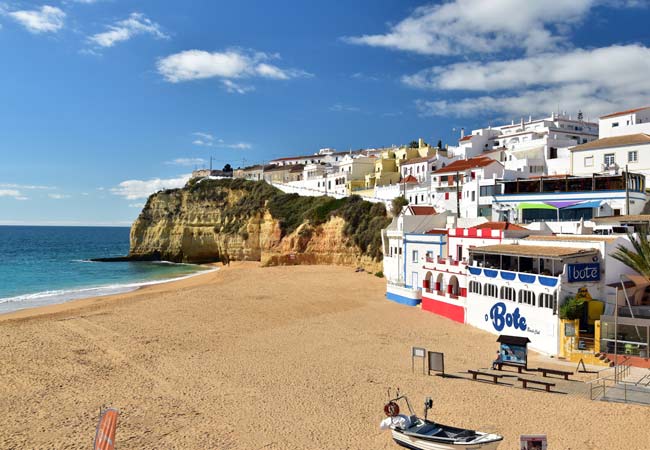 Beautiful Carvoeiro
The Algarve for slow travel
The Algarve is the southernmost region of Portugal, a narrow strip of land that stretches 155 kilometers along the southern coast and 50 kilometers on the western side. To the north it borders the Alentejo region, to the south and west it borders the Atlantic Ocean and on the eastern side it meets the Guadiana River that it shares with Spain.
Shoulder season is the best time of year for slow travel in the Algarve, either in the spring, from March through May or in the autumn, from September through to the end of October. This ensures you will avoid the high prices and overcrowded peak season of summer and still manage to avoid the rains during the winter months. And the weather will be perfect for exploring or even to catch some rays on the beach.
The map below shows the location of the best resort towns in the Algarve. The large resort towns are shown in green, the best medium sized towns in yellow and the finest villages in blue.
Large towns (green): 1) Lagos 2) Praia da Rocha 3) Albufeira 4) Vilamoura
Medium towns (yellow): 1) Alvor 2) Carvoeiro 3) Armação de Pêra 4) Olhos de Água 5) Quarteira 6)Tavira 7) Monte Gordo
Villages (blue): 1) Praia da Luz 2) Porto de Mós 3) Ferragudo 4) Galé 5) Cabanas
A suggested slow travel route of the Algarve
To begin your holiday it is suggested that you base yourself in Faro for at least the first few days. Remember that this is slow travel, so there is no need to hurry. Relax, shake off your stress, worries or jet lag and embrace all that the Algarve has to offer.
Stroll around the tiled plazas of Faro's old town, pop into a café for a coffee and one of the famous custard tarts called, pastel de nata, or sample a delectable glass of local wine for just a few euros per glass.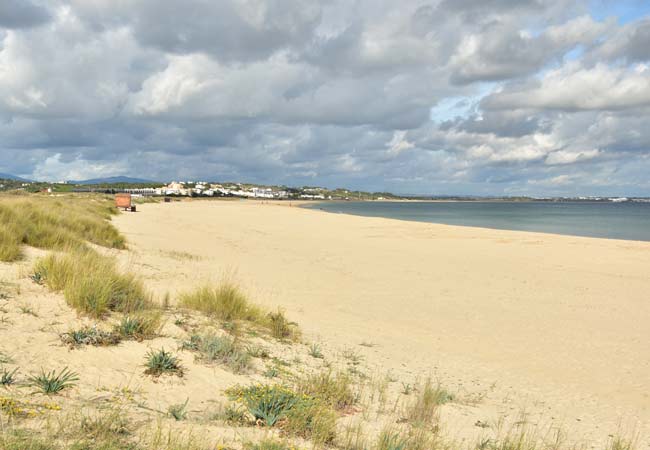 It may only be half a beach, but it stretches as far as the eye can see
First stop is Tavira, a 30-minute drive (17km) from Faro. Situated about 30-minutes from the Spanish border the charming town of Tavira is a favorite among many. Meander along the labyrinth of cobbled lanes and admire the historic homes still covered with traditional Portuguese tiles called, azulejos. The slow moving Gilão River runs through the center of town and is lined with shops and restaurants where you will commonly hear English being spoken. A ruined castle has been transformed into a garden within its outer walls that can still be accessed by steps for a birds eye view of the old town. Nearby the Rio Formosa lagoon, named one of the Seven Natural Wonders of Portugal, is a haven for migratory birds, endangered species like the chameleon and seahorse and the friendliest one of all, the Portuguese water dog. Just south of the town Tavira Island is home to a stretch of soft, sand beach that can be easily accessed by a ferry that runs year-round.
When it's time to move on head 30-minutes (45km) west to your next stop, Loulé which serves as both a municipality and a city. An attractive, Arabic inspired marketplace dominates the old-town and is worth a visit just to see the building alone. Filled with a fragrant array of fresh produce, meats, handicrafts and more the market is open every day. On Saturdays the market spills out into the streets and a lively gypsy market is held nearby. Loulé is a traditional working-class town that has more of a local vibe, but English speakers can still be found.
Further west by 20-minutes (17km) your next stop will transport you from local charm to the refined elegance of Vilamoura. A resort town built around six golf courses, a large marina complex, a casino that hosts nightly shows, an equestrian center and gorgeous beaches. Although Vilamoura does fill with tourists during the summer they tend to be Portuguese families from up north instead of the wild party crowd that frequents the nearby city of Albufeira. Hiking trails run along the top of Falesia beach and offer majestic views of the coastline, and ochre-colored cliffs. Falesia in Portuguese means cliffs, so the beach is aptly named for its most prominent feature.
Back on the road let's head west 40-minutes (50km) to the coastal haven of Carvoeiro. Here wooden boardwalks lead to clifftop walks of the Algar Seco, a stunning stretch of coastline with craggy rock formations, soaring cliffs and caves. Carvoeiro is a typical beach town with souvenir shops and restaurants offering the freshest catch of the day.
A short 13-minute drive from the Algar Seco will take you to another favorite spot called Praia da Marinha. Considered to be one of the most beautiful beaches in Portugal, follow along the scenic paths that open to more coastal wonders of heart shaped rocks, sapphire water, and golden coastline. The tiny village of Porches is well known for artisans selling handmade pottery and ceramics, just a ten-minute drive from the coast.
Drive another 38-minutes west (42km) to the popular town of Lagos. The charming old town was once protected by a 17th century fort that now houses a small museum and traditional draw bridge. Boats can be hired from here for adrenaline filled rides through caves, grottoes, and stunning coastline. Surf shops line the promenade and the beach is just steps away from the town center.
Prepare to be wowed when you set eyes on the area of Ponta da Piedade, just a short drive from the town center. A series of easy to navigate boardwalks and steps overlook the jaw dropping coastline dominated by towering cliffs, rocky formations, and clear, azure water.
Feel as if you are standing on the edge of the earth in the remote village of Sagres, a 36-minute drive (31 kilometer) from Lagos. The barren landscape, ranging sea and towering cliffs will leave you breathless. Nearby, the Cabo de São Vicente headland will have you perched at the southwestern most point of Europe. Adventure seekers come here to challenge the sea, hike along the cliffs or cycle in the windy wilderness, while others are happy to just breathe it all in.
Slow travel is just that, meant to be slow, relaxed and calm. Drive down back roads, get lost in every hidden sea cave, sink your toes in the sand and plunge into the depths of life that surround you in this marvelous wonder called Portugal.
A suggested slow travel route of the Algarve
The best way to explore the Algarve is to fly directly into Faro International Airport which is situated almost directly in the middle of the region. Pre-arrange to hire a car to make the most of your time in the Algarve. Do keep in mind that most cars in Portugal are equipped with a standard transmission, so if you are not comfortable driving a car with a clutch be sure to ask for an automatic long before your visit. Also, make sure that your rental car has a transponder that will automatically keep a running tab on tolls.
Passport holders from many countries can enter Portugal on simply a tourist visa and stay for up to 90 days, but prior to your visit do make sure this applies to your type of passport.