Vilamoura weather and when to visit
Vilamoura is a uniquely stylish and striking town, which was purposely built to be an exclusive, upmarket resort. Nestled within the stunning Algarve region, Vilamoura is blessed with hot, dry summers and pleasant temperatures year-round.
In peak season the temperatures soar and skies are clear, which makes Vilamoura a go-to resort for sun-seekers. Exclusive visitors, day-trippers and wealthy seafarers all congregate in the stylish marina and flock to the resort's stunning beaches.
The heat and humidity make it difficult to do much else in the daytime, and visitors should expect a buzz wherever they go, both day and night.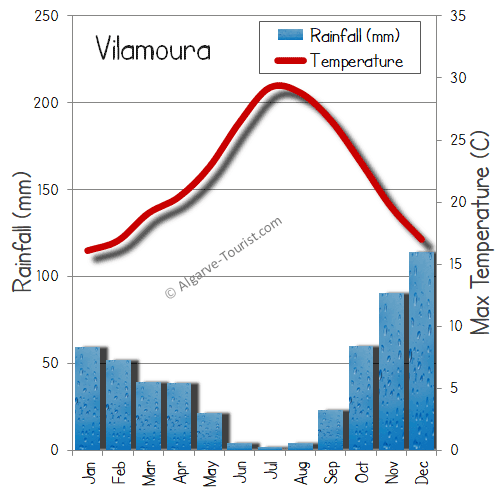 In the months surrounding peak season, the intensity of the heat drops but the weather still remains pleasant.
Visitors in mid-season will experience a more relaxed vibe around the marina and on the beach as the weather is perfect for day trips too. Easter and late Autumn are peak golfing seasons due to the dry and mild weather.
In winter, expect an equal number of clear to cloudy days and some showers, which make it best for touring and golfing. Temperatures cool both day and night and the weather is too variable for sunbathing and beach activities. As such, Vilamoura becomes very quiet in winter, except for golf-centric tourism.
Read on for detail about when to visit to get the perfect holiday for you, and what to expect from each of the different seasons.
Related articles: Introduction to Vilamoura - Vilamoura sights & activities
When is the best time of year to visit Vilamoura?
Vilamoura is at its finest in Spring as the resort has been freshly prepared for peak season, but the crowds have not yet arrived. The long sun-filled days are perfect for sunbathing on the beaches, roaming the marina and dining alfresco as the sun goes down (approximately 7.30pm).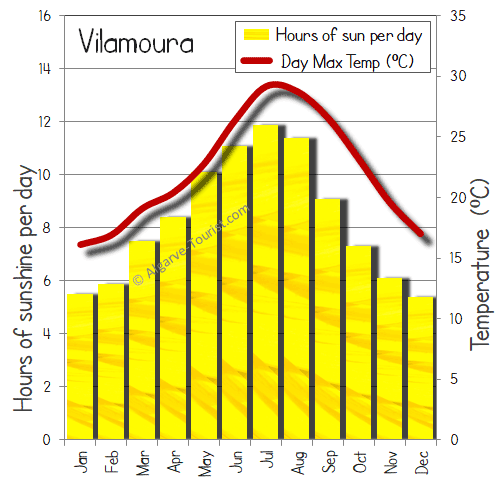 The rest of the Algarve region is also warming up, so its a great time to explore before the summer heat limits travel.
Easter and early November also offer prime golfing conditions. The long daylight hours (9-10 hours), gentle to no breeze and low rainfall make it ideal for teeing off at one of the world-class Oceanico courses.
Vilamoura 2023
As an exclusive resort with excellent family-friendly amenities, Vilamoura is expecting a sell-out summer season for 2023. As many will be gearing up to fully enjoy the summer season following a difficult 2020, the Algarve will be a popular destination.
As Vilamoura is expecting a sell-out 2023, we strongly advise you to book your flights and accommodation as soon as possible before prices increase and the best accommodation gets booked up.
Use the map below to discover the best accommodation in Vilamoura, if you adjust the dates to your holiday, it will display current prices and availability.
The different tourist seasons of Vilamoura
Peak Season (July – August) in Vilamoura
In summer Vilamoura is a melting pot of tourists who all congregate at the stylish marina and soak up the sun on the fabulous sandy stretches of Praia da Marina and Praia da Falésia.
The long daylight hours and warm evenings, keep the resort's buzz going into the early hours and this is not the season for a relaxed, peaceful escape.
Expect beaches to be packed and, due to the soaring temperatures and blue skies, any air-conditioned bars will also be full. The Algarve does nicely cool down at night, and there is often a cooling breeze just after sunset.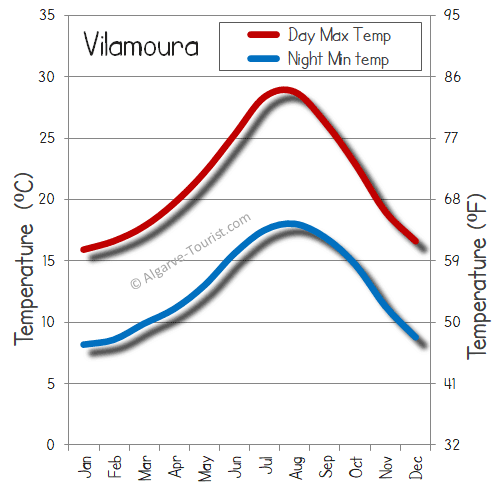 If you are wanting to do any sightseeing or visit any of the fascinating towns surrounding Vilamoura, it is best to start early in the day before the mid-day heat. Some of the best day trips from Vilamoura include the historic city of Faro, the market town of Loule and the Roman ruins of Estoi (Vilamoura day trips guide).
If it does too hot there is the Aquashow Park waterpark, near Quarteira.
The peak season offers the widest selection of sea-based activities, which are refreshing from the summer heat. Popular activities include dolphin watch tours, boat tours to Benagil Caves or deep-sea fishing. On the beach are found kayaks for rent, banana boat roads and sea inflatables.
To get the most out of a stay at Vilamoura, it is recommended to book activities on arrival, as some of the most popular do sell out.
Peak season weather at a glance
• Daytime temperatures: Typically 20s – early 30 degrees Celsius
• Night-time temperature: 20-24 degrees Celsius
• Weather: Strong direct sunlight, blue skies, gentle offshore breeze and low chance of rainfall
• Sunrise and Sunset: 6.30am/8.30pm
The Mid-season (April, May, September) in Vilamoura
Either side of peak season Vilamoura remains at its best but feels less spoilt by mass tourism. Overall, the resort feels more relaxed and the warm weather enables visitors to do much more in the daytime.
Insight: September is one of the busiest months in the Algarve, as older couples travel to the region after the school holiday season.
As the days are still sunny and mild, sunbathing is still very viable. This is much better weather to explore the region, either as day trips or even just taking a stroll to the quaint fishing town of Quarteira.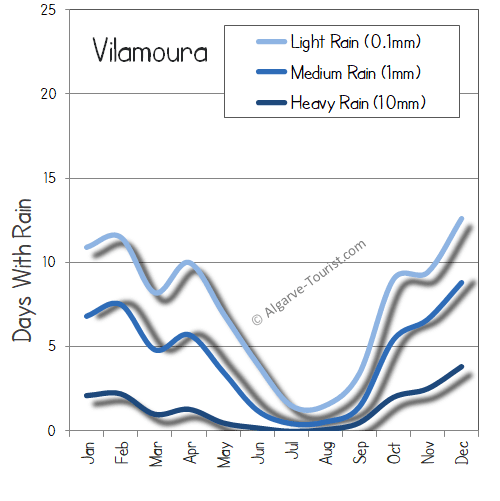 For nature lovers, springtime is perfect for a boat trip to see the dolphins and the picturesque coastline. Further afield, the Ria Formosa nature reserve comes alive with birds.
As daylight hours are still long (9-10 hours), there is a lot more that visitors can do to fill their days and it is highly recommended to take a day trip to experience the traditional Algarve. Great mid-season options are historic Lagos or Tavira.
Families will also find it a great time to visit the waterparks without the intensity of the summer heat and crowds.
Mid-season weather at a glance
• Daytime temperatures: Early 20s degrees Celsius
• Night-time temperature: mid 10s degrees Celsius
• Weather: Blue skies, occasional light showers and an offshore breeze in afternoon and evening.
• Sunrise and Sunset: 7am/7.30pm
Low season (November to March)
Winter is the sleepiest time of year as the main attractions shut and beaches are no longer warm enough to sunbathe on. Low season visitors should expect that Vilamoura empties and only local restaurants and amenities stay open.
Whilst the resort largely hibernates, the weather is still mild in comparison to a lot of Europe, temperatures range 15-20 degrees Celsius, and there is an equal number of cloudy to clear days. This makes Vilamoura a good base for exploring the heritage sites of the Algarve and a peaceful getaway for those who are not seeking a winter beach resort.
Due to its popularity as a winter golf destination, visitors can expect larger resorts to be open and the world-famous courses to be open until December.
Low season weather at a glance
• Daytime temperatures: 15-20 degrees Celsius
• Night-time temperature: 0-10 degrees Celsius
• Weather: Even ratio of sunshine and cloudy days with occasional rainfall (both heavy and light showers)
• Sunrise and Sunset: 7.30am/5.30pm
Sea temperature
It surprises many visitors to Vilamoura's two beaches that the sea temperature is significantly colder than other Mediterranean holiday destinations: This is due to the Atlantic currents, which keep the water cool.
Temperatures only reach a maximum of 18C at the summer's height and drop to 14C in the winter. Therefore, it is wise to limit time in the water unless a wetsuit is hired.
Golfing in Vilamoura
Due to its forgiving climate and renowned fairways, Vilamoura is a top European destination for golfers. Given the mild temperatures, clear days and low rainfall, the golf season peaks in Spring and Autumn when most of the Dom Pedro courses are at capacity. Booking in advance is required.
The summer heat is less appealing, but twilight packages are still a draw for enthusiasts. The long days also ensure there are more tee times available for novice players and less pressure to play at pace.
For those lucky to escape to the Algarve in winter, the golf season here is one of the best in Europe although gentle showers and cloudy days should be expected. Winter golfers should book before/after December when maintenance work is normally carried out.
When best for young families (Easter to July)
If you are planning a family trip, it is recommended to visit Vilamoura from May to July when the temperatures start to warm up, and the weather clears.
All peak attractions and beach activities are open from Easter onwards. Other family essential days out, such as Zoo marine and the waterparks, are also open and less busy.
Family-friendly restaurants and accommodation options around the marina are more varied than in the off-peak season.
When to visit Vilamoura for older people (September to October)
For tourists wanting a slower pace and a more authentic Algarve experience, early Autumn is best. The marina and beaches are peaceful, but the weather is still warm and the days are long. Vilamoura does not have the traditional culture of other Algarve resorts, but it is still a good base for exploring or golfing.
Our most popular articles for Vilamoura and the Algarve