Albufeira boat trips and tours – a tourism guide for 2023
One of the most popular activities while on holiday in Albufeira is to join one of the many varied boat tours.
These tours range from thrilling jet boat rides through to relaxing coastline tours or sea-bound speed boat trips searching for dolphins.
There is also a variety in the length of the boat trips, with shorter 2.5hour trips just to Benagil cave or whole day excursions that include lunch on deserted beaches.
With a host of different tour companies and the many styles of boat - there is an overwhelming choice for your boat trip from Albufeira. This huge selection quickly diminishes in the peak summer months, as the best tours sell out fast, and compromises have to be made for last-minute bookings.
This article will provide a guide to Albufeira's boat tours and help you choose the best trip.
Related articles: Albufeira introduction - Albufeira sights - Beaches
The boat tours from Albufeira heading to Benagil cave
The different styles of Albufeira boat tours
The majority of the shorter boat tours (2-4hours) have either one of two aims; to see the dolphins or to visit Algar de Benagil (Benagil cave)
Algar de Benagil is a spectacular sea cave with a sandy beach inside and an opening in the roof that allows sunlight to stream in. Benagil cave is the most famous natural feature of the Algarve and is 15km to the west of Albufeira. Found along this section of coastline (between Armação de Pêra and Carvoeiro) are many other magnificent cliff formations, including sea caves, cove beaches and sea pillars, and this stunning shoreline is best seen by boat.
Dolphins are frequently seen along the Algarve coastline, as they are travelling between the warm waters of the Mediterranean Sea and the food-rich Atlantic Ocean off the western coastline of Portugal. This means there are many pods of dolphins passing within 7km of Albufeira daily, and sightings are almost assured.
Note: The Portuguese are respectful to the dolphins; they keep boats at safe distances and never harass or stress these wonderful animals.
To see the dolphins, fast boats are needed to cover the distance and to catch up with them, and the tour companies use RIB boats, jet boats or speed boats. These speed boat dolphin trips include a brief tour of the coastline, and are typical 2.5hours long.
The tours of just the coastline use larger boats and provide a much more relaxing and social trip. Often there is a bar on board, there will be decent commentary, and there is less of the nauseating speeding through huge waves. The coastline tours also last around 2.5 hours (so as to get two trips in per day).
The full-day trips tours explore a bit more of the coastline, and then head to a "private" beach for a lunchtime BBQ. The afternoon is often spent on this quieter beach.
Insight: The boat tour companies are only allowed to provide lunch on a beach which is inaccessible from the cliff tops. This is sometimes cleverly marketed as a "private beach" - it is only private because it is inaccessible, there are no private beaches in Portugal.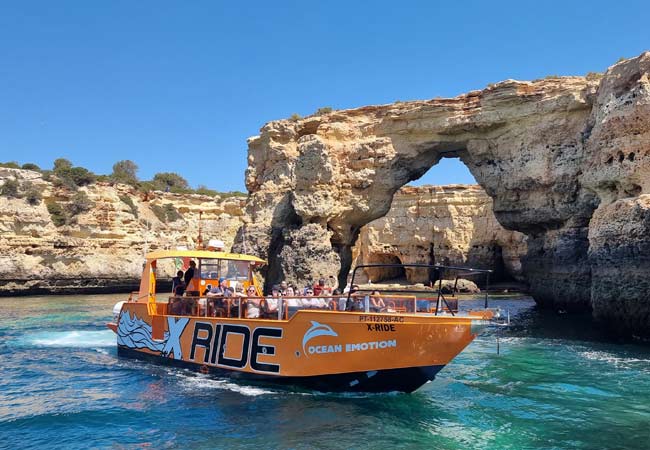 X Ride's Speed boat in front of the Arco da Albandeira sea arch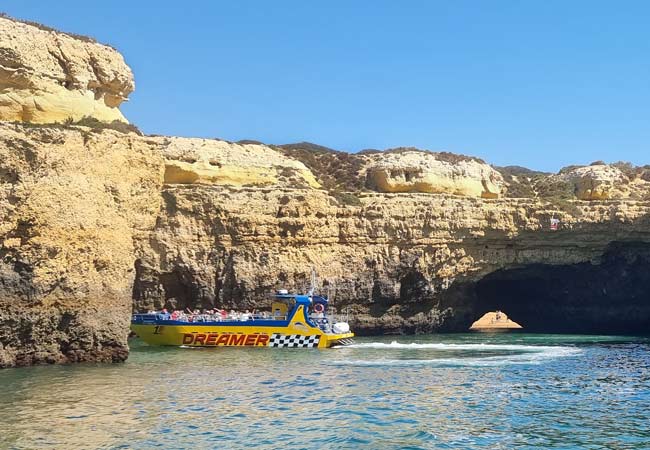 The Gruta do Capitão and Dream Wave's "Dreamer" speed boat
So before booking your boat tour, consider…..
Do you want to see the dolphins? You will have a 95% chance of seeing them, but it will involve at least an hour speeding through huge Atlantic waves.
Do you want to go on a speed boat or rib-boat? A speed boat will be fast and exciting, but you may feel seasick. A smaller RIB-boat can get closer to the cliffs, but you will get wet, and these tours tend to sell out first.
Do you want a full day tour? It provides lunch, a deserted beach and a more relaxed pace, but technically everything can be seen in just 3 hours.
Do you want a specialist boat? There are sailing yachts, glass-bottom boats, "pirate ships", and a multitude of other specialist boats – each fantastic for their target market, but you will be paying more for the gimmick.
We have worked with GetYourGuide for the last 6 years, and some of the best boat tours that they offer include:
Sights along the Albufeira coastline
All of the boat tours from Albufeira depart from the marina complex and head westwards to Benagil.
The map below shows the main sights of the coastline. The blue line shows the route of the coastline tours, and the grey line is the typical speed boat tours that see both the dolphins and coastline.
Key: 1) Albufeira marina 2) Praia de São Rafael (beach) 3) Praia do Castelo (beach) 4) Praia do Evaristo (beach) 5) Armação de Pêra (town) 6) Senhora da Rocha (headland) 7) Submarino (rock formation) 8) Arco da Albandeira (sea arch) 9) Praia da Marinha (beach) 10) Arco Natural (double sea arch) 11) Algar de Benagil (Benagil Cave) 12) Farol de Alfanzina (Lighthouse and headland)
Getting the most from your Albufeira boat tour
The boat tours from Albufeira are some of the best activities of the region, but there are some factors you should be aware of.
The weather is always the biggest consideration for a boat tour. Never book anything until you can confirm that the weather is good. There can be massive waves that roll in from the Atlantic, and any wind will make them even larger. These large waves can make entering Benagil cave impossible for some of the bigger tour boats.
The speed boat tours are exciting, but on every tour, there are a number of passengers who are seasick. If you are prone to seasickness, avoid the dolphin tours and just stick to the calmer coastline tours.
The BBQ lunches provide a decent selection of food, but the choice becomes more limited if you have food requirements (don't eat fish, vegetarian or vegan).
The sea is very chilly, as it flows in from the Atlantic – even in the summer, it only reaches 20C. Some of the tours promote "a chance to swim" but realistically, this is just a jump in, freeze and climb out.
All of the boat tours depart from the marina complex, which is 3km from Albufeira Old Town and 5km from the Strip (details at the end of this guide)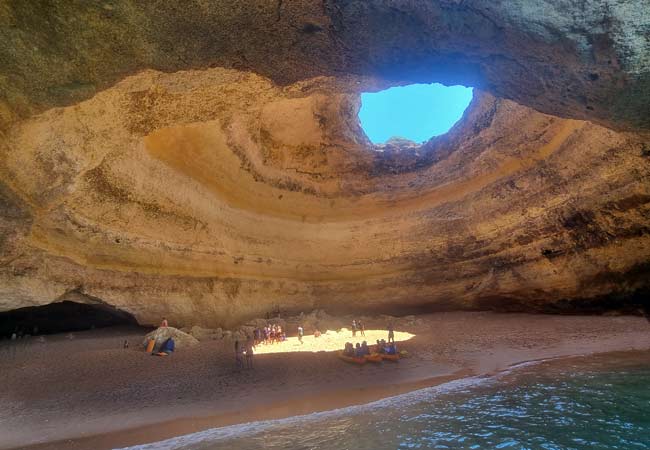 Benagil cave – beautiful limestone strata, golden sandy beach and opening allowing sunlight to flood the cave – stunning, but it will be busy when you visit
Useful Links
There are many different ticket agents in Albufeira, but the majority of tickets sold are for the same four tour companies. Links to the actual tour operators can be found below:
X-Ride - www.xridealgarve.com
Algar Experience - algarexperience.com
Dream Wave Algarve - www.dreamwavealgarve.com
Algarve Charters - algarvecharters.com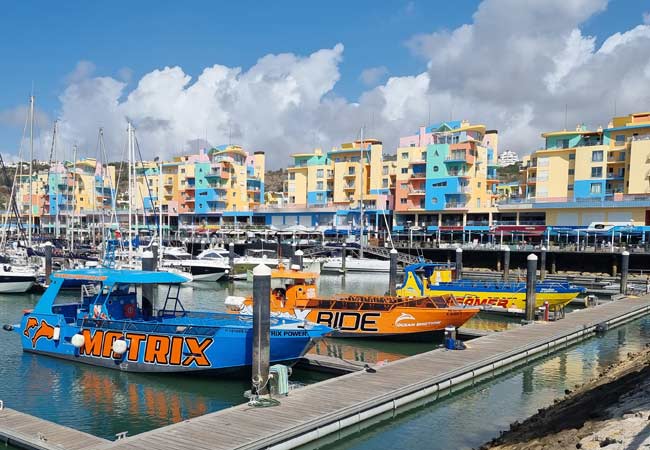 The three jet boats; Algarve Charters' blue Matrix boat, the orange X-Ride boat and Dream Wave's yellow Dreamer boat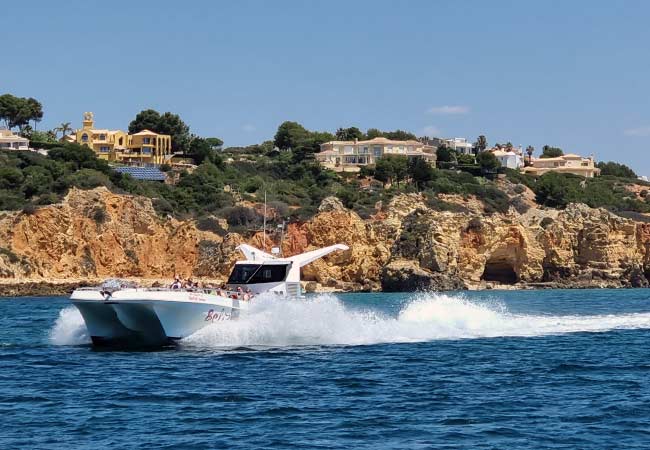 and Algar Experience's Belize Terceiro catamaran
Albufeira Marina
All of the boat tours depart from Albufeira Marina, which is to the far west of Albufeira. This is a 20-minute walk from the centre of the Old Town or 5km from the Strip in Albufeira New Town.
You will most likely need a taxi or Uber to travel to the marina. At 10am - the check-in time for the morning boat tours - there is always high demand for taxis/Ubers in the peak season.
Always arrive early as the boat tours depart promptly. During the peak season, each of the boats will be used for multiple tours, and they won't wait for late passengers – and you won't be getting a refund for missing a boat tour.
Each of the tour companies has a reception or meeting point along the marina front, and your ticket will state the tour company you are travelling with. At the marina are a section of cafes, restaurants and decent toilet facilities.
Our most popular articles for Albufeira and the Algarve