Lagos or Portimao? Which is a Better Holiday Destination?
Both Lagos and Portimao are popular tourist destinations on the western side of the Algarve. This region offers a stunning coastline of beautiful beaches, great tourists facilities and almost perfect year round weather. Though Portimao and Lagos are only separated by 20km they are suited for very different styles of tourists and this guide will identify which resort town is designed for your holiday. Through this guide we refer to Portimao but the coastline resort of Portimao is actually the town of Praia da Rocha. Portimao city is 3km north of the Praia da Rocha coast and is a sleepy residential city, which few tourists would want to be based in.
The pretty coastline of Lagos
Lagos or Portima (Praia da Rocha) Overview
Lagos is a historic fishing port with an extensive history, charming buildings and a relaxed ambience while Portimao (Praia da Rocha) is a lively resort with numerous bars, restaurants and nightclubs. Both resorts are great holiday destinations and are prime examples for their respective markets; Portimao is a classy, carefree fun beach resort and Lagos as a charming and traditional Portuguese city.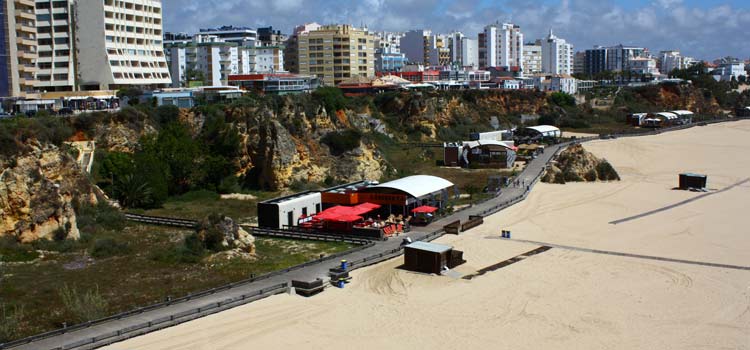 The massive beach of Praia da Rocha
Better beaches Lagos or Portimao? - Lagos
Lagos and Portimao both have stunning beaches that few other resorts can rival. The beach of Praia da Rocha is massive, easily accommodating the large influx of summer visitors. The huge expanse of golden sand stretches the length of Praia da Rocha and is bound by weathered sandstone cliffs.
Lagos has multiple beaches that are smaller than Portimao's expanse of sand but the beach of Praia do Anna is regarded as one of the world's most scenic. The small cove is surrounded by steep yellow cliffs while sand stone columns plunging into turquoise waters – the Praia do Anna is simply stunning. There are two further fine beaches in the Lagos vicinity; the small Praia da Batata, which is over looked by the fort and the flat wide sands of Meia Praia beach. Be warned the seas of the western Algarve are very cold, even in the heat of summer where it only creeps up to a chilly 15C.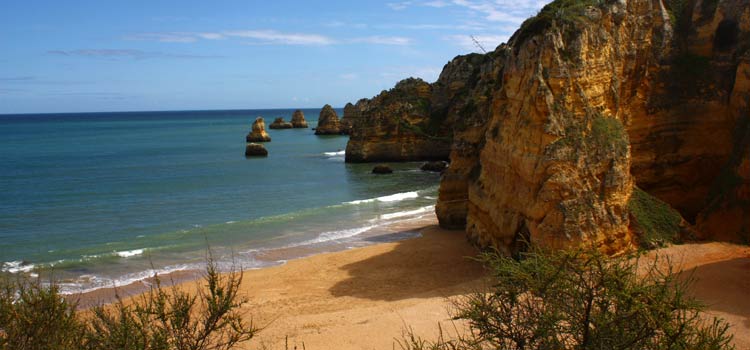 The Praia do Anna beach of Lagos
Better Location to Party and Socialise? Portimao
The cliff top promenade of Praia da Rocha is one long strip of bars, cafes, restaurants and clubs, which cater for all styles from trendy and funky through to tacky themed bars. There is a bar or restaurant suitable for everyone and every cuisine style is catered for. The only downside to Portimao is that prices are designed for the tourist trade, with drinks surprisingly expensive compared to the rest of Portugal.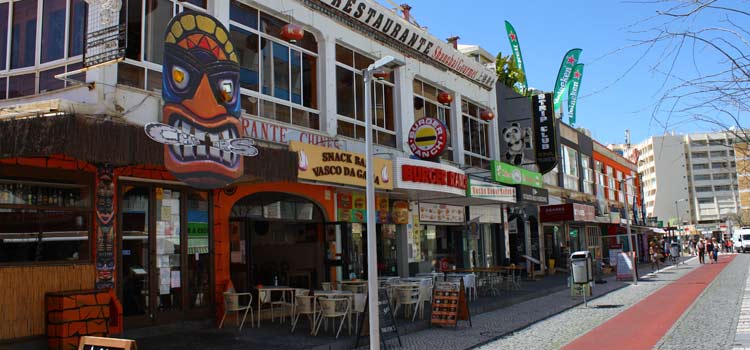 Lagos does have its own fair share of excellent bars restaurants but they tend to be more low key and Portuguese focused. A fun night can still be had in Lagos, but if you want a party Praia da Rocha is your destination.
Which one for History Culture and the Real Portugal? Lagos
Lagos was an important fishing port during the Moorish era and this close reliance on the ocean continues to this day. The town has many interesting historic monuments and religious buildings and a day can be easily spent exploring the sights of Lagos. The Algarve railway connects Lagos to the pretty fortified town of Silves for those who wish to delve further into the region's history or enjoy explore castles.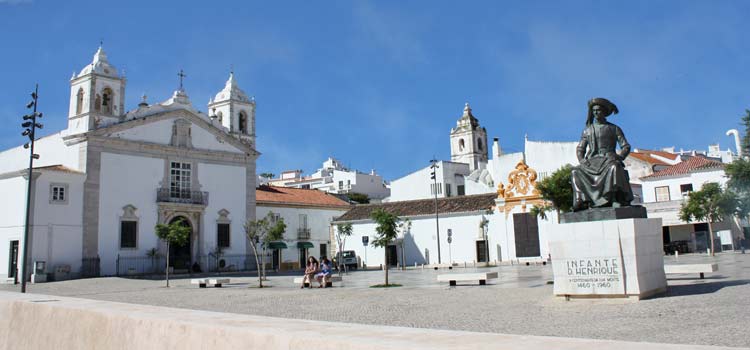 Lagos historic centre
Praia da Rocha is about the big hotel complexes; culture and history is something that the resort is light on. The centre of Portimão has a couple of pleasant plazas and a few traditional buildings that overlook the marina but Praia da Rocha has none.
Better Day Trips? Lagos
All of the family orientated day trips (Zoomarine, Slide&splash) provide coach services from both Lagos and Portimao so neither resort is at a disadvantage. For visitors who wish to explore a little further Lagos offers the better location and selection, in part due to the railway and location. From Lagos it is possible to have day trip to Sagres, Silves or even catch the train as far as Faro. These trips are possible from Praia da Rocha but public transport is not as good Lagos.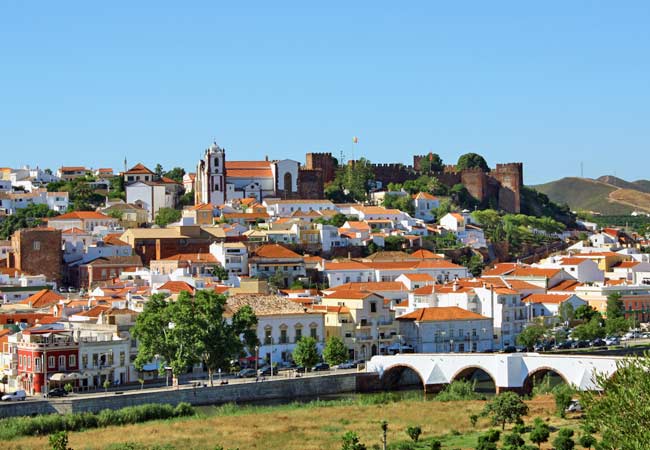 The traditional town of Silves
Issues with Either Resort?
Both Portimao and Lagos are perfectly safe, with little crime or even tourist hassle. The main issue for both resorts is the distance from Faro airport and the cost of a transfer taxis. A taxi from the airport to Lagos or Portimao will be very expensive and it may be cheaper to stay a night in Faro and catch the inexpensive train the following day. Click here for a guide detailing how to travel from Faro airport to Praia da Rocha by train.
Conclusion: Portimao or Lagos?
Both resorts are great holiday destinations and tourists to either will not be disappointed with their choice. Portimao and Praia da Rocha is slightly more focused for families and younger travellers while Lagos with its heritage is designed for the more mature or cultured visitor.
Our most popular articles for Praia da Rocha and the Algarve