Albufeira weather and when to visit?
Benefiting from a fabulous Mediterranean climate and cloudless skies from April to September, Albufeira is a European hotspot for sun seekers.
In summer (June to August) the temperatures soar both day and night. This makes the lively resort perfect for soaking up the sun on the glorious beaches, dining alfresco and partying along the 'Strip' into the early hours. The long daylight hours, dry weather and safe beaches also make it a child-friendly destination for summer holidays. In peak season expect Albufeira to be flooded with tourists and party goers.
If you have holiday flexibility, the shoulder seasons of Spring and early Autumn are the best time for discovering Albufeira and the Algarve region: Daylight hours remain long, the skies are blue but the temperatures cool slightly to allow for exploring the surrounding region and the breath-taking nature parks.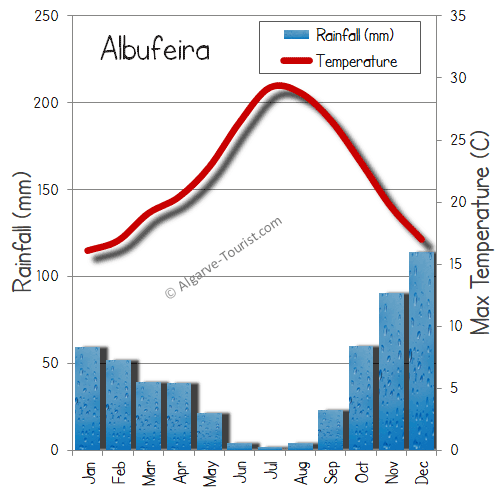 In winter, Albufeira's climate remains fairly mild but, with a 30% chance of rain, this is much more a touring destination than a winter sun getaway. For active holiday makers, this quiet season offers a peaceful escape with dramatic coastal trails and world class golf courses.
Read on for detail about when to visit to get the perfect holiday for you, and what to expect from each of the different seasons.
Related articles: Albufeira introduction - Sights and activities
The best time of year to have a holiday to Albufeira
Travel to Albufeira in spring (May-June) or early autumn (September-October) and you will be guaranteed sunshine, warm temperatures and long daylight hours without hoards of children and party goers.
Out of peak season, the pace of life slows and it is much easier to explore the charming old town and find a quiet patch on one of the stunning beaches. The mild temperatures and gentle south westerly breeze make it pleasant to explore the town at any time of day without the need to escape the heat.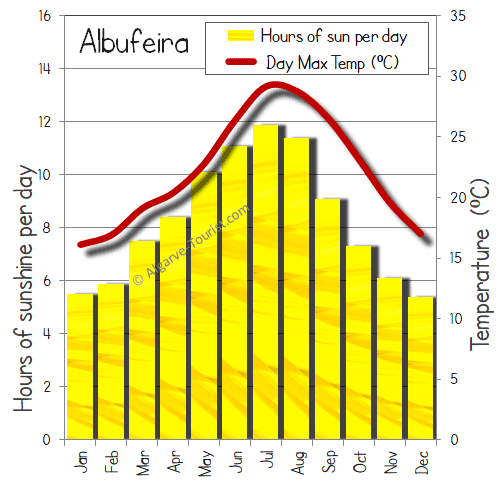 All shops and restaurants stay open from Easter to the end of October so it is easy to find a delicious Portuguese meal, without the inflated peak prices.
As the weather in mid-season is still consistently dry, it is also an optimal time to explore the Algarve region. Nature lovers will love the tranquillity of Praia de Marinha. For those wanting to experience Portuguese culture head to either the fortified city of Silves or Historic Faro.
Related articles: Day trips from Albufeira
Albufeira for 2023
As an established resort with excellent family safe amenities, Albufeira is expecting a sell-out summer season for 2023.
As Albufeira is expecting a sell-out 2023, we strongly advise you to book your flights and accommodation as soon as possible before prices increase and the best accommodation gets booked up.
The map below shows the best hotels and accommodation in Albufeira, if you adjust the dates to your holiday it will display current prices and availability.
The different tourist seasons of Albufeira
The Peak Season (July – August)
Within Peak Season Albufeira's weather is glorious. Days are consistently hot and the Mediterranean climate keeps humidity comfortably low.
Given this idyllic summer season, it is no surprise that Albufeira is very popular with families and party goers. Anyone visiting in peak season will need to plan in advance and expect to pay a premium for amenities and dining out.
The main beaches of are crowded from late morning onwards so it is advisable to get up early or explore the more rugged beaches to the south of the marinaThe UV index is consistently high in peak season and the gentle offshore breeze can be deceptive, so renting a parasol and stocking up on suncream before travelling is wise.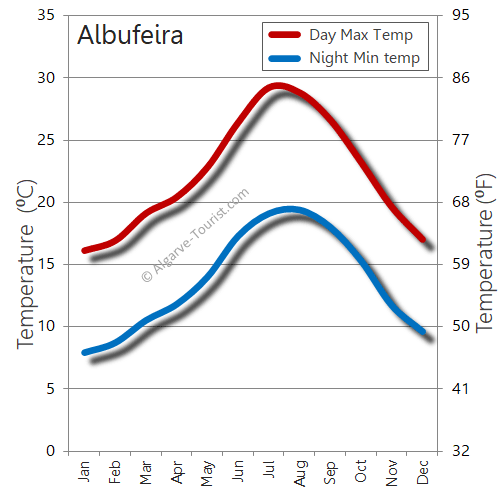 In peak season, it is recommended to take daytime at a leisurely pace, just like the locals, as temperatures can soar and long days are perfect for siestas. The Portuguese summer evenings are a sublime time to explore the coastline and Moorish old town (sunsets at approximately 8.30pm) but do expect crowds wherever you walk.
During the peak season it is party night every night at the Strip, with buzzing bars and the clubs open until sunrise.
If you wish to avoid the party scene, it is wise to avoid the strip after sunset and book accommodation in advance nearer to the old town, or one of calmer resort towns such as Praia da Luz, Carvoeiro or Tavira
Peak season weather at a glance
• Daytime temperatures: mid 20s – early 30s
• Nighttime temperature: early 20s
• Weather: Blue skies, gentle offshore breeze and low chance of rainfall
• Sunrise and Sunset 6.30am/8.30pm
The mid-season (May and September)
Warm days (highs of mid 20s), blue skies and low rainfall make Albufeira springtime and early Autumn perfect. Just ahead of peak season, everything is waking up and all the activities of summer are available without the crowds and premium prices.
The resorts beaches are still popular and sunbathing is very pleasant in the shoulder seasons. It can be wise to head out early though as the offshore breeze can make later afternoon cooler.
All water-sport activities and boat trips run in the mid seasons but it is worth checking the forecast before booking and hiring a wetsuit if you intend to be in the sea. It is a perfect time for quieter boat trips along the coastline or for seeing the marine life. Often activities can be booked on the day and it is worth checking prices across a few vendors.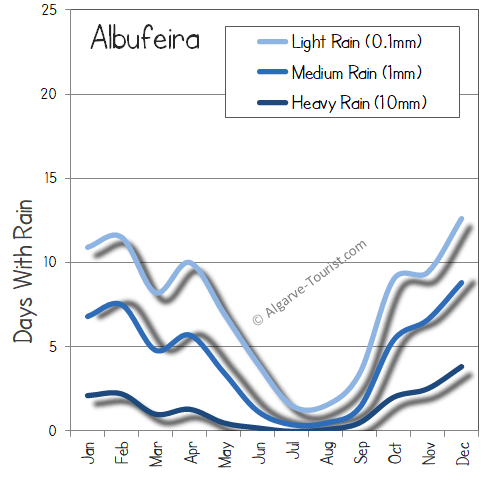 The warm temperatures and long daylight hours also make it a great time of the year for touring the Algarve and experiencing more of the traditional Portuguese culture and nature. Recommended Spring and Autumn day trips/activities are Silves, Faro, Sagres and Praia de Marinha.
It is also worth mentioning that the shoulder seasons are a great time for golf trips to the world class Algarve courses as the weather is very fair.
Mid season weather at a glance
• Daytime temperatures: early 20s
• Night-time temperature: mid 10s
• Weather: Blue skies, low rainfall but occasional light showers and an offshore breeze in afternoon and evening.
• Sunrise and Sunset 7am/7.30pm
The low season
The weather in the winter months is unpredictable with an equal number of bright sunny days to grey wet days. Temperatures also drop both day (17C) and night (8C), so do remember to bring some warm clothes for the cooler nights.
Given the change in climate, Albufeira is not a winter sun/beach destination.
The main draw for the Algarve in the winter is the tranquillity, rugged natural beauty, which can be explored on foot, bike or horse and the world class golf resorts. If you can put up with some rainfall, this is the only season where the Algarve rests and is peaceful.
There is a permanent Portuguese population in Albufeira so visitors in winter will be able to find local restaurants and hotels but it is best to plan ahead to avoid disappointment.
As with much of the southern European party season, the Strip and infamous nightclubs all shut up in September.
Low season weather at a glance
• Daytime temperatures: mid 10s
• Night-time temperature: 0-10
• Weather: mixture of sunshine and rainfall (both heavy and light showers)
• Sunrise and Sunset 7.30am/5.30pm
Sea temperature
It surprises many visitors to Albufeira's beaches that the water temperature significantly colder than other spots in the Mediterranean due to the Atlantic currents Temperatures only reach 18C at the height of the summer and drop to 14C in the winter.
Related articles: Albufeira beach guide
When best for young families (Easter to July)
If you are planning a family vacation, it is wise to jet out to Albufeira from May to July when the temperatures start to warm and any the rain clears.
The waterparks, high ropes activity centre and zoo marine all start there peak season hours from May onwards. Family-friendly restaurants and accommodation options are more varied and the beaches are safe and attended.
Older people (September to October)
For tourists wanting a slower pace and a more authentic Algarve experience, early Autumn is recommended.
The families and party goers have gone home, the weather is still warm and the days are long enough to relax. Albufeira is a good option for Autumn sun and sunbathing on the main beaches is still comfortable without the sweltering heat.
The local restaurants and the old town are still very much open and alive but are much quieter for roaming around rather than being packed in with crowds of other tourists.
If Albufeira is sold out the summer, consider these other destinations...
Portugal has a host of coastal destinations that are a perfect choice for sun seekers without the summer crowds. Further north, the Capital city, Lisbon, and second city, Porto, are both surrounded by many outstanding beaches that have all the family-friendly amenities without the premium summer prices
Our most popular articles for Albufeira and the Algarve