Albufeira for Families and Children
Albufeira is a fantastic holiday destination for families with young, school-age or teenage children.
The town offers enjoyable child-friendly activities, glorious sandy beaches and family-focused amenities, which are set in a safe and welcoming environment.
This guide will detail why Albufeira is ideal for families, and detail popular activities for children.
Popular Activities for Children in Albufeira
The following is a list of the best or unique activities for children in Albufeira:
(please note all links open new tabs)
• Zoomarine – The best theme park in the Algarve, https://www.zoomarine.pt.
• Slide and Splash – Thrill filled water park ideal for older children (€27/€19 adult child), please see www.slidesplash.com
• Dolphin watching boat tours - two-hour dolphin tour for €35
• Bowling (family activity for an infrequent wet day) – €10 Per person per game see, www.algarvebowling.com
• Off-road jeep tour (older children) – Half day tour for €30
• Go-karting (fast track but older children) - €25 for 20 min, please www.algarvekarting.com
• Jetboat (older children) – €30 for 30 min thrill ride
• Parque Aventura, high rope adventure courses, with circuits suitable for all ages (€12- €17), please see www.parqueaventura.net
• Horse riding - 1-hour trek €30, please see albufeiraridingcentre.com
• Crazyworld; zoo, mini golf and splash pools - €16.95/€9.95, please see www.krazyworld.com/en
• Cinema at AlgarveShopping; often films have English audio with Portuguese subtitles for latest listings please see www.cineplaceportugal.pt
Is Albufeira a good destination for families?
In a simple answer yes.
Albufeira is the largest resort town of the Algarve, and therefore it offers the widest selection of family-friendly activities, hotels and restaurants.
Many of the hotels in Albufeira are family focused (as this is such a lucrative market!) with child pools, daytime activities and entertainment. In the town, all restaurants are welcoming of children, and there is a wide selection of activities, as hopefully indicated by the previous section. The beach is safe, clean and supervised during the summer.
Language will also not be a problem, and English is surprisingly widely spoken by almost all who work with the tourist industry, along with a range of other common European languages.
As a generalisation the Portuguese are a family-oriented nation, and the whole of the Algarve has a very slow, relaxed pace of life.
The Algarve is a very safe region of Europe, but this does assume that you do use common-sense as you would at home. All Algarve towns can be walked around safely late at night.
Doesn't Albufeira have a party reputation?
Albufeira does have a semi-deserved reputation for excessive drinking and wild party nights, but these venues are situated in the new town and are centred around "the Strip".
This section of Albufeira has its own beach (The Praia da Oura) and hotels which accept groups, and is 2km from the Old Town, where most couples and families are based. This distance means that both types of tourists do not antagonise each other.
If you are travelling as a family, it is recommended not to be based close to the Strip, but be based close to the Old Town or one of the numerous resort hotels outside of Albufeira.
Is Albufeira an expensive holiday destination for a family?
Portugal and Albufeira provide exceptional value for money, especially for food, drink and transport. A filling lunch will cost less than €8 while a three-course meal with drinks typically costs €15-25.
It is very tempting to choose half or full board when selecting a hotel, but this will greatly restrict choice and may even work out more expensive. There are over two hundred different restaurants in Albufeira, and food is great value, especially when compared to other European cities and holiday destinations.
The main cost for a holiday will be accommodation and flights, particularly if you are forced to visit during school holidays. Our advice is to book as soon as possible; hotels can be booked up to a year in advance and flights (depending on the airline) can be booked 6-9months earlier.
What about the beaches?
Albufeira is situated on a beautiful coastline and the beaches are of an excellent standard. There are no dangerous currents or powerful waves, and during the summer all the main beaches are supervised by lifeguards.
In the summer Albufeira's beaches are a hive of activity, with numerous beach activities, including sea inflatables, banana boats, and parasailing. Parasols and sunbeds can be hired for 15E per day. Adults will not be wanting to spend long in the sea waters as they are surprisingly cold, only reaching 22C in the summer.
What about Flights?
Flights to the Algarve are much shorter than to Greece or the Canary Islands, with journey times of 2.5 hours from London, or 3 hours from Glasgow. Faro airport is served by multiple airlines including all of the low-cost airlines.
This means that there are departures from many of the medium-sized regional airports of Europe, which helps to reduce the overall journey time.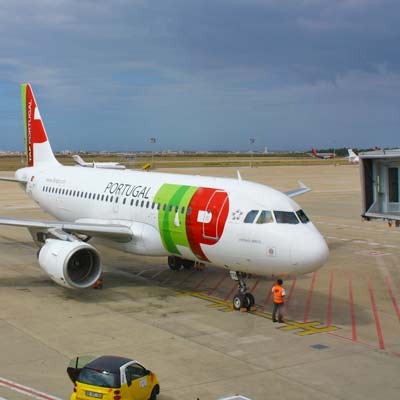 Air Tap is the national carrier of Portugal
Tips and advice for a family holiday to Albufeira
The summer sun is very intense, and the heat may be too, much for young children. Spring and autumn are less crowded, and the weather may be much better suited for younger children. The streets of Albufeira are cobbled and hilly, which makes it very difficult for small wheeled prams.
Branded items, named products and medicines are very expensive in Portugal, it is always advisable to bring them from your home country as they will cost significantly more in Portugal. Sunblock, suntan lotions and after sun treatments are unbelievably expensive in Portugal, remember to pack them!
Pharmacists should be the first point of contact for minor illness or ailments, as they provide a wide selection of services and can dispense most medications or at least direct you to the right services. Always have sufficient travel insurance, never skimp on this as, unexpected emergencies do occur.
Albufeira is only 35km from Faro airport, but taxi transfers can be very expensive, and public transport is generally too demanding for an exhausted family. It is advisable to pre-book an airport-hotel transfer before heading to Portugal.
Popular Children Friendly Activities in Albufeira
Zoomarine is a combination of waterpark and sea life zoo, which has a well-cared-for pod of dolphins. There are daily displays including the dolphins, seals, sea lions and a selection of birds of prey. In the waterpark, there are water slides, a wave beach and rapids. The day trip will be loved by the children, but parents may baulk at the ticket prices
Slide and Splash is the best water park in the Albufeira region. The park has multiple water activities including slides, corkscrews, pools and a "Tropical Paradise" which is designed for young children.
Our most popular articles for Albufeira and the Algarve