Albufeira; Portugal's only Stag, Hen or Bachelor Do's Holiday Destination
Portugal has just a single location that is suitable and accepting of stag do's, hen do's or bachelor parties, and that destination is Albufeira. The town makes for a fantastic destination for this crazy holiday, as it boasts wild nightlife, intense day time activities and comparatively cheap. This guide will provide an introduction and advice for planning a stag or hen do to the Algarve and Albufeira.
The Best Man and Maid of Honour key responsibility…..
The stag and hen do is one of the most important activities for the Best Man or Maid of Honour to organise. Often the primary difficulty is choosing a fantastic destination, one which will provide life-long memories (both good and bad), cheap drink, fun activities but is still suitable for all participants.
There is often a drive to find new, undiscovered, or cheaper destinations that out performs previous stag or hen parties. Albufeira could be your best choice for a European destination…..
Why Albufeira for a stag or hen do?
Albufeira is a beach resort that offers the comforts of home, has a pleasantly sunny climate and is a comparatively inexpensive country. The main advantage Albufeira has over many of the established stag/hen destinations is that there is a decent beach, and there is no better place to recover after a long night of drinking.
During the day, there are the common stag/hen do activities including go-karting, spas, boat tours, etc. Food and drink are very cheap in Portugal, a decent main meal costs less than €10 and a half litre of beer is from €2.50 (obviously clubs and themed bars cost more).
Key advice for an Albufeira stag or hen do
If you are planning a stag or hen do to Albufeira make sure you are based close to "The Strip" which extends along the Rua da Oura and Avenue Sá Carneiro, to the east of the town. The Strip is a street crammed full with themed bars and late night venues that is very tolerant of a "bit of fun".
Here you will find happy hour offers and late night clubs that will welcome large groups of drunk people. The strip has become accustomed to people wearing very outrageous fancy dress and is a great place to meet other "like minded" people. Typically, there is an equal number of hen and stag groups and there is a wide spread of ages.
The Old Town of Albufeira, 2km to the west, is much more family focused and bars will be less tolerant to large groups and may inflate prices or simply refuse entry. Hotels in this district can be equally as harsh and unforgiving to noisy groups, and it is not uncommon for excessively badly behaved groups to be kicked out of their paid accommodation. If you are on a stag do, make sure your hotel is close to the Strip and that it allows groups!
Advantages of a Stag/hen do to Albufeira
Portugal is a perfectly safe destination for women either traveling in groups or as solo travellers. When there is minor harassment it comes from other (drunk) tourists and is no worse than any Friday/Saturday night back at home, visitors will never feel unsafe or threatened. The Algarve is a very safe holiday destination, especially when compared to other common stag/hen locations such as Estonia/Lithuania or even Amsterdam.
Go karting, a classic stag activity, Albufeira's courses are fast!
Albufeira has the benefit that English is spoken fluently by everyone – language will not be an issue. This multi-cultured atmosphere is also reflected in the food served in restaurants; there is traditional Portuguese cuisine but this is served alongside all day breakfasts, curry house and burger joints.
Albufeira and Portugal is relatively easy to fly to. The nearest airport to Albufeira is Faro Airport (35km to the east) and there are numerous direct flights from most UK and Irish airports.
Many of these routes are served by the low-cost airlines and cheap fares can be found if booked well in advance – the cost of flights always increases the close to the departure date so it is best to purchase them as soon as possible.
Some ideas for day time activities, include:
When to go to Albufeira for a Bachelor Party?
The best season to plan a stag or hen do to Portugal is during the spring (ideal for a summer wedding) or during the early autumn months. The summer months (Mid-June to the end of August) are the height of the season; hotels sell out and flights become overly expensive.
To organise a stag/hen do during the summer the bookings must be made during the winter, otherwise prices will skyrocket. At the other end of the year (mid-October through to March) the whole resort closes for winter and only a handful of bars are open.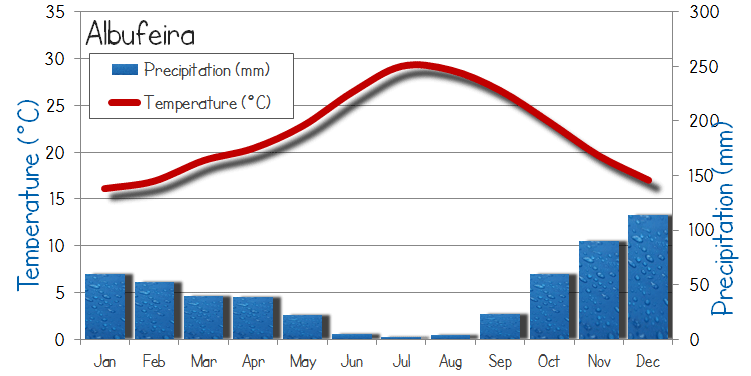 The Average weather of Albufeira
Tips and advice for Albufeira stag or hen do
To keep prices to a minimum always book as far in advance as possible. The Algarve is famed for its golf courses but green fees tend to be aimed at the exclusive end of the market.
Try to be located close to Rua da Oura (Avenue Sá Carneiro) Public transport from the airport is limited and taxi transfers are expensive (+€50 for four people). If you are a large group pre-book an airport-hotel transfer.
Have sufficient travel insurance – Portugal's health system was once good but now, due to finical crisis, funding has been cut back to an almost criminal level. A prime example of this is; if you require an ambulance to take you to the hospital you will be charged.
What About other destinations in Portugal?
No other location in Portugal is as suitable for stag or hen holiday as the Strip in Albufeira. Portugal is still a very conservative and aging country, where people drink in moderation and socially (as opposed to drinking as much in a short space of time, while outrageous fancy dressed). Other locations which could be considered are Lisbon, Porto or Praia da Rocha (Portimão).
Lisbon and Porto may be able to offer much more varied nightlife but club bouncers will try their best to ruin most nights. Drunk groups of lads may be simply refused entry or entrance fees set so high (+€100) that you will simply walk away. The other issue with Lisbon is that there is a lot of walking, with activities spread throughout the city or mates lost on a night out.
Lisbon/Porto hotels are geared to couples, and may not be as welcoming to groups of 10+ rowdy Brits as the hotels near the Strip in Albufeira. That said Lisbon is a great destination and is ideally suited for a slightly more mature stag do or holiday with friends.
Praia da Rocha (PDR) is as lively as Albufeira but is further to the west, meaning a longer and more expensive transfer. If you are organising a stag or hen do and heading to the Algarve, you might as well be based in the town which is (semi) designed for them.
Our most popular articles for Albufeira and the Algarve