Quarteira; the best sights, attractions and things to see and do in 2023
Quarteira may not be as famed or pretentious as its neighbouring resort towns, but there is a lot to love about Quarteira as a holiday destination. The town is situated on a beautiful beach and there is a surprising amount to do and see within the region, while the town's restaurants and bars provide a social and welcoming atmosphere. This guide will detail the most popular sights, activities and things to do for a holiday to Quarteira.
The beaches – Sights of Quarteira
The Algarve is famed for its beautiful beaches, and the beach of Quarteira is no exception. The main beach extends along the length of the town and there is a pretty tree lined promenade that allows easy access to the entire beach.
To the eastern end of the promenade is the pristine and underdeveloped beach of Vale do Lobo. The Praia de Quarteira beach has soft golden sands and clean sea waters that are safe for children to swim in. All beaches in the Algarve are popular and crowded during the summer but the Praia de Quarteira always feels less busy and hectic.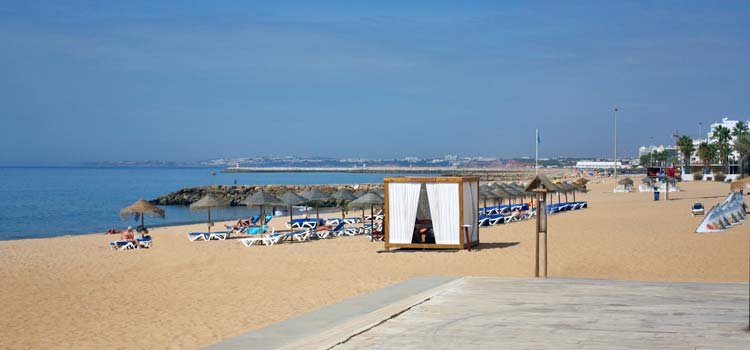 Quarteira has a vast sandy beach!
Golf – Quarteira things to do
Quarteira Daily Market
Quarteira has a lively fish and food market, which is a great place to experience normal Portuguese daily life. The fish sold in the market is freshly caught that morning by the local fishermen while the fruit and vegetables are locally grown, and are delicious and inexpensive.
Portuguese markets start early in the day with most of the fish sold by mid-morning, and on Sundays the market does not sell fish. There is a popular gipsy market on the edge of Quarteira, held on Wednesdays, which sells local handicrafts through to bric-a-brac.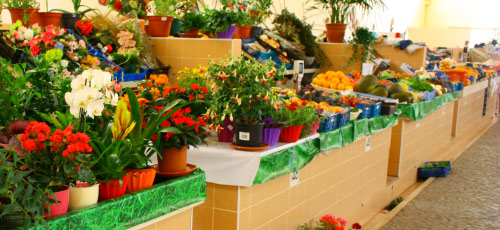 Quarteira market is a colourful and noisy affair
Aquashow Park Water Park – Quarteira activities
Aquashow Park is one of the Algarve's best waterparks and is located within Quarteira (4km inland). This waterpark is great for older children and teenagers (and adults!), contained within the well-maintained complex are gravity defying flumes, wave pools and near vertical slides rides – all perfect for the adrenaline junkie.
The only downside are the overly inflated entrance fees of around €27/€19 (adult/child), which may dampen the bill payer's spirits. The link to Aquashow park website is here: http://www.aquashowparkhotel.com/en
Aquashow Park is a fun water park for all ages!
Day Trip to Loule from Quarteira
Loule is a charming and traditional Portuguese market town that makes for an enjoyable day trip from Quarteira. Loule has a pretty daily market (except Sunday) that is housed in a North African inspired covered market, while the pretty cobbled backstreets are filled with quaint house and small shops.
Loule has a distinctively Portuguese ambience, with locals socialising in open air cafes, women gossiping in doorways and old men sat all day on the same bench – Loule is wholly different from Quarteira.
Related articles: Loule guide
Boat trips, tours and fishing trips – Quarteira things to do
Departing from the marina in Vilamoura (5min taxi or 20 min walk) are an assortment of different boat trips, which include tours of the coastline, dolphin spotting and deep sea fishing. For the more adventurous are speed boat tours, jet boats or jet-skis, while for a total indulge charter a private yacht for a sunset cruise. Typical cost are:
• 3 hour caves/coastline tour €26/€17 (adult/child)
• 2 hour Dolphin tour €35/€25 (adult/child)
• 3 hour deep sea fishing (20-30m) for snapper, mackerel, grouper €35/€25 (adult/child)
Over the previous seven years we have worked with GetYourGuide.com and a selection of their best activities for Vilamoura include:
Day trip to Faro
Faro is the largest city of the Algarve and is a surprisingly unhurried and interesting destination, ideal for a day trip from Quarteira. Within the ancient walled section of Faro is a fortified cathedral, castle ruins and Baroque city hall, while the pedestrianised shopping streets of central Faro are lined with open-air cafes.
Faro is the gateway to the Ria Formosa Natural Park, a series of salt water lagoons and waterways that are a haven for migratory birds and marine life. There is a direct bus service from Quarteira to Faro, which departs from the main bus station. (€8.20 -30 min)
Related articles: Faro guide - Day trip to Faro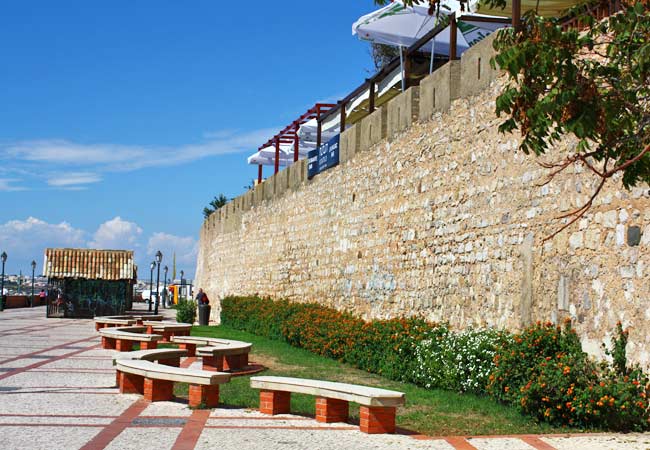 The city walls of Faro
Zoomarine – Quarteira sights
Zoomarine is wonderful marine park that specialises in dolphins, marine life and topical birds. In the marine park there is a diverse selection of activities including dolphin shows, aquariums, and a good water park with slides, wave pools and rapids. The animals of Zoomarine are kept in modern facilities and all are well cared for.
The variety of attractions means Zoomarine is ideal for both families and young couples but again has a steep entrance fee of €29/ €19 (adult/child). Further information can be seen on their website: https://www.zoomarine.pt/en/
A big night out
For a stylish night out take a taxi to the marina complex of Vilamoura, which boasts some of the trendiest bars and restaurants of the Algarve. There is no better place for a special or romantic meal of freshly caught fish, than overlooking the marina which is filled with the multi-million Euro yachts. Vilamoura has an extensive selection of bars which range from themed through to uber-chic and at the open air night club of Bliss (5km inland) you can party until the sun rises.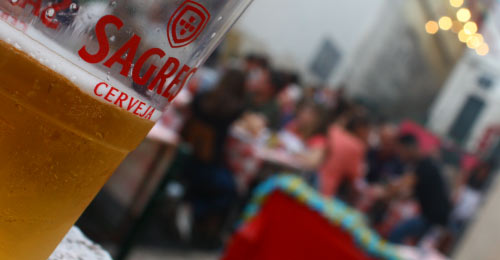 All big nights start with a pint of Sagres!
Eating and drinking – Things to do
One of the main attractions of Quarteira is the selection of restaurants and bars and line the beach front and the welcoming atmosphere that they provide. An enjoyable afternoon can be spent savouring the delicious fished based meals or drinking locally produces wines under the glorious climate of the Algarve.
Many of the establishments are owned by Portuguese families or Europeans who have emigrated to Portugal and, when combined with the large ex-pat community of Quarteira, provides a much more sociable and intimate atmosphere than the larger resort towns. Eating out in Portugal is significantly cheaper than back at home and all restaurants have lunchtime offers, such as meal of the day. When choosing a hotel, it is advisable not to go all-inclusive as this will severely limit the options of when and where to eat.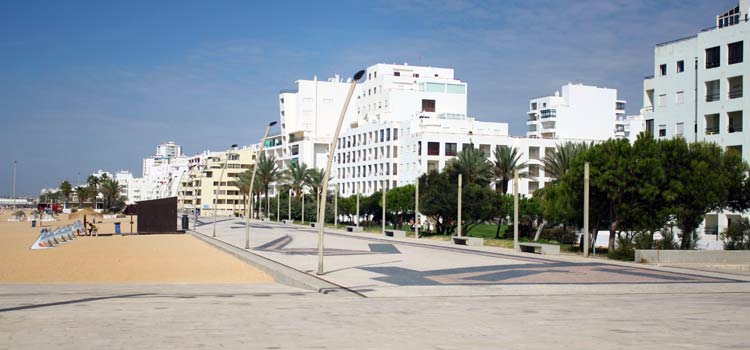 The cafes and beach front bars of Quarteira Portugal
Try Portuguese Food
Quarteira is an ideal location to try local and traditional Portuguese cuisines. Quarteira offers some of the best seafood restaurants of the Algarve. Portuguese foods tends to be heart and filling (often served with rice, chips and bread as a starter) and Algarve specialities are based around freshly caught fish or shellfish.
One dish to try is Cataplana, a seafood rice stew, that is both cooked and served in a large copper dish that resembles the key ingredient, clams. Cataplana is designed to be shared, with the copper dish being placed in the centre of the table. Locally produced wines are the perfect accompaniment for any meal!
A delicious prawn Cataplana
Our most popular articles for Quarteira and the Algarve