Faro Airport to Quarteira by Private Transfer, bus and train
Quarteira is a pleasant and unhurried resort town that is situated in the central Algarve region. The town boasts a beautiful beach, lots of varied activities and great seafood restaurants. The main airport of the Algarve is Faro airport, which is 25km to the east of Quarteira and is served by very limited public transport. This guide will detail how to travel from Faro airport to Quarteira, and will provide information regarding private transfers and the use of public transport.
An overview of Faro airport to Quarteira by public transport
Considering that Quarteira is only 25 km from Faro airport, the journey by public transport is long and involves multiple connections. The poor public transport from Faro airport does not reflect the importance of Faro as a major international airport and that tourism is vital to the Algarve's economy.
There is no public transport hub at Faro airport and all visitors must travel into Faro city for onward connections to Quarteira. Once in Faro city there is a frequent and inexpensive bus service to Quarteira. Quarteira has a major bus station and as the town is relatively small it will only be short walk to your exact hotel. In summary there are three stages for a public transport transfer from Faro airport to your hotel, they are:
• Faro airport to Faro bus station (taxi or bus)
• Faro to Quarteira (bus)
• Quarteira bus station to your hotel (walk or taxi)
The final inconvenience with traveling to Quarteira by public transport is that the last bus of the day is at 19:40(Mon-Fri) or 18:45 (Sat/Sun) (correct October 2019, please check links to timetables later in this article), which means a late landing flight will need a private or shared transfer. There is no railway station close to Quarteira therefore train is not an option.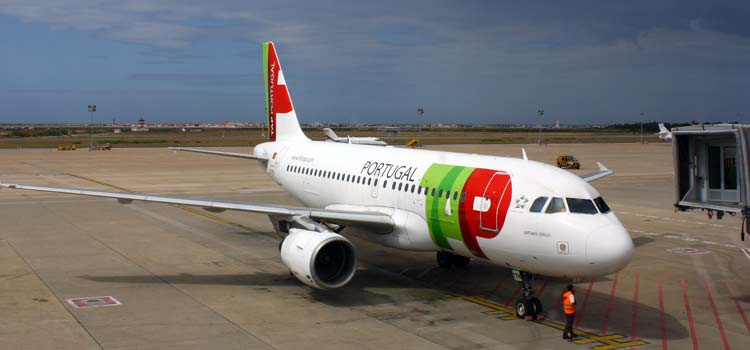 TAP is the national airline fo Portugal
Should I just get a taxi from the airport?
Definitely not, a taxi hired directly from the airport arrivals lounge to Quarteira will be very expensive (>€65). A much better option is to pre-booked a private transfer which costs €25/€50 (one way/return). Cheaper options are the transfer buses with tickets around €15- €20 but these buses stop many times and journeys are surprisingly long. Summer time in the Algarve are manic and Faro airport can be chaotic, with massive queues for everything, it is always best to pre-book transfers.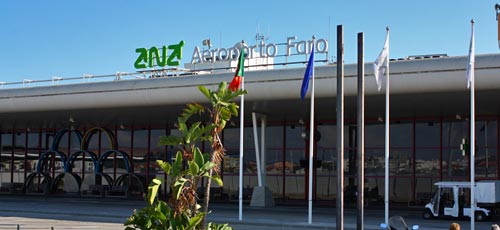 The main terminal building at Faro airport
How we use public transport to get to Quarteira
For most other journeys departing from the airport we take public transport but when we are staying in Quarteira we usually just hire a private transfer as the cost is usually comparable to the cost of public transport (when taking a taxi from Faro airport to Faro city)
If we had to take public transport from Faro airport to Quarteira we take a taxi (as the bus is so infrequent) from the airport to Faro bus station, then we take a bus from Faro to Quarteira. This transfer costs around than €20 for two people and with good connections can be in our accommodation within 2 hours of leaving the airport. When we flying into Faro airport we always book an early flight as early flights tend to have the shortest (and less) delays. The following section details both stage of the public transport route in greater depth.
Stage 1 - Faro Airport to Faro bus station
The first stage of the journey is the 6km from Faro Airport to Faro bus station. There is a direct bus service from the airport with irregular departure times but at least one bus per hour between 6am-11pm. The journey takes under twenty minutes, the fare is €2.35 and tickets are purchased from the driver. There are departures every 30-50 minutes, and the latest timetable can be seen on the Proximo website at:
www.proximo.pt/uploads/schedules/Linha_16_18.pdf
www.proximo.pt/uploads/schedules/Linha_14_3.pdf
(links open new windows)
A taxi from the airport to the train station cost €10-12 and only takes 10 minutes. For a very detailed guide to this first stage please see this guide, Faro Airport to Faro train station.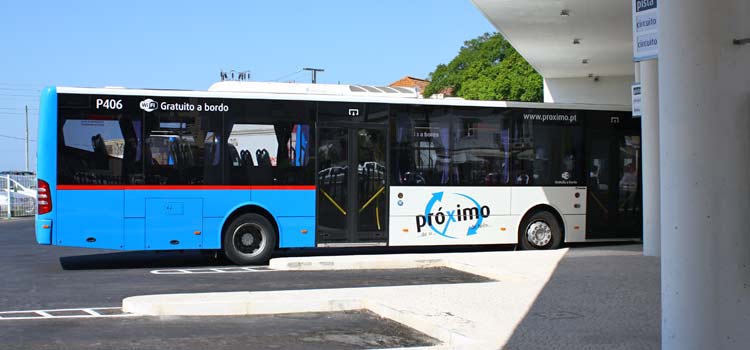 The number 16 bus from the airport to Faro
Stage 2 - Faro to Quarteira by bus
There are many daily departures between Faro city and Quarteira and the journey takes 35 minutes. The bus service is provided by Eva buses and the latest timetable can be seen here:
https://eva-bus.com/pdf/9_novo.pdf
(links opens new window)
The inconvenience with the bus is that the last departure is at 19:15 (Monday to Friday) or 18:45 (everyday), which is no use for late landing flights. The bus ticket costs €4.10/ €8.20 (single/return). All bus tickets are purchased from the ticket office - when traveling from Faro bus station bus tickets cannot be purchased from the driver. The ticket office can get very busy during the summer months.
The express busses depart from the older covered intercity bus station not the new open air "Proximo" bus station. In Vilamoura there are three bus stops and the marina is probably the most useful for the majority of visitors. Quarteira bus station is in the centre of the town, on the main road, from here most beach front hotels are within walking distance.
Our most popular articles for Quarteira and the Algarve