Praia da Luz; the best sights, attractions and things to see and do in 2022
Praia da Luz is a pleasant and relaxing resort town, which is situated on the western edge of the beautiful Algarve. Luz is ideal for families and couples wanting a low-key but personable holiday destination that offers a fantastic beach, glorious weather and a varied selection of restaurants and bars.
Most visitors consider Luz as a beach holiday destination, but there is surprising amount to do within the region. This guide will detail the most popular sights, activities and things to do within Praia da Luz.
The great beach
Luz has a wonderful sandy beach that extends the length of the town, while the sea waters are clean and safe for children to paddle in. The beach has sufficient large waves that it is possible to body board and surf, and equipment can be hired (see later for details).
To the western edge are low rock formations which are filled with tidal rock pools and small marine life. If you are seeking a family friendly beach resort there is no better destination than Praia de Luz. If you want to see how great the beach is, then visit the beach web-cam at:
http://beachcam.meo.pt/livecams/praia-da-luz
(link opens new window and web page is in Portuguese)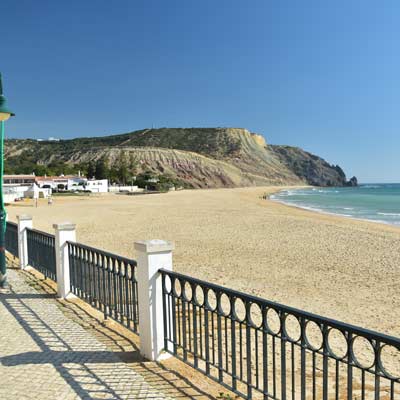 Praia da Luz beach is wonderful
Day trip to Lagos
Lagos is a historic port, that boasts a charming fort, ancient city walls and delightful city centre of cobbled streets and traditional shops. Departing from the harbour of Lagos are boat tours of the Ponta da Piedade, a stunning formation of highly weather cliffs, which are regarded as the best natural feature of the western Algarve.
Lagos makes for an enjoyable day trip from Luz and there is a regular and inexpensive bus network, which means that a rental car is not needed to visit the city.
Related articles: Lagos guide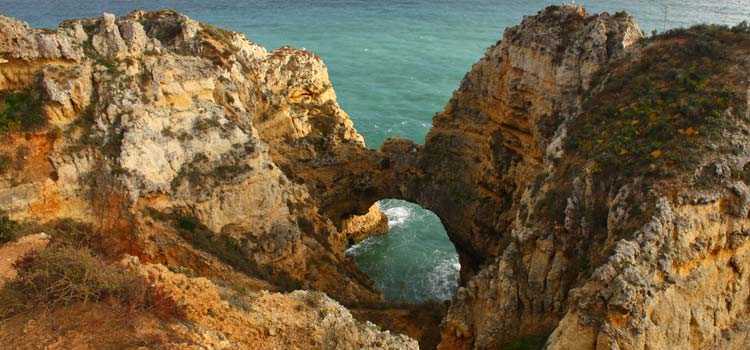 The Ponta da Piedade
Restaurants and Bars
Praia da Luz has a varied selection of traditional and family run restaurants, all of which are personable, intimate and welcoming. The wide range of restaurants and cafes cater for all preferences and styles of cuisines but local specialities focus on freshly caught fish. Meal times are important to the Portuguese and the evening meal is a time to socialise and is never rushed.
Boat tours from Praia da Luz
There are many enjoyable boat trips that depart from Luz, which either explore the coastline or head out to sea for dolphin watching or fishing trips. Typical tours include the Ponta da Piedade (1h30min Adults €20 Child €15), Sagres tour (1h30min Adults €20 Child €15) or dolphin watching (2hours Adult 40€ Child €25). The main tour boat company in Luz is, Beach Hut Water Sports and their website can be seen here: http://beachhutwatersports.com/en/
The Luz boat tours along the coastline
Surfing at Luz beach
The beach of Luz has decent waves that roll in from the Atlantic Ocean and are suitable for surfing. There are much better surfing locations in the western Algarve (around Sagres) but the Luz beach is close and convenient. T
he seas around Luz are always cold so a wet suit (€5 per day) is needed, even at the height of the summer. Surfing equipment can be hired from the town, with body boards (€10 1-day), surf boards (€15 1-day) and paddle boards (€30 4 hours) available for hire from Luz Surf Village, http://www.luzsurfvillage.com/ (link opens new window)
There are good waves at Luz for surfing
Water Parks - Things to do
Praia da Luz is far removed from the hecticness of the central Algarve but it is still possible to travel to one of the best water parks of the Algarve, Slide and Splash. This water park contains gravity defying flumes, wave pools and near vertical slides, making it ideal perfect for adrenaline junkies.
Slide and Splash is close to the town of Lagoa, 35km from Luz, but is a great excursion for older children (and adults!). Entrance fees are €27/€19 (adult/child), and the link to Slide and Splash website is here: http://www.slidesplash.com/en/
There are great water parks in the Algarve
Day trip to Sagres - Activities
Sagres is at the western edge of the Algarve and is situated in a region of dramatic scenery, with massive cliffs, powerful seas and vast beaches. This barren and windswept region is ideal for visitors who appreciate natures raw power.
Sagres town has a remote but hip atmosphere, in part due to the large number of surfers who take up residence to surf some of the best waves in Europe. Along from Sagres is the Cabo de Sao Vicente the south-western tip of mainland Europe and where 75m high cliff extend from raging seas.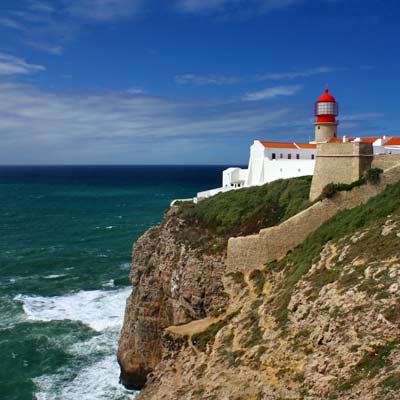 The Cabo de Sao Vicente
Water Silliness
A beach resort wouldn't be great one with a plethora of inflatable and silly, thrill rides available for hire, and Praia da Luz has a great selection that can be hired from the beach. There are banana boat or Ringos rides (€12 for 15min), jet skis (€50 for 20min) or Kayaks (€10 per hour), ideal for touring the coastline. All of these can be rented from the beach during the tourist season.
It's cold if you fall in....
Hire a bike and cycle along the coast
The roads around Luz are quiet and are perfect for cycling along, one of the most popular routes is to the small village of Burgau (2km) or the tranquil beach of Praia da Ingrina (5km). Bikes can be hired in Luz for €20 per day.
Hike up Black Rock
Luz's main geological feature are the huge black basalt cliffs that stand to the east of the town and from the summit there are wonderful panoramic views. It is a challenging climb to the top but the views are certainly worth the effort.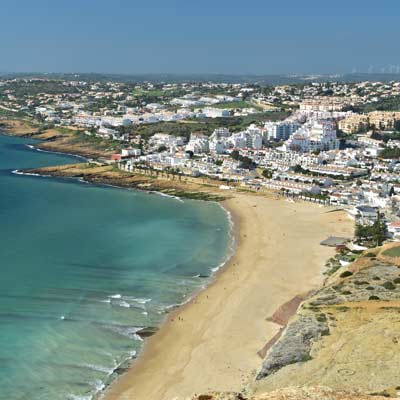 The view is worth the steep climb
Our most popular guides to the Algarve
All of our guides to the Algarve