Carvoeiro weather and when to visit
The picture postcard town of Carvoeiro is an Algarve delight with a sun-drenched Mediterranean climate to match.
In peak season (July-August), Carvoeiro has consistently hot and dry days. The clear skies and strong sunshine are a perfect match for the activities of a beach holiday. As a small family-orientated resort, summer is very busy and the town's small beach, restaurants, and facilities are crowded at all times.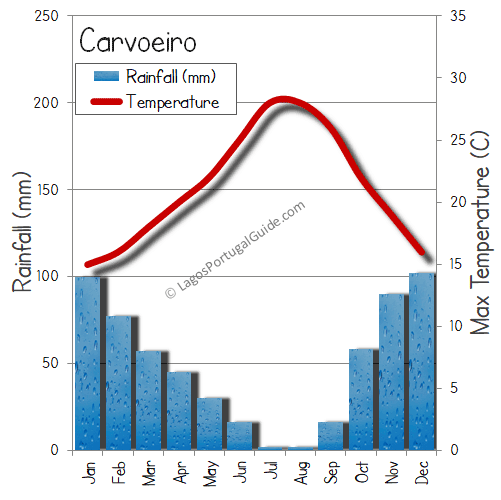 In the shoulder seasons (May-June & September-October), the intensity of the sun lessens, but the weather is still consistently bright and warm. This change in climate goes hand in hand with a quieter tourist season and Carvoeiro feels distinctly more Portuguese again.
In winter, Carvoeiro feels peaceful and sleepy. The weather is an interchangeable mix of sunny and cloudy days with some moderate rainfall. The shift in temperature and unpredictability in weather makes it less suitable for sunbathing and coastal activities.
Read on for detail about when to visit to get the perfect holiday for you, and what to expect from each of the different seasons.
Related articles: Carvoeiro introduction – Day trips from Carvoeiro
When is the best time of year to visit Carvoeiro?
Springtime, just before the peak season, is the best time to visit Carvoeiro.
Carvoeiro's climate at this time of year is perfect for families, sun seekers and cultural tourists. Daytime temperatures are typically in the mid 20 degrees Celsius and evenings bring a gentle breeze, which makes sunset strolls and dining alfresco very comfortable.
In the bright spring days the small white-washed town is fairly quiet and easy to roam around without hordes of other tourists. It is also a fabulous time to relax on the local beach without fighting for space.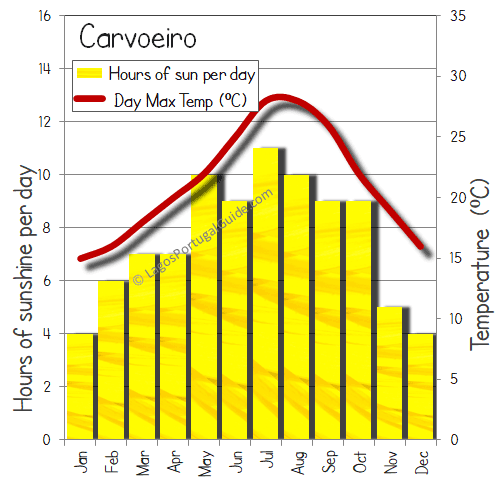 Those looking to explore will find the climate is just right for calm-water boat trips and headland hikes. Notably, the outstanding Percurso dos Sete Vales Suspensos (Seven Hanging Valleys) hiking route is manageable without the summer heat and humidity.
Overall, in springtime, Carvoeiro is a great base for experiencing the relaxed Algarve culture and is ideally located for some of the region's most spectacular natural wonders.
Carvoeiro 2023
As one of the Algarve's most scenic resorts, Carvoeiro expects to sell-out for Summer and Autumn 2023. We strongly advise you to book your accommodation and flights as soon as possible before prices rise and the local accommodation gets booked up.
Use the map below to discover the best accommodation in Carvoeiro, if you adjust the dates to your holiday it will display current prices and availability.
The different tourist seasons of Carvoeiro
Peak Season (July – August)
In peak season, as the temperature is typically in the high 20 degrees Celsius and the intensity of the sun is strong, many take the opportunity to relax and do little else. In the direct sun the temperature will feel much hotter.
In the peak season Carvoeiro's small centre and beach front are a hub of tourist activity. Carvoeiro's beach is located at the edge of the centre and has perfect shallow waters, which is great for families and locals alike. As such, the beach is crowded every day and is not suited for those wanting to sunbathe in peace.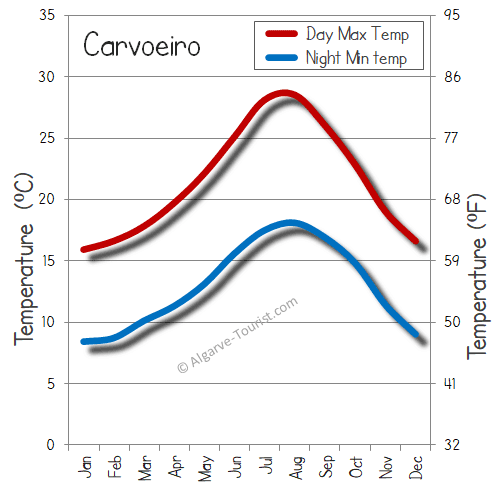 For those seeking to escape the heat, Carvoeiro has less cultural sights than larger resorts. However, many choose to take a boat trip to one of the local natural wonders, such as Grutas de Benagil Cave, or head to the nearby waterparks.
Much of Carvoeiro's appeal lies in its proximity to some of the most striking Portuguese coastline. Visitors in summer can best explore the coast via short strolls in the early morning or evening. Evening temperatures are typically in the low 20s degrees Celsius and the sun sets late at 8.30pm.
In peak season, Carvoeiro is alive at night and has a good selection of restaurants and bars. The town is family-orientated and most establishments cater for little ones. For those looking for a big night out, catch a taxi to nearby Praia da Rocha
Peak season weather at a glance
• Daytime temperatures: Often range between 25 and 30 degrees Celsius
• Night-time temperature: 20+ degrees Celsius
• Weather: Consistently sunny with blue skies and occasional cloud cover. Rain is unlikely and passes quickly.
• Sunrise and Sunset: 6.30am/8.30pm
Mid-season (April, May, September, October)
In the shoulder seasons, expect Carvoeiro's weather to be consistently warm with sunny and dry days. Temperatures are typically in the mid 20s degrees Celsius and there can be a light ocean breeze in the evening that can make it feel slightly cooler.
From Easter onwards the weather is mild and warm enough to sunbathe on Praia de Carvoeiro. The small beach is also significantly quieter just out of peak season, yet all the facilities and boat tours remain open. The frequent gentle breeze and cloud-cover also makes the small stroll to the Algar Seco cliff formation pleasant but not exhausting.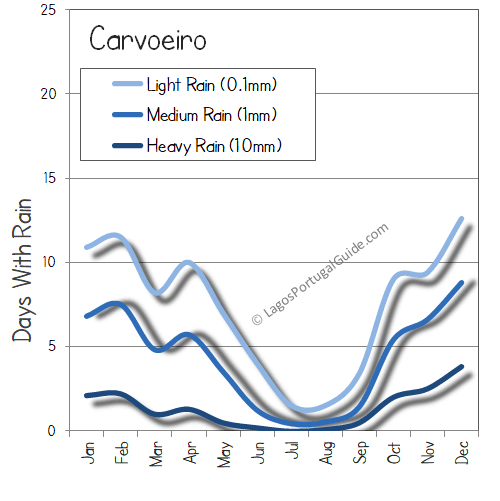 Daylight hours in spring and autumn are almost as long as in the summer (9-10 hours on average), but the lower heat makes these seasons great for exploring both the natural beauty and cultural sights. Visitors can even split days between the beach and touring.
A notable mid-season highlight is the Percurso dos Sete Vales Suspensos, which is truly extraordinary in springtime. The full 11.5km hike is only possible in the shoulder seasons when the weather is slightly cooler.
For those seeking culture, the shoulder seasons are a great time for day tripping without the hordes of tourists who can detract from exploring places in peace. Great options for spring and autumn are the historic city of Silves and the quaint fishing town of Ferragudo.
Mid-season weather at a glance
• Daytime temperatures: 20+ degrees Celsius
• Night time temperature: 10-15 degrees Celsius
• Weather: Mostly clear skies with some cloudy days, occasional light rain showers and a gentle offshore breeze in the afternoon and evening.
• Sunrise and Sunset: 7am/7.30pm
Low season (November – March)
Carvoeiro's winter weather is more variable with a high probability of cloudy days and some rain showers although these tend to pass quickly. Temperatures are in the mid 10s degrees Celsius and a gentle offshore breeze often prevails.
The unpredictability in the weather and the drop in temperature makes sunbathing on the beach and relaxing in the town's café culture less appealing. For foreign tourists, Carvoeiro can feel rather isolated in winter, unless you are looking for a quiet escape or have transport to tour the Algarve.
However, for those seeking escapism, Carvoeiro is a good off-peak option for exploring the stunning coastline, which is still accessible by touring, hiking and biking. Evenings in Carvoeiro off peak are very quiet but a few restaurants and the local shops remain open to serve the local population.
Low season weather at a glance
• Daytime temperature: Range between 10-15 degrees Celsius
• Night-time temperature: Typically ranges between 0-10 degrees Celsius
• Weather: Equal chance of sunny and cloudy days. Rain showers are likely but these tend to pass quickly. There can be a stronger breeze which can make evenings feel cooler
• Sunrise and Sunset: 7.30am/5.30pm
Sea temperature
Water temperatures around Carvoeiro's beaches and the Algarve are surprisingly cold and most sunbathers will use the water as a quick cool off rather than for prolonged swimming. Temperatures can reach around 18C in the height of summer but drop in winter to a chilly 14C.
Therefore, it is recommended to wear a wetsuit if you are planning on long durations in the water and to ensure that little ones do not get too cold while splashing around.
When best for young families (Easter to July)
Carvoeiro is perfectly suited for a family resort as it is small, friendly, well equipped and does not have the nightlife of other larger Algarve resorts.
The town is particularly family focused and less busy in springtime. The weather in spring is also consistently dry, warm and sunny without the intensity of the summer humidity and heat. Daylight hours are long (9-10 hours), which also makes it particularly suitable for early risers and dining alfresco.
Carvoeiro is predominately a beach destination and the town's main beach is just off the main street making it safe and accessible. For short attention spans, there are also a good range of boat trips, waterparks and walking trails that are all open from Easter onwards.
Whether dining out or self-catering, Carvoeiro has a small but good range of restaurants and cafes that are family friendly with menus catering for children's tastes. The warm evenings with a light breeze are also great for short strolls, a short sunset sit on the beach and sleeping without the need for fans or air conditioning.
When is the best time for older tourists?
For those who want to experience Carvoeiro without the crowds, autumn is highly recommended. After peak season is over Carvoeiro is quick to return to its relaxed pace of life, but the beach is still extremely pleasant to spend time on.
The locals are very friendly and the whole town feels like it moves to a slower beat. Dining in the cafes and restaurants will feel much more intimate and personalised. For those looking to explore, it is recommended to take a boat trip (these run throughout September) to experience this stunning area from a different perspective.
Day trips to local areas are also still possible as public transport runs year-round although renting a car or getting a taxi is advisable if you are keen not to wait around. In winter it is best to stick to larger cities such as historic Silves.
Our most popular articles for Carvoeiro and the Algarve