Where to go when Albufeira is sold out and fully booked -
Alternatives to Albufeira
Albufeira is one of the largest and busiest resort towns of the Algarve, which has fantastic beaches, a wide selection of restaurants and a buzzing nightlife. Albufeira's popularity means that it is one of the first Algarve resort towns to sell out with most good hotels and apartments fully booked by March.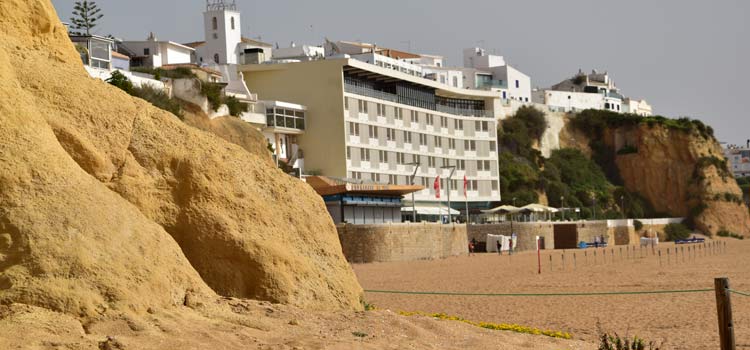 The massive beach of Albufeira
This means that many visitors planning a holiday to Albufeira later than March will discover that the choices of accommodation are severely limited. This guide will provide suggestions and alternatives to Albufeira for your summer holiday to Portugal.
Albufeira's most Similar Resort
The Algarve resort town which is the most similar to Albufeira is Praia da Rocha. Praia da Rocha is set along a beautiful beach, while the cliff tops are lined with themed bars, restaurants and large hotel complexes.
Praia da Rocha is slightly smaller than Albufeira but is equally suited for families or party-goers, having a diverse selection of activities and sights. Praia da Rocha is as popular as Albufeira and all hotels will be fully booked from June until August. For a guide to Praia da Rocha please click here.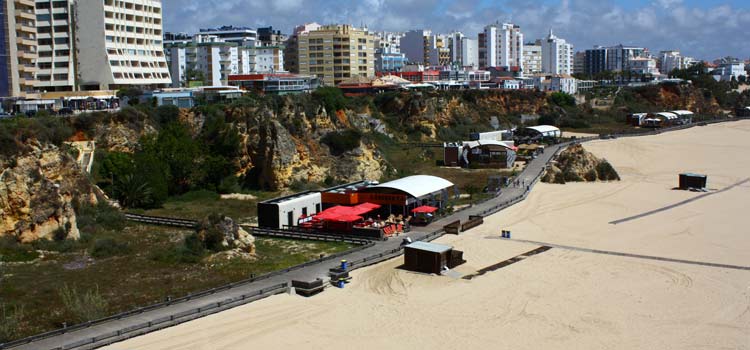 The beach, cliffs and town of Praia da Rocha
Portimão is a major city 3km north of Praia da Rocha and has many hotel options along with a good selection of restaurants and bars. Portimão is a major residential area, so the city does lack a holiday atmosphere and it is a long walk to the beach.
Or Historic Lagos or Stylish Vilamoura
Lagos is a historic and scenic town that offers great beaches, interesting sights and a lively nightlife.
There is a massive beach to the east of Lagos (the Meia Praia) and many of the large hotel complexes are located along this stunning beach, while it is only a short taxi ride to the amenities, restaurants and nightlife of central Lagos. Lagos' main disadvantage is that it is a long way from Faro airport.
For a guide to Lagos please click here.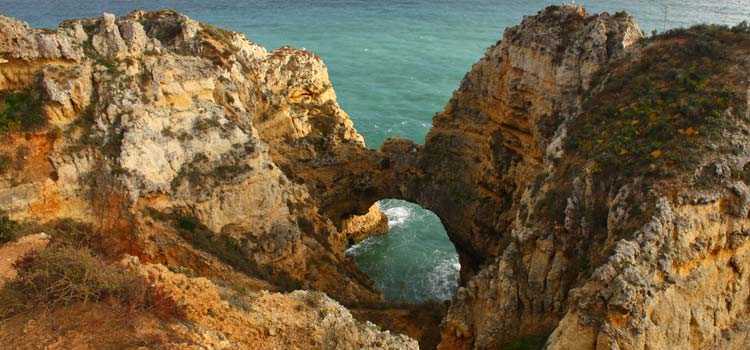 The stunning coastline of Lagos
Vilamoura is the last of the Algarve's large resort towns and is a stylish and trendy destination that is set around an exclusive marina.
Vilamoura is famed for it's five golf courses and high-end entertainment, but it tends to focus on the higher end market. For a guide to Vilamoura please click here.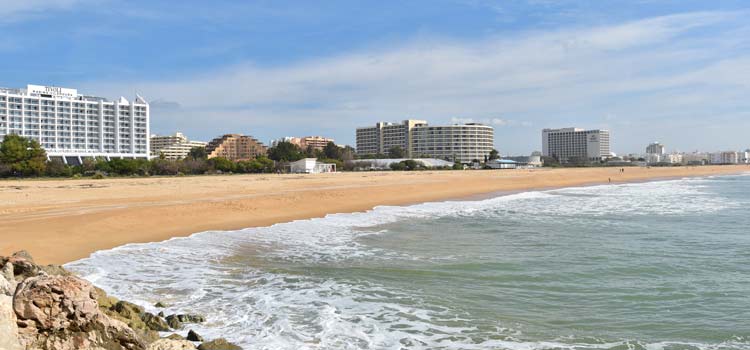 The large marina of Vilamoura
All of the Algarve's major resorts towns sell out during the summer, some slightly slower than Albufeira, but all do sell out.
There are many other smaller resort towns along the Algarve but they do not offer the same energetic nightlife, variety of restaurants or themed bars. Popular smaller Algarve towns include Alvor, Praia da Luz, Quarteira or Carvoeiro. The following table provides an overview of all of the major resort towns in the Algarve.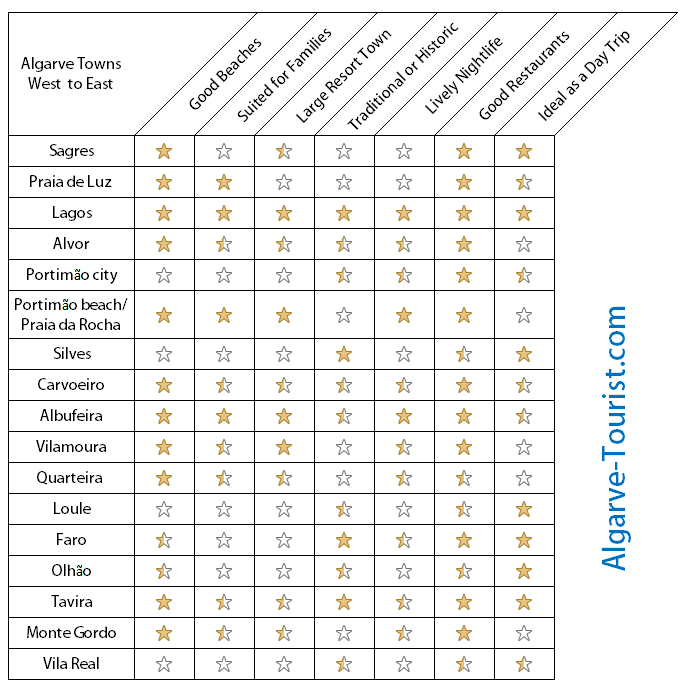 The eastern Algarve tends to be much calmer and more traditional than the central Algarve region. The most scenic of the eastern Algarve towns is Tavira.
Tavira is a gem of a destination with beautiful beaches and a town that is set around a pretty historic centre. Tavira has a relaxed and unhurried atmosphere and is a fantastic destination for the slight more mature visitor and for a guide please click here.
An alternative eastern Algarve holiday destination is Monte Gordo. Monte Gordo is a modern town that is set on a wide golden beach.
Where to go if the Algarve and Albufeira are full sold out?
Lisbon and Porto are great alternative destinations for a summer holiday. Both Lisbon and Porto have major international airports, great nightlife and are close to fantastic beaches.
The coastlines of both cities have traditional resort towns that could be ideal for a summer holiday. There is a beautiful coastline near Lisbon both stretching north and south of the capital.
The three main resort towns are Cascais, Estoril and Costa da Caparica and they can be easily reached by public transport from Lisbon. Cascais is a pretty and historic town that is close to one of the most popular surfing beaches of Portugal. Estoril is just to the east of Cascais and is famed for it's large Casino. Costa da Caparica is a modern resort town that is a favourite with the Portuguese and is set along a 17km beach.
Lisbon's beach resorts are busy during the summer but most of the visitors are day trippers from the capital. For a guide to Lisbon's beaches please click here.
The resort towns near Porto tend to be less with foreign tourists as the region has yet to be discovered by the mass market. The town of Espinho is one of the best beach towns close to Porto and for a guide to Porto's beaches please click here.
Our most popular articles for Albufeira and the Algarve