Sagres Intro - Day trip from Lagos - Sagres Beaches - Sagres Fort - Cabo Sao Vincente - Algarve Intro
Camping in Sagres and the Campsite Guide
Even though Sagres is a popular tourist destination it is surprising to find that there is just a single campsite for the entire region but fortunately the campsite is of a good standard with sufficient pitches. Sagres appeals to two very different types of tourists; one group are drawn by the powerful Atlantic waves and the world class surfing while the second set of visitors are attracted by the relaxed atmosphere of Sagres town and the surrounding beaches. Camping provides very cheap accommodation for the surfing crowd while the hard standing pitches are suitable for motor homes and caravans for visitors who are touring southern Portugal.
Sagres Campsite Information
The campsite is owned and operated by Orbitur Camping, an organisation that has more than 20 campsites dotted throughout Portugal. The Orbitur Camping can be booked via the website www.orbitur.pt or by phone +351 282624371.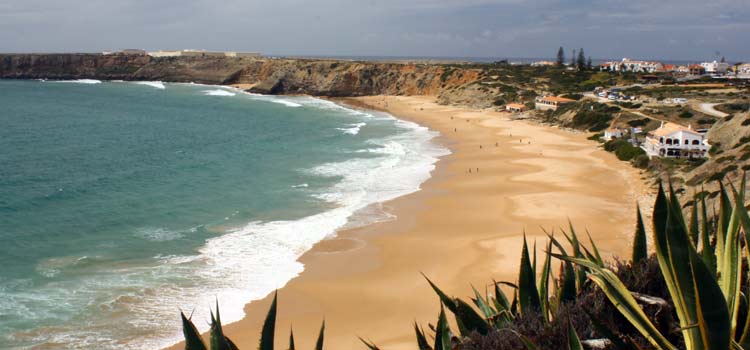 The Praia da Mareta is a fantastic beach
The site is open all year round with the high season lasting during the summer months. English is the secondary language used throughout the campsite and most staff speak a basic level. A basic pitch costs €11.90/€16.90/€19.90 (low/medium/high season), a larger pitch costs €21.00/€29.80/€35.00 and there is an additional fee of €4.80/€6.80/€8.00 for a caravan / camper van.
Sagres Campsite Location
The campsite is 2km north of central Sagres, which equates to a 30 minute walk. The coastal cliffs are 1km to the west of the complex and it is a further 1.5km north to the Praia do Beliche beach, a great surfing beach or Praia do Tonel beach 1.5km to the south. The exact sat-nav address is Cerro Moitas, 8650-998, Sagres while the GPS coordinates are: 37.022737 -8.945693. The route to the site is along paved roads that are suitable for caravans or motor homes; access is not a problem with Sagres campsite.
Site Facilities
The Sagres campsite has approximately 1,000 pitches with around 100 caravan / motor home solid ground pitches. The whole complex is set amidst pine forests that provide refreshing shade from the intense summer sun while the ground is sand based. The campsite is child/ family friendly and dogs are welcome with an additional change of €1.50.
Practical facilities provided on the campsite include a laundrette, a basic shop and an average café/restaurant. The site has a play ground, games room and bikes can be hired but there is no swimming pool. There is public Wifi but the connection speed isn't super fast. The shower facilities are clean with hot and cold water but are a little old. For those visitors travelling light, tents, mobile homes and cabins can be rented but always pre book especially in the summer season.
Sagres and Southern Portugal Holiday Guides
Algarve-Tourist.com, with over 200 pages, if it's not here, it's probably not in the Algarve