Fortaleza Sagres Fort
The Fortaleza Sagres is located at the southern tip of the Sagres Peninsular and this uniquely designed fort protected the town from raiders from North African. It was from here that Henry the Navigator devised his 15th century expeditions to the uncharted seas around the western side of Africa, which heralded in the golden era of Portugal exploration.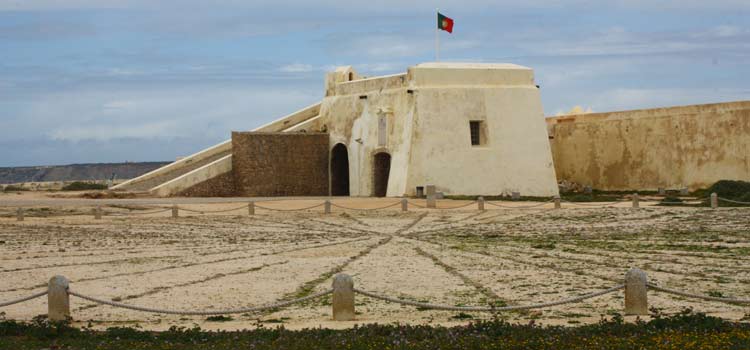 Inside Sagres Fort
For visitors to the fort there are great panoramic views over the ocean and to the Cabo de Vincent but sadly the historical importance of the fort outweighs the tourist experience as there is comparatively very little to see.
Details about Fortaleza Sagres Fort
Sagres fort is not a classically constructed fort, it is more a large wall that divides the mainland from the headland, with the other three side protected by 60 meter high cliffs. Inside fort's walls is a giant wind compass that was used to aid early navigation and the small chapel of Nossa Senhora da Graça.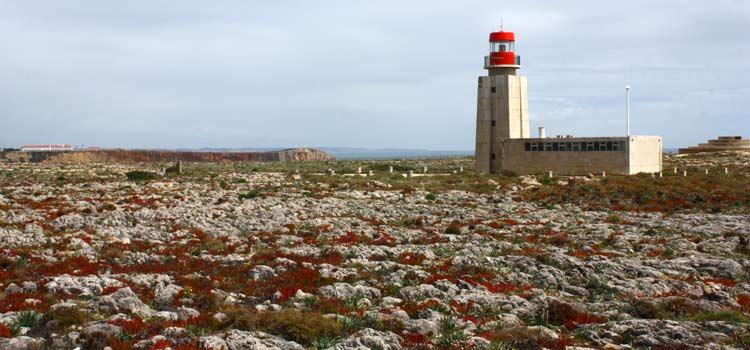 The lighthouse inside the spars Fortaleza de Sagres
In the church are early images of Saint Vincent and ground level ruins of the major sections of the old fort. Much of the original fort was destroyed in the 1755 earthquake and the resulting tidal wave that rose higher than the giant cliffs.
Fortaleza Sagres Tourist Information
The Fortaleza de Sagres is open every day and the low season opening hours are from 9:30 until 17:30 while the high season opening times are 9:30-20:00. The entrance fee is €3/€1.6 (adult/child) and most visitors spend around 30 minutes exploring the fort.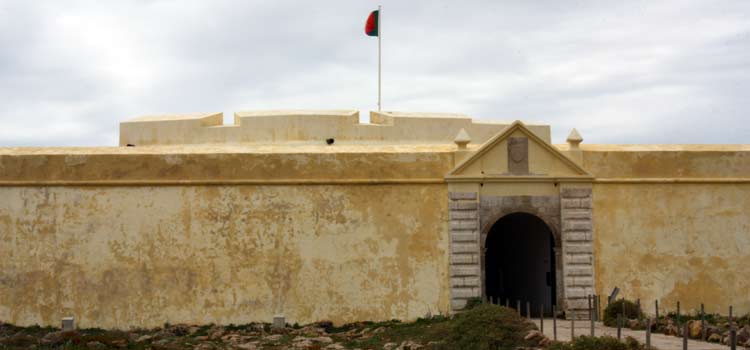 The amin entrace to Sagres Fort
History of the Fortaleza Sagres
The location of the Fortaleza de Sagres has made it of strategic importance and this was truly identified during the 15th century with increased of trade (and naval movements) from the Mediterranean, Africa and the northern Europe. An early-buttressed fortress was constructed on the orders of the wealthy and well connected Infante D. Henrique (Henry the Navigator) to guard the town and harbour of Sagres.
It was here that Henry spent much of his time planning voyages and methods to improve seafaring, these endeavors would map the western edge of Africa and lead to the golden age of Portugal. Henry's private residence was on the Cabo de Vincent at the location of the present day lighthouse but he died within Sagres fort in 1460.
Sagres fort was the centerpiece in an attack by the English naval captain, Francis Drake, in 1587 when Portugal was under Spanish rule. The 16th century also saw major upgrades to the fortifications including larger barracks, wind break walls and cistern tower. The devastating 1755 earthquake destroyed most of the fort, the actual quake only did slight damage but the resulting tsunami flooded (and washed away) the entire fort by rising higher than the 60m cliffs. The fort was repaired but never again achieved it's importance.
Our most popular guides to the Algarve
All of our guides to the Algarve