Cabo de Sao Vicente, Algarve
Cabo de São Vicente (the Cape of Saint Vincent) is the most southwesterly extremity of Europe. This wind blasted and storm pounded headland is just what visitors expect, for what was considered, up until the 14th century, the end of the known world. The jagged cliffs rise 60 meters from the ferocious seas and high above guarding the busy shipping lines is one of Europe's brightest lighthouses that can be seen 60 miles away.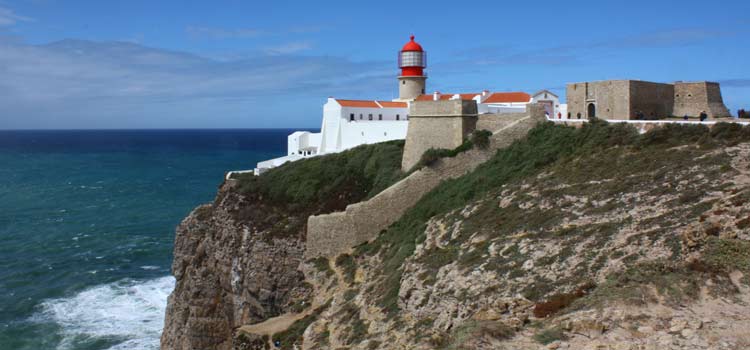 the Cabo de São Vincente lighthouse
Henry the Navigator, the father of Portugal's 17th century Golden Age of Discovery, supposedly spent much of his time based here planning voyages that mapped and explored the unknown region of western Africa. Cabo Sao Vincente is a wild, windswept and remote landscape, and tourists who visit won't be disappointed.
Travel to Cabo de Sao Vicente
Cabo de Sao Vicente lies 6km to the west of Sagres and 40km from Lagos. From both towns driving is the easiest method to reach Cape of Saint Vincent, 10 minutes from Sagres and 40 minutes from Lagos. The route from Lagos follows the major N125 then N268 towards Sagres. From Sagres the beautiful coastal road leads to Cabo de Sao Vicente.
Cabo de Sao Vicente can be reached by public transport from Sagres and Lagos, the bus which serves Sagres is the service that originates from Lagos and the service is operated by Eva. The service departs from Lagos at 10:30 passes through Sagres at 11:15 and arrives at Cabo de Sao Vicente at 11:25. The return journey leaves at 15:05 gets to Sagres at 15:15 and arrives at Lagos at 16:05. The service operates Monday to Friday and a single tickets cost 4.10/ 1.95 (Lagos / Sagres). Always check times/prices for season variations.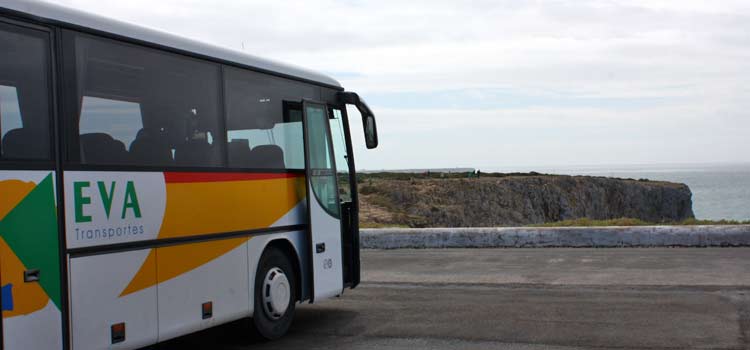 The Eva bus at Cabo de São Vicente
History of Cabo de Sao Vicente
The lighthouse originates from 1846 and was constructed on the old ruins of a Franciscan monastery. This monastery paid homage to Saint Vicente, whose bones were reputedly found in the cliffs and to whom the headland is named after.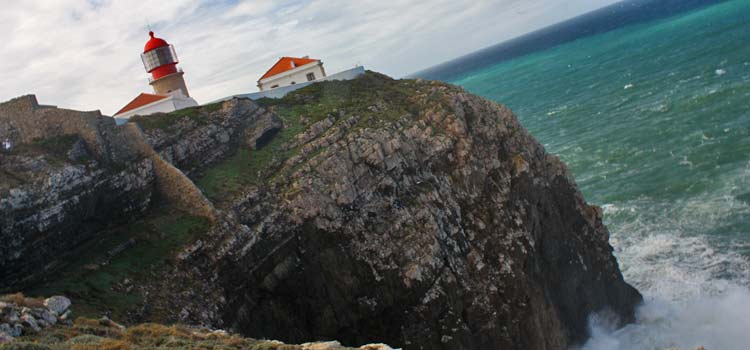 The 75m high cliffs of Cabo de Sao Vicente Portugal
The bones of Saint Vicente were moved from the shire at Cabo de Sao Vicente to Lisbon in 1147 as part of populous propaganda activity to bolster the Christian conquest of Portugal. The destructive 1755 earthquake badly damaged the monastery and this was never repaired. The two sacred statues of Saint Vincent and Francis Xavier were moved to the church of Nossa Senhora da Graça in Sagres.
Our most popular guides to the Algarve
All of our guides to the Algarve