Sagres Intro - Day trip from Lagos - Sagres Beaches - Sagres Fort - Cabo Sao Vincente - Algarve Intro
Sagres Weather
The weather of Sagres, like the town, does not fit in with the rest of the Algarve. The climate of Sagres is dominated by the Atlantic Ocean's currents and prevailing winds. During the winter the currents keep Sagres notably milder than the rest of the Algarve (and Portugal), while in the summer the northerly winds keep the town cooler. These winds can be an annoyance in summer and the most popular beaches of the region provide shelter from them.
Average Weather of Sagres Portugal

The average monthly weather of Sagres
In general Sagres has long hot dry summers and winters are mild but sometimes unpredictable. The weather in the spring and autumn months is pleasant for exploring the region.
Sagres Temperature

The Average Temperature of Sagres
Sagres is always significantly cooler in the summers than the rest of the Algarve but is warmer in the winter. The temperature of Sagres has the least year variation of any town along the Algarve.
Sagres Sunshine and Hours of Sun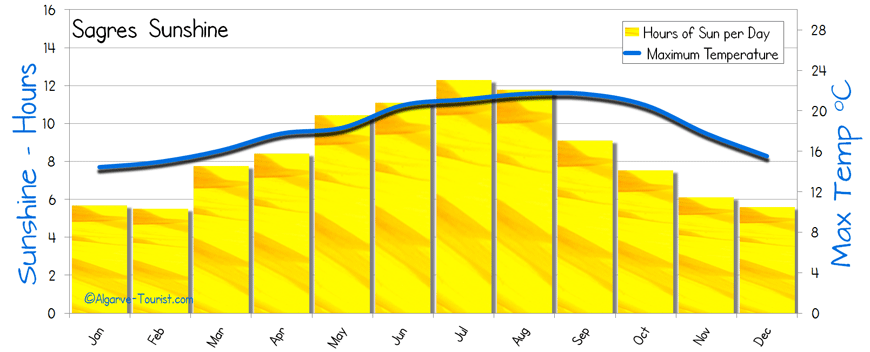 The Number of Hours of Sunshine for Sagres
The Above chart plots the number of hours of sun verses the maximum day time temperature. Sagres is typical of the rest of the Algarve and receives the majority of the sun in the summer months with a maximum in July of just over 12 hours. The winter months have the least hours of sun but this is still more than northern Europe.
Sagres Rainfall and Amount of Rain

Average Rainfall and number of wet days Sagres
Sagres does not receive much rain and has almost no wet day in the summer months. The majority of the rain fall in the winter but this is still only a small amount of rain.
Sagres and Southern Portugal Holiday Guides
Algarve-Tourist.com, with over 200 pages, if it's not here, it's probably not in the Algarve