Sagres to Lagos Transport and Bus Guide
The town of Sagres is 30km to the west of the major town of Lagos. Sagres makes for a pleasant quieter and more laid back alternative to the lively and popular Lagos. Both towns are connected by a reliable and inexpensive bus service and this guide will detail the method of travel between the two towns.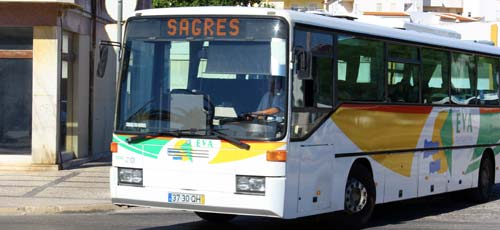 The Lagos to Sagres bus
The short distance between Sagres and Lagos means that either can be visited as a day trip from the other and this type of day trip is highly recommended as both towns have completely different atmospheres and attractions.
Sagres to Lagos by Car
The route from Lagos heads west along the N125 for 20km and then south on the N268 for a further 9km. For those visitors with their own transport the journey takes less than 30 minutes. There is ample of parking in Sagres and the main car park is close to the fort.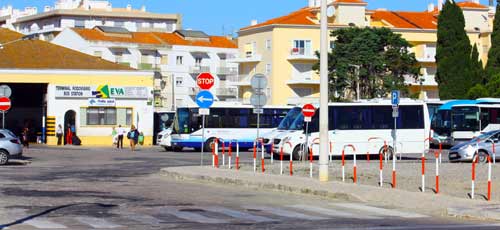 Lagos bus station
Lagos to Sagres by Bus
The bus service from Lagos to Sagres is operated by Eva Transportes. A single adult ticket costs €2.84, there are no return tickets and for the return journey a second single ticket must be purchased. The legnth of the journey varies between 45-50 minutes.
In Lagos the bus ticket must be purchased from the ticket office, while in Sagres there is no bus station, so the ticket is brought from the driver on boarding the bus. The main bus stop in Sagres is close to the tourist information office. Buses for Lagos depart from the opposite side of the to the tourist information office.
Our most popular guides to the Algarve
All of our guides to the Algarve