Praia do Telheiro Beach, Sagres
Praia do Telheiro is a great surfing beach close to the town of Sagres on the very western tip of the Algarve. The beach faces a westerly direction and this exposes the golden sands to the power of the Atlantic Ocean, ideal for surfing or body boarding. The beach is set in stunning scenery with massive cliffs surrounding the beach. Praia do Telheiro has a wild, rugged and isolated feel, so that even in the summer months, the beach is shared with only a handful of visitors. The only downside is the difficulty to reach the beach as there is no public transport.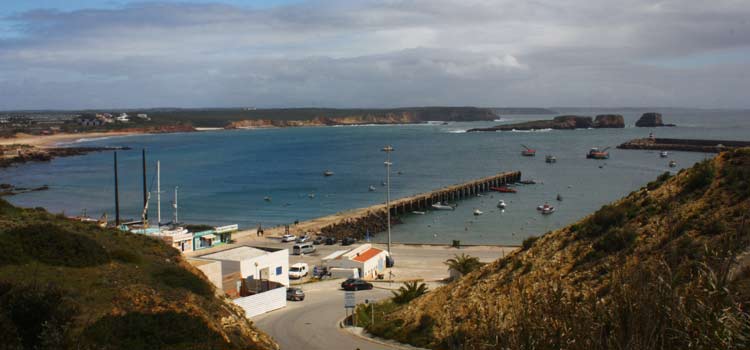 The harbour of Sagres
Praia do Telheiro Beach Tourist Guide
Praia do Telheiro appeal is the surf and the deserted atmosphere, do not head here expecting good facilities and numerous shops or restaurants. The beach is not lifeguard supervised and the sea is not suitable for children or weak swimmers. There is quiet a walk from the car park to the beach which is made more difficult when carrying surfing equipment. There are many good cliff top walks that originate from the Praia do Telheiro.
Praia do Telheiro is 7km to the northwest of Sagres and the exact coordinateness are 37.04565, -8.979082. Unfortunately there is no public transport and visitors can only get here with the use of a rental car. Head north west from Sagres along the EN268 towards the Cape of Saint Vincent, after 3.5km (and the Praia do Beliche) turn right. After 2.5km on this road turn left and the beach is further 800m along this road.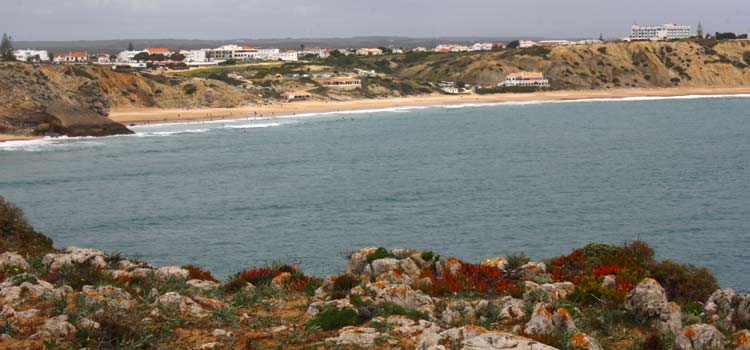 A great surfing beach close to Sagres
Praia do Telheiro Beach Further Information
The cliff formations are formed of two distinct sedimentation periods the Triassic Red Sandstone and the Carboniferous shales and greywackes. These two distinct layers have undergone various lithospheric movements to form unique strata patterns that continue through the steep and high cliffs. These cliffs have formed and been exposed by the constant battering of the Atlantic Ocean.
Our most popular guides to the Algarve
All of our guides to the Algarve