Sagres Intro - Day trip from Lagos - Sagres Beaches - Sagres Fort - Cabo Sao Vincente - Algarve Intro
Praia do Beliche, Sagres Beach in Algarve
The Praia do Beliche beach is one of finest beaches of the western Algarve and is close to the small town of Sagres. The beach is bound by massive 40m high cliffs while the sands open up onto the excellent and almost constant swell of the Atlantic Ocean. The beach is a great location for surfing but has a notoriously strong rip current so is only suitable for confident surfers.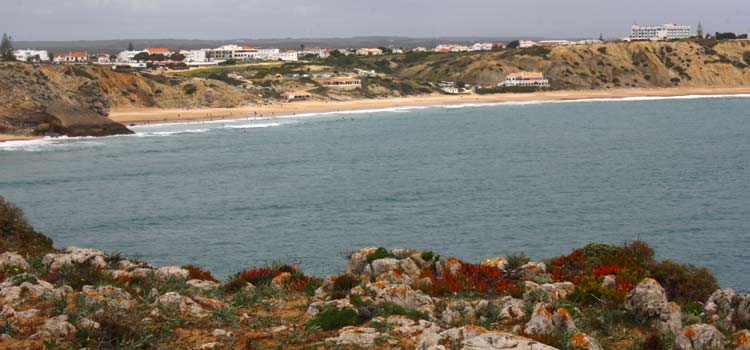 The great surfing beaches of Sagres
This beach is ideally suited for the adventurous but because of the shelter the cliffs provide it is equally suited for visitors who simply want to enjoy the sun. Praia do Beliche is close enough to Sagres that it is easily accessible but far enough away so that it never feels totally crowded. Praia do Beliche is an ideal beach suitable for sun worshippers and surfers alike and in our opinion the best beach of the region.
Praia do Beliche Tourist Information
Praia do Beliche is sometimes referred to as Praia de Belixe and lies 3km to the north west of Sagres. The beach is situated on the EN268, the main road that heads to Cape of Saint Vincent. At the top of the beach there is a café, restaurant and hotel combined with plenty of car parking. The beach has lifeguard supervision during the summer season but the strong tides, waves and currents make it only suitable for confident swimmers. The main drawback with Beliche beach is the 100 steps that head down the side of the cliff, which is a complete pain when carrying surf boards etc.
Praia Do Beliche Sagres History
The Praia Do Beliche is important location in early Portuguese history as it was the staging and launch site for many of Henry the Navigator's expeditions along the western coast of Africa. The 15th century caravels ships were constructed in the harbour of Sagres and the final rigging performed on Praia Do Beliche. The most famous expedition to depart from Beliche was in 1434 by Gil Eanes who circumnavigated the Cape Bojador, which was considered as the end of the known world.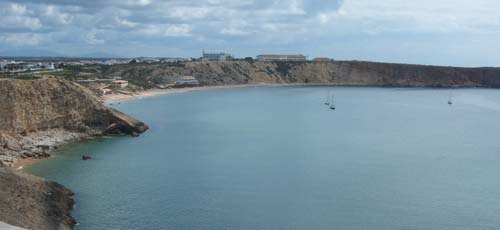 The Sagres coastline
Fortaleza de Beliche
The Fortaleza de Beliche stands on the opposite head land to Beliche beach but is unfortunately closed to the public due to the threat of collapse of the hill on which stands on. The site was a small a defensive watch position since the foundation of Christian Portugal but it was greatly upgraded during the era of Henry the Navigator to protect the beach staging area from pirate raiders. The fortified stonewalls and battlements were no match for Francis Drake who destroyed the complex in 1570 and after the 1755 earthquake the site was abandoned.
Sagres and Southern Portugal Holiday Guides
Algarve-Tourist.com, with over 200 pages, if it's not here, it's probably not in the Algarve