Sagres Intro - Day trip from Lagos - Sagres Beaches - Sagres Fort - Cabo Sao Vincente - Algarve Intro
Is Sagres Suitable for Children and Families?
Portugal as a whole is a very welcoming country for children and families with young children, the main reason for this is the Portuguese strong belief of the family unit in which all members help out. In Portuguese families, which tend to be large, everyone takes an active role in caring for the children, this means for tourists with children that hotels will be welcome and cafes and restaurants will be very accommodating. So Portugal is a great destination for children and families but is Sagres a suitable destination for them?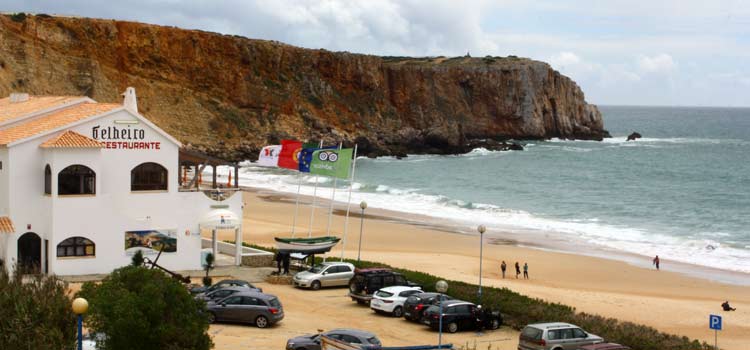 The Praia da Mareta is main surfing beach of Sagres
The simple answer is - not really, there are much better locations for families than the coastline of Sagres and there are a number of reasons for this.
The beaches of the Sagres region are great but many are designed for surfing, with powerful waves, totally unsuitable for children swimming or paddling. The beaches which face a westerly direction have an almost constant cooling northerly breeze during the summer. Only Praia de Mareta is truly suitable for children with lifeguard supervision during the summer season, weak tidal currents and is sheltered from the winds.
The hotels of the Sagres region tend to be smaller, more personal and designed for couples than families. Larger hotel complexes have games rooms, crèches and programs designed for children but sadly Sagres has few of these styles of hotels. As Sagres is on the far west of the Algarve and all journeys will be considerably longer. Airport transfers will be significantly more expensive and public transport is patchy.
In conclusion there are much better locations for children in Portugal than Sagres, but Portugal is a good choice of destination for families. Lagos is a much better location for families and children than Sagres.
Sagres and Southern Portugal Holiday Guides
Algarve-Tourist.com, with over 200 pages, if it's not here, it's probably not in the Algarve