Portimão (Portimao) Portugal - An Algarve Tourism Guide
Portimão is the largest city in the western Algarve, and was traditionally a centre for sardine fishing and processing. Today, most of that industry has been replaced by tourism, leisure, and retail, leaving Portimão as a large and residential city. Most tourists visit Portimão either for the extensive shopping or excellent public transport but there is a surprising amount to be seen within the city.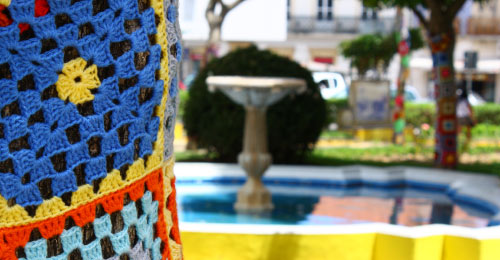 The colourful Jardim 1º de Dezembro
The city's old and once bustling fishing docks have been remarkably transformed into a scenic promenade, leading to the quaint and tree-lined plazas of the old town. Further inland are pleasant pedestrian shopping streets, a series of historic buildings, and a tantalising selection of cafes, bars, and restaurants. Despite its considerable size – 55,000 residents – the city of Portimão has a low-key and relaxed ambience, far removed from the surrounding hectic beach towns. This article provides an introduction to Portimão, as well as links to further detailed information.
Highlights of Portimão
Strolling along the Ribeirinha as it follows the old docks to the Praca de Bivar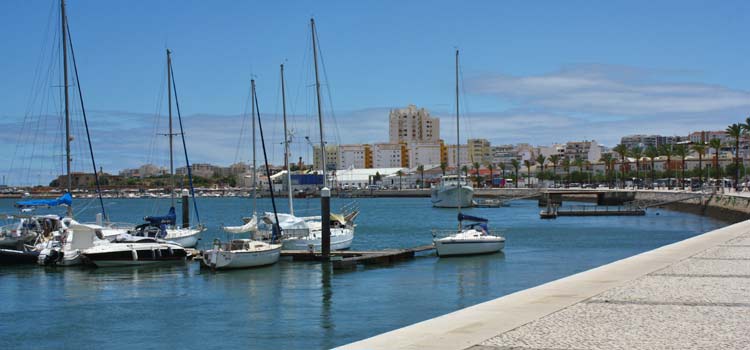 The Jardim da Praça da República and the Igreja do Colégio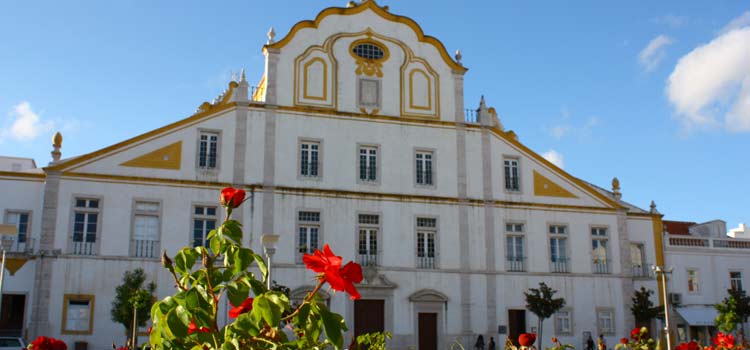 The pretty shopping streets of Portimao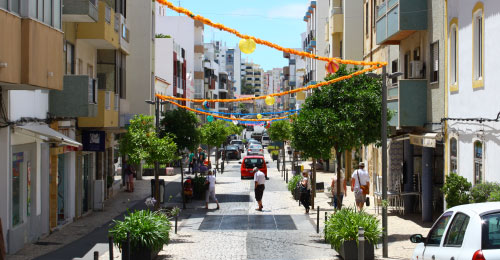 The beautiful Azulejo tile paintings in the Jardim 1º de Dezembro that depict Portugal's history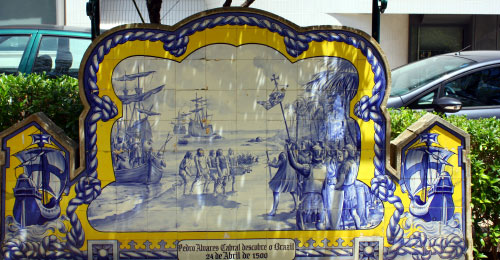 Portimão and Praia da Rocha
3km away from Portimão lies Praia da Rocha, but while the two towns are closely associated, in reality they are different in almost every way. Situated along a stunning beach, Praia da Rocha is a modern, purpose-built town packed full of hotels, bars and restaurants primarily designed for foreign tourists. Portimão, by contrast, is a large residential city located on the banks of the Arade River, filled with Portuguese working families. Portimão's restaurants, cafes and shops are aimed more towards a traditional, localised clientele.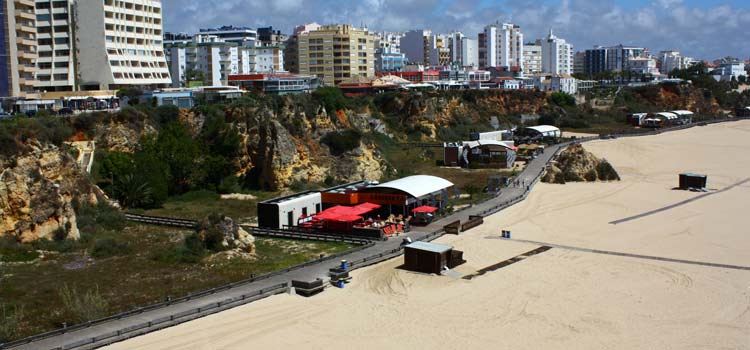 The vast beach of Praia da Rocha
Although some travel guides do refer to Portimão as having beaches, this is in fact not true, and they are all located 3km south in Praia da Rocha. Generally speaking, most tourists seeking a beach holiday will choose Praia da Rocha over Portimão; for a full guide to Praia da Rocha please click here.
So why have a holiday in Portimao?
Though Portimao is significantly larger than Praia da Rocha it offers a more low-key and calmer holiday destination. Portimão has an all-round relaxed atmosphere, and unlike Praia da Rocha, its pleasant pedestrianised shopping streets are not crammed with foreigners. The restaurants and cafes of Portimão are geared for Portuguese, selling more traditional meals at much better value.
Portimão also has excellent public transport connections, with both bus and rail services connecting the city with the entire western Algarve region. For that reason, people looking for a multi-city/touring holiday might wish to consider Portimão over Praia da Rocha.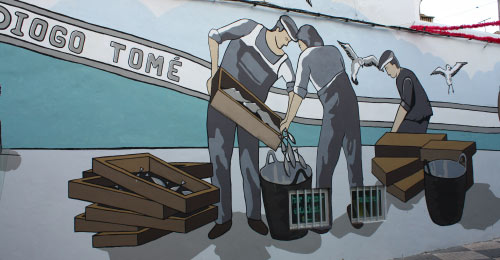 Portimao was traditionally a centre for sardine fishing and processing
Portimão Appearance
Portimao has a pretty harbour front and historic centre but it is a major city, without the Portuguese charm of many other Algarve destinations. Many of the apartment blocks, particularly on the outskirts of the city, date back to the 1980s and have a tired or worn appearance to match. It should be said that Portimão remains perfectly safe as a holiday destination, but put simply it's just not full of gleaming white hotels, ultra-modern apartments, or traditional painted houses.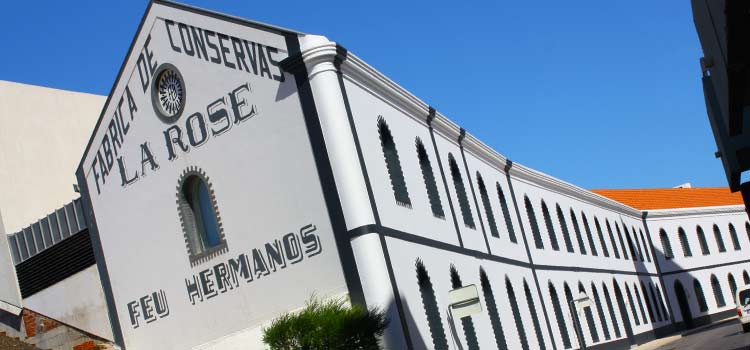 Portimao museum
Portimão for a day trip
Portimão makes for an enjoyable day trip, especially if coming from the beach resort of Praia da Rocha. The historic centre has a distinctively Portuguese ambience, with plazas filled with open air cafes, connected by pedestrianised shopping streets and a series of religious buildings. Portimão can be comfortably and fully explored in roughly half a day, but its stark contrast to Praia da Rocha - which is almost devoid of any Portuguese culture or charm – makes it well worth a visit even if for a short time.
Day trips from Portimão
Portimão's excellent public transport connections mean that the entire western Algarve can be easily reached via convenient, inexpensive bus or train services. The two most popular day trips are to the towns of Lagos and Silves.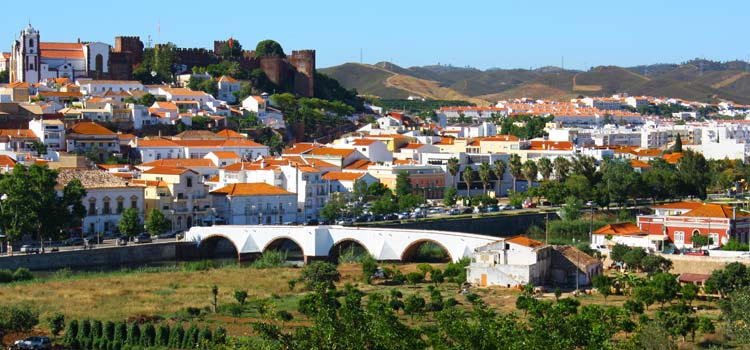 Silves served as the Algarve region's ancient capital, and the tourist attractions here reflect its rich and extensive history. The famous and imposing red-brick castle is one of the largest in The Algarve, and the town's solid boundary walls encircle the historic centre.
Lagos, in contrast, is a much larger city and was the centre for Portugal's 14th century age of exploration. With a plethora of symbolic historical attractions including a fort, ancient city walls, decorative churches, and even a former slave market, Lagos is far from short of fascinating discoveries. Within walking distance of the city are also the highly-weathered cliffs of the Ponte da Piedade, regarded as one of the best natural features of the Algarve and indeed Portugal. Reaching as high as 20 meters in some places, the rocks feature a series of caves and caverns, many of which can be explored by boat.