Home Page > Faro Sights > Faro Beaches > Airport to Faro > Faro 3 days > Day Trip to Faro > Ria Formosa Boat Tour
Capela dos Ossos Faro
The Capela dos Ossos Faro is a macabre but fascinating little chapel located to the rear of the beautiful Carmo church. The chapel is lined with the bones of over 1,000 skeletons and these bones decorate the walls and ceilings in ghoulish geometric patterns.
A small chapel of Bones, lined with the skulls and bones of 1,250 monks.
The bones were exhumed in the 19th century from Faro's overcrowded cemetery and are from the monks who once served the city. These long dead monks stare down from every surface of the chapel at visitors – the Capela dos Ossos is truly one of the strangest and creepiest attractions of Faro.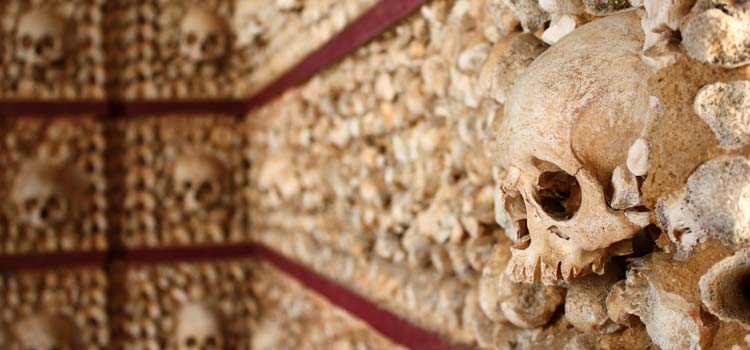 A skull in the wall of the Capela dos Ossos
Tourist information about the Chapel of Bones Faro
The Capela dos Ossos is situated in the rear courtyard of the Igreja da Carmo and is entered via the main church. As the access to chapel is via the church it means that the opening hours are limited by mass and service times. The chapel is open Monday to Friday 10:00-13:00 and 15:00-17:30, on Saturday it is only open 10:00-13:00 and the chapel is closed all day Sunday. The entrance fee is €1.00 and typical visits last 10-20 minutes as the chapel is very small.
Interesting facts about the Capela dos Ossos
The macabre atmosphere of the chapel is often lessened by the sound of children playing in the churches crèche and nursery which is located directly behind the chapel. The monks whose bones line the chapel walls were from the Carmel order of monks and historically their place of worship was the Igreja da Carmo (Carmo is the Portuguese for Carmel).
The bone church and chapel in Faro
For today's visitors the chapel may appear as a very creepy attraction but it was common practice for bones to be exhumed from graves prior to the 19th century. This was often a necessity due to limited suitable space for burial and after a period of ten years the bones would be removed and placed in tombs. In Faro the holiest final resting place was a chapel dedicated to the holy men.