How about: Albufeira Intro > Things to do > Families > Airport to Albufeira > 1 week in Albufeira
Albufeira, Portugal - A Tourism Guide Updated for 2018
Albufeira is the largest, liveliest and most energetic of all of the resort towns that line southern Portugal's beautiful Algarve coastline. Albufeira provides stunning beaches, a glorious climate, a vast selection of restaurants and a buzzing nightlife; there is so much to love about Albufeira and this has transformed the once peaceful fishing village into the Algarve's most popular holiday destinations.
Being the largest resort town of the Algarve, Albufeira has an extensive range of activities, attractions and hotels, making the town an ideal holiday destination for families, couples or groups looking to party. This guide will provide an introduction Albufeira for tourists who are planning to visit this fantastic region of Portugal.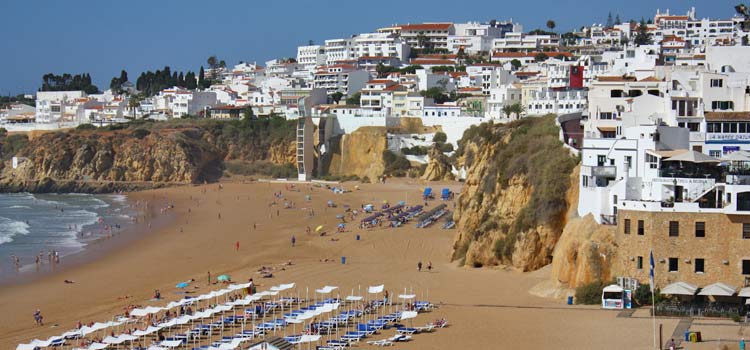 Albufeira has a magnificent beach that is suitable for families
Why have a holiday to Albufeira?
Albufeira is an outstanding holiday destination, as it offers so much more than just gorgeous beaches and great weather. Within the charming and historic streets of the "Old Town" there are over one hundred different restaurants and bars, while the nightlife scene is vibrant and social, and continues late into the night. For those groups of visitors wanting a more of a hedonistic holiday should head to "The Strip", a street crammed with bars and clubs that actively encourages excessive drinking and partying.
Though Albufeira welcomes a wide range of visitors, it is still primarily a family holiday destination, with facilities and activities that are perfectly suited for children of all ages. Young children will be welcomed throughout, while difficult to please teenagers will be entertained by the waterparks, themeparks and the general excitement about the town. Albufeira has a lot to offer visitors and for a guide to the most popular sights and activities of Albufeira please click here.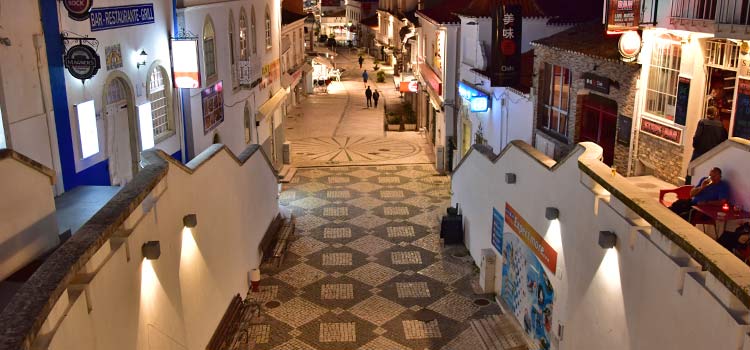 Albufeira has a traditional Old Town, with great bars and restaurants
For those visitors who tire of the beaches there are many interesting day trips, including the towns of Silves, Faro and Loulé, and these can be explored independently using the inexpensive public transport. A more leisurely activity is to join one of the excellent boat tours that depart from the marina, these tours range from deep sea fishing trips, coastal tours, dolphin watching trips, all the way through to party boats.
Albufeira for 2018
The Algarve is currently experiencing an unparalleled rejuvenation; new businesses are opening, hotels are being refurbished and there is a sense of confidence and optimism about the region. Albufeira is expecting a record number of visitors for 2018 and this follows the sell-out summer in 2017.
This popularity does mean that to secure the best prices for accommodation and flights they must be booked far in advance. Fortunately, most hotels reserved via internet booking websites do not require a deposit, therefore negating any monetary penalty if plans are changed in the future. Our advice for you, if you are seriously considering a holiday to Albufeira book your accommodation now, as it will sell out. For a summary of the best hotels in Albufeira, based upon current and true reviews, please click here.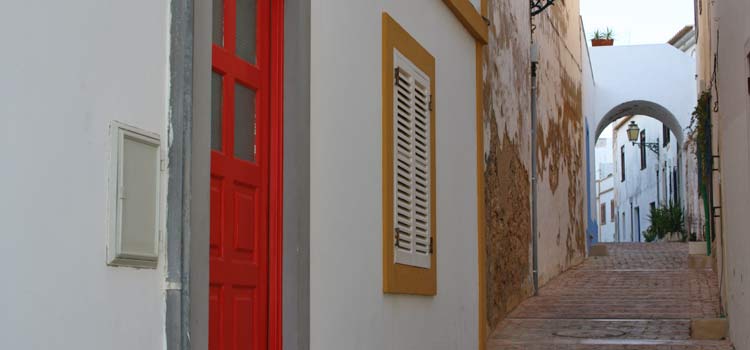 How can there be Families and Stag Hen Do's in the same town?
Albufeira is able to cater for the two extremes of tourists (families and stag/hen do's) as there are two separate and very different areas of the town; the Old Town and The Strip. The Old Town is a series of traditional Portuguese streets and plazas that are based around the historic centre of Albufeira. The pretty cobbled streets of the Old Town are lined with every possible type of restaurant and the entire district is family focused.
The Strip, 2km east of the Old Town, is designed for all day drinking, late night partying and recovering on the beach – this is the area of Albufeira suitable for groups, stag and hen do's. This separation of the two areas allows for families and party focused groups to enjoy Albufeira at the same time and not antagonise each other. For a guide to stag/hen do's in Albufeira please click here or for a guide to Albufeira for children please click here.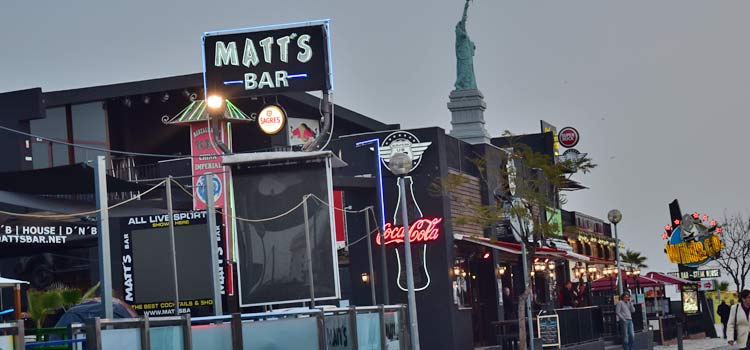 The Strip is crammed with themed bars, nightclubs and cheap drinks!
When to Visit Albufeira
Albufeira has hot summers, warm springs and autumns, while winters are mild but can have extended grey and wet periods. The height of the summer season aligns with the school holidays (July and August) but the high season extends from June until September. This extended summer season of Albufeira, which is much longer than many other resort towns, is due to the fact that Albufeira is popular with visitors who do not have children. If you are planning a holiday during the high season always book accommodation and flights well in-advance.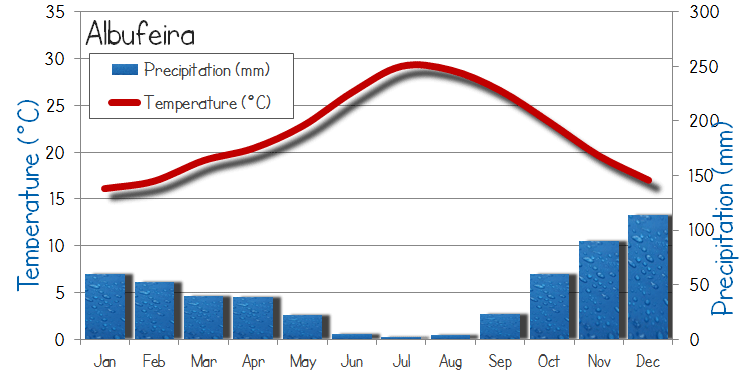 The Average weather of Albufeira
The weather of the Algarve is suitable for spending time on the beaches from May until mid-October but be warned the seas are surprisingly cold, only reaching 18C at the height of the summer. The spring and autumn months are a great season for visitors who wish to explore the region, as days are bright and sunny but without the intense summer heat.
The winter months are mild but are unpredictable, with an equal number of sunny days and wet days. Albufeira should not be considered as a winter sun destination but as there is a large permanent population, the town never fully closes down for the winter and there are always restaurants, bars and cafes open.
There have been a number of sham residential letting websites, which have appeared on the internet, with bogus or copied listings (often of real apartments). These websites look professional (guarantees, refund polices etc) and often the comparative prices are significantly cheaper. Only ever book an apartment through a trusted website (booking.com, homeaway.co.uk etc) and never pay for accommodation by bank transfer. For more details please see the TripAdvisor forum post:
https://www.tripadvisor.co.uk/ShowTopic-g189111-i330-k11450362-Beware_Villa_Scam_bogus_company_PT_Villas_Algarve-Algarve.html
(link opens new link)
Note: This type of scam is not just limited to the Algarve but is found in all major tourist destinations. The Algarve is just ripe for it, as demand for accommodation outstrips supply.
Restaurants, eating out and Food in Albufeira
Albufeira has the largest selection of restaurants, cafes and bars in the Algarve and in the extended town there are over 500 different establishments. These are all designed for tourists and the wide selection covers all styles of cuisine and dining, include Portuguese, English, Indian, Chinese, Italian and Spanish. The evening meal is an important part of the Portuguese day, and meals tend not to be rushed. Expect the evening meal to last for a good couple of hours and there to be a wait for freshly cooked food.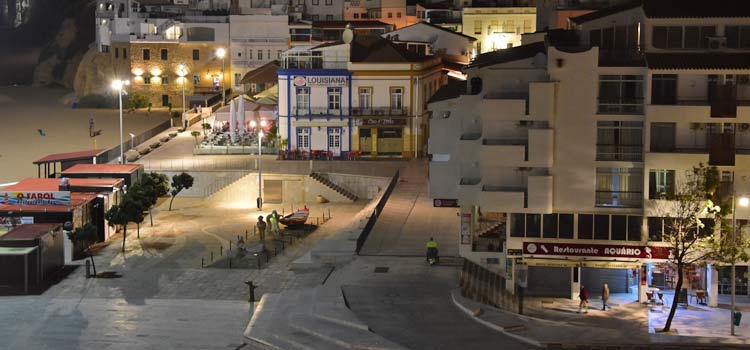 The Old Town after a big night out.....
Portugal has the added appeal, that it is a comparatively inexpensive country; with food, accommodation and transport much cheaper than many of the other established holiday destinations, especially when compared to Greece, or the Balearic islands. Albufeira is one of the most expensive locations in the Algarve for food but it is significantly cheaper than back at home. Tipping is not compulsory but it is often expected as it helps to boost the meagre wages of the waiting staff.
Albufeira in the Summer
Albufeira is the Algarve's busiest holiday destination and the hundreds of hotels of the region are crammed with package tourists, especially during the school holidays. If you visit during this period expect beaches to be full, restaurants busy and prices at their most expensive. Certain visitors may find the town to crowded, busy or hectic to fully enjoy while other may enjoy the buzz of the place. If planning to visit during the summer always book flights and accommodation well in advance as the best hotels sell out before Easter and the prices of flights sky rocket.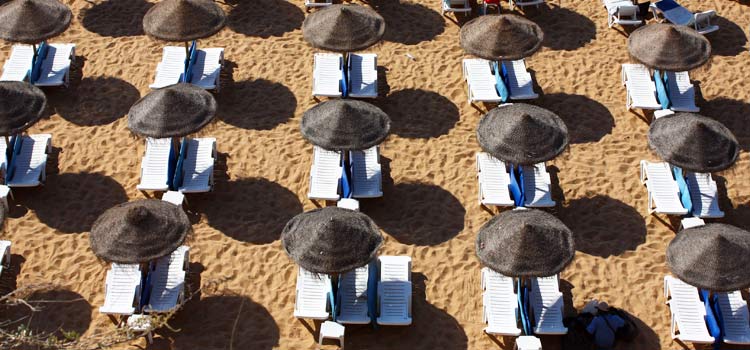 Albufeira Airport
The nearest international airport to Albufeira is Faro Airport, which is located 40km to the east. Faro airport has connections to the whole of Europe and all of the low cost airlines fly into Faro. There is very limited public transport from Faro airport to Albufeira and the majority of visitors pre-book a transfer. Transfers are either private (€40) or shared mini bus/coach (€20), never get a taxi from the arrivals lounge as this will be very expensive.
The journey by public transport from Faro airport to Albufeira requires two buses (airport to Faro city and Faro city to Albufeira). There are limited departures and journeys times are slow but public transport in Portugal is inexpensive, for a guide please click here.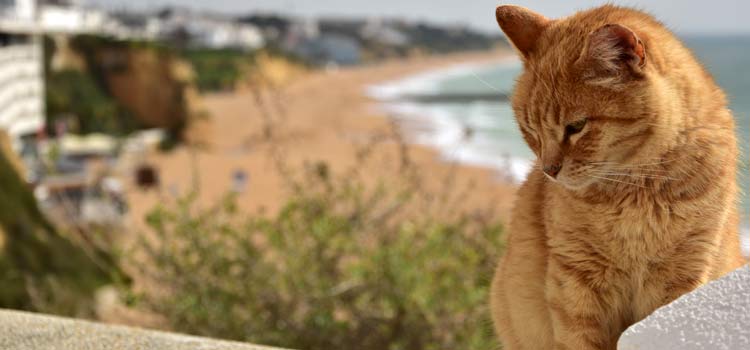 The Albufeira cat posing for a photo.....
Theme parks and water Parks in Albufeira?
There are no theme parks or water parks directly in Albufeira but there are shuttle buses to the major parks of the Algarve. The best water park is Slide and Splash, a huge complex of insane slides, flumes and rubber ring rides. The best theme park is Zoomarine, a combination of waterpark and sea life centre that specialises in dolphins.
Both theme parks are excellently maintained, with great attractions and are enjoyable for visitors of all ages; the only down side are the tourist inflated entrance fees. Other enjoyable excursions from Albufeira include the full day boat cruises that follow the coast westwards to Lagos and Sagres and pass some of the fascinating carved cliffs.