Home Page > Vilamoura Sights > Vilamoura's Beaches > 1 week in Vilamoura > Airport to Vilamoura
Vilamoura, Portugal tourism guide updated for 2018!
Vilamoura is one of southern Portugal's finest resort towns, offering so much more than just stunning beaches and glorious weather. Originally, Vilamoura was constructed in the 1980s as an elite golfing centre, and today the town has matured into a stylish and sophisticated resort, boasting world-class golf courses and outstanding tourist facilities.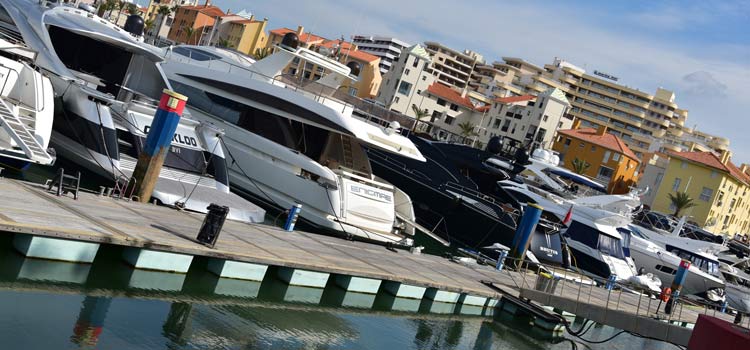 The main tourist centre of Vilamoura Portugal
Vilamoura is a sprawling town encompassing numerous parks, multiple tourist developments and five golf courses, but its true centre is the exclusive marina complex. Found at the marina are stylish hotels, gourmet restaurants and chic bars, and from here it is only a short stroll to the pristine beaches of Praia da Falésia or Praia de Vilamoura.

Vilamoura is unlike any other Portuguese town, gone is the dilapidated charm, replaced with striking perfection, which is simply expected by the super-rich who moor their million-dollar yachts in the marina. This guide will provide an introduction to Vilamoura designed for tourists who are considering a holiday to this wonderful region.
Highlights of Vilamoura
So why have a holiday to Vilamoura?
Vilamoura is the most refined of all the Algarve resort towns, and provides world class hotels, stunning beaches, and a fantastic tourist centre. There is a lot to do within the central Algarve region including boat tours, waterparks, historic towns to explore, and of course golf. The five 18-hole golf courses make Vilamoura arguably the best location for a golfing holiday in the Algarve.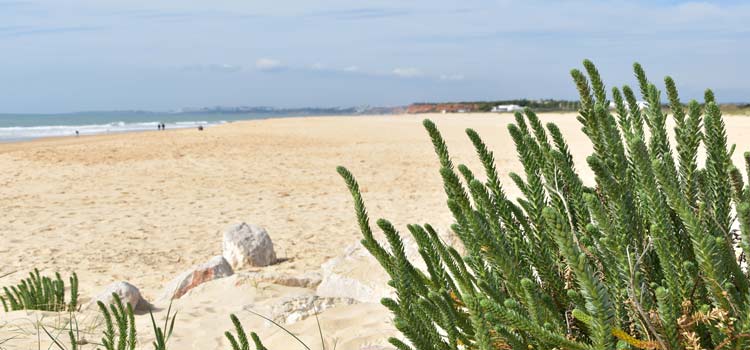 The eastern edge of the Praia da Falésia beach
The beaches of Vilamoura are beautiful, with soft golden sands and crystal-clear sea waters that are safe for families, while the motorised water sports (jet skis, banana boats and parasailing) will entertain "children" of all ages. The central Algarve is ideal for teenagers and older children, who will adore Zoomarine or the waterparks of Aquashow and Slide and Splash.
For those tourists wishing a more cultural holiday could visit the historic city of Faro or the market town of Loule, both of which can be reached independently via the inexpensive bus network. In all, there is a lot to see and do in Vilamoura and for a guide to the major sights and activities of the region please click here.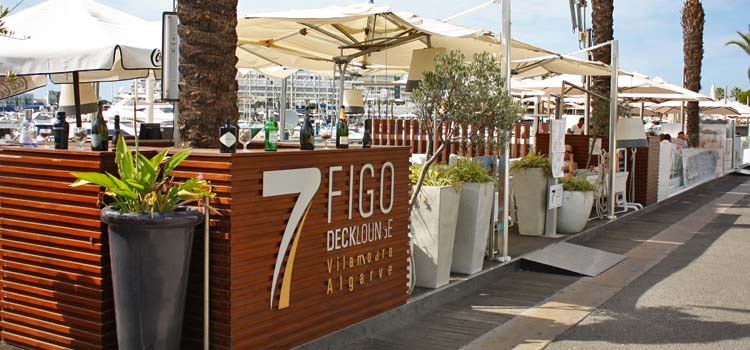 The fine restaurants of Vilamoura
Who should visit Vilamoura?
Vilamoura is suited for visitors who are looking for a polished and stylish holiday destination, with a preference to quality over cost. The resort is perfectly suited for visitors who wish to spend relaxed days on the beach and even longer nights in the waterside restaurants and bars.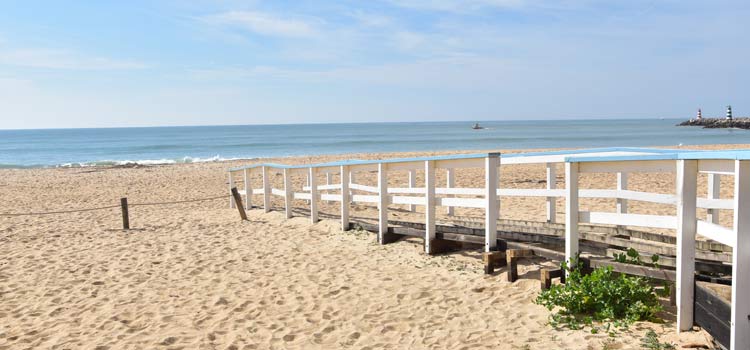 The beautiful beach of Vilamoura
Vilamoura does not (or want to) attract large groups who are on stag/hen do's or simply looking for a cheap drink holiday; for this sort of holiday head to Albufeira. Certain visitors may find Vilamoura devoid of Portuguese charm and character, this is a purpose-built resort town that focuses on outstanding tourist facilities and services. For a more authentic Portuguese holiday location consider the historic city of Lagos or the charming town of Tavira.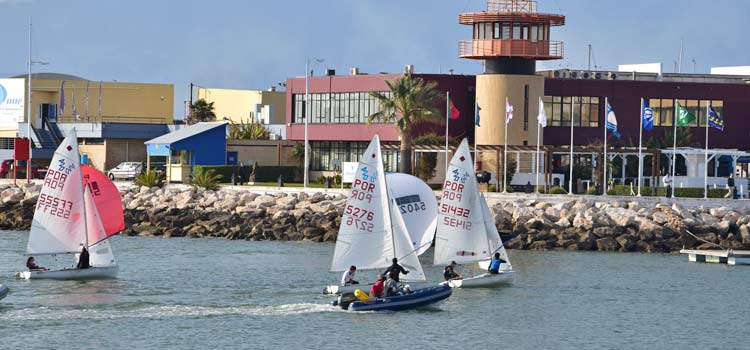 The marina and the Vilamoura sailing club
Vilamoura for Families
Vilamoura is great destination for young children and families as there are many excellent family hotels, while in the town children will be welcomed in all restaurants, shops and cafes. We have children, and would recommend Vilamoura and the central Algarve for a family holiday based upon:
• English is widely spoken by all who work within the tourist industry, and language will never be an issue.
• The beaches are safe, with clean and calm sea waters, and are supervised in the summer.
• The Portuguese are a very family focused nation and children will be welcomed in all restaurants.
• Supermarkets stock all common items, and pharmacies are widely available all minor ailments.
• There is only a short transfer from Faro airport to Vilamoura.
When to Visit Vilamoura?
Vilamoura has long hot summers, pleasant spring/autumns and winters that are mild but unpredictable with an equal number of bright days as wet days. The height of the tourist season is from July through to August and this is when the beaches are packed, and hotels are sold out.

June and September tend to be popular months with couples, being outside of the school holidays and without the hordes of children, but there is still fantastic weather and a buzz about the town.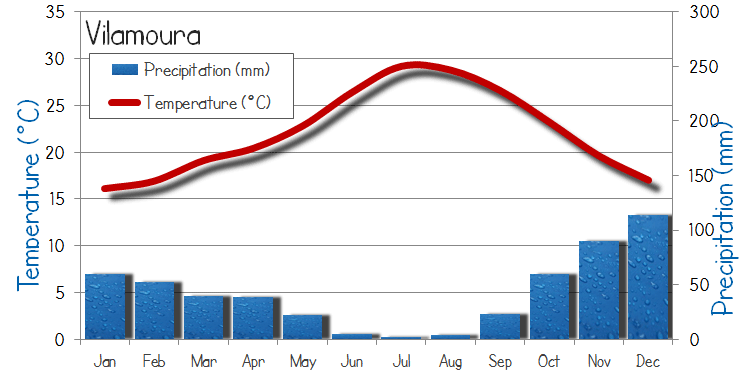 The weather of Vilamoura Portugal
The weather of Vilamoura is suitable for spending time on the beach from mid-May until mid-October and the two ends of the season provide excellent value, with last minute deals and cheaper flights. Tourist facilities in Vilamoura close down for winter at the end of October and fully reopen for Easter. There is a large permanent population in Vilamoura so that most restaurants and cafes in the marina complex stay open year-round but during the off-season the region will feel very quiet. The one exception to this is Christmas and New Year, when there is a lively atmosphere.
Vilamoura For 2018
The Algarve, and especially Vilamoura is experiencing an unparalleled resurgence with new business opening, massive investment and a re-discovered confidence not seen since the financial crash of 2007. Vilamoura is expecting a spectacular 2018 season, based on the sell-out 2017 summer, with thousands of new couples and families discovering this wonderful holiday destination.
This does mean that to secure the best prices, accommodation and flights must be booked far in advance. Fortunately, many of the hotels reserved via the larger booking websites do not require a deposit, therefore negating any monetary penalty if plans are changed. Our advice is, if you are seriously considering a holiday to Vilamoura book your accommodation now, as the best places will sell out, for a summary of the best hotels in Vilamoura please click here.
Vilamoura as a Golfing Holiday
Vilamoura is one of the best destinations in the Algarve for a golfing holiday and the town is ideal for golfers. In the marina complex there are agencies that rent quality clubs and provide transport to all of the major courses throughout the Algarve. There are five golf courses in Vilamoura and include the Victoria (18holes used for the Portugal Masters), the Old Course (18holes Par 73), Pinhal (18holes Par 72), Millennium (18 holes Par 72) and Laguna (18holes Par 72). All of the golf courses directly in Vilamoura are operated by the Oceanico Golf company and they have a reputation for the highest standards and excellent facilities.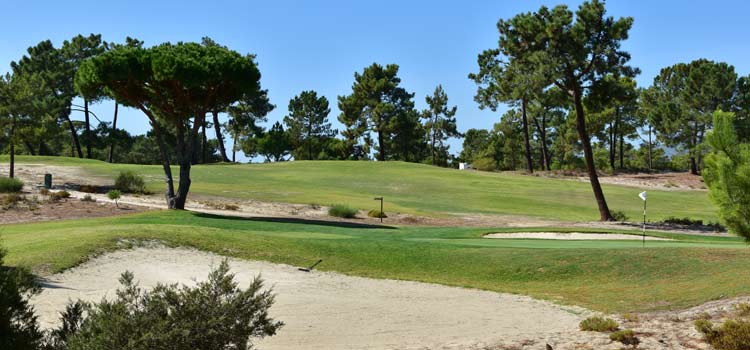 Vilamoura has five wonderful golf courses and is ideal for a golfing holiday
Green fees reflect the quality of the golf courses and are season dependent. Prices in June 2016 range from €137 for a round on the Victoria through to €83 for the Pinhal course. Generally, green fees are at their most expensive during October and November, when the weather is most suited for golf.
There have been a number of sham residential letting websites, which have appeared on the internet, with bogus or copied listings (often of real apartments). These websites look professional (guarantees, refund polices etc) and often the comparative prices are significantly cheaper. Only ever book an apartment through a trusted website (booking.com, homeaway.co.uk etc) and never pay for accommodation by bank transfer. For more details please see the TripAdvisor forum post:
https://www.tripadvisor.co.uk/ShowTopic-g189111-i330-k11450362-Beware_Villa_Scam_bogus_company_PT_Villas_Algarve-Algarve.html
(link opens new link)
Note: This type of scam is not just limited to the Algarve but is found in all major tourist destinations. The Algarve is just ripe for it, as demand for accommodation outstrips supply.
Is Vilamoura an expensive location for a holiday?
Portugal is a comparatively inexpensive country; with food, accommodation and transport much cheaper than many of the other established holiday destinations, especially when compared to the Balearic Islands or Greece. Vilamoura has the reputation for exclusivity but is only marginally more expensive than many of the other popular resort towns of the Algarve.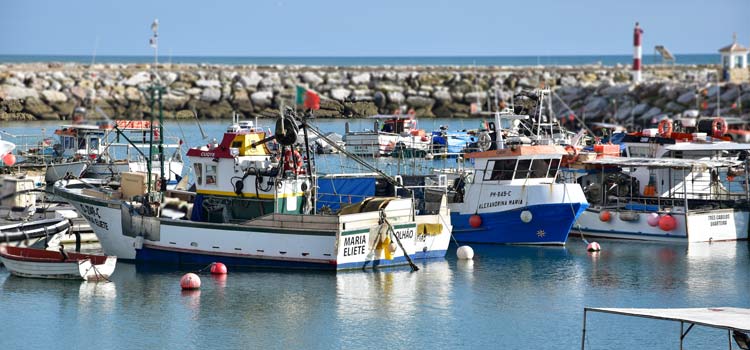 The fishing port of Quarteira is only a short walk away
Vilamoura Airport and Transfers
The main airport of southern Portugal is Faro airport which is located 25km to the west. Faro is a major airport with flights covering the whole of Europe, but there is a shortage of seats/flights in the summer so always book well in advance to secure the best prices.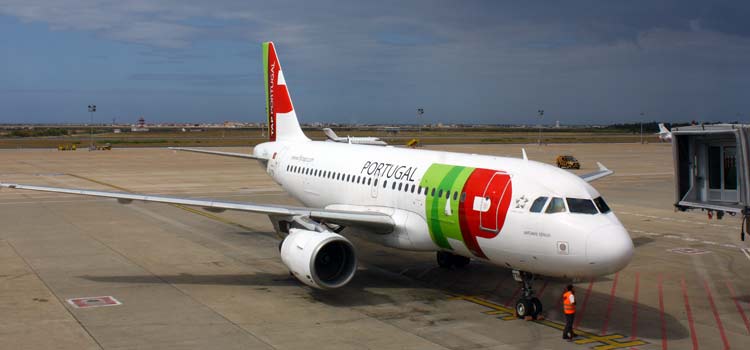 Air Tap is the national carrier of Portugal
There is very limited public transport from the airport to Vilamoura and the route requires two bus journeys and takes between 1.5-2hours depending on connections. Most visitors pre-book a transfer and from the airport and these can be a private transfer or shared (minibus or coach), prices are €50 for private transfer or €25 for shared. For a guide to travelling from the airport to Vilamoura please click here.
Day Trips from Vilamoura
From Vilamoura there are many interesting day trips to the surrounding region and these are all easily accessible by the inexpensive and regular bus network. Popular day trips from Vilamoura include Loule, Faro and Albufeira.
Loule is a bustling market town that is inland from the beach resorts and provides an opportunity to experience normal Portuguese daily life. The town is centred around the North African inspired covered market, which on Saturdays spills out onto the surrounding streets and is the largest market in the Algarve.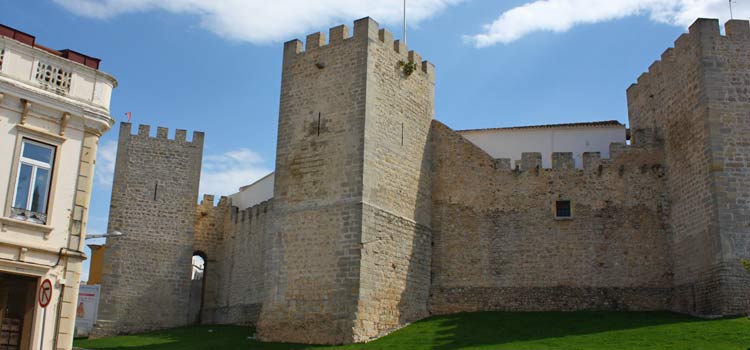 The city walls of Loule
Faro is the pretty and historic capital of the Algarve. Faro has a delightful historic centre which is surrounded by ancient Moorish walls, while the city centre is pedestrianised with open air cafes and restaurants. From the harbour there are tours of the Ria Formosa natural park, a series of salt lagoons and waterways that are a haven for migratory birds.
Albufeira is the largest resort town of the Algarve, boasting a beautiful beach and an old town crammed full with countless restaurants, themed bars and shops. Albufeira is a buzzing and hectic town during the summer and has a very different atmosphere to the much trendier Vilamoura.