How about: Albufeira Intro > Things to do > Families > Airport to Albufeira > 1 week in Albufeira
Albufeira - sights and activities, things to do and see
Albufeira is the Algarve's premier resort town, which boasts glorious beaches, a scenic old town and a buzzing atmosphere. The town is often purely regarded as a beach holiday destination, but there is a surprising amount to see and do within the central Algarve region. This guide will detail the most popular sights and activities for a holiday to Albufeira.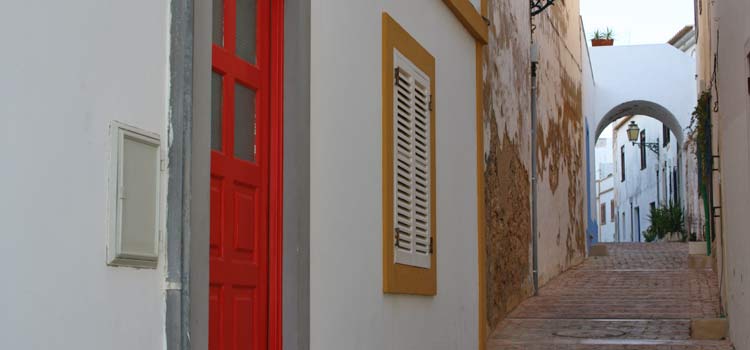 The beaches – Sights Albufeira
The Algarve is famed for its beautiful beaches, and Albufeira has one of the largest beaches in the central region. The vast beach extends for 2km from the Old Town all the way to the rocky headland in the east, and though one continuous beach it is divided into three sections; the Praia dos Pescadores, the Praia do Inatel, Praia dos Alemães. This wonderful beach provides soft golden sands, crystal clear waters, which are clean and safe for children to swim in. There is a secondary sandy beach at the base of the Strip called the Praia da Oura and is the ideal place to recover from a big night out.
Eat Out – Things to do Albufeira
Visitors will be spoilt for choice when eating out, as Albufeira boasts over 500 eating establishments, and this diverse selection of restaurants, cafes and bars cover every cuisine style, budget or dietary requirement. Food is significantly cheaper than back at home and generally of a high standard. Albufeira is an ideal location to try local and traditional Portuguese cuisines.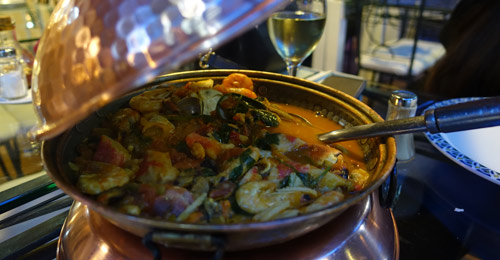 A prawn Cataplana - yummy!
Portuguese food tends to be hearty and filling (often served with rice, chips and bread as a starter) and Algarve specialities are based around freshly caught fish or shellfish. One dish to try is Cataplana, a seafood rice stew, that is both cooked and served in a large copper dish and is designed to be shared. Locally produced wines are the perfect accompaniment to any meal!
Vibrant Nightlife – Banging or Social
There are two very distinct nightlife areas of Albufeira; the Old Town, which is more family and conventional holiday focused, or the Strip which is ideal for groups seeking wild nights and over drinking. Albufeira contains an ecliptic mix of bars ranging from tacky and themed through to uber-chic and style lead.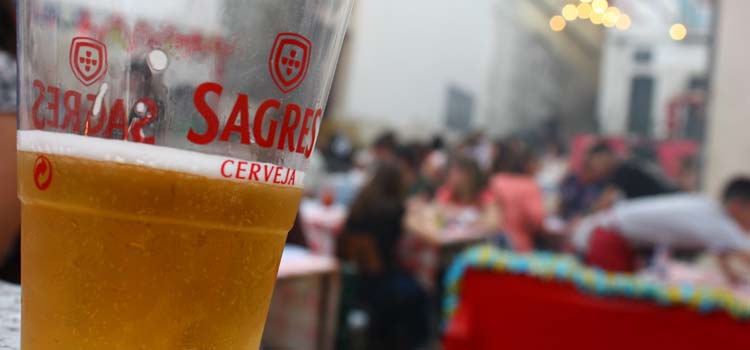 Long nights in the old town of Albufeira
In the Old Town visitors are entertained by live music and socialising over a local beer or wine while at the Strip drinks promotions and banging tunes keep revellers partying till the sun rise. Club Heaven on the Strip features skilled local DJs while Kadoc (halfway between Albufeira and Vilamoura) is the Algarve's best night club.
Boat trips, tours and fishing trips – Albufeira things to do
Departing from the marina are an assortment of different boat trips, which include tours of the coastline, dolphin watching and deep sea fishing. For thrill seekers, there are speed boat tours, jet boats or jet-skis, while for stag or hen do's there are party boats with unlimited drinks.
The boat tour prices vary depending on the length of the tour, the novelty of the boat, or additional gimmicks but typical cost are:
• 3-hour coastline and Dolphin watch tour €35/€20 (adult/child)
• 30-minute jet boat ride (€35 adult)
• 3-hour deep sea fishing for snapper, mackerel, grouper €35/€25 (adult/child)
• 3-hour sunset party boat (including drinks) €30
Water Parks – Albufeira activities
There are three excellent water parks close to Albufeira; Slide and Splash, Aqualand and Aquashow. These water parks contain gravity-defying flumes, near vertical slides and wave pools, and provide excitement for children of all ages. The only downside to all of this fun are the expensive entrance fees (€27/€19 adult/child), which will dampen the bill payer's spirits. The water parks provide transfers from Albufeira and links to the English websites are:
http://www.aquashowparkhotel.com/en
http://www.slidesplash.com/en/
(links opens new tab)
There are great water parks in the Algarve
Day Trip to Silves – Albufeira things to do
If all the sun, sand and long nights of Albufeira get to much, take a day trip to pretty Silves, for a dose of history and culture. Silves was the 11th century capital of the Algarve, when the region was ruled by the North African Moors, and during this era Silves was a bustling port and important trading town. Remnants of this illustrious past can be seen throughout Silves and the town is a joy to explore.
Dominating the skyline is the imposing red brick castle and leading down to the slow flowing waters of the Arade River are pretty cobbled streets lined with traditional Portuguese houses. Silves is incredibly scenic and makes for a great day trip from Albufeira. Silves is connected to Albufeira by a direct bus (€4.30, 40 minutes, which departs from the bus station) and for a full guide to Silves, please click here.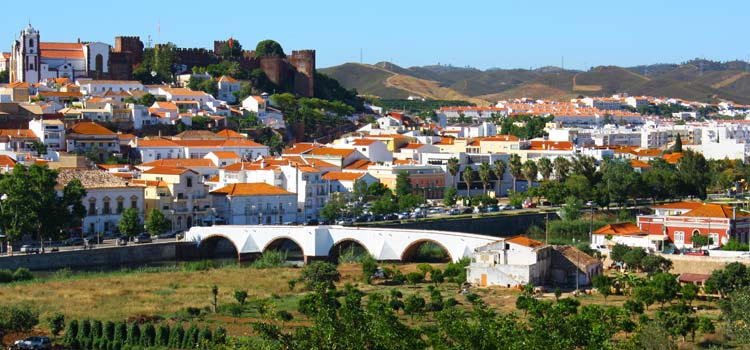 Silves is a pretty town
Zoomarine – Albufeira Sights
Zoomarine is wonderful marine park that specialises in dolphins, marine life and tropical birds. In the park there is a wide selection of activities including dolphin shows, aquariums, and an excellent water park with slides, wave pools and rapids. The animals of Zoomarine are kept in modern facilities and all are well cared for, while the park activity promotes conservation and rehabilitates rescued animals. Zoomarine is an outstanding daytrip and the variety of attractions means the park is suitable for families and couples. The entrance fee is €29/ €19 (adult/child) and transfers from Albufeira can be organised:
Tickets for Zoomarine can be purchased here (Eliminates the need to stand in long queues)
I'm so cute! A sealion wanting to photographed
Go karting
There is an excellent indoor go karting circuit in the marina complex (bottom level of the underground car park). The karts are fast, the track is good and the whole experience is great fun. There are a range of prices with discounts for groups but prices start from €25 for 20 minutes.
The karts are fast
High Ropes and forest adventure
Tired of all of that eating and sitting around? Well then go to Luso Aventura for a forest adventure, which contains high rope walkways, vertical nets, cobweb and monkey bridges that span the forests just to the east of Albufeira. This is suitable for children and adults as there are varying levels of difficulty, the 2 hour "fearless" course cost €17, for more information see the Luso Aventura website:
http://www.lusoaventura.com/uploads/PDF/Folheto_Parque_Aventura_Albufeira.pdf
Day Trip to Loulé
oulé is a charming Portuguese market town, which makes for an enjoyable day trip from Albufeira. The town has a pretty daily market (except Sunday) that is housed in a North African inspired covered market, while the pretty cobbled backstreets of Loulé are filled with quaint house and small shops. Loulé has a distinctively Portuguese ambience, with locals socialising in open air cafes, women gossiping in doorways and old men sat all day on the same bench – Loulé is wholly different from Albufeira. Loulé is a great excursion and is connected to Albufeira by a direct bus service that departs from Albufeira bus station. For a guide to Loule please click here.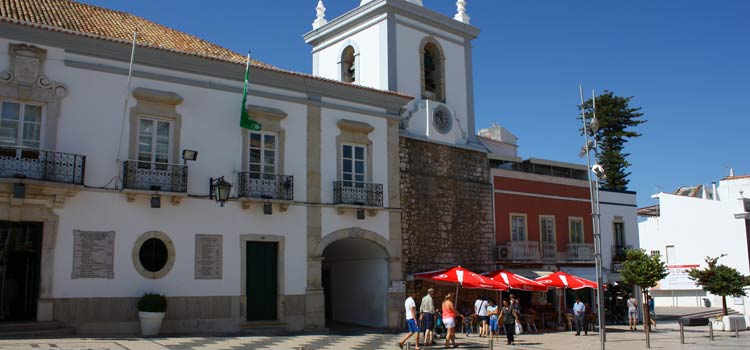 The town hall of Loule
Cinema
For those very infrequent wet days a trip to the cinema may be the perfect day time activity. The latest movies are shown with English audio, as Portuguese movies have subtitles (and not dubbed), the only exception are kids movies. Albufeira's cinema is in the Algarve Shopping complex and the latest listings can be seen of the Nos Cinema website:
(link opens new tab, which unfortunately is only in Portuguese, the Algarve cinema is called "Forum Algarve")
Golf – Albufeira things to do
The Algarve is famed for it's wonderful golf courses and though Albufeira is not a common golf based holiday destination it is very easy to both hire clubs and travel to the courses. The three golf course close to Albufeira are Salgados (18hole), Pine cliffs (9hole) and Balaia (9hole).