How about: Rocha Introduction > Things to do > Beaches > Airport to PDR > Day Trips > Algarve Introduction
Praia da Rocha Portugal - A holiday Guide
Praia da Rocha is a loud, brash but fun resort town, which as a holiday destination provides a glorious climate, fantastic beaches and a lively nightlife. This guide will provide an introduction to Praia da Rocha written for tourists considering or planning a holiday to this vibrant and social town.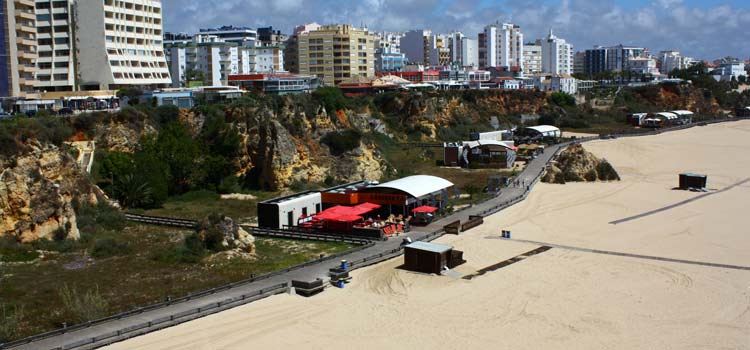 The beach, cliffs and town of Praia da Rocha
Praia da Rocha is the beach front town for the much larger residential city of Portimão, 2km to the north. The two names are often used interchangeably, but all holiday-makers will want to be based within walking distance of the beach of Praia da Rocha.
Why Visit Praia da Rocha?
Praia da Rocha is one of the Algarve's most popular resort towns and offers a diverse selection of entertainment, sights and activities suitable for all ages. The town is set above one of the finest beaches of the Algarve, a vast expanse of soft golden sands which is lapped by the crystal clear (but shockingly cold) sea waters.
The excellent selection of restaurants found in Praia da Rocha will be able to cater for all tastes, cuisines and budgets. While for late night revelries, Praia da Rocha provides a varied and colourful nightlife in, comprising of numerous themed bars, stylish lounge bars and banging late night clubs.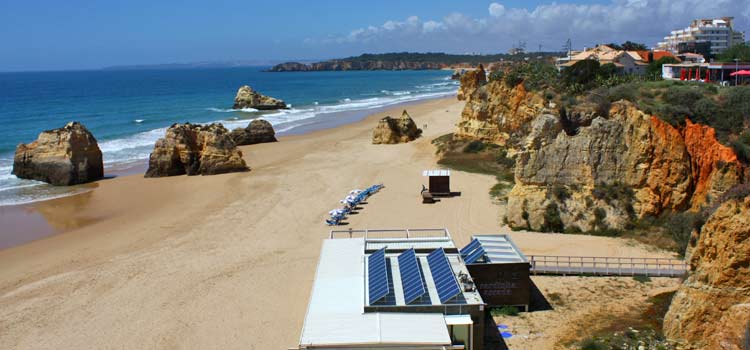 The massive beach is the main attraction of Praia da Rocha
Who should visit Praia da Rocha?
During the summer season Praia da Rocha is a busy and hectic town that is perfectly suited for visitors who enjoy a buzzing and vibrant atmosphere. Praia da Rocha's main draws are the stunning beaches, excellent restaurants and energetic nightlife; do not expect to find culture or heritage from Praia da Rocha. Outside of the summer months Praia da Rocha is calmer and has a slightly more mature atmosphere, making it ideal for visitors who want a relaxing and inexpensive holiday.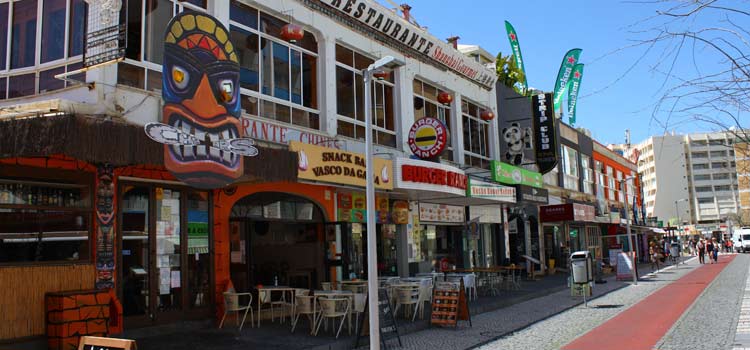 Themed bars and fast-food joints are found to one end of Praia da Rocha....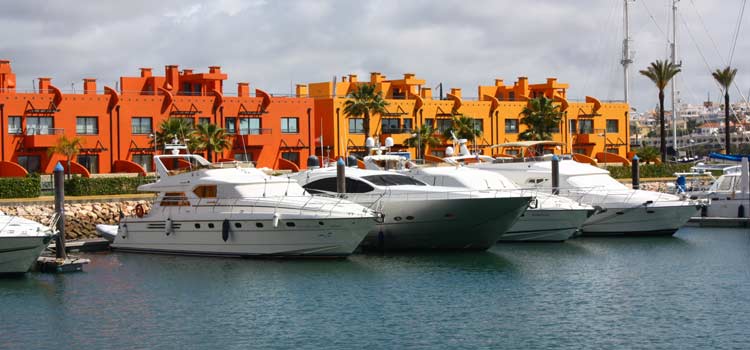 while the chic hotels and marina are at the other end of Praia de Rocha
When to Visit Praia da Rocha and Southern Portugal?
Praia da Rocha and the Algarve have long hot summers and pleasant spring and autumns. Winters are mild but the weather can be unpredictable. June through to August is the height of the tourist season and the town will be at its most hectic, with the majority of hotels fully sold out. If planning a summer holiday to southern Portugal always book accommodation and flights well in-advance.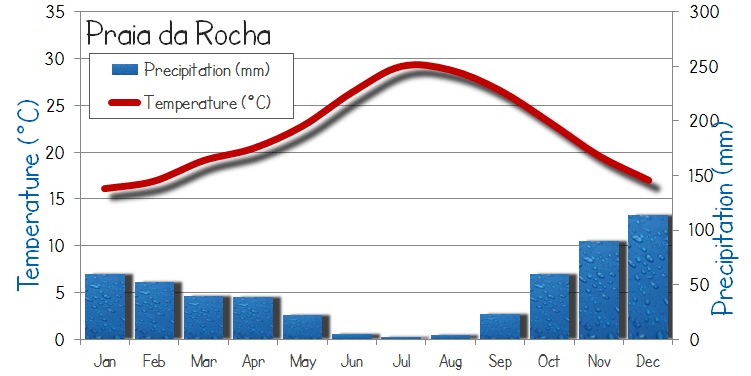 The average weather of Praia da Rocha
The weather is suitable for spending time on the beach from mid-May until the end of September and the mid-seasons can be a great time for a bargain holiday. Praia da Rocha closes down for winter in October and reopens for Easter and during the closed season the region will feel very quiet as there is not a large permanent population. The one exception is the Christmas holidays when there will be a significantly number of tourists.
Does Praia da Rocha have a good beaches?
Praia de Rocha has a large and beautiful beach, which can easily accommodate all of the summer time tourists. The beach stretches along the length of the town and there is a pleasant promenade that makes the entire beach easily accessible. Further along the coast the sandstone cliffs hide small coves and quieter beaches, ideal for those wishing to escape the crowds. For a guide to the beaches please click here.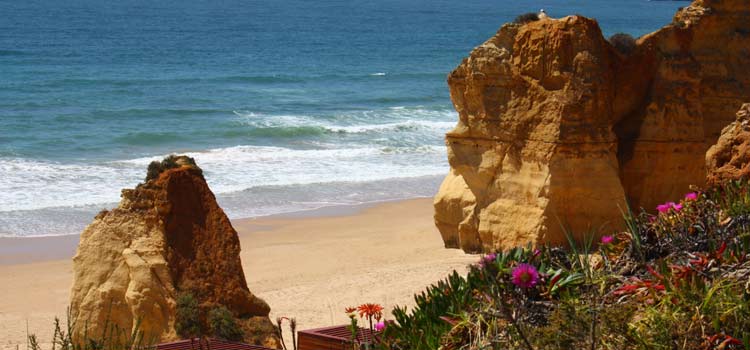 The deserted beaches to the west of Praia de Rocha
The sea waters of south Portugal are clean but very cold as they are feed by the Atlantic Ocean, instead of the warmer Mediterranean Sea. The beach of Praia de Rocha is supervised by lifeguards and there are no dangerous currents making them suitable for children and families. There are all manner of water sports and activities including; jet skis, banana boats, kayaks and parasailers.
Day trips from Praia da Rocha
From Praia da Rocha there is a regular bus service to the much larger town of Portimão and the sights of the city can be easily seen within half a day.
From Portimão there are bus services to Silves and this is the best (easily accessible) day trip from Praia da Rocha. Silves was the ancient capital of the Algarve and the city is dominated by the highly fortified red brick castle. Silves is a pleasant town with an unhurried atmosphere that provides a glimpse into the traditional side of Portugal.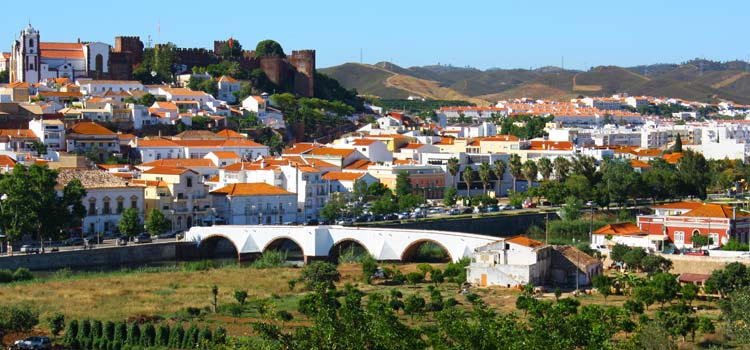 Silves is a traditional Portuguese town
The second day trip from Portimão is to the historic harbour town of Lagos, with its beautiful coastline of highly weathered cliffs, grottos and sea caves (known as the Ponta da Piedade). In the town there are pretty cobbled streets, numerous historic monuments, and a large marina.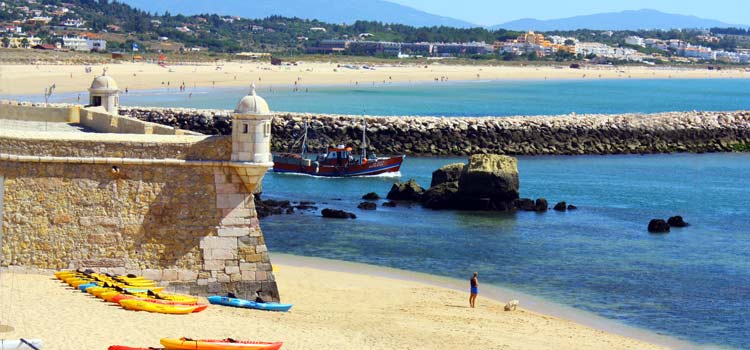 Lagos is a pretty and historic town
Other enjoyable excursions from Praia da Rocha include the full day boat cruises that follow the coast westwards to Sagres. For an enjoyable walk follow the cliff top promenade to the small town of Praia do Vau. For a guide to the day trips please click here.
Theme parks and water Parks in Praia da Rocha?
There are no theme parks or water parks directly in Praia da Rocha but there are shuttle buses to the major parks of the Algarve. The best water park is Slide and Splash, a huge complex of insane slides, flumes and rubber ring rides. The best theme park is Zoomarine, a combination of waterpark and sea world that specialises in dolphins. Both theme parks are excellently maintained, with great attractions and are enjoyable for visitors of all ages; the only down side are the tourist inflated entrance fees.
Restaurants, eating out and food in Praia da Rocha
Visitors to southern Portugal will discover that eating out provides great value, as food and drink are significantly cheaper than back at home. In Praia da Rocha there is a wide selection of restaurants that cover all styles of cuisine and dining, which include Portuguese, English, Indian, Chinese, Italian and Spanish. The evening meal is an important part of the Portuguese day, therefore meals tend not to be rushed and last for a good couple of hours. Tipping is not compulsory but it is often expected as it helps to boost the meagre wages of the waiting staff.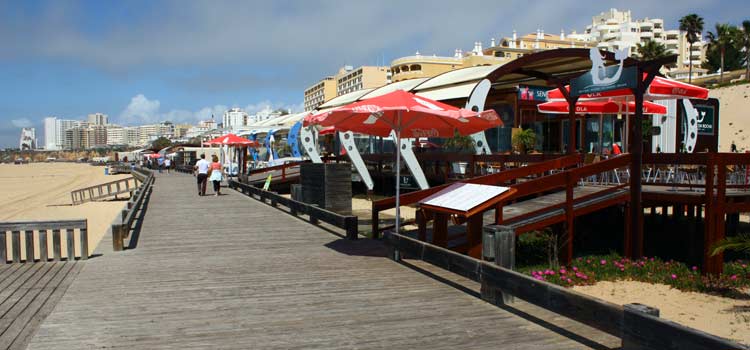 The beach front cafes
Praia da Rocha Airport
The main international airport of the Algarve is near the town of Faro which is approximately 70km to the east of Praia da Rocha. The Faro airport is a major hub served by many of the major European airlines and all of the low cost airlines have flights to Faro.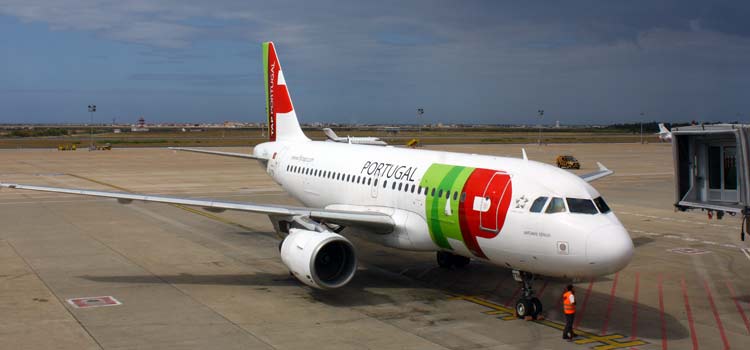 Air Tap is the national carrier of Portugal
There is very limited public transport from Faro airport to Praia da Rocha and the journey is very time consuming, requiring two buses and a train journey. It is advisable to pre-book airport transfers and a shared transfer with a mini bus or coach starts from 30Euros while private transfer will be around 60Euro.
Praia da Rocha's Appearance
Praia da Rocha is a small and compact town which has meant the large hotels and apartments complexes have built high into the sky but this does not detract from the beautiful natural scenery of the area.