Olhos de Agua, Algarve, Portugal
Olhos de Agua is a delightful Portuguese fishing village that is situated in the heart of the central Algarve and is the ideal destination for visitors who are wishing for a calm and relaxed holiday. The little town is positioned on a coastline of small sandy coves, where fishing boats are still pulled up onto the sands and old fishermen tend their nets in huts that line the beach front.
As with the entire Algarve there has been major tourist development but Olhos de Agua has managed to retain its personable and welcoming atmosphere, and is why so many tourists return yearly or even emigrate here. If glorious weather, a sociable ambience and great value are key aspects for your holiday and you are wanting a low-key destination then Olhos de Agua is the location for you.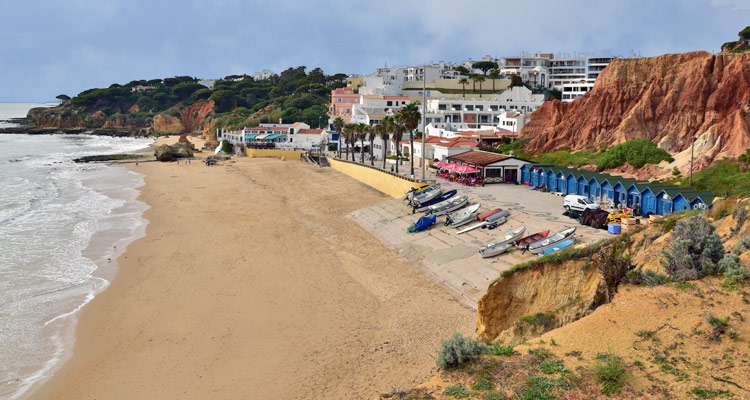 Olhos de Agua is a traditional fishing village
Highlights of Olhos de Agua
• The beautiful Praia da Falésia beach, with its golden sands, clear waters and distinctive cliffs, is regarded as one of the finest beaches of the central Algarve.
• The varied selection of restaurants in Olhos de Agua, covering all international cuisines, tastes and styles, which are exceptional value for money, especially when compared to the major resort towns close by.
• Embracing the Portuguese unhurried mentality and café culture, with long relaxed days in the open-air cafes and bars socialising with new friends.
Olhos de Agua is just the right distance from Albufeira
One of the main appeals of Olhos de Agua is having easy access to all of the facilities and services of a buzzing and hectic resort town (Albufeira), without actually being in it. It is difficult to comprehend that the peaceful ambience of Olhos de Agua is less than 4km from the riotous and hedonistic bars and clubs of The Strip in Albufeira, which is a favourite for Stag and Hen do's. Albufeira also has extensive shopping, with multiple supermarkets and the largest shopping centre in the Algarve, therefore a holiday to Olhos de Agua does not need to compromise on the comforts of home.
The beautiful Praia da Falésia beach, just a short walk from Olhos de Agua
Who should visit?
Olhos de Agua is only suitable for the more mature visitor who wishes an incredibly relaxed and slow pace holiday, where much of the day is spent in the many excellent restaurants or bars socialising with likeminded people. If this is the style of holiday you are seeking stop reading this article and book your holiday now, as you will fall in love with Olhos de Agua.
The fishermens huts that line the bech
All other visitors should consider if Olhos de Agua is really their perfet destination; young couples and teenagers, who seek excitement and entertainment will be bored to tears, and wonder why stay here when Albufeira is so close by? A golfing holiday is much better centred in Vilamoura or Quarteira and even tourists wishing to be immersed in Portuguese culture and heritage will discover there are much better destinations, such as charming Tavira or historic Lagos.
Olhos de Agua for families
Olhos de Agua is a great destination for families with young children as it is a very calm destination but provides all of the services found back at home. Children will be welcomed in all cafes and restaurant while the Portuguese as a nation believe in the importance of the family and are very supportive and accommodating. Olhos de Agua is close to all of the major waterpark/themeparks of the Algarve and the beaches are amazing, so it could be a good holiday destination if you wish to be away from the craziness of Albufeira.
Fishing boats are still pulled up onto the beach.....
Olhos de Agua for 2017
The entire Algarve is experiencing a resurgence within the tourism industry; new business are opening, hotels are being refurbished and there is massive investment throughout the region. Olhos de Agua is one of the more calm and relaxed resort towns but it is still expecting a sell-out summer season for 2017. If you are seriously considering a holiday to Olhos de Agua or the Algarve, book your flights and accommodation as soon as possible as prices will rise first, and then sell out. For a guide to the best hotels in Olhos de Agua please click here.
Weather and when to visit Olhos de Agua
The peak season is from June through to September and is generally much longer than other towns due to older nature of most visitors. The Algarve is an extremely popular summer destination and the entire region will be completely sold out for the summer. The spring and autumn seasons are our favourite time of year to visit, as the region is slightly less crowded and the weather is still fantastic ideal for exploring the Algarve.
The average weather conditions of Olhos de Agua
The weather is good enough for spending time of the beach between May through to the end of October and the town is fully open up at Easter. Winters in the Algarve have unpredictable weather, with an equal number of bright sunny days as cooler grey or even wet days. The off season will feel very quiet, but as the bars and cafes close down, the concentration of expats and off season tourists will be centred in the few bars that remain open, so that there is still quite a pleasant ambience.
Does Olhos de Agua have great beaches?
The main beach of Olhos de Agua is as quaint and traditional as possible in the Algarve; onto the soft golden sands fishing boats are pulled out of the sea and the beach is overlooked by a series of fishing huts still used by the old fishermen. The beach it's self is surrounded by the characteristic red sandstone cliffs, and though not overly large is a pretty as the Algarve has to offer.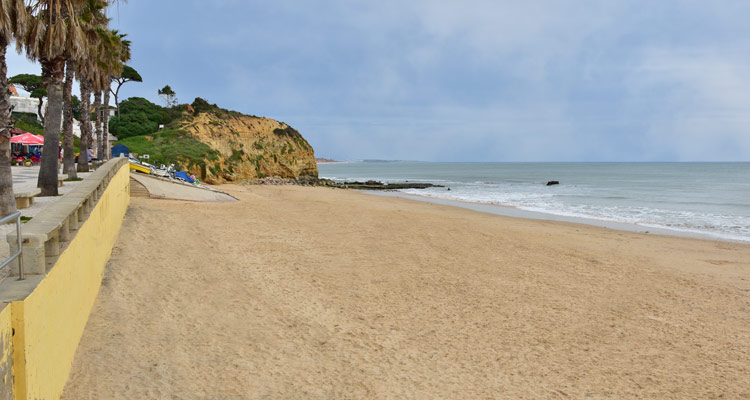 The main beach of Olhos de Agua
There are a series of small cove beaches that surround Olhos de Agua before the coastline opens up to the beautiful Praia da Falésia, one of the finest beaches of the Algarve. This vast beach extends for 5km to the stylish resort town of Vilamoura and has surprisingly little tourist development being backed with pine groves and golf courses.
Airport and travel from the Airport
The main international airport of the Algarve is Faro airport, which is located 35km to the west of Olhos de Agua. Faro has direct flights to the majority of Europe and all of the low-cost airlines fly into Faro, which means there are inexpensive flights if booked far enough in advance.
There is almost no public transport from Faro airport to Olhos de Agua and it is advisable to pre-book a private transfer before arriving in Portugal or queue for a shared transfer in the airport. The best private transfer company used routinely by all people who live in the Algarve is Yellow Fish transfers and a cost of a transfer is €30 Euro and a link to their website can be found here.
Restaurants, cafes and bars in Olhos de Agua
Olhos de Agua has a great selection of restaurants which cater for all styles and tastes, and range from traditional Portuguese through to international cuisines.