How about: Algarve Intro > Which resort town? > Algarve sights & activities > 1 week tour > Albufeira
The Algarve - A Tourism Guide Fully Updated for 2018
The Algarve is the beautiful southern coastline of Portugal. It is a region blessed with stunning beaches, picturesque fishing towns and a glorious climate, all of which combine to create the perfect holiday destination. The Algarve is wonderfully varied, able to appeal to a wide cross section of tourists, there are pristine beaches for families, waterparks for teenagers, buzzing nightlife for young couples and historic towns for cultural tours.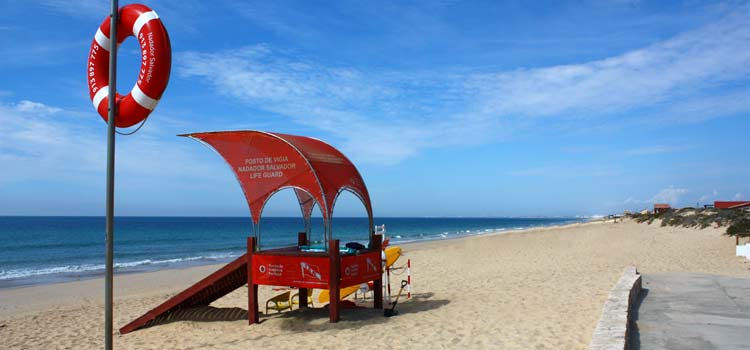 The stunning beach of the Praia de Faro
The Algarve provides excellent value for money, especially when compared to many of the other established European holiday destinations, while as a people the Portuguese are welcoming, hospitable and progressive. Southern Portugal is a hassle free destination; hotels are of a high standard, there are comparatively short flights, English is universally spoken and the extensive selection of restaurants means that every cuisine or dietary requirement is catered for. This guide has been written as an introduction to the Algarve, primary designed for tourist who are planning a holiday to the region.
What to expect for 2018?
The Algarve is in the midst of unprecedented period of growth and investment; new business are opening, hotels are extending their seasons and there is a real confidence about the region. The Algarve is expecting a spectacular 2018 summer season, with thousands of new families and couples discovering this wonderful holiday destination. As 2018 will be a sell-out year (based on 2017), our advice to you is to book your flights and accommodation now before they are gone.
The weather of the Algarve
The Algarve has long hot summers, pleasant spring/autumns and winters that are mild but unpredictable with an equal number of bright days as wet days. The height of the tourist season is from July through to August and this is when the beaches are packed and hotels are sold out. June and September tend to be popular months with couples, being outside of the school holidays and without the hordes of children, but there is still fantastic weather and a buzz about the region.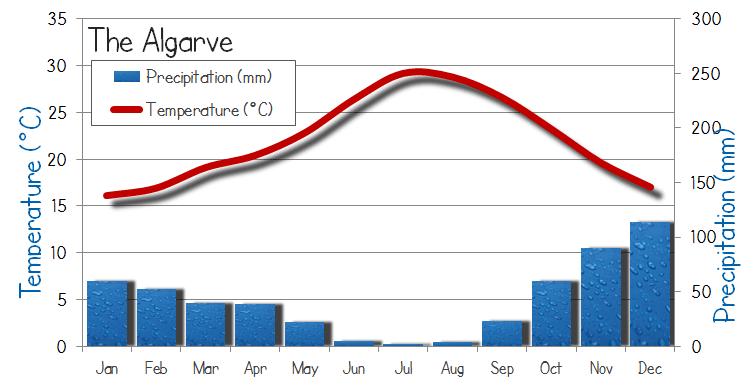 Summary of the Algarve's Major Towns and Resorts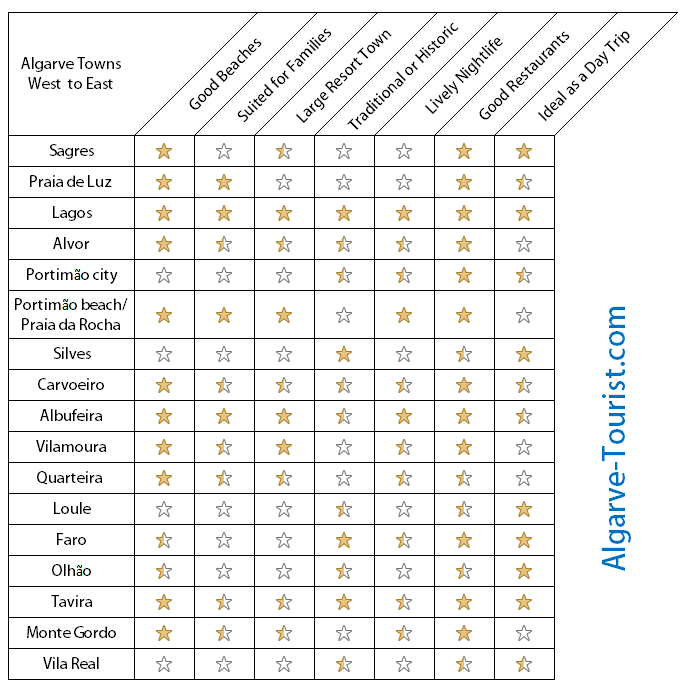 Summary of the Algarve for Different Types of Holidays
(Please click on the underlined link to take you to our destination guides - these links open a new tab)
Best Overall Destination -
Lagos, Albufeira or Praia da Rocha.
For Families -
Albufeira, Praia da Rocha, almost all of the central Algarve
Relaxing Holiday -
Tavira, Alvor, Praia da Luz, Carvoeiro or Olhos de Agua
Exclusive and Trendy -
Vilamoura or Vale Do Lobo Region
Historic and Cultural -
Lagos, Tavira, Faro and Silves (as a day trip)
Where to party -
Albufeira, Praia da Rocha and Lagos
Stag or Hen Do's -
The strip in Albufeira (Stag do guide here)
Somewhere different -
Faro, Tavira, Alvor or Carvoeiro
Golfing Holiday -
Vilamoura and Albufeira
Surfing Holiday -
Sagres
For Christmas -
Albufeira, Praia da Rocha or Lagos
If the Algarve is sold out or is too expensive in the summer -
Lisbon or Porto
(Lisbon and Porto both have great beaches, cheap flights and lots of accommodation, ideal for families and couples)
Practicalities for The Algarve
The Algarve is served by Faro airport, and this airport is conveniently positioned in the middle of the Algarve. The majority of tourists who visit the Algarve will be based in the section of coastline that extends from the Praia da Rocha to Vilamoura, all of which are located to the west of Faro airport. Outside of this area more traditional and quieter Portuguese towns can be found.
Summary of the Finest and most Popular Towns in the Algarve
Tavira – The Algarve's Hidden gem
Tavira is a delightful town that is situated on the banks of the slow flowing Gilão River. The town of Tavira has reminded unchanged despite the advent of mass tourism, and provides the visitors with a charming town centre of cobbled streets, lined with traditional houses, which lead all the way up to the ancient castle.

The glorious beaches on the Ilha de Tavira are reached by ferry and the route passes through the protected series of mudflats and salt water lagoons of the Ria Formosa Natural Park. Tavira is laid-back, traditional and our personal favourite town in the Algarve. For a guide to Tavira please visit Tavira-Algarve-Portugal.com (link opens new window)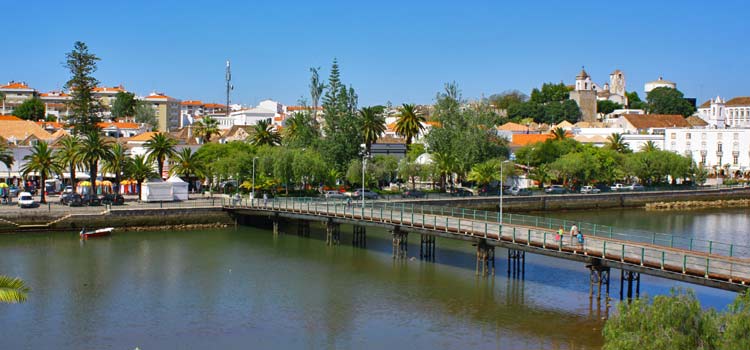 The river front of Tavira
Tavira Quick Summary
Ideal For - Couples who wish to discover the unaltered side of Portugal, or any visitor looking for a peaceful relaxing holiday in a wonderful town.
Not suited For - Party goers, since Tavira is a traditional and calm town. Families with older children, as Tavira is a long way from the water parks, zoos and adventure that most children want to visit during a holiday.

Albufeira – The Algarve's Most popular resort
Albufeira is the most popular resort town of the Algarve, and this is because it excels at everything wanted for a holiday destination. The beach is massive, there are great holiday activities and the pretty old town is crammed full of restaurants, shops and bars.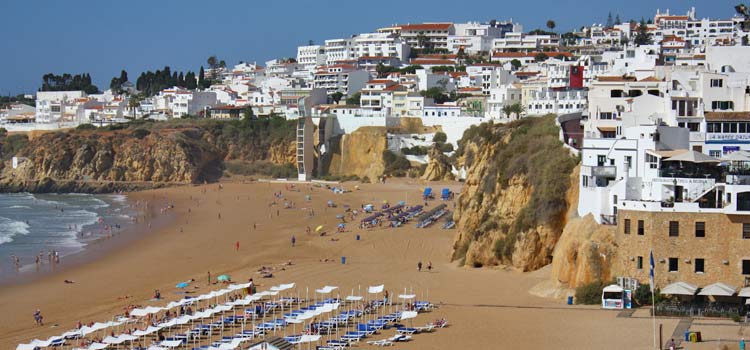 The massive beach of Albufeira
For groups and party goers there is "the Strip", a road full of themed bars and outrageous clubs, which is just far enough (2km away) from the Old Town not to annoy other tourists. As Albufeira is the largest resort, the summer season is much longer, and there are still things going on during the low or off season. There are many enjoyable day trips from Albufeira for those visitors who wish more than just a beach, while the massive all-inclusive hotels are great for tourists who simply wish to relax.
Albufeira Quick Summary
Ideal for – Generally most visitors. There are great facilities, fantastic hotels and well over a 100 different places to eat out at.
Not suited for – Visitors who wish to escape the summer crowds, Albufeira is very busy in the summer and prices sometimes reflect this.
Lagos – History and Stunning Scenery
Lagos is on the very western edge of the Algarve and is one of the region's most fascinating and interesting towns. Lagos is set on a stunning coastline of massive sandstone cliffs, wide beaches and crystal clear waters. Within the vicinity of Lagos is the Dona Ana beach, which is considered to be the finest in the Algarve, while further along the coast are the stunning cliff formations of the Ponta da Piedade.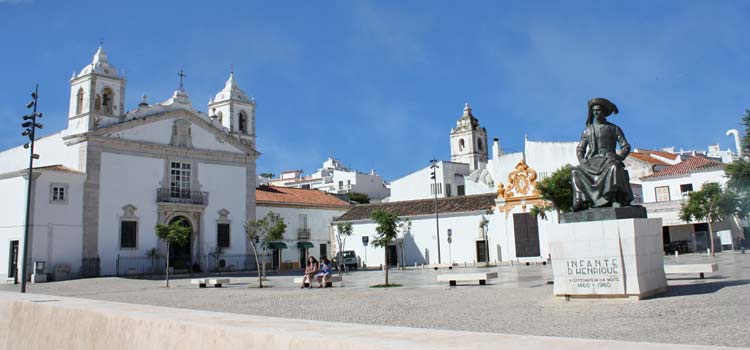 The historic centre of Lagos
Lagos has an important history as a major trading town, a rich history that is reflected in the varied sights throughout the town, which include the fort, a selection of pretty churches and even an ex-slave market. From Lagos there are enjoyable day trips to the small fishing village of Sagres, or north into the Algarve hills. For a guide to Lagos please click here (opens new window)
Lagos Quick Summary
Ideal for – Visitors who want more than just sun, cheap food and drink. Active couples who want to visit and experience a lot during their holiday.
Not suited for – Party animals; the night life is more restaurant and food based.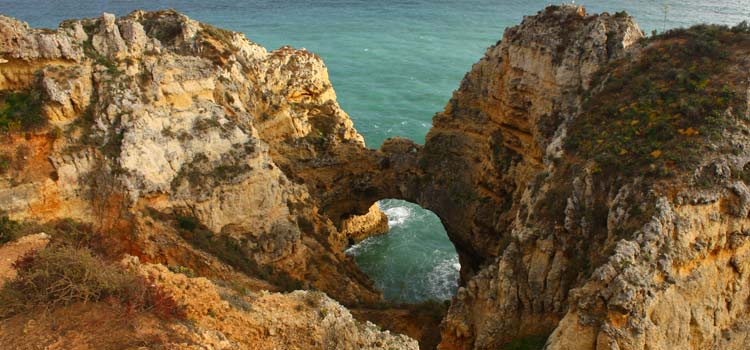 The Ponta da Piedade coastline, near Lagos
Vilamoura – The Algarve's Exclusive Town
Vilamoura is the super-rich's playground in the Algarve. The whole town was purpose-built as an exclusive destination that is focused around the larger marina and is filled with million dollar yachts. The town boasts six championship-grade golf courses and is the location to be based for a golfing holiday, just expect expensive green fees. Vilamoura is smart, stylish and trendy, and completely without the signs of neglect found on the edges of many other Portuguese towns.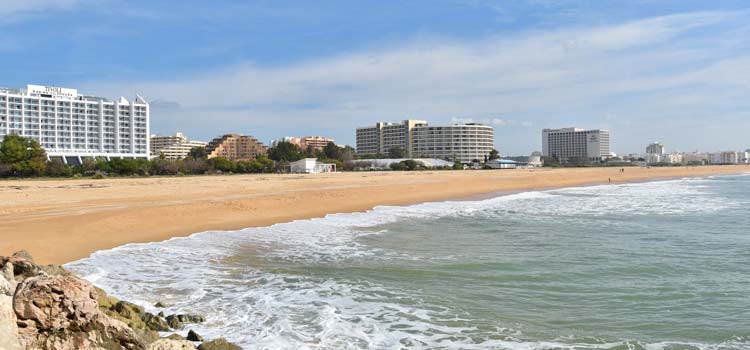 Vilamoura Quick Summary
Ideal for – Golf holidays, an upmarket holiday in a very exclusive area
Not suited for – Bargains or visitors on a tight budget.
Faro – Under-Rated
Faro is often over looked as a tourist destination, being primary used as a transport hub for the airport, train or bus services, but this beautiful city has a lot to offer. Faro boasts a charming historic centre, which is circled by ancient Moorish walls, and a pleasant pedestrianised shopping zone. Departing from the marina there are boat tours which explore the Ria Formosa National Park and visit some of the quietest beach in the Algarve. Faro's main beach, the Praia de Faro, is surprisingly low-key considering it is just a 5 minute bus journey from the airport. For a guide to Faro please click here.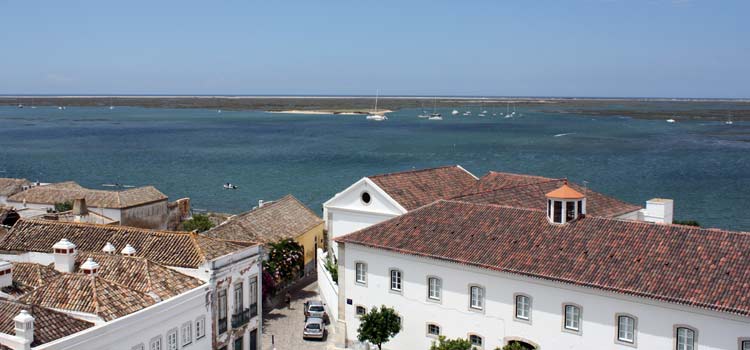 The historic centre of Faro overlooking the Ria Formosa national park
Faro Quick Summary
Ideal for – Short stays (1-2 nights) or as the first destination due to the close proximity to the airport. The great transport links means that Faro is a good base from which to explore the Algarve.
Not suited for – Sun worshipers, the main beach is a 15 minute bus ride away.
Praia da Rocha – Good alternative to Albufeira
Praia da Rocha is a large and hectic summer resort, that crams in visitors during the summer season. There is a massive beach (larger than Albufeira's beach), which on following the coastline changes into little coves hidden behind giant sandstone cliffs. The resort has countless bars, restaurants and shops but has a much more modern appearance than Albufeira. 2km north of Praia da Rocha is the large but sleepy town of Portimão; for beaches and nightlife it's better to be based in Praia da Rocha, and not Portimão. Praia da Rocha is suitable for families as well.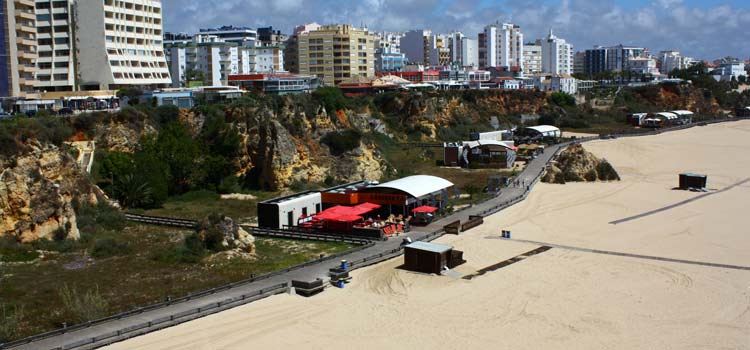 The massive beach of Praia da Rocha
Praia da Rocha Quick Summary
Ideal for – Families and young couples wishing a fun and social holiday
Not suited for – Visitors seeking cultural or historic sights.
Quarteira – Budget Vilamoura
Quarteira is where the non-millionaires of Vilamoura live and work, but it is just a 10-minute walk from Quarteira along the coast to it's exclusive neighbour Vilamoura. Quarteira has a much better beach than Vilamoura and a pleasant promenade extends for the length of the beach. Quarteira offers great value accommodation, food and drink but the town has very bland appearance with large apartments, hotels and none of the Portuguese charm found in other locations. Quarteira is much quieter and smaller than Albufeira or Praia da Rocha.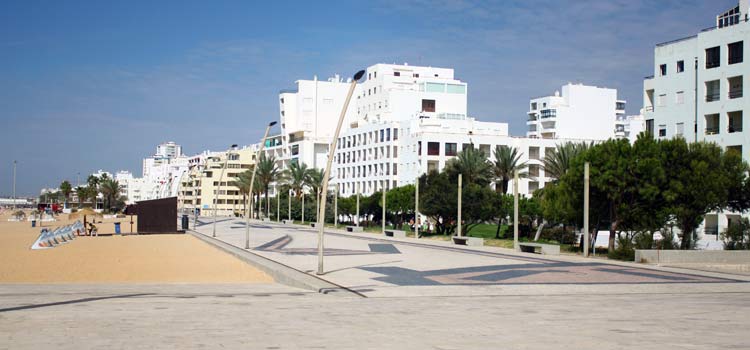 The promenade of Quarteira beach front
Quarteira Quick Summary
Ideal for – Great value and golf holidays
Not suited for – Visitors seeking culture, history or a pretty Portuguese town.