The Algarve Tourist Guide
The Algarve is the stunning coastline of southern Portugal that makes for a fantastic holiday destination. Along the 160km stretch of idyllic coastline are beautiful expanses of sand, rugged cliffs and hidden coves. The region is blessed with almost perfect weather, with warm weather suitable for visiting the beach lasting from April through to October.
Each of the Algarve resort towns offer their own unique attractions but all provide great value, excellent tourist facilities and the welcoming attitude of the Portuguese. Let us here at Algarve-Tourist.com show to you this beautiful and enjoyable tourist destination.
A Suggested Start to the Algarve
Why Visit the Algarve?
The Algarve is blessed with a warm and sunny climate extends from early spring to late autumn. At the height of the tourist season, days have over 12 hours of sun and rain is completely unheard of. Even in the midst of winter there are hours of sun and temperatures are pleasantly warm.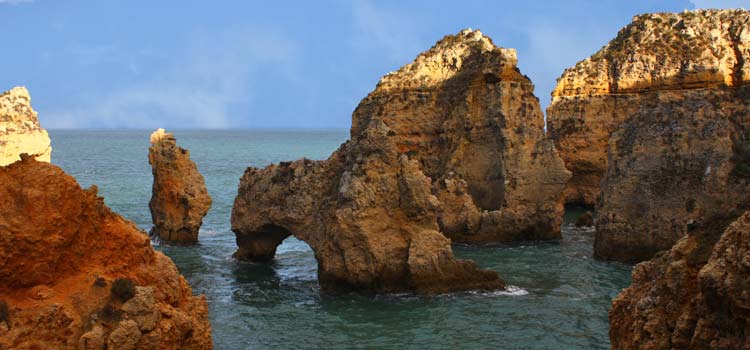 The Ponta da Piedade coastline, near Lagos
The Algarve is serviced by Faro international airport and the entire coastline is easily accessible from the airport, even for those visitors who are reliant on public transport. The airport caters for charter, national and low cost airlines so reaching the Algarve is easy and inexpensive outside of the summer season.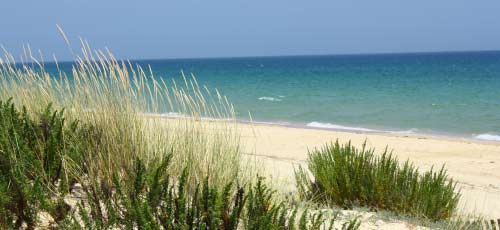 A deserted beach near Tavira
The Algarve dose not refer to an individual resort town but to the entire region. Each of the towns has its own unique and distinct characteristics that will appeal to different groups of tourists. Albufeira is the lively town for those visitors who wish their home comforts on holiday and generally attracts a younger crowd. Sagres is the complete opposite to Alberich, head here for deserted beaches that are wild and rugged. Portimão and Lagos are the most developed towns of the region with great restaurants, bars and nightlife. To the west, sleepy Faro is often over looked and Tavira is quieter and more traditional.
The historic centre of Faro
Between each of the major towns are purpose built resorts designed for families, couples and fun hunting groups. The Algarve as a holiday destination has it all, stunning scenery, great beaches and is much cheaper than other Mediterranean countries. So let us at Algarve-Tourist.com help you to discover this beautiful region of Portugal.