How about: Vilamoura Home Page > Vilamoura Sights > Vilamoura Beaches > Vilamoura 1 week > Airport to Vilamoura
Vilamoura 1 week itinerary and tour
Vilamoura is a stylish and enjoyable holiday destination that is in the heart of the buzzing central Algarve. Within this region there is a wide variety of activities, sights and day trips that will entertain visitors of all types, whether that is for a family holiday, cultural tour or just a relaxing break. This guide will provide a suggest itinerary for a one week holiday detailing the major attractions of Vilamoura.
Quick overview for a 7 day tour
Day 1 – Relaxing day on the beach
Day 2 – Day trip to Faro or Zoomarine (for families)
Day 3 – Day trip to Quarteira and night in the Casino
Day 4 – Round of golf or Aquashow water-park
Day 5 – Day trip to Loulé and big night out
Day 6 – Boat tour or fishing trip
Day 7 – Day trip to Olhas da Agua and the Falésia beach
The following section will detail each of these suggested days in greater depth.
Day 1 Relaxing day on the beaches
Vilamoura is located on a beautiful coastline of soft sandy beaches and crystal clear seawaters, and for the first day it is suggested to have a relaxing day on the beach. The Praia de Vilamoura is the most convenient beach located close to many of the major hotels but this does make it extremely popular in the summer season.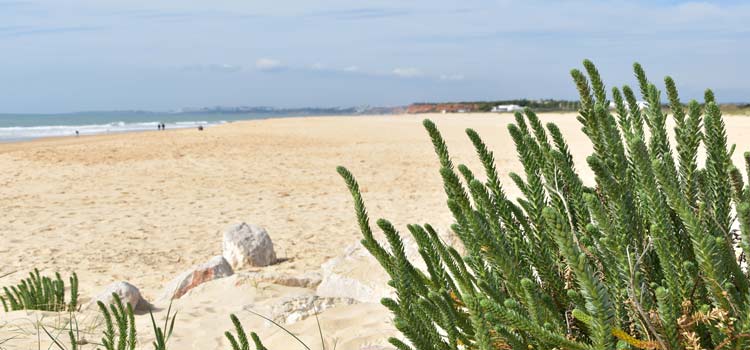 Praia da Rocha Baixinha Nascente is much larger than Praia de Vilamoura
To the west of the marina is the Praia da Rocha Baixinha Nascente, which extends for 5km and transitions into the Praia da Falésia, one of the most famous beaches of the Algarve. Falésia is an idyllic beach surrounded by steep red sandstone cliffs and pine groves while the sheer size means it is possible to escape the summer time crowds. For those who prefer a bit of excitement on the beach, Praia de Vilamoura offers banana boat rides, ringos and para-sailing. For a guide to the beaches of Vilamoura please click here.
For the evening head to the marina complex with its extensive selection of fine dining establishments and continue late into the night at one of the stylish lounge bars or themed bars.
Day 2 Day trip to Faro or Zoomarine
Faro is a historic city that is bursting with Portuguese charm and character, and makes for an enjoyable day trip from Vilamoura. Faro has a delight historic centre that is encircled by ancient city walls and contain a gothic cathedral, the ruins of the castle and traditional cobbled streets. Faro is the best location from which to explore the Ria Formosa nature park, a series of salt water lagoons which are haven for bird and marine life and tours routinely depart from the harbour. There is a direct bus service from Vilamoura to Faro and for a guide to Faro please click here.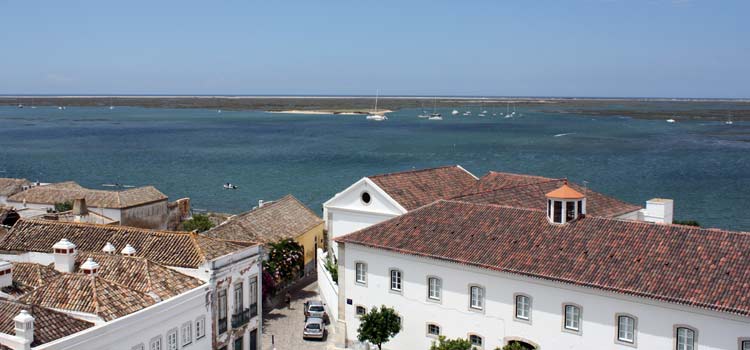 The view from the Se cathedral in Faro
Faro will have little to entertain children, therefore it is suggested to head to the premier theme park of the Algarve, Zoomarine. Zoomarine has a lot of offer including dolphin shows, an artificial beach, exotic bird displays and flume park. The animals are housed in modern facilities and are well cared for while the entire park is professionally operated.
Day 3 Quarteira
Quarteira is just to the east of Vilamoura and is famed for its sea food and beautiful beach. Vilamoura is separated from Quarteira by the large fishing harbour and from here freshly caught fish is served up in the one of the many excellent sea food restaurants. Quarteira has a wide sandy beach that extends along the length of town front and has a pleasant beach front promenade, ideal for a relaxing stroll. Quarteira has a distinctly Portuguese atmosphere and as it caters for Portuguese tourists the town provides much better value food, drink and shopping than Vilamoura. If your budget is being stretched in Vilamoura head to Quarteira for sensible prices….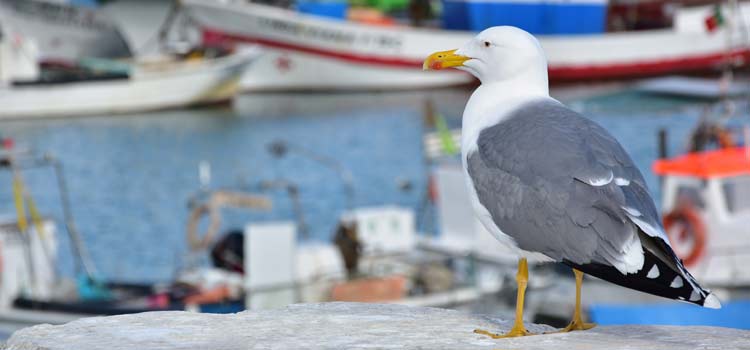 A Seagull searching for food in Quarteira fishing harbour
For the evening head to Vilamoura's Casino for the glitz and glamour of the route tables and slot machines, even if gambling isn't your thing there are nightly live performances and drink prices are some of the most reasonable in Vilamoura.
Day 4 Round of Golf or Aquashow Water Park
Vilamoura is famed for its golf courses and any visitors with even the slightest interest in golf should play a round on one of the fabulous courses. Vilamoura was purpose built to be a world class golfing centre and contained within the vicinity of the town are five championship grade courses. There is no need to worry about bringing clubs as there are numerous golf agencies close to the marina who can arrange golf club hire, transport and provide details of the latest offers and prices.
Aquashow is one of the largest waterparks of the Algarve and is great destination for families with slightly older children. The park is filled with massive flumes, near vertical slides and other adrenaline inducing rides, and is just to the north of Quarteira.
Day 5 Day trip to Loulé
Loulé is a bustling Portuguese market town that has a selection of interesting tourist attractions. The town has a daily lively market that is housed in a North African inspired covered market, which sells local produce, gifts, fruit and vegetables. Loulé offers some of the best shopping in the Algarve, while the small cobbled backstreets are home to small family business and workshops. Loulé is quaint and traditional, and provides a glimpse into Portuguese daily life. On Saturday, there is a large gypsy market and is the best day to visit. For a guide to Loulé please click here.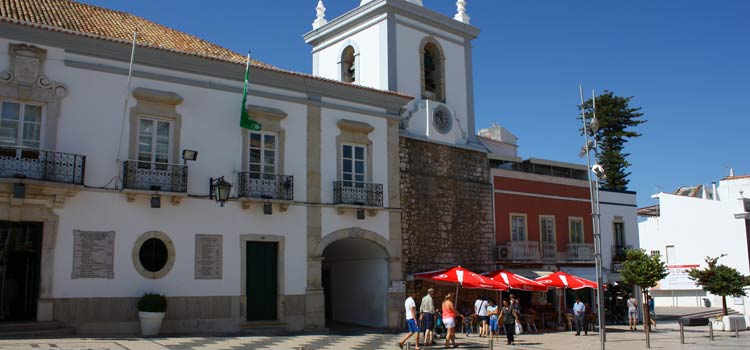 The North African inspired covered market
As it's partway through the holiday why not have a big night out to the banging nightclub of Kadoc. During the summer this trendy venue is open every night, music styles vary from night to night but to party until the sun rises there is no better location.
Day 6 – Boat tour or Fishing trip
The Western Algarve has a dramatic coastline of steep sandstone cliffs, sandy beaches and uniquely weathered rock formations, and there is no better method to discover them, than via a boat tour. These half or full day tours depart from Vilamoura marina and are a relaxing and scenic way to view them.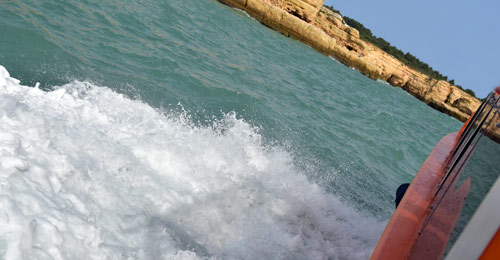 A speed boat tour as it powers past the dramatic coast of the Algarve
Other boat tours include watching dolphins in their natural environment, and though sightings are not guaranteed, can be a magical experience especially for children. For keen fishers, there are tour boats which head out to fish for bass, mackerel, grouper or deep sea fishing for Swordfish, Tuna or Dorado. For a blast of exhilaration take a ride on the jet boat while for those on more of a luxurious holiday could charter a stylish yacht for the day.
Day 7 – Day trip to Olhas da Agua and Falésia beach
For the final day in Vilamoura it is suggested to have a day trip to the relaxed fishing village of Olhas da Agua. The village has a delightful beach front, where fishing boats are still pulled onto the sands and fishermen's huts line the beach. From Olhas da Agua it is just a short walk to the stunning beach of Falésia, which is regarded as one of the best beaches of the central Algarve. The pristine beach is backed by steep red and white cliffs which lead onto pine groves and exclusive developments.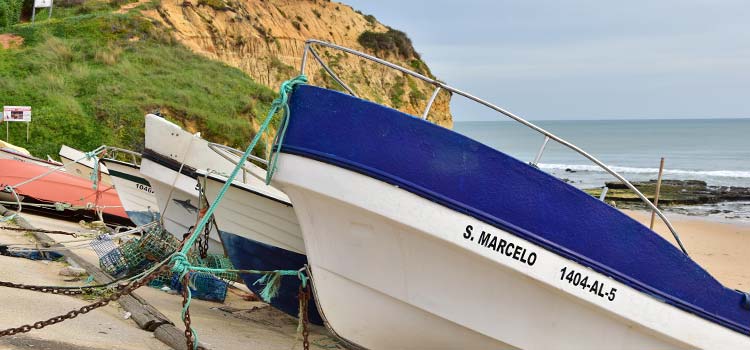 Olhos de Agua is a traditional fishing village