Praia da Luz Portugal - A Tourism Guide to the Algarve
Praia da Luz (or simply Luz) is a charming and peaceful town that makes for a great holiday destination for those visitors wanting a relaxing stay in a low key and traditional resort. Luz is situated on the western side of the Algarve, close to the historic city of Lagos, and is blessed with both a beautiful beach and glorious climate. Luz has expanded responsibly into a popular holiday destination and the growth of tourism has not detracted from the character of the pretty town.
Praia da Luz has a welcoming and family friendly atmosphere, as the town has a significant permanent community of retired or emigrated expats. Praia da Luz can make for a fantastic holiday destination for young families or more mature visitors and this guide will provide an introduction to Luz Portugal.
Why Visit Luz?
Luz is pretty, unassuming and has a wonderful beach. The town has a homely and welcoming ambience; where visitors and long-term residents can spend the hot summer days in the beachside cafes and restaurants chatting and socialising.
Praia da Luz is a great destination for families with young children, in part due to the relaxed nature of the town and the calm, clean sea water. Luz can be an alternative base from which to explore the western Algarve region, there are good public transport links to the historic city of Lagos, while there are sufficient buses to explore the west, towards Sagres.
When to Visit Luz and southern Portugal?
The main tourist season of Luz is from June until the end of August, with August being the busiest month. If you are planning to visit anywhere within the Algarve during the summer always book well in-advance.
The weather is suitable for spending time on the beach from May until late September. The spring or autumn months can be a great time to visit, especially if the focus of the holiday is exploring the region. Luz closes for winter in November but as there is a large expat community many cafes and restaurants will remain open. The winter months in southern Portugal are mild but have unpredictable weather with an equal number of bright days as wet days.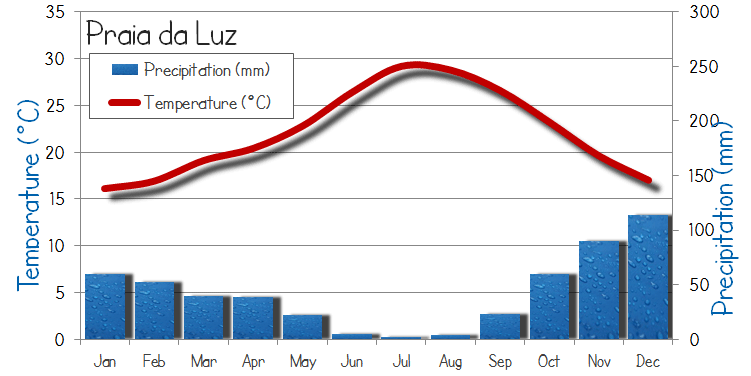 The average weather of Praia da Luz, Portugal
Does Praia da Luz have good Beaches?
Luz has one large sandy beach that stretches from the steep cliffs of Rocha Negra, round the bay to the Fortaleza da Luz fort headland. The beach has soft golden sands and calm, clean sea waters, which during the summer season is supervised by lifeguards.
The sea waters are pristine clean but are shockingly cold; the water temperature barely reaches 18C, even at the height of the summer. These cold temperatures are due to the waters being fed from the Atlantic Ocean and not the Mediterranean Sea. In the summer months there are numerous water sports and activities, including banana boats or Ringos (€12 for 15 minutes of mayhem) or Kayaks (€10 per hour).
There is a secondary smaller beach, the Praia Prahina, to the west of the Fortaleza da Luz and is generally much quieter than the main beach of Praia da Luz.
Alternatives to Praia da Luz
Here our suggestions for resort towns which are similar to Praia da Luz (a medium sized town, which main focus is tourism and is close to a great beach). Our recommendations are:
In the Algarve – Alvor, Carvoeiro, Olhos de Agua and Monte Gordo
Around the rest of Portugal – Sesimbra, Cascais, Nazaré, Ericeira, Espinho
Yet to be fully discovered by foreign tourists - Vila Nova de Milfontes, Costa Nova (Aveiro), Vila do Conde and São Martinho do Porto.
(links to destination guide and open a new tabs)
Local's Secret Activity and Attraction
There are spectacular views from the top of the Rocha Negra cliffs and there are challenging hiking trails to reach the view point. The massive black granite cliffs of Rocha Negra is Luz's outstanding natural feature and they provide steep hiking trails up to the vantage point high above the town.
These unique cliffs were created 150million years ago when super-heated volcanic lava spilled through the reddish sandstone bedrock of the Algarve, to form a much more resilient bedrock. After millennia the sandstone cliffs were eroded leaving the much tougher granite rocks, which has become the locals beloved "black rock".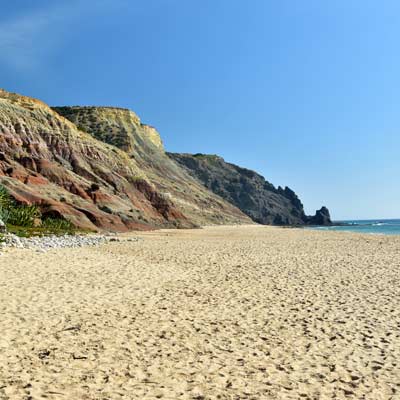 The distinctive Rocha Negra (Black Rock) on the cliffs near Luz
There have been a number of sham residential letting websites, which have appeared on the internet, with bogus or copied listings (often of real apartments). These websites look professional (guarantees, refund polices etc) and often the comparative prices are significantly cheaper. Only ever book an apartment through a trusted website (booking.com, homeaway.co.uk etc) and never pay for accommodation by bank transfer. For more details please see the TripAdvisor forum post:
https://www.tripadvisor.co.uk/ShowTopic-g189111-i330-k11450362-Beware_Villa_Scam_bogus_company_PT_Villas_Algarve-Algarve.html
(link opens new link)
Note: This type of scam is not just limited to the Algarve but is found in all major tourist destinations. The Algarve is just ripe for it, as demand for accommodation outstrips supply.
Luz Portugal for Families
Praia da Luz is a great destination for families with young children. The town is less hectic than many other central Algarve holiday towns and families are the focus of the tourist industry in Luz. Children are welcomed in all cafes and restaurants, and the town does not suffer from rowdy groups searching for cheap drinks. The small Lagos zoo is a favourite for younger children and is less than a 10minute drive from Luz. Families with teenagers may prefer to be based closer to the central Algarve region, which is nearer to the larger theme parks and water parks.
Is Praia da Luz where Madeleine went missing?
Yes it is, but it is unfortunate that a tragic event over nine years ago can still tarnish the town's reputation. The Algarve in general is a very safe place, and Luz is so small and personal that nothing like that could ever happen again.
What day trips are there?
From Luz there is a regular and inexpensive bus service to the historic city of Lagos and this is the most popular day trip. Lagos has a pretty old town that is filled with historic monuments, open air cafes and family run shops. To the south of the city are the highly weathered cliffs of the Ponte de Piede, a series of sea arches, grottos and caves that are best explored by fishing boat.
Sagres, to the west of Luz is the most westerly town of mainland Europe and is a centre for experienced surfers who come to ride the massive Atlantic swells. Sagres is for tourists who appreciate nature's raw power and enjoy the outdoors lifestyle; be that hiking, surfing or cycling. Sights of Sagres include the working fishing harbour, the unique fort and some of the highest cliffs of Europe.
From Luz it is possible to hire a bike and explore the small fishing town of Burgau or further along the coast to the pretty resort town of Salema.
Tourist Facilities In Luz Portugal
Praia da Luz has a mixture of small hotels, privately let apartments and larger resort complexes, which are thankfully in keeping with the character of the town. The resorts do offer better facilities for families but being tied to an all-inclusive does limit the choices for meals, especially considering how inexpensive good food can be in Portugal.
The majority of accommodation will sell out during the summer months so it is advisable to book well in-advance to secure the best prices. There is a range of excellent eating establishments in Luz, which cater for a variety of tastes and cuisines. Nightlife tends to be focused around late opening cafes, restaurants or bars.