Ilha Deserta (Deserted Island), Algarve
The Ilha Deserta sand bar island is situated south of Faro and is the least developed of the three islands that surround the Ria Formosa national park. This natural and remote ambience is the main appeal of the island, with the 10km coastline containing some of the Algarve's quietest beaches.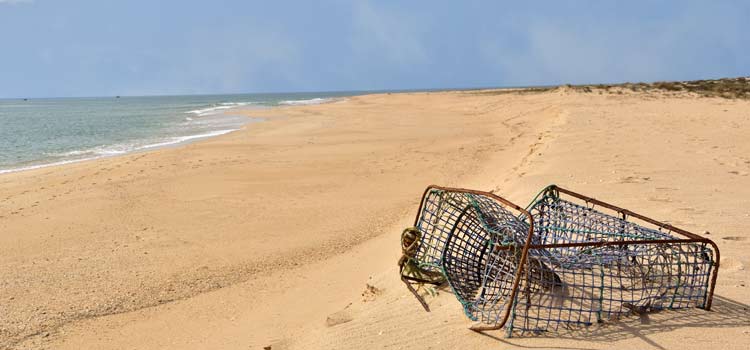 The Ilha Deserta Faro
The deserted atmosphere gave rise to the island's popular name, the deserted island and the Ilha Deserta is the beach to visit if you wish to escape the crowds. The island is accessible by ferry from Faro and the trip provides scenic views through the national park.
Travel To Ilha da Barreta, Faro
Barreta island is easiest reached from Faro as there is a regular ferry service that departs from the Porta Nova Pier. Faro departures are at 10:00, 13:15 and 16:45 and the return from Ilha Deserta are at 12:45, 14:30, 16:00 and 17:30 (always check local listing for seasonal variations). A return ticket costs 10E and can be purchased from the small ferry ticket office on the pier. The journey takes 35 minutes but during the high season there may be additional speed boat services.
The journey from Olhão is slightly longer as two ferries are required first the ferry to Farol on Culatra Island and then a private water taxi to Ilha da Barreta. Generally visitors to Olhão head to Ilha da Culatra and tourist to Faro go to Ilha da Barreta.
What to do on the Ilha da Barreta, Algarve
The two main activities on Ilha da Barreta are relaxing on the near deserted beaches or wild life (mainly bird) spotting in the Ria Formosa national park. The national park is a sanctuary for migratory birds and has a permanent population of flamingos and terns. Facilities and services are minimal on the island with only a couple of small beach shacks.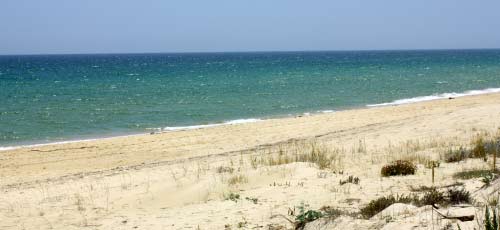 The Ilha da Barreta Faro
On the island is the famed Estamine Restaurante, which serves some of the best seafood dishes in the region. Bookings (tel: 917 811 856) are always advised during the height of the summer season. The restaurant is located in a wooden complex and is the largest building on the Deserted Island.
There is a pleasant walk is to the Cabo de Santa Maria on the south side of the island, which is also the most southerly point of mainland Portugal. The headland of Saint Mary is a calm wide arched beach that is always deserted, even at the height of the season.
The Ilha Deserta lies within the Ria Formosa National Park which was voted one of the seven natural wonders of Portugal. The park is a haven for migatory birds and there is a large population of flamingos and storkes. The boat trip to th Ilha Deserta passes thougha portion of the national park.